Englert Civic Theatre
Arts organization Englert Civic Theatre, 221 E Washington St, Iowa City, IA 52240, United States:
184 reviews
of users and employees, detailed information about the address, opening hours, location on the map, attendance, photos, menus, phone number and a huge amount of other detailed and useful information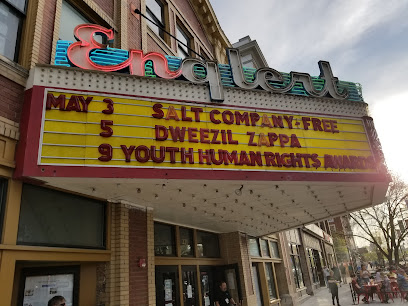 Address:
221 E Washington St, Iowa City, IA 52240, United States
GPS coordinates
Latitude:
41.6599331
Longitude:
-91.5322665
reviews sonia arora
I went to the Englert Theater to participate in a fundraiser for Girls On The Run annual Luna Fest & watch some great films made by women for women. The event was awesome & the films were very inspiring, moving me to tears & joy in some …
2 months ago Janak Joshi
A really nice theater in the heart of Iowa City. Staff is really corteous. Great artists, speakers and musicians/bands have been on that stage. Visit sometime if you haven't been there yet.
5 months ago Tony Lee
Great venue! Easy to get too, awesome food close by and coffee next door for after the show! Can't wait to come back!
4 months ago Petra Kowalis
We just had our wedding ceremony here, and it was amazing! The theater is beautiful and they did a great job making the place look perfect. The staff was super organized and helpful in making sure our day was amazing and on schedule. I could not have asked for a better experience.
4 months ago Carly Rayford
So awesome to see the great reviews and comments about the theater. My family owned and operated it among others in Iowa City for years. So happy to see how it is being operated now.
3 months ago Yun Huang
Had a great time here. The theater is beautiful and instantly you get the feel of magic here. It's very intimate and Iowa City has a hidden gem right in the heart of their city. Look forward to coming again. Very friendly staff! Thanks for being so wonderful.
4 months ago Keith Farrell
Great place to hear a show. No seat is a bad seat in this theater.
6 months ago Jae Clewell
Always love catching a show at the Englert, a great Iowa City treasure. Not a bad seat in the house IMO, very friendly staff, and they host a good mix of entertainment. So glad the Englert was saved. If you haven't caught a show there yet, I think it's about time.
8 months ago rafi syed
Sometimes I buy a ticket late and think my seat is gonna be so so, but then I remember, every seat is a good seat. I saw Nick Lowe tonight, with the Los Lonely Boys backing. What the hell, man? This might have been one of the best shows …
4 months ago Nicholas L
Great venue. Always clean and a great mix of acts.
5 months ago Jeremy Love
Best venue in the midwest! The englert brings world class acts that usually stay on the coast to our area in a historic theater.
2 months ago David Irby
This theater is located in the heart of downtown Iowa City. I love to make a day of going downtown with shopping, than dinner, and a show at the Englert. This historic theatre hosts lots of live music, some films, and comedy. I also love …
8 months ago Stu Scherer
After seeing St Paul and the Broken Bones at the Englert Theatre, it quickly become my go to spot to catch a concert in Iowa City! The staff is so helpful and friendly and the attention to detail is like nothing else I've experienced. Can't wait to go back and see another show!
6 months ago Maria Rivera
Fun, old theater with comfy seats, simple refreshments, and it is easy to park nearby.
5 months ago Gregory Gawaran
Amazing acoustics, not to mention a super attentive staff!
3 months ago Okarin Kyouma
I love this place, particularly the balcony seats. I've seen music and spoken shows here and the sound is always good. A great place to go for an evening out.
2 months ago Lucy Potter
This historic theatre is one of Iowa's treasures. The staff was beyond professional and helpful. Chapo was amazing loved the show. Oh yeah, the smoke detectors are very sensitive apparently even vaping can be detected we were told so don't be that guy. Solidarity forever, much love, #Bernie2020!
4 months ago David Weinstein
Great venue! I have seen concerts and silent films here. Love the atmosphere! Can't wait to see how they continue to improve the facility.
4 months ago Robert Kudla
Nick Lowe and the Los Straitjackets as backup was fun. I took my wife for her birthday and she had the time of her life!!! The Englert theater is a really wonderful venue for great entertainment.
4 months ago Steve Woods
This is my favorite place to see a show in the Corridor, for so many reasons. Go here and you won't be sorry.
6 months ago Kari Rogers
The folks and I went to the Rocky Horror Picture Show, the cast did an amazing job. I had a great time.
4 months ago DL Chapman
Good experience. I think their box office line area could be improved; it made it hard to get into the theatre with the setup. Overall I enjoyed it. All the workers are volunteers. They keep the theatre clean and are helpful. Although most seats are on the main level, it's set up on a slight incline so you can see without issue.
8 months ago Doug K
Saw Six Appeal here. Cool old stadium, comfortable seats and the sound was amazing.
7 months ago Pere Alemany
Great time with the family. We love this old theater. Been going to this place for many years. I have seen it change over the years. Aprox 26 years ago I went to a nightmare before Christmas at this theater. And Tonight I took the kids to see santa and some local talent.
6 months ago Josh Adams
Don't know about the place itself, the show (a capella competition) was out of this world!
4 months ago Alex Jackson
Love having seating at a great concert. The seating in the back has some extra leg room, if you know anyone that has disability from sitting in confined areas. My girlfriend needed that to be comfortable, after healing through two knee surgeries.
6 months ago Daniel Sherwood
Really enjoyed the Family Folk Machine concert held at the Englert. Such a beautiful venue!
4 months ago latoria Long
Really special place with a super cool line up.
2 months ago Ian Baxter
The Englert brings in a lot of different shows and guest, from music to comedy, plays and ballet. It's great having this right downtown.
4 months ago Anna Rosofsky
Marc Broussard was amazing ! The theater is a great venue....
6 months ago Yap Kuanyi
You know it's a solid venue that is clearly very very well run from a management perspective. Small intimate atmosphere makes it pretty decent you should probably check the alcohol policy before you go into your show because sometimes they close down early.
2 months ago Rustem Izbassarov
Very historic. Great performance. Not a bad seat in the house. Also a pleasure to perform there as well. They have dressing rooms and restrooms downstairs back stage.
5 months ago Brenda F
Saw Preacher (excellent comedian) and thought the venue was great! Seats are sized right for me, comfy. Sound system was great.
2 months ago Zulkarnain Ahmad
Great show.nice theater with a warm feeling. I haven't laughed that much in a long time. Great comedy show.
4 months ago Thomas Scott
The concert itself was great, good ticket prices and affordable drinks. The seats were comfortable and it was a fun atmosphere for a show. Only complaint was having to wait in line for the doors to open and then wait again to pick our seats. The seats should be available as soon as you go inside in my opinion.
8 months ago David Russell
Great experience! Beverages are pricey. Love the heart the theater carries.
5 months ago Marcus Jones
The Englert is an integral part of the Iowa City community. Beautifully maintained, the building hosts many cultural events that keep the arts alive in the Coen town district.
4 months ago Ron Bouchard
Beautiful theatre, one of the perls of Iowa City! The service from employees and volunteers is always excellent. There's big variety of different events that keep people from all fields and backgrounds entertained!
5 months ago Trevor Deschaine
Wonderful, historic theatre with a dedicated volunteer staff and excellent concessions. The calendar is full of incredible talent. Happy to support this organization.
2 months ago Wally Billiet
I grew up in IC when this was a movie theater have plenty of childhood memories here.while I think it's great they keep it historic we found the seats to be uncomfortable and crowded. The drinks here were expensive $6 for 8 oz plastic cup... Gaelic Storm was a great show!
2 months ago Steve Jaramillo
Englert completes the Iowa City arts scene. Being a townie, I remember it back when it was a movie theater. Now, we enjoy seeing live shows of every genre. This gem is an Iowa City staple that is worthy of donor dollars from around the globe. Thank you, Englert!
2 months ago Niccole Chandler
Great theatre. I wish they would at least attempt to enforce the no cellphone recording and picture taking rules though - it s really a bummer to have the person next to you or in front of you have their glowing cell phone out, sometimes for several minutes to take video. Enjoy the moment already.
11 months ago Mary Hopkins
Went to a show here last night. The band that played was fantastic. Did have an issue with the venues policy of allowing people from the audience move from their seats and go stand in front of the first row and aisles, thus blocking the …
6 months ago frances prochilo
Date night with spouse to see Gaelic Storm here. A wonderful venue. Lots of character & charm.
5 months ago Sarah Murray
Excellent restored venue hosting a broad range of live events. We love attending events here, the staff and volunteers are always helpful while the restoration brought back to life this classy theatre. The upstairs bar area is handy and offers space to enjoy a drink while not sitting in your seats.
8 months ago Tricia Moore
A wide variety of quality entertainment at reasonable prices. The acoustics are not great. No on-site parking, but it's within reasonable walking distance.
2 months ago Jackie
Lovely restored old theater. Wide variety of talent booked. Really love this place.
5 months ago Sam LeBlond
I came to watch a live podcast at this theater. From what I can tell there is not a bad seat in the house. It is a great theater, and I love the history of the building.
7 months ago David Senn
Local historical landmark and a fantastic place to see a live show. Not quite as upscale and fancy as Cedar Rapids' Paramount theater but beautiful and host to incredible live music as well as ensembles such as Second City. Wonderful venue, highly recommended.
7 months ago Gage Meadors
Great venue for performers! I always enjoy the shows and seating is great, especially for shorter people. The ushers are helpful and the greeters are very polite and friendly! Love going there as often as I can!
8 months ago
Popular places from the category Arts organization