High Desert Battery.
Car battery store High Desert Battery., 37925 6th St E # 407, Palmdale, CA 93550, United States:
65 reviews
of users and employees, detailed information about the address, opening hours, location on the map, attendance, photos, menus, phone number and a huge amount of other detailed and useful information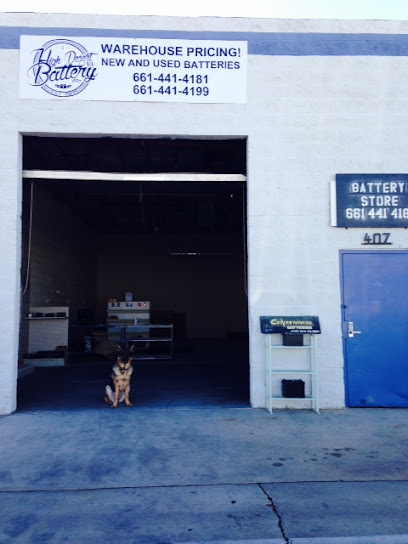 Address:
37925 6th St E # 407, Palmdale, CA 93550, United States
GPS coordinates
Latitude:
34.5707812
Longitude:
-118.1189542
reviews Michael Hardy
Great place to buy a battery! The owner, Mario, is extremely helpful and has a wealth of industry knowledge. From my initial phone conversation for a battery quote to my visit to his shop, Mario was more concerned that I bought what I needed rather than upselling and even offered budgetary options. He was honest and conducts business with integrity. Thanks Mario! High Desert Battery is a local place to support and do business with. If anyone is need of buying a battery, forget the big box places, I strongly encourage and recommend anyone to visit Mario at High Desert Battery! ????????✌????
4 months ago Pete Gezzi
Excellent choice to get your next battery for any application. Owner is friendly and very knowledgeable. He helped me set up my back up inverter system. Thank you very much. Large selection of guaranteed new and used batteries of every kind. A gem of the high desert. Please patronage this establishment. P.S. Say hello for me to his pair of beautiful, friendly, German shepherds.
3 months ago Mark Royer
A friend recommended I come here to get the batteries for my RV; so my brother and I went. I have to say, the owner was not only very courteous, but he was also very forthcoming to share his knowledge and take good care of us. My experience here was pleasant and enjoyable. The owner definitely knows how to interact with his customers. Well done. Affordable prices and superb service--this is an easy recommend for anyone looking to buy batteries and support a worthwhile small business.
8 months ago Brad Shales
went there to get a new battery and he fixed that and my windshield whippers when i had just asked him to take a look at them the prices were really good the owner was super friendly, informative and helpful
3 weeks ago Noreen Lyons
Very pleased with our phone conversation which brought me into Mario's store. I had an informative conversation upon arrival and enjoyed interacting with his dogs. I bought a new battery, time will tell how that battery stands up, I choose a one year warranty. The pricing was very competitive, I would certainly suggest anyone looking to buy a battery, do yourself a favor and go see High Desert battery.
3 days ago Wade Summers
This is the place to go for your battery needs. And the personal care is awesome.
6 months ago Yoann Lussier
Good service if you speak soanish
4 months ago Austin Jurgens
Friendly, helpful, and open 7 days a week!! ????
5 months ago Armani Baston
Cool guy very helpful n knowledgeable Had the batt replacement in stock
11 months ago Steven
Gentleman that helped us with purchasing a used battery was very helpful and knowledgeable. He even swapped the battery out and put the new one in for me, no charge. Very nice man. Had 2 beautiful German Shepard's with excellent manners as well!
1 month ago Deanna Kersey
High desert battery is an awesome establishment. Mario is nice, has great conversation, great prices and quality customer service. He remembers your name and business and will have advice and pointers. I go here for all my battery needs.
3 months ago Hot Cheetosboi
Great experience. The owner was very polite and helpful. I definitely recommend this place for all your battery needs.
2 months ago Max Heacock
Amazing service and great products. Best motorcycle batteries
4 months ago Laura Fabick
Great service and offering high quality batteries at the lowest price in the AV!
1 month ago Laura Schaub
I needed new batteries for my mobility scooter Mario and Wes were more than friendly and very helpful. The batteries were very affordable and they replaced the batteries in the battery pack for no additional charge. Where else do you get anything for free these days. I left there feeling very confident that I wouldn't have any more problems. Thanks Guys you Rock.
5 days ago Kyle Admire
Real cool spot. Went there when i got off work because i been having problems with my car. Not knowing if it was battery, starter or alternator issues, so they checked everything for free. Luckily it turns out to be my battery. Cop one for a very reasonable price. I highly recommend high desert battery inc EXCELLENT CUSTOMER SERVICE check them out!
9 months ago Yeri E
Best experience ever....!!!! no doubt they are experts on batteries. And also they offer road assistance just for a inexpensive fee come on I can't believe that better than all those companies assistance. .. Recommended all the way and the staff treatment the best thank u guys for my truck and car batteries
8 months ago J Jun
Always very helpful and definitely knows what they are doing. Thank you for your help today. This company will forever have me as a customer.
4 months ago jenna marie
Mario was very friendly and helpfull. I highly recommend this place.
6 months ago Maribel One
I was at High Desert Battery on 2 occasions, the first time was by chance to see if they know what they are doing. I was hooked from then on. Great service, reasonably priced, fantastic work. If i ever have a battery problem, i know where to go. Keep up the good work guys.
4 days ago Nnini Stokwe
I went there for a battery 6 months ago....they were so great I went back again for another car several months later to have the battery changed also. I highly recommend these guys....professional, on point and the best prices for quality product. I refer all my friends and family to them for these reasons. Do yourself a favor and hit them up......!!!!
7 months ago Melissa Manuel
Very friendly staff with lots of experience excellent batteries for the price highly recommend
5 days ago Carita Coughlin
Great price. Super fast. So glad I found this place. The owner was very nice. I will definitely send all my friends here. Thank you High Desert Battery.
5 months ago Tharshini Uthay
Can be of a quick fix not great quality but get you a quick fix
3 months ago Nadine Bailey
A+
1 month ago Nelly Fraga
Great batteries for a good price.
9 months ago ara kim
These guys are great!! They are very knowledgeable and smart. They took their time to assist me and get the right part for my battery. Highly highly recommended & professional service!
4 months ago Tommy Davidsons
High quality battery with warranty for a low price, plus free testing and installation. Highly recommended
2 months ago James Chambers
These guys are solid. Got my deep cycle aux power storage at a great price. Helpful, honest, knowledgeable, worth the drive...I came from DTLA. Will go again.
2 months ago Kate Hoffmann
Great service! They have the best prices in the Antelope Valley, they make sure every customer is satisfied.
7 months ago Tamara Nolan
went once a while back....never went anywhere else since, service is outstanding ....Batteries for 3 cars so far and now my Bus ! ...very Nice guy the owner ... ready cool fellow.
5 months ago kim bowers
Awesome polite and friendly very good prices
5 days ago Allison Scamehorn
The guys here were attentive and fast responding, very helpful and understanding of the situation I was in. Definitely using them again
3 months ago Kyle Beaty
Definitely will be a returning customer! Very good an friendly service got exactly what I needed for my car
3 days ago Jessica Greaves
They are very professional. Helped me when I needed a battery for my car after I broke down. I wouldnt go anywhere else. Prices are great also.
6 months ago Laila Khan
I recommend High Desert Battery to anyone looking for great new & used batteries.The service is excellent and the guy that helped us was knowledgeable and easy going. I will definitely come back if needed.
6 months ago Geetika Garg
I had a pleasant experience with the people at High Desert Battery. They knew what I needed in a battery and had it on hand. Thank you guys
7 months ago Lauren Brandt
Very awesome staff, Mr. Wes Gearheart is very knowledgeable, and has impeccable customer service skills, and a nice professional person to deal with...will recommend to all my business friends when they are in need of their services.
8 months ago Ruchi Gupta
I came in and they were alot of help i highly recomend pepole to come here and buy a used or new batter good prices and their help was amazing
4 days ago tony stevens
Drove out and helped me when i had an electrical problem. Offered to use their aaa to get me to the dealership. Very good people.
4 days ago Susan Riffert
Mario is a great guy gives fair deals
3 months ago Kathy Schmidt
Great Place For Affordable Batteries, Awesome Staff, Great Customer Service, Fast And Easy, Definitely Recommend For Anyone Looking For New And Used Batteries
6 months ago Ginny Hughes
Just bought a new battery from the store. Excellent service,and the employees were super nice and knowledgeable. Will go back for sure.
9 months ago Stephen Woodbury
Very Helpful/friendly service & great prices I highly recommend them
3 months ago Kath Streb
great place, knowledgeable about batteries. have recycled batteries and test on the spot.
2 months ago Rachid Ladouni
Great experience at this place. Highly recommended and very helpful
6 months ago Leo Keyzer
Mario the owner is ????
1 month ago Andrew Mac
Good prices on car batteries.
4 days ago Dinesh Kumar
Great service, friendly staff, very knowledgeable about all of the different battery options.
7 months ago Popular places from the category Car battery store