William J. McAdam Park
Park William J. McAdam Park, 38115 30th St E, Palmdale, CA 93550, United States:
200 reviews
of users and employees, detailed information about the address, opening hours, location on the map, attendance, photos, menus, phone number and a huge amount of other detailed and useful information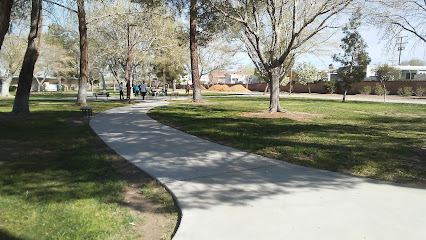 Address:
38115 30th St E, Palmdale, CA 93550, United States
GPS coordinates
Latitude:
34.5752909
Longitude:
-118.0777609
reviews mylife spa
This part is very mellow I was there for like 2 to 3 hours sitting down I didn't notice what time flew by I could even falling asleep there but I don't trust that much LOL
3 months ago Blake Dyer
Nice clean big park 2 playground areas, baseball diamond, lots of covered picnic area space with outdoor bbqs, also has a historical building onsite of an old school. Nice views.
5 months ago Nathan Jacobus
So disappointed with the city letting this wonderful little park become so run down. Broken fencing and vandalized veterans memorial breaks my heart. I remember when the park was new and the veterans memorial was beautiful. Fall festival began in this park before moving the event.
3 months ago Trace Clarke
Great Palmdale Park. All area's A-1 .. The pool is very nice to enjoy visually.
2 months ago scott vaughn
Visit times r very relevant, when all the teams r out playing/practicing, plenty of adult supervision. Go when it's alone or dark, u may run into some interesting activities
2 months ago Eduardo Diaz
This park is clean and quiet I walk in there in the day and at nite and i feel safe to be out there.
5 months ago Ed M
This is a cool park. They have a decent trail to walk around the only draw back you have to walk through the parking lot to complete full circle.
8 months ago Nicole holtzhausen
Very nice clean park. My suggestion is how about bags for puppy ???? poop.
7 months ago Kortnie willeford
Nothing having changed same nasty restroom for years why? Cuz we are on East side of Palmdale nothing to compare to the west side
7 months ago Brittany Goetting
First time here but nice
4 months ago Karin Lehnigk
Nice pool, nice park.
4 months ago Lauren Mejia
Nice place 2 watch the sunset, big park, a lot of peeps enjoying the evening
8 months ago Zachary House
Great park for kids and dogs.
6 months ago Kristina Davis
The park needs more swings more slides
3 months ago John Luther
Clean nice can bar q n have party hear
7 months ago Caitlin Schierbeek
This place isn't as friendly as it used to be. I used to come here as a child and you felt safe. I swam at the pool, I enjoyed the little historical schoolhouse, and we always went to the Fall Festival at this time of year at the end of …
4 months ago Stephanie Burt
It was a beautiful day at a beautiful park! Just one thing, need Restrooms closer to the entrance for folks that may have trouble walking so far.
11 months ago Raquel Wray
A lot of loitering bathrooms not clean.
5 months ago Brandy Campos
This schoolhouse from 1886 was the 1st #Palmdale historical building. It's great around these parts. I love that we can walk to historic stuff by way of Joshua tree groves without even getting in the car. #lancaster #antelopevalley
2 months ago Shareen Franklin
Nice little park to go and workout.
2 months ago Debra Kellogg
It seems like people are living in the park....be careful.
1 month ago Jessica Kirby
Safe an family
3 months ago James Pratts
Handball courts hidden in the back 1-wall, decent players
2 months ago Sonali Naiya
They made it look a little better.
9 months ago Priscilla Lee
Beautiful park, nice environment caring people
4 months ago Teresa Lesure
Can't wait to go back to work.,.. tomorrow
4 months ago Mark Vento
Love this park its peaceful just wish they would upgrade
2 months ago Brenda McIntosh
It's nice to walk around see other people
4 months ago George Conklin
Nice park
5 months ago Rafael Vargas
Clean and peaceful park.
10 months ago Kathy Orvis
There were some creepy dudes wandering around.
4 months ago Jillian Canarr
Safe place to take your kids and have family get togethers.
4 months ago Marisha Sh
Its big. Lots of grass plenty of parking. Clean and calm
5 months ago Renard Smith
This park has many facilities. The swimming pool water was clean and nice. Parking is easy and convenient.
8 months ago Israel Archila
Very relaxing
8 months ago Grace Park
It would be better if there was a spot for the skaters
3 months ago Mary Mclaughlin
It's nice besides the homeless people that hang out there bothering people,
2 months ago betty gjesdal
It's a great park to go walking in. Nothing really special but nice people too.
4 months ago David Rayis
Monday - Thursday the pool is open from 12pm-3pm for the summer. They do charge $3 for people above 48" and $2 for people below 48". Families of 5+ they have a price of $5 total. Cash only is accepted. I didn't see this info on the Palmdale website. Staff at the pool are friendly.
7 months ago sona lencesova
It was great
7 months ago Elena Dzahlaeva
Great park. Tennis courts, baseball fields, public pool, playground, and large gazebos with grills and benches. The only thing missing is an adult workout area (pull-up bars etc.), but this is a great place to take the family.
7 months ago Velton Williamson
Nice day at the park. Kids enjoy their time here in the playground. Restrooms are decent.
2 months ago Jerry Clarke
Winter time, not much to do. Summer; The park has a swimming pool
4 months ago Magda LAHLITI
The pool is clean...they have lifeguards all aound it...great for family outings
4 months ago Matt Alderton
There is baseball, basketball, soccer, BBQ grills under patio covers, friendly neighbors, kids playing all the time, there's also a poll in the summer, lots an lots of parking, we could fine those people who walk their dogs and are not cleaning after them. Other than that awesome....
8 months ago Michael Phelps
Nice local park
1 day ago ayham nasser
Nice park
8 months ago Stepfun Musiq
Don't go after dark ???? Lots of soccer and baseball tournaments
8 months ago Ayesha Iqbal
Everything is good. Besides no basketball courts
4 months ago Anubis Coi
Nice calm park has multiple tables and has a playground for little kids as well as older ones and the grass is good to play soccer. Is crowded on weekends for soccer games. Heated pool in cooler weather and cool pool in hot weather
7 months ago
Popular places from the category Park