Business management consultant Elite
Business management consultant Elite, 9285 Dowdy Dr, San Diego, CA 92126, United States:
125 reviews
of users and employees, detailed information about the address, opening hours, location on the map, attendance, photos, menus, phone number and a huge amount of other detailed and useful information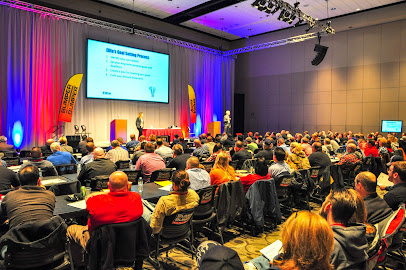 Address:
9285 Dowdy Dr, San Diego, CA 92126, United States
Website:
eliteworldwide.com
GPS coordinates
Latitude:
32.8906474
Longitude:
-117.1464893
Location on the map
Reviews Cindy Welch
Participating in the Elite Masters Course has taught me so much. Jen Monclus really helped me to visualize how to approach unique situations with customers, and I've greatly improved my sales skills. Her bubbly personality made for an entertaining experience as well as an educational and informative one. I highly recommend this course to anyone who wants to be there best in the Service Advisor arena. Kudos to Jen!!
5 months ago Luis L
This course was amazing, it definitely helped me a lot with confidence issues and as a fairly new service advisor has helped me make strides. Jen was great at providing feedback whenever I would stumble with my wording. I would recommend this class to any advisor who is barely starting out because it helps with some of the tougher customers that feel like will never buy.
5 months ago jimmie Henderson
We've taken advantage of Elite's training courses and their coaching program and haven't been disappointed. Working with Chris Monroe as our coach has been great. Having someone in our corner with his level of experience and insight has been invaluable in helping us navigate the hurdles and speed bumps we all face in business. You're going to run into problems no matter what. It helps to have a guide who has seen them before. Grateful for Chris and the team at Elite for their work!!
5 months ago Ahsan Rajper
Being able to work with Jen has been a pleasure to say the least. She is one of the best communicators I've had the privelge of meeting and it is evident that she has put lots of time and effort into the work that she does through the Elite Master's Program.
7 months ago Erin Courtney
Recently I started the Elite Masters course. The starting 3 day course was incredible. The information was so well planned and thought out. The Elite team hit the mark with the program. The lessons in the program really inspired me. The program was right inline with my core value system. Treat people honestly and fairly. Those customers soon become just like family to you making It a win/win. Thank you Bob, Jennifer , and Darrin for sharing your years of expertise with us. I look forward to the many weeks ahead in continued education.
10 months ago Adam Salah
My husband and I opened our shop in June 2020, and we have been with Elite since August. I can without a doubt say that our coach, Bill Edwards, has been such an important person for us during our rapid growth. He has pushed us to be data driven, we now have more concrete future goals and plans, and we have an incredible team of technicians and staff built. Even more, we truly feel he cares for our success and is always going above and beyond for ourselves and our staff. Having his experience and support has been incredible as we have taken on this adventure, always encouraging us to lead with our core values of taking care of our customers and making sure our business is moving in the right direction. We were a small business in June with 3 employees, and are ending the year with 8 full time employees. We are very excited for 2021, and with Bill's guidance I know it's going to be a HUGE year for us! Elite coaching and its resources have been one of the best choices we made for our business!
11 months ago Amanda Evans
Jen put so much time and effort in Robert going thru masters course very much appreciated. Watching Robert change in ability and attitude was totally awesome i know he is a better person after going thru program. Also knowing Jen will be available for future when questions come up. I as shop owner am very glad that Jen has chosen to put her heart into her work to help people be all they can be. A big THANK YOU!! Jen.
7 months ago Miriam Bichara
We can not say enough good things about every single person we have had contact with at Elite! We began working with Elite almost 3 years ago and they have helped us achieve every goal we originally set to keep our business operational at the time and now we actually make money, work way less than we were when we started are partnership, have more benefits for our staff, happier customers, faster turn around times, happier customers, and less stressful life away from work. If you are looking for which coaching company to team up with there is not a better option than these group of amazing professionals.
1 month ago Dianne Lyons
Unfortunately, I could not figure out how to give Kevin the 6 stars he deserves. He has been coaching us to focus on changes in several key areas. Although it has only been a few months we have seen real progress. If we continue on this path we will have the best year in shop history and Kevin has played an important role in this achievement.
4 months ago Maxwell Wever
Jenn and the Masters course she instructs is a foundational part of our service advisor training. Her knowledge of the subject and ability to teach it are unlike anything I have ever seen! I am beyond grateful for the talent she shares with my team and our industry. Ethics based sales training that is second to none!
10 months ago Brandon Sikich
Jen Monclus is everything one looks for in a teacher! She is organized, timely, direct and a master of her craft. I am seeing increased confidence and personal development in our newest service consultant because of Jen's efforts. Thanks for building a superstar for me!
9 months ago Eric Caudle
We have been with Elite since November of 2018 and have never regretted one second of it. Our coach Mike and the rest of the team have helped us transform the business in the last 3 years to a profitable repair facility that not only makes more money, but has more 5 star reviews and happier customers. The sales training from Bob, Jenn, and Doris are simply the best you will find. If you are looking for an ethics based, service minded company that holds you the owner accountable to achieve your personal and professional goals by growing a healthier repair shop business, then you will not regret your decision to choose Elite.
11 months ago Scott Wyatt
I have tried management classes in the past, and I would like to say that Fly With The Eagles Seminars is far above any course or program I have had the pleasure to take. I knew that Elite was right for my business to develop and grow. I signed up for their shop owners management training and was coached one on one by a gentleman who has made a name for himself in the automotive repair world. Servando Orozco was my primary management coach and influential key to bringing my success to a higher level. He was trained by Bob Cooper and Through their guidance I have learned to make my own expectations for myself and to hold my self to them. With Elites extraordinary knowledge I have accomplished and developed new procedures and productivity workflows in my business leading to less micromanagement and higher profits allowing me to expand my business to a second location. I would highly recommend Elite, I believe it is not just a great investment into your business, but also in yourself, helping re-evaluate your core principles and allowing you to make the right decisions for yourself. I would like to thank Bob Cooper and his crew for the wonderful service and guidance
7 months ago Min Jun
My shop has been working with Elite for about 2 years now, and the shop has grown so much. I went from being stressed out and hopeless, to wow there is hope in this industry in just a few months! Jim Butitta our coach is awesome, and really understands the family business dynamic. My brother and I are young, and we really starting to see a fantastic future! I strongly recommend Elite to any shop looking for support.
4 weeks ago Venkatesan Manokaran
Elite has improved my sales skills tremendously and has taught me many valuable lessons for my transmission business. My coach. Randy Pickering, has been incredibly helpful and attentive allowing Superior Transmissions to grow and progress with the times. I will always be grateful to Elite and especially Randy.
2 weeks ago Suze Harrison
Elite's service advisor training has helped both our new service advisor and those of us who have been working in this position much longer. Jen Monclus is to be commended for her professionalism and ethics based training. Also a warm thank you to John Francis, our Top Shop 360 coach. Navigating the (sometimes perplexing) questions of operating an ethical automotive repair shop is always a challenge. Having a coach who understands the industry and takes a principled approach to advising us has been a great help. Thanks to all of you at Elite - Jen Monclus, John Francis, Bob Cooper and the rest of the team. -Gerald
11 months ago scott keon
Jenn and Darrin were GREAT.
5 months ago Cris Austin
I look forward to my weekly call with Bill Edwards. We have been working with Bill since Covid hit. We have grown our business beyond anything I ever imagined possible. After 35 years in business, including some very lean and difficult years that saw my net worth collapse like a popped balloon, I am enjoying being a shop owner again. I credit Bill for keeping me chugging forward with a new-found focus & excitement. Thanks Bill!
4 weeks ago Jill Free
We have entrusted Elite Worldwide to assist us in developing our leadership and customer care team for years. Their attention to detail and ethics are remarkable. Most recently, Jennifer Monclus, guided the development & graduation of two of my current Service Advisors from the Elite Masters Program. I am ever so grateful for everything she does and how much she is committed to seeing her students succeed!
10 months ago Kyle H
I've been working with Elite Worldwide for little over 4 years now. Since I've started with them my business has been growing approx 10% each year for total of over 40% now. I am now #1 rated shop in my city. Everyone is very knowledgeable and friendly. It is a delight to work with them all specially Doris & Rudi. Classes they offer are very helpful and since then my service advisor productivity has gone up to 80% closing ratio. Rudi, my coach specially pays close attention to details and makes personal plans for my shop. He truly cares as if he is helping a family member. I would recommend them to any shop that wants to grow. Thank You all for all your hard work and thanks for helping me over the years. Ali, Olive Auto Center
4 weeks ago Becky Burnett
I could say many wonderful things about this company but I'd rather focus on 2 individuals for this review. I'll keep it strong and sweet. I attended a 4 day management class who was taught by Joe and Kevin. It. Blew. Me. Away!! These gentlemen are so passionate and love what they do. Most importantly they care about YOU. Both men have impeccable character. This is not taught- it's their values that are priceless. Elite has 2 amazing men who can move mountains. I am honored to have sat in their class room.
4 months ago Peter Kanters
Jen is an absolute sweetheart! The whole Elite crew is great! Always a pleasure to work with!
10 months ago Larry Downer
Bob Cooper and his elite team of shop professionals are truly a step above the rest. They have a very personal and unique way in changing your thinking on how our industry should treat customers, challenge you to do whats right but stay profitable doing it.
3 months ago Rebecca Partington
A truly Amazing company! In October 2017 my wife and I attended the Eagles course in SanDiego. Since then, our business has grown tremendously thanks to our coach, John Francis and the rest of the Elite family. We have felt very supported and encouraged along the journey and highly recommend Elite to anyone who wants sustained positive results. Thankyou John and the rest of the Elite family!
1 month ago Collin Evans
I recently completed the Elite Masters Course for service advisors with Elite. I would like to first say it was an awesome experience and I learned a lot from everyone involved. I was blown away but how much I had to learn and how much knowledge was there to pick up from other advisors in my line of work. The person that really brought the people and the information all together and made the class so valuable was Jen Monclus. She was our instructor throughout the almost 9 month course. Jen had a curve ball as we all die with Covid-19 and this class not getting to travel to California for the first 3 day segment as all classes in the past have done. Jen did not miss a beat though and you could not tell that she had not done this entire training course on zoom before. Her and her staff did an amazing job and we all learned a ton and bettered ourselves. I really appreciate Jen and the staff at Elite and look forward to future classes and recertification in the years to come.
10 months ago Mamasita Rose
Running an auto repair business is not rocket science. If you are of average intelligence, you do right by people, and you are willing to work hard for long hours, you can make a living. If you want to run a business that flourishes, creates uncommon opportunities for its employees, and supports your journey of finding purpose in your life, there is more to it, and it's much more art than science. There is no better investment that you could make in your shop than in the study of the art, and there is no better institution to provide you this education than Elite. There are other outfits out there that you can learn the science from, the plain business fundamentals. My experience with a Colorado based one at double the cost did not provide half of the value. My coach at Elite, Jim Butitta, is cut from a different cloth. He has been the highest caliber teacher, mentor, and friend I could ask for, and he has meant a great deal more to our company and its people. Jen Monclus is brilliant, Kevin Vaught is a treasure, and owner Bob Cooper has personally made sure I have been supported as a client. I would be remiss if I did not mention Doris Barnes who has been no less than incredible to me.
3 months ago Mykal Hazel
Elite is an amazing organization. They have been a valuable resource in so many ways to me and others. Their entire staff are people focused and have your best interest at heart. I have to say that Joe and Kevin are all stars. So very passionate in what they do. Just finished a four day course and it was truly eye opening. Made such an impact for me personally and my company. So very thankful for these two. They make a positive impact in everything they say and do. Excited to continue working with them in the future! Thanks for all you do Joe and Kevin!
10 months ago Elvia Guerrero
We've been working with Elite now for a little over a year. We purchased an existing auto shop that had been in business for about 15 years, were brand new to the industry and ignorantly thought it would be easy, and were in over our heads from day one. (SIDEBAR: I wish, more than anything, that I had thought of finding someone, specifically Elite, to look over the business BEFORE we purchased it - would have saved us so much pain and stress). After about a year of stress that I can't describe, I knew we needed guidance and started looking into finding a business coach. After checking out a number of different companies, what spoke to me most was Elite's mission statement. This industry has such a terrible reputation, and Elite's mission is to help us shop owners be successful, create work/life balance, all the while supporting our employees, and providing a top notch, honest experience, for our customers. All things that were striving for but didn't know how to do it. As soon as we reached out to Elite, we were introduced to Doris, and interviewed with her (they don't take just anyone on as clients). She was one of the loveliest people I've ever spoken to. From there we were accepted into the program, and since then, we have learned SO much. I look back at our numbers from last year, and in spite of the pandemic, our numbers are 25% higher ACROSS THE BOARD, due to Elite, and specifically our incredible coach, Darrin Barney of Barney Brothers Offroad. What I appreciate most about Elite, Bob Cooper, and their entire team, is that they worked so hard to pair us with the right coach. We wanted a shop that doesn't just do repairs; we wanted a shop that builds cool off-road stuff, high performance vehicles, and builds classics. Not an easy feat; but since Barney Brothers does JUST that (has the repair side fo the business AND builds cool stuff), they found the perfect match for us. Darrin has coached us through the most harrowing time in our lives, and we are now growing exponentially. We are scouting a new location, and working on goals that I never could have imagined a year ago. For the first time since buying our business, I'm focused on our future, and not just making it through each day. If you, like we were, lose sleep every night stressing over your automotive shop, dread walking into work every morning wondering what the universe will throw at you today, and dread picking up the phone because you're so overwhelmed, PLEASE call Elite. You won't regret it. I feel like we have found lifelong friends with Elite, and hope one day to be able to be a part of their team in some capacity.
1 month ago Sandra Chavez
We have made a substantial investment in training for ourselves and our employees over the years. We strongly believe the in great training and have been exposed to numerous excellent programs. Bob Cooper and his team at Elite offer some of the best training we've ever seen.
10 months ago Denise Gilbert
Thank you to everyone at Elite! We just finished up another year of record sales and profits. It's mid January, and the tax liability has grown. Retirement accounts are all maxed out and funded. The cash to pay the taxes is here. I never thought an old dog could learn new tricks! Since working with Kevin, Doris, Jen and Bob, every area off our business has exceeded our goals. Time to aim quite a bit higher! I could not have done it without you. Thank you, Tom in Phoenix
7 months ago Henry Lai
Bob and his group do a great job of bringing to the forefront the things you MUST do to be successful while keeping in ethics in mind.
6 months ago Dmitriy Shvetsov
The whole team has a wealth of knowledge that always exceeds my expectations. I have been utilizing their training services for myself and my staff for years and will continue to use them for years to come.
7 months ago Amjad Hossain
Very informative, kept my attention and well worth anyone's time. Highly recommend!
6 months ago ASAD ALASAD
Great training and information ar our annual Point S meetings. Thank you Bob Cooper and Darren Barney.
6 months ago Meghan Degante
After being involved in various organizations and 20 groups for over 25 years, about 5 years ago we joined Elite Pro Service and never looked back! This organization lead by Jim Murphy is proactive in every way - from marketing to business operations, to personal growth. The quality of the people drawn to this group is unmatched within the industry. We are all here to help each other and learn from each other Jim Murphy has proven to be a great leader, coach, and mentor with unwavering integrity, and amazing wealth of knowledge. If you are reading this and wondering if this organization is worth your time, regardless if you have a single shop or you are a multi-store owner; I can assure you that you will find your time well spent!
8 months ago Chealsea Erman
Hope and renewed vision! Working with John Francis, Jr. has truly been a blessing. He has come alongside us, encouraged us and given us hope of a brighter future. It has been great to have someone who has walked this journey before sharing his wisdom and advice with a positive outlook. So nice to feel like we are not shouldering all the burden and responsibility of owning an automotive repair shop alone. Thanks John!
6 days ago Radha Krishnan
I have been involved with the Elite coaching program for six months. In that time, while working with Doug, my personal coach we have made significant changes to the daily operation of the shop. I believe these changes have helped create a positive work environment for all my employees and created a better experience for my customers. My hope is that continuing on with the program will help develop the business further and reach new goals. I would recommend this program to any independent shop owner.
8 months ago Raven Viola
I recently completed the Master Course which consisted of 2 days in San Diego and 6 months practical. The 6 months of training after was awesome, thanks to the efforts of my instructor Jennifer Monclus. Her positive attitude and upbeat personality made it a very enjoyable experience. Jen also had great insight and looked at things in way I never thought of. Thanks Jen for making it fun, and of course helping me pass.
10 months ago TomMarineVet
I want to thank Elite for all of the help, training, and support you have given me over the years. But most of all, the coaching from Jim Murphy has been amazing. Jim's State if the Industry speech at the conference was once again epic. The time and passion that he puts into this presentation provides glimpses into current issues and trends, as well as a pretty accurate reading of the "tea leaves" for the next 12 months. Invaluable stuff that I can share with my staff immediately. Thanks again!
7 months ago Holly Dobney
I really can't say enough good things about Elite! Jim is an incredible coach and Doris did an excellent job training one of our advisers. They offer a wide variety of training videos and topics on their website and have never let me down when I needed help with anything automotive related. I would highly recommend their services if you're ready to take your shop to the next level.
7 months ago Michael Jones
Saying that Jim Murphy Is a Amazing business Coach is only scratching the surface of one amazing man. Over the past 16 years Jim has become a Mentor, Coach, Life adviser and a very Dear Friend. I am a better person for knowing him and having Jim in my life. I have seen him selflessly do this for many of my colleagues as well. Best Tony...
4 months ago Lilli Brownstein
It was such a pleasure working with Jen and the Crew at Elite. It truly has made a difference these past 8 months. Our Service Adviser has become a SUPER STAR! Jen made sure that as owners we were kept informed our our Advisers performance and it was very well organized and professional. Thank you Jen, we shall look forward to our next venture!
4 months ago Benjamin Johnson
"After struggling along for 20+ years enduring too many Excedrin headaches to count, I found Bob and the Elite team. Eureka! What a blessing for me, my family, and my employees. I initially signed up my service advisor for the Master's Program with Doris. This move was positively the BEST thing I've ever done. Then I decided to attend the Fly with the Eagles course and went into the Coaching program with Doug Stoll. All I can say is WOW! What a difference a few smart decisions make in business. All the credit needs to go to Bob and his wonderful team for creating such an outstanding product. My service advisor, techs, and I have embraced the program and have combined to produce the best quarter of any year of our existence. All of this and our clients have never been more satisfied or happier with our services! Elite teaches you to put people ahead of money and that truly is the key. There are many other automotive business development programs out there, but Elite is at the top of mountain. Thank you, Thank you, Thank you Elite. You have changed my life."
3 months ago Eugene Hazelton
Before becoming a Service Advisor at J4 Automotive, I spent the previous 8 years in the automotive sales industry. I worked for companies that spent hundreds of thousands of dollars for mandatory sales training from some of the top trainers in our industry. I can tell you that i learned more in 3 days with Jen and Doris than I did over an 8 years period of constant training through the dealerships. These 2 ladies make an unbeatable pair of trainers. Three words for everyone, ETHICS, ETHICS, ETHICS!!! Thanks again for changing my life!
9 months ago Kristopher Crovetti
Elite teaches what I like to call Life Skills - People, Sales & Service. #1 Training Company on the market. The coaches/instructors are very dedicated to their craft and they'll be with you the entire way until you develop long-term skills that'll carry you through life, even beyond your Service Advisor Career. Look no further. Take Action. Make the Commitment.
10 months ago Jean Atwood
"Bob, thanks so much for all the great info. You have been one of my most respected mentors, and I have taken my father's business to the next level with your help. I recommend Elite to everyone. Great job!" - Max Currier – Jim & Sons Transmission Specialist
4 months ago Hector Cruz
I enjoyed the course very much. I picked up some new skills that I can use everyday. The instructors are thorough and know their stuff. I would recommended the course.
4 months ago KDL
Kevin has been invaluable in the development, implementation and measurement of my business plan. His years of experience and expertise in operating auto repair businesses has been a great resource in getting my business to the next level. His dedication to clear measurements and holding me accountable has had a massive impact on the growth of my business. I genuinely appreciate his candid yet up-building approach to business coaching. It has greatly contributed to my leadership, management and ownership skills.
2 months ago Marget Moore
We have sent two service advisers to Elite for training and we are very impressed with both trainers, Doris Barnes and Jen Monclus. They are top tier trainers and both are genuinely interested in seeing success in their students. We certainly have seen great improvements in our service advisers from the training and would highly recommend it to anyone. I once heard Bob Cooper say that he would not be worried to have our customers in the same room with his trainers. I think that says volumes. Everything is based on ethics and serving the customer well.
2 weeks ago Nora White
It is my pleasure to highly recommend Elite Worldwide as the highest standard in automotive repair company coaching. I joined the Pro Service coaching group almost two years ago and it was the best decision I've made for our company in a long time. Jim Murphy is an outstanding coach and mentor. If you do not want to work to improve your company, don't join because they require effort and progress from you! Believe me, it pays off! Thank you Bob Cooper for bringing this program to our industry.
4 months ago
Popular places from the category Business management consultant