GameStop
Video game store GameStop, 253 MacDade Boulevard, Folsom, PA 19033, United States:
95 reviews
of users and employees, detailed information about the address, opening hours, location on the map, attendance, photos, menus, phone number and a huge amount of other detailed and useful information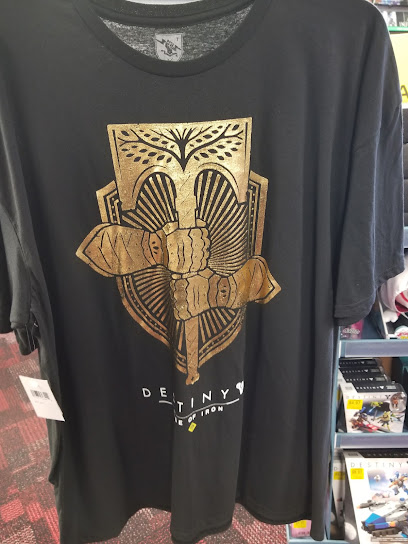 Address:
253 MacDade Boulevard, Folsom, PA 19033, United States
GPS coordinates
Latitude:
39.8883214
Longitude:
-75.3287201
Location on the map
Reviews Sarah B
Normally was my favorite gamestop but the number of games are small and no game is really new , they are all behind the counter in those yellow sleeves and they tell you it is the last game every time. Heard them tell someone they only had 1 star wars game left but I seem lots. I like collingdale as my favorite gamestop just down the road.
8 months ago Gary Mortensen
Knowledge and experienced staff. Very good customer service n experience
9 months ago Mohan Sunderam
Staff was very helpful and their prices are pretty good.
10 months ago eagle eye
Wouldnt answer my call to ask if the thing I wanted was in the store they kept declining my call
8 months ago francia veras
Had a great visit ,they didn't have what I wanted but I was able to get A LOT of games 28 to be exact for all for under 26.00 so happy xmas is ruined now.so thank you to the employee who helped me today on Sat dec.12 at 4pm.
5 months ago Derek Bourdeau
Can't remember her name but she a very short cute girl,to top it off she was very nice smiled and made me feel comfortable at the store, thank a lot.
3 months ago brett threat
It was ok didnt have what i needed
3 weeks ago Yosuke Yamauchi
Staff is always friendly, stocked up with new items frequently.
4 months ago Natashia Dannegger
Fantastic ataff
10 months ago Mary Abboud
Great and Freieindy
11 months ago Jennah Dalton
My favorite store, great employees
4 months ago Trina Luebbe
Great service
10 months ago Ishmail
Great customer service
2 months ago Nelli Gluzman
Dont work with you on prices and negotiations
8 months ago Mike Mullo
Priced a little high. You can get the same items off line brandnew for cheaper . GREAT FOR THEM QUICK STOPS WHEN YOU DON'T WANT TO WAIT.
9 months ago Stacia Heinrich
Friendly knowledgeable staff. Higher prices than other retailers.
8 months ago rajwinder hans
I've been going hear for 4 years my son loves it and the prices are fair and good for gifts
4 months ago Reuben Hall
Takes too long to check out but it's clean, organized & has friendly staff.
10 months ago M Soctomah
Great customer service
7 months ago Mike Lucas
PS4 Xbox Nintendo Wii Nintendo switch you name it they got it for whatever game system you enjoy playing
11 months ago Neil Ashton
Clean, well maintained and great customer service.
10 months ago Sharon Hurt
It was not okay
1 month ago Riza Cruz
Very helpful and within one minute of getting in they ask you if you need anything and have good knowledge. They are also very friendly and will go above and beyond to help. Parking is ok.
5 months ago Todd K
Great selection of new and used games. Employees always very nice and happy to help
4 months ago George Tisdale
If you need a game they have plus they will help you with everything you need help with
11 months ago Oneal Preston
I prefer the Ridley Gamestop,they always have the best variety of games and everything you would want to buy.
8 months ago Faizullah Khan
Love ridley gamestop excellent selection and very helpful employees.
11 months ago Carlos Eubanks
Worst customer service. Clerk and Manager should be fired. I arrived at the store before it opened and was first in the store. Clerk says they just got the console in, starts to check me out.... but then he says it's broken. As I am telling my husband and son that it's broken, we hear the manager on the phone telling someone she'll hold it until they arrive but to hurry up because people are asking for it...So we ask to see this broken console and confront them both on the conversation we overheard... They agree I was there first, the manager says it is not broken, but they refused to sell it to me. I speak with the District manager on the phone. He must have told them they had to sell it to me. They say nothing to me ...just pull out the console and start checking me out. Not even a sorry...I will never shop at a gamestop again.
5 days ago Damaraju Saroja
Many games to pick from along with some very new ones
9 months ago Casey Downes
There very knowledgeable just slow service
5 days ago Jessy Acosta
Staff seems bored the console stores have taken over
9 months ago Pilot
Very nice & friendly staff. Nice environment. Visit often
8 months ago Sarah Koon
Went to buy the SNES as soon as it opened, called ahead to make sure it was there, and told the guy that I was the person who had called about it when I came in. Apparently, they arrived sometime shortly after and the guy never said anything to me. Then, another customer comes in and purchases it before me. I thought it was "first-come, first-serve", and didn't think that meant "wait right at the cash register for up to two hours" considering I was the only customer in the store up until that point. Is it really THAT hard to tell the one customer in the store that the item they are waiting for arrived? Probably could have been out in half the time if he had just said something. This is my first time ever writing a review, that's how annoyed this made me.
2 months ago freeaxes
Owner is a good guy, always has the hot game's prices are fair.
3 months ago Ashley Bader
Absolutely ridiculous policy..... I bought black ops which always has a campaign, but this one dosnt , I took the game back as soon as I loaded it and found out it's only multiplayer on line. I paid $60 plus tax and they only wanted to give me $20.... For a game I bought less then 24hrs ago.... And I know they will still tag at $59.99 used. Very dissatisfied!
11 months ago Jen
Upon check out I got what seem to be the manager. I reup my magazine and pro card and bought video game on sale. All went very smooth.
6 days ago Eliot Malone
Great customer service and very friendly workers
11 months ago Inga Carey
If you know what you want it's easy but if you ask for help they don't do much
11 months ago kathy reider
I think it was five stars that man waiting on us was polite and helpful and I didn't have to wait in a long line and it was a good thing!
2 months ago Becky Christianson
This place is great I have lived in Ridley for 12 years and me and my kid go there all the time the people there are also very helpful and they are always in stock I love this GameStop.
2 weeks ago Kelly Ibelegbu
Always pleasant quick service
8 months ago Jacob Krampf
Every time I go in they are more then helpful. They always strike up conversations and I'm usually their longer then I thought I'd be just talking about video games. Very friendly and very knowledgeable. The rare few times I had to bring back a pre owned item they helped exchange it no problem. Pre owned items not working is the fault of the original owner not the company.
3 months ago Dugvk Hech
Everytime i go in its usually quick and all of the people are very friendly kind and helpful to get you what you need
4 months ago Pam Laushway
The rudest people I think I've ever met. Should not be in customer service. I contacted corporate and informed them of how this store treats it's customers. Go to a different gamestop. It's worth the extra gas to drive to another. You would have a better experience in a lions den than to be serviced by the employees at this gamestop
4 months ago Bianca Nichols
I have to give it a 5, my little boy loves the place, lol
1 month ago Vincent Rich
Always a great selection of games in stock. As well as accessories and collectibles.
8 months ago Joe Hebert
Great service! neesed two games for my husband, I described the game and they knew exactly what I was talking about!
10 months ago Khaled Akkad
Bought a pre-owned xbox 360 controller. 40 dollars! More expensive than a brand new one! And it didn't even work! Definitely going back tomorrow to fix this situation and I'm absolutely disgusted.
8 months ago Kaylee Milligan
The people are very helpful but sometimes information is not relayes correctly. A few times I've gone in & a new associate has no idea what I'm talking about until management steps in.
8 months ago Dhruvesh Patel
Bought a pre owned black ops 3 today! And i noticed the guy down in the drawer shuffling around checking a bunch of the black ops 3 games in the yellow envelopes, well came home to install the game onto my xbox one s.. turns out its a blank disk. I was on the phone with microsoft for an hour. I put the game into the system at 12:00 its now 9:55 at night and its only loaded 4%. the woman from microsoft helped alot but nothing helped the game to install. Sold me a blank disk for $30. This gamestop is always an issue. The parkinglot is terrible . Ive only have an issue with ONE employee seemed to be a manager but not sure! Ugh NEVER again
3 weeks ago
Popular places from the category Video game store