Future Music
Used musical instrument store Future Music, 5112 York Blvd, Los Angeles, CA 90042, United States:
40 reviews
of users and employees, detailed information about the address, opening hours, location on the map, attendance, photos, menus, phone number and a huge amount of other detailed and useful information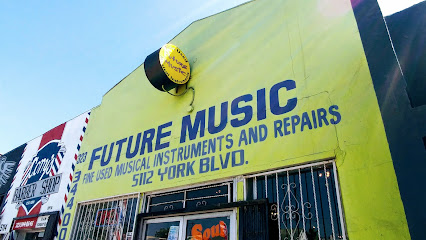 Address:
5112 York Blvd, Los Angeles, CA 90042, United States
GPS coordinates
Latitude:
34.1207924
Longitude:
-118.2043228
reviews Shelby Harris
Found this shop today while traveling through the area from out of state. Lots of treasures in this shop from vintage to newish. The guys were great to deal with and cut me a really fair deal on a rare bass that I was happy and surprised to find. I will definitely come back when coming through the LA area.
4 months ago Tatiana Pinheiro
Went to get a pedal fixed. It was something super simple l.5 min in and out and he refused to take my money. Bringing all my stuff here!
6 months ago Robert Brashears
Great music shop, super helpful, knowledgeable and all around good folks. Constantly have cool stuff coming through the store definitely check it out
2 months ago Lenny Strom
The best music store in LA Small but impeccably curated collection of instruments and gear Great conversation and laughs, many laughs
11 months ago Kory Drake
IMO the staff there is pretty rude, they don't like to talk to you much, and are quite cliquey lol. so lose a star for that but like everyone else I'm astounded at the music selection here. I've even found random-ares CD's that I haven't seen/thought about in years and was like "Oh, I remember this CD!!! I must rebuy it! Especially at that price!!!"
7 months ago Stephen Miller
I took my guitar in to resoder my pick ups. The dude there said it would be about 15 bucks. I come back a week later and the bill was 120 dollars. The guitar tech took it upon himself to "fix the other problems" sure he fixed some stuff but honestly its giving me some problems right now and I broke a string the same day i got i back. But come on it's like going to the mechanic for an oil change and the guy goes "oh you needed a new engine so I decided to fix it all up for you, thatll be 2000 dollars" I wish they would've called me first and tell me what's up. Really wasn't cool
8 months ago Nick Ramsey
My go to for big purchases. Really helpful staff always willing to make a deal.
6 months ago Volein Hart
Iv'e dealt with this place for years and they are a big resource for myself as well as many musicians in Los Angeles (and even many overseas!). Whether it is small effects pedals, drum machines, guitars, mixers, repairs, ADVICE or inspiration- this place is really good. As a bonus, the owner is an actual professional musician and lives locally in the neighborhood. Solid!
1 month ago michael wells
Great selection of used vintage gear. Everything priced to move for the working musician. Down to earth staff meets you where you're at.
1 month ago Johanan Vargas
Started taking lessons with Ms. Emily a couple of months ago and she's been great with my son. He enjoys going to piano lessons every week and always comes out of his lesson with a smile. During his practice, I can also hear him getting better every week.
8 months ago David Thompson
This place is awesome! Go to Greg for your guitar work needs (from re-stringing to major issues)! My pal also brings his bass to Greg when it needs some love.
6 months ago Lorri Badolato
This place is fun. People nice. Work good. Nice feeling prices. Will help you just because And there's no price for that... There's hope for all of us at Future Music!
7 months ago Don Stroub
Future Music is the Best Music Store in Los Angeles! I know every music store in town, Guitar Center, Sam Ash, in Hollywood are good, but for Personal Attention, FUTURE MUSIC in Highland Park is one of the Finest in the Industry! JIMI JAM
4 days ago Rebecca Davis
Future Music and Jack Waterson are two of the greatest gems in the Los Angeles music community. I've been a customer since his shops in Hollywood. I always choose Future Music first. Whatever it is I might be looking for or the staff always has the right answer. LONG LIVE FUTURE MUSIC!
3 weeks ago David Keddie
Basically got a setup, restring and filed nut at no charge, even threw some picks my way. Sold for life! Greg thank you so much, I shall return for all my guitar needs! ????????????????????????????
4 months ago Shaun Bourque
The kind of place I used to hang out in -- a pimply teenager, dreaming of rock stardom
3 months ago Kevin Tavarczky
This is my favorite music store. They're very friendly and into talking, and if you know what you're into or need advice I can't think of a better spot. Jack, the owner, took the time to open up my amp and diagnose a problem free of charge as a "welcome to the neighborhood," and all of their techs are fantastic. I take my guitars in before every run of shows, and they helped recommend a better (and cheaper) custom electronics upgrade for my telecaster than what I thought I wanted. Super good for vintage pedals and synths and amps and stuff too. Definitely a specialty shop - don't go there to buy strings and a tuner or a new squier with a practice amp. But for going deep, it's my favorite place in town.
6 months ago Ashrafur Rahman
Future Music cares about getting the right gear to the right person. Always helpful. I have bought drums, cymbals, guitars and amps here. I always leave knowing more than when I entered and have always been completely happy with my purchases.
6 months ago Dana Lerway
Great store with tons of vintage gear. I've purchased several guitars, keyboards and amps here and am very satisfied. They also repaired my 30 year-old MS-20! As for the complaints about "nothing being plugged in" and they won't let you test anything before buying, that's bullsh¡t. You just need to ask.
5 months ago Vickie Gibbs
Great..service. So I have a problem whit the fret guitar Alvares guitar me grandson wants too Lear but as always damage Nice playing guitar So I took the guitar in. To fix In days it was fix . And the price was Blow me away So affordable. Super super thanks to JASON..saraco.exelent job And to all the best Customer service Thanks for all you help Highly recommend..
6 months ago Terica Williams
Jack is good people. Knowledgable, honest, down to earth staff, and always good stuff in store. Hard to leave empty handed. I've never done it.
3 days ago Charles Sumrall
This is a weird spot, there's some pretty rare oddities and unique items that are fun to see in person if you're into vintage synths/audio equipment. The problem is the prices are absolutely outrageous (well above market price) and the synths are not nearly in good enough condition to justify it. The space is incredibly disorganized and messy, so I wouldn't recommend it for someone who wants a more professional environment. It's a fun showroom, but not much more.
6 months ago Christian Carson
Neat shop with old equipment. lots of older dirty gear; they're willing to wipe it down, but not clean and repair. Nothing plugged in for testing. Some of the equipment is priced and the rest you have to ask.
7 months ago Nayib Victorio
Friendly people who know their stuff and have reasonable prices. Also, Boomer kills it on keyboard repairs. Fast turn around, great rate, and everything sounds good now.
1 day ago Nidhi Patel
Jason sarraco is the man! Helped mod my guitar and was great to work with. Highly recommend.
9 months ago mark kelly
I love this place! Gave my guitar TLC there and despite my short turnaround request was completely satisfied with how it came out.
3 months ago Dawn Tabram
Always a great experience with Jack and all the guys who work there thank you guys
6 months ago Paul Web
Beaut' old shop for second hand keys and 'tars. Staff got a comprehensh' knowledge of both the gear an the scene. Repair shop seemed legit too. Respect
3 days ago ASSA TAMIL
Very helpful staff and the cutest dogs you ever saw.
5 months ago Yvonne Michaels
Bought there 2nd hand guitar pedal , good prices!
2 days ago Velton Williamson
Pro advice from a string-man who has been on the front lines of both live and recorded performance, personally dealing with all the many demands placed on the professional performing artist, These guys want to help you develop and practice your art, and they know what it's like on the road and in the studio. Jack blows me away with his photographic memory and knowledge of obscure but cool gear. He knew my Japanese Strat was an '89 with one look at the front of the guitar and no serial number or other designations on the headstock. If they don't have it they know where to get it! Their luthier, Greg Coates, also appears to be at the top of his game, opening my eyes to better ways of achieving a perfect setup than simply leveling frets. This is my new one-stop music store - great to have them on the east side!
2 days ago Denise Williams
Good selection of vinyl, good music on the speakers as you amble round the store diggin
6 months ago Hannah Garfield
Great selection, pretty lousy service. Half of the stuff in the shop is broken, none of it is plugged in (despite it being 90% keyboards and synthesizers), so good luck trying something before you buy it. They have a nice selection of used gizmos and gadgets though, and I assume the proprietor is nicer if you need something fixed or come in the store with $5k to drop on a vintage moog.
4 months ago Harom Tran
The nicest dudes who carry some awesome gear
2 days ago Wesley Lindsey
My favorite shop in LA.
3 days ago Sylvan Knight
Satisfying
6 months ago Dawn Vincent
Seatbelts
4 months ago Dylan Johnson
Go Generals!!!!
3 days ago Eric Dafop
This place sucks!
6 months ago Henry Lai
Future music rules!!!
2 days ago