Panera Bread
Cafe Panera Bread, 1075 W Baltimore Pike Suite A, Media, PA 19063, United States:
220 reviews
of users and employees, detailed information about the address, opening hours, location on the map, attendance, photos, menus, phone number and a huge amount of other detailed and useful information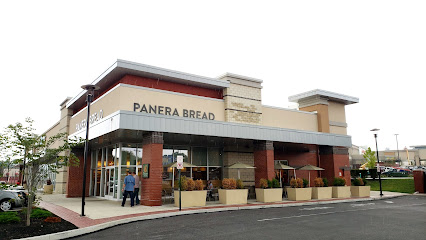 Address:
1075 W Baltimore Pike Suite A, Media, PA 19063, United States
GPS coordinates
Latitude:
39.9145491
Longitude:
-75.4322332
Location on the map
Reviews Agnes W
Clean and sunny eating area that tops many other Paneras in the area. The coffee bar is tidy and coffee hot while I was there. Also, spotless bathrooms.
6 months ago Teena Hollins
Panera seems to be a healthier food option and a delightful atmosphere. However, I seem to have bad luck with the food chain. At my last visit a few days ago I ordered the chicken avocado melt, took off the top piece of bread and found these two gross pieces with the rest of the chicken looking undercooked. Five Guys is next door so went there to get a reliable burger!
11 months ago Sam Nissenfeld
I ordered a cheesed pizza for the first (thinking it would take like any of the Panera bread products), it was absolutely disgusting. So I asked if I could have a sandwich and mac & cheese instead. Carly, the staff supervisor quickly solved my issue without any hesitation. Because of her hospitality and problem solving, I can see Panera trains their employees well. Thank you!
7 months ago Kayte Poggenpohl
Overall I like Panera; however, IMO you do not get enough food to keep you full. Panera is suitable for portion control.
6 months ago Robert Groll
So there is no toilet seat covers & the toilet paper seems to have feces on it from prior use. If you notice the cover is off. I immediately went to tell the supervisor Allen Dunn. There was no apology or even sincere regrets. Allen Dunn did not reply to the statements that I explained to him. I did not feel important as a customer nor appreciate it.
9 months ago Sandor Felho
On my way home from a long rough 12.5 hour day at the hospital I stopped here for dinner. After I placed my order Destiny was so kind and went above and beyond with my order. Her smile was contagious and her genuine personality made my day. Such an easy act of kindness and a smile can truly go a long way. You are very lucky to have her on your team. Destiny, thank you for all you do. Keep doing what you are doing. Have a wonderful day!
4 months ago kimothy fong
Delicious meal. The summer corn chowder was so yummy!
7 months ago Domonique Douglas
I watched an older woman come in and ask if someone was at the register, the employee cleaning the soda machine slower then his metabolizm said NO right to the woman... as rude as he could be... then the register person came out 2 seconds after. I guess it's too hard to say "they'll be right with you" or "let me get someone for you ma'am" later I watched as he walked around for an hour doing absolutely nothing wasting time. No wonder my bowl of soup is 7 bucks and I get smaller and smaller portions in bigger and bigger bowls.. put the damn soup in an appropriate size bowl for crying out loud or fill it all the way up. This place thinks you're a plebe.
9 months ago Mike Pittman
Just fair. Springfield store does a better job with freshness and accuracy
7 months ago Clemente James
The girl who took my order was lovely and helpful. The food was disgusting. My Greek salad was drenched with dressing and my mozzarella caprese salad was drenched in what tasted like BBQ sauce. My son's soup was fine. We won't be returning.
6 months ago Brittany Manley
the flat bread pizza is very good. nice and clean staff very helpful
11 months ago Bria Owens
Breakfast was ok. Disappointed they were out of Brioche ,our buzzer didn't work right so our order sat longer then it should have making it Luke warm to cool
7 months ago Marc Malow
Honest comment. I have been to Newtown Square,Malvern, Springfield Panera Bread. This location makes the best flatbread pizza for some reason.
1 month ago Anthony Gonzalez
I absolutely love Panera! Their food is so delicious, and a really good quality. I would highly reccomend the original mac n cheese (I didn't love the broccoli cheddar mac n cheese)! Their bread is SO Delicious! It's doughy, and just tastes amazing. Their hot chocolate is also wonderful. We got the big container, and I would reccomend shaking it before pouring or else the chocolate might remsin on the bottom. I also love their whipped cream and chocolate croissants. Panera is one of my favorite restaurants - go here, they won't disappoint!
4 weeks ago Darren Anderson
So at xmas time i bought $50 gift card for my dad, and it came with a free $10 gift card, The 10$ gift card does not work, and the cashier wouldn't do any thing about it, It was just a scam to sell gift cards, BEWARE OF THIS PLACE.
10 months ago Jaxson Hull
I will not be ordering from Panera Bread again. I ordered the "group" order of chicken noodle soup and it was mostly broth and hardly any chicken or vegetables in there. The large Mac N Chz was not even 1/2 filled. Overpriced and I have a feeling they are trying to cut costs. I used to love their food but not worth it anymore.
4 months ago Michelle Abram
Panera Bread Is A Fantastic Place !!!!,The Food Is Superb !!!!,I Just Had A Chicken Caesar Salad,And It Was Great !!!!,And Very Good !!!!,I Would Recommend That On The Menu,At Panera Bread.
4 months ago lori schwenk
Nice layout, excellent staff. Coffee and food is very good.
3 weeks ago Brandon G
FAST AND EASY WHEN I AM IN A RUSH
10 months ago Dennis Pagano
I left my phone on a table and noticed it 20 minutes later. When I entered the store they already found it and kept it safe in the back of the store. They asked me details about the phone so I couldn't just make something up. They saved my day. Thank you! (The food is also very good!)
6 months ago Jason Rowe
Constantly messing up the orders.
6 months ago Kristy colvin
The caramel latte they make is definitely not good, tastes like water with a bit of milk a bit of coffee. I drink it all the time, and other places make ok, but not here.
3 months ago Daniel I
Never have eaten dinner there
6 months ago Saeed Aldirdiri
Always good.
7 months ago David Taylor
We visit this place often. Clean and spacious.
2 months ago mickael lecot
Very contemporary, clean, friendly, and prices are good.. so many bar counters for laptops and charging too
1 week ago David Hrachovina
The food was delicious. Service was very slow: almost 1/2 hour for a sandwich and Mac & cheese. Manager did come over to apologize and offer a bakery item. It was new staff. Hopefully will improve as food is fresh and delicious.
7 months ago Ashley Maleson
The employees were extremely friendly and accommodating. The place is really beautiful, we are our dinner by the fireplace! And my food was delicious!
8 months ago Georges Sanbar
I went to this place for a brunch. - Food: my orders (5 orders) came out fast It was fresh and delicious. Pretty much same decent quality like as other Paneras. - Service: A staff named Lindsay was very unkind and unhelpful. I did not feel important as a customer nor appreciate it. Except the staff, I had a great time with my friends there.
8 months ago Paul Lequeux
The food here tastes very good and the staff was friendly, but I do give a low rating based on the high price. I left the place broke and still hungry. You do not get the bang for your buck. If you are wealthy and have money to burn, Panera is for you. But if you are me..... It's just not in the budget.
1 week ago Steffany Lizbeth
4 out of 4 tries, this location is NEVER on time. Rapid pick up - isn't. Plan to add 10 minutes to whatever they promise. Shuttling kids to activities, we often run a tight schedule and we need a time promise to be kept.
7 months ago Craig Osbern
Extremely overpriced for substandard food and below average customer service. The cashier was rude and clearly hated her job. I spent 23$ for us to have soup that tasted like it was from the day before and they added water to stretch it with no flavor. The steak and white cheddar sandwich had literally 1 and a half thin, small pieces of meat Is there anyone who actually oversees this store?! Terrible experience and will not go back
8 months ago Jeannette Decicco
Not very appetizing food and staff
8 months ago Jenn Fisher
I used rapid pickup service pretty often and they're almost always very reliable. They rarely don't have one or two ingredients before but it seemed like they fixed that problem by updating their app recently. Before they fixed the problem, even when they had a missing ingredients, they always let me know when picking up and they offered some kind of substitutes or free pastries.
11 months ago Vilmos Szabo
Whole grain healthy goodness! The options here are decent and healthy, but don't forget the carbs! This location is newer and nice. The staff here are well trained and very nice as well. Parking is free and plentiful. This is a good location to get the Panera experience.
6 months ago Sem Maltsev
Great variety of food and excellent customer service!
3 months ago Shauna Costello
Very quick service and the food is delicious!
10 months ago Jared Tait
Hit or miss it seems. It took really long to get our food and one of our "half" sandwiches, about $6, was more like a quarter sandwich. It was pathetically small, about 3 small bites worth. The rest of the food was good, but the value is really shrinking.
8 months ago vladimir nazarov
Not digging Panera in general. This isn't the 1st one I've been to. Food is overpriced and not so great. Oh wait, except their mac and cheese which is the best. I'll give it a 3 star for the mac and cheese. The manager here was a doll. He made it a point to speak with each customer, I like that. Cashier....not so much so.
8 months ago Montia Sanford
U can never go wrong going to eat at Panera Bread. Cosy and casual atmosphere, delicious and nutritious meals, always helpful and caring personnel. It was almost up to its capacity but it didn't really feel like it!
7 months ago Mohammed Iqbal
This is a very nice store. The wait time was consistent with Panera's stores. The food was as good as usual. What set this place apart was the excellent service. I will be going out of my way to come here again...and it is definitely out of my way. Good job.
6 months ago Sara Bills
Ordered the bacon egg cheese on brioche, specifically asking for no cheese and over easy. Got the cheese and their "over easy" or hard (no drippies). Used to be fine, but not this time. Hoping it's a one time thing.
8 months ago Patrick Monroe
Very nice new Panera! The inside is on the smaller side but the interior is new and modern. It has also several self-service kiosks in addition to the normal counter. The staff is very nice and helpful and the food has been good as well; it is what you would expect from any new Panera. My two main critiques are: 1. The size of the location, like I said, it is on the smaller side. I wish there was more room, especially 'working' space to get things done and plug in your laptop or phone. 2. When I have visited this location, there are always dirty tables which makes finding a clean place to sit difficult if it is busy. They need to either hire more people to clean or prioritize it more.
8 months ago Valerie
There is great food and friendly fast service at this Panera location. The physical design of the restaurant is also nice as it offers a lot of comfortable seating. A solid plus is the ability to use the fast lane (which involves small touch screens) which are by far best used to grab a cup of tea or a quick drink. This allows people to come in do some work using the provided outlets really easily. This said I prefer to order from a person especially for actual food so I always go to the counter. Keep up the good work everyone!
8 months ago Mark Taczala
The worst experience at a Panera Ive has since I realized they had coffee.
4 months ago viviana marquez
I have to adjust my rating of this locaton. While I know Panera stores are usually great food, quality, and service this one unfortunately doesn't uphold those standards. I have been there a couple more times and now I will just avoid this location. The food is not consistent. For example my cheddar broccoli soup came out fine and my friends was watery and odd tasting. The same visit the cashier was pretty airy and didn't seem to care even a little. When I asked what ingredients were in a salad she couldn't read them, someone else has to come over. My friends and family have had bad experiences there as well. I really think corporate needs to step in and get the staff right. If I'm in the mood for Panera I'll drive a little further to the Springfield location.
9 months ago Al Washington
The food wait times are wildly inconsistent. Sometimes you get your food within 10 -15 minutes, sometimes you have to wait 45min- 1 hour. It doesn't really matter when you go either, even off hours during the week can have long wait times. They don't always bother to refill the teas/lemonades either, so I paid for a drink that I could not actually get. I had ordered a smoothie with my meal and discovered that it had actually been made right after ordering rather than around the time of my meal. Normally this would be fine, but I had not been notified of this at all and it sat on the counter for a while so it was not as cold as it should have been. The staff didn't apologize or seek to remedy this at all. The staff are not friendly at all and of they are out of something that you paid for, they don't care. This is by far the worst Panera I've been to.
1 week ago George Michael
The cashier was hunched over the counter on her phone when I arrived, not very friendly customer service. I ordered a scone and frozen coffee beverage. The wait time for a simple frozen drink was 17 minutes. The store wasn't all that busy at the time, there were maybe two orders that went out between placing my order and getting my drink. There were 4 or 5 employees in the dining area just mulling about and socializing or on their phones, presumably on break. There no excuse for such a long wait time other than poor management, if you can't handle light order volume half the staff shouldn't be on break at the same time.
8 months ago Mackenzie Dye
Great tea and steak. Along with fast service will definitely go again
7 months ago Diana Kirby
Convenient and always fresh
11 months ago
Popular places from the category Cafe