Glenolden Animal Hospital
Animal hospital Glenolden Animal Hospital, 405 S MacDade Blvd, Glenolden, PA 19036, United States:
220 reviews
of users and employees, detailed information about the address, opening hours, location on the map, attendance, photos, menus, phone number and a huge amount of other detailed and useful information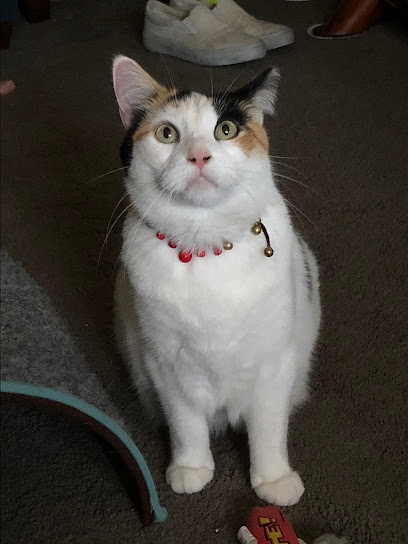 Address:
405 S MacDade Blvd, Glenolden, PA 19036, United States
GPS coordinates
Latitude:
39.9011740
Longitude:
-75.3002796
reviews Marq EngliSh
I brought my cat Draven to Glenolden Animal Hospital. He had an abscess. They took very good care of him. He is feeling better and acting like the crazy cat he is. Very nice and they answer any questions you have. Thank you!
4 months ago Keith R
I cannot say enough about glenolden animal hospital. This was the veterinarian that we took our guinea pig to. Now this particular that does not always have an exotic doctor and that actually caused us to go to another animal hospital in an …
4 months ago Terry Crawford
Wonderful, caring staff that were amazing when I had to go through the difficult process of dealing with my fur baby's illness. When he eventually had to cross the rainbow bridge they made the process as comfortable as it can be, and …
10 months ago Mark Collie
My dog had an emergency situation with his ear. I had called his original vet & over 20 other vets. No one could see him. I called Glenolden Animal Hospital on a recommendation from a friend. They were able to get him in. The vet tech was …
6 months ago Serg Sneg
I've taken my pets here for years. So caring and understanding to the owners. I have had my cats stay there while on vacation. They made sure my girls were together. Eventually one of my cats passed last year and the vet was very …
9 months ago Vicki Darnell
The service and staff are awesome. The App integration is very helpful to track our puppy's vaccination. Love it here.
5 months ago Tyler Lozier
Glenolden Animal Hospital has seen several of my cats over the years and has taken excellent care of all of them, including my more, let's call them OPINIONATED, cats. They're affordable, practical and do a great job. Worth the drive!
6 months ago Bridgette Drum
We just recently went to them for the first time. My pup Stormy Skye has not been feeling well and they were very responsive and made me feel like they really cared about my girl, which means a lot! They were very nice and easy to get a hold of. I will be using them in the future. Thank you for everything !
6 months ago Albina Domasheva
Dr. Sprowls and the staff at Glenolden always took great care of my two pups. Sadly they have both passed but they had the best lifelong vet care in all the stages of their life.
5 months ago vinod bhati
Glenolden Animal hospital takes care of all my dogs, cats and rabbits. The Doctors and Staff are very professional and really love animals. I have only gotten the best if care and highly recommend this vet!
6 months ago Paul Sethi
The staff was so friendly, the tech was extremely knowledgeable and answered all of my questions, and Dr. Sprawls was quick and efficient with evaluating Tommy. This office seemed very organized and really cared for my pup. Super happy I brought him here.
10 months ago Pedro Rossi
I went here because of an emergency today and they were amazing. The staff was extremely helpful and compassionate. I can not thank them enough for everything they did today.
7 months ago Beatrice Goudet
Staff is great and the animals are.treated.great. very compassionate staff and Doctors.
5 months ago Jatania Mota
Very nice and professional people who took good care of my cat
5 months ago Becky King
Go elsewhere if you care about your pet -- and your wallet. Overpriced, poor diagnostic skills and pushier than a used car salesman. STAY AWAY!!
5 months ago Jaehm
Everything was perfect! Quick, easy and staff was very friendly and professional!!
5 months ago Adam Golden
We just switched to this vet after using our old vet for over 20 years. Wow, I'm beyond words, what a class act professionally run vet hospital. Made an appointment and was greeted within 5 minutes and dog taken inside. One of the most …
5 months ago Regina Adcock
I was able to get an appointment the same day! My wait time when I got to my appointment was under 10 minutes. The staff members that I dealt with were very professional and pleasant. I felt at ease speaking with the doctor and planning a …
2 months ago Sathish Sreedhar
5 stars. It was my first time there and they were amazing!!
8 months ago Cam Leon
Everything was perfect! They really care about your pet and are super friendly. Fast and thorough service, too!
10 months ago Jena E
Best staff and Vets in Delco. Would not take my Buddy anywhere else.
6 months ago Tom L
Just moved into town and was looking for a new vet for our puppy. Was recommended this vet but family and it was a great experience. Staff was friendly and kind and had great expertise. Highly recommend!
4 days ago Seth Czarnecki
My pets are my family and when they are sick or injured, you expect responsive and professional care. Glenolden Animal Hospital has always lived up to that expectation. They are extremely knowledgeable and I always feel comforted by their …
3 months ago John Yost
I appreciate the great communication -- starting back when we could enter the building with our pets (pre-COVID) and now that we transfer our pet to a tech in the parking lot. I received several calls keeping me informed of the process, …
2 months ago Jane Jones
I always know my pets are well taken care of. Great staff and Dr.s!
9 months ago Tracey Barbee
Great team of veterinarians techs and staff. They currently have a very efficient covid-19 system in place which allows them to screen and preliminarily evaluate your pet from your vehicle. Then carry out the normal evaluation inside.
2 weeks ago Denise Reisert
I visited to Glenolden Animal Hospital when my Bearded Dragon got sick and promptly switched over to them for my two Pitts. The staff is awesome and so loving with my guys. They always respond quickly and do their best to get you right in for an appointment. I would highly recommend them for your pet!!
2 months ago Isa Shamsadov
Dr. Reider and his staff the best. Icec thanks him and so do I. I am coming back for his teeth and shots. Love to the best vet and specialty to Melissa and Kim.???????????????????????? icec an Marla, and too Molson from Rainbow Bridge.
9 months ago Mark Snodgrass
Staff always does a great job. No complaints with how they take care of my cat. I appreciate the reminders about appointments and services needed. Great place with a very caring staff.
1 month ago shan velan
I have used GAH for almost 4 years for my dogs. Always ready to answer any questions, caring employees who treat your pet as they do their own. Have nothing but praise for them especially in these difficult times we face in 2020.
1 month ago Sophie Fonte
Glenolden Animal Hospital has been my veterinarian for years and they are fabulous. They are very good diagnostically and and will continue to work on the condition until it's resolved. My one cat had a bowel blockage. She was an older …
4 months ago Jeffrey Schmitz
I found a guinea pig back in January and this was the closest exotic vet. I have seen two different exotic vets and they were both wonderful. Our first visit they gave me a lot of information on how to care for a piggy which was appreciated …
10 months ago Jennifer R
Took my 9 week old puppy, Bulleit, here for the first time today. The staff was so friendly, the tech was extremely knowledgeable and answered all of my questions, and Dr. Sprowls was quick and efficient with evaluating Bulleit. This office seemed very organized and really cared for my pup. Super happy I brought him here.
10 months ago SherrieK Watson
They were very professional and they took good care of our dog.
10 months ago destiny gonzalez
I love our vets and all the staff at Glenolden. They are my personal vets for our 4 cats, plus our rescue vets of many years for Animal Friends of Lansdowne. We would not be able to do what we do without them and are grateful to them every day. Can not recommend them highly enough.
2 months ago Willie Hill
I am very happy with the care my cats and dog received at Glenolden Animal Hospital. Very professional and super sweet handlers. Thanks so much. I will def be back again.
2 months ago Reynaldo Velasco
Staff very friendly. Dr. efficient and knowledgeable
9 months ago Isaias Perez
Very compassionate staff at a very difficult time for us!
10 months ago Genet Donnell
Do not take your animal here. They are extremely rude, unprofessional, and do not care for the animals' wellbeing. They treat pet parents with no care, and don't care to try to find out what's truly causing problems with pets. They just …
1 week ago Macey Ragon
I had this kitten basically dropped on me last night in a weird circumstance. They took us in right away and were fast,friendly and affordable.
2 months ago Jamie James
At the moment they have covid protocols in place but they are working very hard to serve each family. I highly recommend this clinic for your pet.
10 months ago eunice agar
Best veterinary experience I've ever had!
8 months ago Rene Santos
The Vet Tech that answers the phone is very rude
4 months ago Deborah Brown
The staff were very patient and caring with my puppy who was terrified of going to the vet.
7 months ago Daan Breur
Tunis to me even about this dog house they stole my dog dean fountain from Norwood he reused refuse to give it back to me. O didn't abandon my puppy it was stolen. I expressed that and hr still refused to yell me which shelter he sent …
11 months ago Paul Sablack
Everyone was really helpful, got an appointment same day for a medical issue. Vet was very caring & explained everything!
2 weeks ago Ivan Aras
All the staff were exceptionally kind as well as professional and knowledgeable. We were able to get a quick appointment on our first visit. Would highly recommend!!
7 months ago Brent Price
Took my newly adopted senior kitty who stopped eating and seemed lethargic. Got a same day appointment, and the doctor took some blood to check it out, gave her some fluids to hydrate her, gave her a shot to settle her tummy and gabapentin …
4 months ago Roger Shepard
The Doctors and Staff have been taking care of our Furry Family for over 25 years and even in these trying times they haven't skipped a beat. Thanks Guys!
4 months ago Doris Lawyer
the very compassion very nice they call and check up on your pet after a couple of days
1 month ago
Popular places from the category Animal hospital