Glencroft Veterinary Hospital
Animal hospital Glencroft Veterinary Hospital, 4 E Glenolden Ave, Glenolden, PA 19036, United States:
126 reviews
of users and employees, detailed information about the address, opening hours, location on the map, attendance, photos, menus, phone number and a huge amount of other detailed and useful information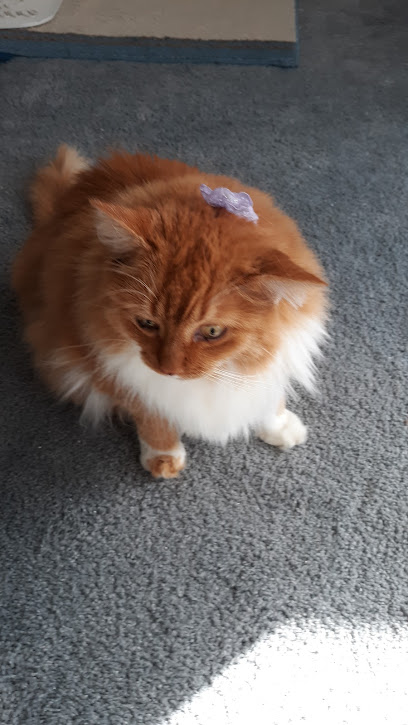 Address:
4 E Glenolden Ave, Glenolden, PA 19036, United States
GPS coordinates
Latitude:
39.8973580
Longitude:
-75.2917860
reviews HD T
You guys did a really good job and I don't have any complaints. Thanks for the great service and care.
4 months ago Shane Staley
Very happy with the Glencroft veterinary hospital! Very friendly staff and they treat the animals with loving kindness.
7 months ago Kwesi Buabeng
I had the most wonderful experience here. They always took great care of my dog. My pet was in distress an I had to make a decision whether to put him down. They were so understanding and so caring to me and my pet. Everything was explained to me and they let me really take my time to make my decision. I can't thank them enough for the attention and care for me and my precious Teddy.
6 months ago Johnathon Ridens
I've only been once but was very impressed with the practice. The veterinarian I met with (whose name I unfortunately did not get) was really great. She took her time with my dog and was super sweet to her. I did not feel pressured to add any additional potential unnecessary products or services and felt my visit was a great value for the service. I will be back for my dog's annual in a few months. Thank you!
8 months ago sohail Faraz
The Veterinarians and staff at Glencroft Veterinary Hospital are caring and respectful of all of my animals as well as myself and family. You can tell that they really love animals and know how to treat them with gentleness and respect. I have five pets, two cats, two dogs and a rabbit. I have been to other good veterinary hospitals and I would not go anywhere else.
11 months ago Caleb Freda
Very responsive and quick to be seen. The extended hours in the evening are also beneficial so I can go after work. Friendly staff.
5 months ago Savannah Woltering
A very good group of vets. The pricing is very reasonable. The place does need a face-lift.
5 months ago Jason Crayne
The staff is very pleasant to work with. They are very helpful and answer any concerns you may have about your pet. They are very caring towards your pet. The service is wonderful. They take you in on time of your scheduled appointment.
2 weeks ago Hani Qaddoumi
Very knowledgeable and caring for our 2 senior dogs.
4 months ago Molly Harris
The staff is very friendly, knowledgeable, and informative. The service was great, they take their time with your fur baby. They provide care and a clean, calm, comfortable, safe environment makes you feel at home. Your Fur Baby would LOVE IT....My Zola Marie did❤
1 week ago Gregory Freeman
Dr Barrett and staff were very informative and helpful. Ty ty
5 months ago Poolsingh Bhookya
Very down to earth doctors and technicians. They don't overcharge customers either. I trust talking my pets for examinations, etc.
9 months ago chris pavelic
The best veterinary hospital I found.. The doctor saved my dog that once needed surgary for closed ear canals...since I been taking him here the doctor treated his ears with medince once a month and his ears are perfect now the canals are open now...i would give 10 stars if I could
7 months ago Rosa Mcauliffe
The staff was very friendly and caring during my pup's final days. They were very accommodating and understanding. I couldn't have asked for a better staff during this difficult time. Thank you.
11 months ago Tim Orris
This was our first visit to Glencroft. Every single one of the staff at this Veterinary Hospital were professional, courteous and took their time to answer questions. I would highly recommend this office to anyone.
11 months ago John Rash
They were able to get us in at the last minute for an emergency, they were super nice and really to good care of our pet.
1 week ago Jerry Tendar
They are caring and compassionate and very helpful last week my cat had mouth infection.
10 months ago Wendy Parker
I came to Glencroft because my pup needed her shots and it was impossible to get into the Vet I was going to. Thankfully, Glencroft has appointments which my Vet did not. Everyone was so nice there. The doctor was so informative and answered all of my questions. I will be continuing to come here from now on.
2 months ago Johan Halvorsen
They really love helping your pets
5 months ago Nida Suresh
The staff and the vet are amazing they helped in the time of need when you dog needed care , they were so caring and professional I will def recommend them to anyone who lives in the area
11 months ago Jocelyn Clark
I am very happy with the care my cats and dog received at Glencroft Veterinary Hospital. Very professional and super sweet handlers. Thanks so much. I will def be back again.
1 month ago Ski Pearlz
I was told over the phone the exotic vet was experienced with ferrets. This is not true at all. Ferret was fully carnivorous and he told me to give them fruits and vegetables.
2 months ago denizot isabelle
I wouldn't usually complain about a place but I do not trust these people. I brought a sick cat in for treatment and they kept her overnight. When I called the next day, the lady asked me to come pick her up at noon. I arrived a few minutes early and another worker yelled at me claiming that they were closed. She slammed the door on me. She came back with my cat as well as her purse. She told me that the vet was already gone but I had questions about treatment. When we brought my cat home, she was more sick than before. I called this vet for help but no answer. We ended up going to another vet for emergency treatment. They had her healthy by the next morning. Don't go here. Don't trust them with your pets.
4 months ago Dennis Ginn
Please continue to be compassionate and professional. Those are hard ethics to find now a days. Thanks for caring for my Kiki
4 days ago Ulmasjon Islamov
I bring both my cats and my puppy here. Staff has always been pleasant, helpful, and knowledgeable. I never have to wait long to get any of my furry family members in. The only reason I give a 4 instead of a 5 is the parking. Parking is HORRENDOUS. Its all off street parking, but to find something open you need to consider yourself lucky. The vet is right off chester pike in between a car mechanic and a pizza shop so the only few spots avail stay full.
5 months ago Michael Chang
I work in the fundraising office of a local animal shelter. Yesterday, a female veterinarian from Glencroft called my extension. She angrily began rattling off the name and ID numbers of cat that she had seen that she said was adopted from us. After a brief pause, I asked her what exactly she was calling about. She began to insist that we adopted out a two month old kitten named Smoke and had vaccinated it far too early as they should not receive the rabies vaccine until three months. She insisted that on the paperwork we provided, the cat was born in April and vaccinated in June. She continued to raise her voice as she went on a rant about how our veterinarians on staff must be incompetent. Confusingly, a moment later, she said the kitten was not harmed because it was actually clearly older than two months. By her own admission there was no actual issue with vaccinating this kitten. When I tried finding the animal using the name (Smoke) that she provided in our database, the only cat named Smoke that I could find that we had adopted out was born in 2018. The entire interaction was bizarre and exceedingly confrontational for no apparent reason. I was unclear when she felt that the fundraising office was the place to air her alleged grievance. It was weird that she seemed to want to chew somebody out for vaccinating a cat too early, even though by her own admission it was not at all too early. She quite possibly had called the wrong organization entirely. I did not catch the name of the veterinarian, as she started the conversation angrily chastising me so quickly that it was impossible to keep up. However, I am blown away by how incredibly unprofessional and rude she was for no clear reason. She decided to call a shelter that has been taking in hundreds of stray and abused kittens and yell at us because she felt the birthday was wrong. I have not been to Glencroft Veterinary Hospital, but based on this single interaction I will never even consider it, and I will surely tell any of our clients to avoid it as well.
7 months ago Angela
They took good care of my pups. My boy is anxious around people and they were able to give him shots without any incidents.
1 month ago jamie nielsen
Dr was exceptional. Very knowledgeable and down to earth. Assistant was pleasant. Office was clean & all personnel were professional. Will definitely recommend!
6 months ago Luke R
I have been bringing my 4 cats and my dog to Glencroft for 6 years now. They have always been great to my animals. They treat them as we do...like family members.
6 months ago Bee Marie
We brought our little kitten in here and The service was outstanding!! The vet and front desk ladies were so nice and they all know what they are doing! Highly recommended!
6 months ago Vicki W
In good hands. Very professional.
11 months ago Katrina Newton
Used to take all of my dogs here to get their nails cut. They never asked me for rabies vaccinations until today when my current dog has a exemption for rabies due to a health condition and she is allowed to get her nails cut with an exemption. It's fine because a lovely woman at a pet store helped me out and I can cut her nails myself now. Learn how to do it yourself it's cheaper and a lot easier than coming here where they forget to do a foot
6 months ago Zorida Magee
First time visiting Glencroft Veterinary Hospital and it was such a pleasant experience! No waiting, the staff were very welcoming and most of all they were great with our dog! Give them a try!!!
6 months ago Kent Martin
I am able to get service when needed. The staff is very personable and respectful towards me.
8 months ago Patrick Harlan
I have been going to this Vet for 12 years now and highly recommend them. They are professional, friendly and caring. Whenever I had an issue aside from the normal check-ups, they were very helpful and accommodating.
10 months ago Vitaliy
We first met Dr. Russell over 25 years ago. In those years we have had 5 dogs and 1 cat. All who have been treated by the wonderful doctors and staff at Glencroft. Through the excitement of puppies and the pain of saying goodbye to loving pets the entire staff has always been kind and supportive. We would not take our pets any where else!
5 months ago Kevin Wulff
They took good care o f my dog!!
1 week ago John Theodor
The staff is wonderful. The Vet is a beautiful person, she answer each and everyone of my questions. She help me understand a lot about my Bossy (dog) condition. I felt comfortable leaving Bossy over night.
4 months ago Cutefireal Cutefireal
It was nice to find a vet who's friendly and attentive to our pets, I can see that everyone who works there loves what they do. My visit was very fast and explained very well.
7 months ago Ileana Casillas
They are so great with our cat ????
3 months ago Andy Andrews
Always a good experience, the staff and doctors are kind and caring, They know my puppy Panda very well and I feel she is in the best hands. Also they make good suggestions for care but you never feel obligated or pushed to purchase services. Great atmosphere!
8 months ago Courtney Martin
Took good care of my Sister, s dog!!
4 months ago Jessenia Nieves
Glencroft Vet. Service is extremely good with my two small breed dogs. They have cared for my last 5 dogs and have taken very good care of them. My boy is a yapper and quite a baby when it comes to shots and nail clipping - they really do take good care of him-and tolerate a lot! My little girl is normally calm, cool, and collected! She's easy to care for. The girls in the office are very good at what they do and kind to both my babies!
5 months ago Michael Milligan
Very kind, caring, and gentle
9 months ago Cora Brady
Best vet reasonable prices
11 months ago Amber McHenry
The online appointment process was easy and user friendly. We're VERY new to the area and were quite excited to get in as quickly as we did on short notice on a weekend. Staff and vets were very friendly, very kind and gentle with my big kitty and sent him home with medication for his eye. Pricing is comparable to other vets, and quite fair for the services offered. Very happy overall with the experience.
9 months ago Jess Warren
We were in & out. Zena is like a Puppy all over again!! Thank you!! ❤️
3 months ago Keyshanda King
Very Caring and Competent Staff..
5 months ago Stacy L
The Doctors have many yrs of experience and really know what they are doing. The grooming services are always fabulous. They know exactly what I want my dog to look like when he comes out. We had a Wheaten Terrier and we always want him to have that Terrier cut with the long beard. I have no complaints at all. Now we have a new Airdale Terrier Puppy and he goes to Glencroft too! The 2nd day we brought him home we took him right over there. They made sure he was a healthy dog, and told us what to expect with this breed.
2 weeks ago Valentina Tedesco
My husband has been taking his pets here for years, and we've been taking our 2 cats and recently deceased puppy since moving back to the area. It's quick to get an appointment, and they always make the animals feel so loved! Would absolutely (and have) referred friends and family here!
10 months ago
Popular places from the category Animal hospital