O'Neal Animal Hospital
Animal hospital O'Neal Animal Hospital, 4424 Market St, Philadelphia, PA 19104, United States:
121 review
of users and employees, detailed information about the address, opening hours, location on the map, attendance, photos, menus, phone number and a huge amount of other detailed and useful information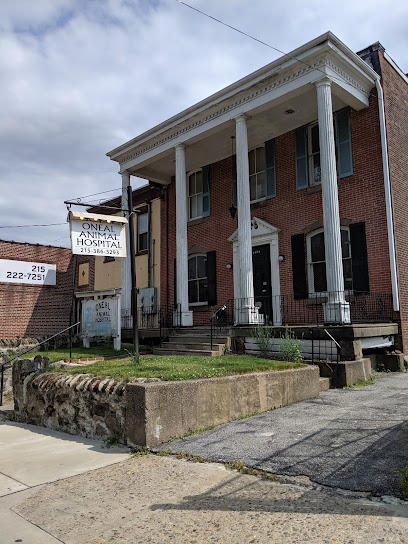 Address:
4424 Market St, Philadelphia, PA 19104, United States
GPS coordinates
Latitude:
39.9579693
Longitude:
-75.2102838
reviews Joseph Troshynski
Worth the wait. Not only is the doctor and his staff wonderful, but the patients in the waiting room were as well. Almost all were repeat customers. You could tell they loved the place.
6 months ago Tyler Williams
Caring and quick Animal lovers. They know what they're doing. Highly recommend
5 months ago West End
We have been taking our 12 year old pit mix here since the moment we adopted her 11 years ago. She must have had a rough first year because she is a very, very nervous dog and began to show some aggressive behaviors. Dr. Littlejohn and his office staff have been incredible with her. They are understanding, non-judgmental , and know exactly how to handle her. Even when we moved out of West Philly and even eventually to NJ, we still take her to see Dr. Littlejohn. We won't take her anywhere else.
5 months ago Harry Harrison
World's greatest veterinarian.
6 months ago Mack Arillo
I want to really love this place . I changed vets because of how my female dog was treated and she is now scarred for life about vet tables where as before she didn't mind. the vet had lifted her on the table and manhandled her onto her back and got the vet assistant to hold her down :( It would have been so much better if I had been allowed to put her on the table, got her into a down position then we could have rolled her over, she would have done that but nope she was forced on to her back. I didn't realise how much it affected her until her next vet visit. When my friend took her back because I couldn't. Other than that everything else is nice about this clinic.
10 months ago Angel Miller
The place is not fancy but they offer quality care at a reasonable price.
5 months ago Greg Gregory
Dr. Littlejohn is very thorough and cares about his furry patients.
5 months ago kejerria parker
Took our cat Ollie here for a check up and received great service. Staff is friendly and also gave us lots of advice. Although the wait time for our appointment was a little over 30min, they made up for it with the kindness and care they showed to our fur ball. Definitely our new Vet home.
11 months ago Jason Prince
Best in the city. My cat is aggressive at the vet and this was the only vet I've been to that didn't seem scared of her and try to get me to fully sedate her for a basic check-up. Very, very professional and very kind to my cat. The only positive thing I can say about City Cat Vets and the VCA is that they have fancy offices...
2 months ago thomas Sanctuary
Called for some advise for newborn kittens, staff very helpful.
6 months ago Emilee Smith
This vet is very realistic and thorough. I'm a responsible person who is not rich and I am very glad I found O'Neal. They've been around for a long time, they don't play games with you and their pricing is fair. With O'Neal oral surgery for my cat was a fraction of the price of everywhere else I looked in Philly, yet this vet knows what he's talking about and his quality of work excels. They're great with follow up questions too, very much recommend if you're looking for not-gentrification pricing on quality care.
4 months ago venson white
Very nice to me..(always)...
8 months ago Marvin Garrido
A no frills place to get very good Vet care. I have being taking my pets here since 1983. Annie, the receptionist, is the best. She will do what she can to get you the appointment or just advice that you need. They are a busy practice. The cost is fair and much less than VCA Cat hospitals. Don't expect the Taj Mahal. It's no frills and that keeps cost down. Dr Littleton is very personable and knowledgeable.
9 months ago Edwin Fion
They did not have time to see my dog when she first started getting sick, o'neal, said make appointment for next month, my dog died ???? two weeks later. ????
5 months ago Ashley Nowlin
The best Vets. When I get another pet, this will be my vet if choice!
11 months ago Joe May
I took my cat to get his hair clipped and they shaved my cat like a poodle. He looks horrible. Never again
7 months ago Brenda Whitten
Great folks who care about their patients!
8 months ago prasanna naik
Top notch as always. Staff is super nice!
10 months ago Test Google
As always, friendly staff and very competent and caring veterinarian. I highly recommend this veterinarian office.
2 weeks ago NycBeauty
My 3 dogs and 3 cats go here. The doctor is very experienced and thorough. Price is good. Place has a rustic look
4 months ago Lola Lola
Awesome! They have been my vet for 20 years.
11 months ago Nicole Hundley
Great place to take your animal for pet care.
11 months ago Eddie Boese
Caring and Compassionate people
5 months ago Joevon Allen
Gr8 treatment for my mom's Ashley.
2 weeks ago Patti Ballard
20 plus years I have trusted them to with my dogs... it's not fancy but I alway have felt the care was compassionate and confident.
5 days ago Sean Rensch
Best care and best price!!! They charge fraction of what other vet charge for a friendly and professional service! I am so thankful I found this animal hospital!
6 months ago Rob Koller
Best vet around!
8 months ago Mike Lawson
Great place to take your animals
9 months ago Chantal Soohoo
Always a good experience with Dr Littlejohn. He always does a concise exam and gives a straightforward diagnosis and reconsideration.
8 months ago Donisha Wesley
I have a sensitive, previously abused pitbull. We adopted her and since then I have only taken her to O'Neal. He and his assistant are wonderful. They've been patient and extra gentle with her. After reading another reviewer I wanted to point out that my brother is a veterinarian in another state who traveled the globe just to avoid vivisection and practice alternative studies. When we go to the vet we are often in a high state of worry for our furry friends. I have meant to write a review after a few visits for various reasons. I'm calm. I really trust O'Neal. He is passionate about what he does and has been at the same location for a long time. If you have any doubts, try talking to him. Ask him questions. Like many who work with animals he's a little quiet and more in tune with them. He communicates clearly what's going on with your pet but if you want to know more about his practice...just ask.
6 months ago Sharmagne Taylor
They took very good care of my dog
2 months ago Nadina Daigle
I took my cat here based on all the 5 star ratings, and am puzzled that people love this place. I've been to nicer clinics that do a lot of up selling, so I wanted to give this practice a try since it is close to my home. I waited over 1.5 hours to be seen (though I was told the appointment would be 20-30 minutes), the vet's hand was bleeding, and the facilities are not well kept. They did okay with my cat once she was finally seen, and were mildly apologetic about the wait, but I will be going to PAWS and/or back to Mt. Airy Animal Hospital where there is actual professionalism, affordable prices, and a sense that you as a client are valued. Something is wrong and off about this place.
6 months ago david mcmillen
One of the best hospital for your furry friends, excellent staff,fast service, good prices. It is run by one of the best veterinary doctor in the city. They take great care with the animals.
5 months ago Lidia Casas
Good place for good pet care.
11 months ago Tom DiGiacomo
I have been coming here for years and they are fantastic. They are great and very affordable compared to other places I've been to. I board here as well and they're always amazing.
10 months ago Phyllis Brower
Nice caring vet care. Dr Littlejohn is a knowledgeable guy and has been good with my dogs.
6 months ago Adam Sorman
So thorough and friendly.
9 months ago Lorent Hinant
PLEASE steer clear of this place! My partner and I found this location, after adopting a new pet and the reviews led us to believe that this was an amazing clinic that cared and where professional. After going in two times I can very firmly assert that is not the case. We have another pet we brought in as well who had just received a yearly exam, but we wanted to clarify if she had caught ringworms from our new pet. The vet pressured me into getting more blood work, and stated the vet I've used for the past 7 years was clearly "a child" that didn't know what they were doing because they left a kind note with my paperwork referring to my pet as my fur baby. Keep in mind we also originally arrived at 10 for our appointment, were told to sit in the car so the waiting room didn't have too many people due to covid (which I totally understand and respect) for 30 minutes. When we called to check in they said to come in when we saw a dog leave, when the realistically could have given a call. When we finally got in I sat waiting with my dog for another 45 minutes before I was even seen. I don't appreciate being mocked, dismissed and then charged $400 for subpar services. Oh wait, additionally, we were told in an email littered with typos that our dog needed to provide another stool sample to make sure she still didn't have ringworms—she never did, and they took a stool sample when we were there. When we reached out and informed them of our confusion, they said we needed to drop off both stool samples again due to numerous mistakes they made. When my partner did so, he was told it was another $80. These people are not professional, affordable, and to be quite frank really aggressive in how they handle the pets, so again please stay away!
5 months ago Deborah Rudge
Dr Littlejohn and his team are amazing! I have an extremely reactive pitmix and the team was amazing with her! Very no frills and a great price, you really get what your animal needs.
7 months ago Alberto Nieves
Batman Says Thanks For The Puuurfect Veterinary Visit
6 months ago Jai Flicker
Nice place, nice people fast service
1 month ago LuckyClover
Nothing beats a good old fashioned family vet. Great care. Great staff. Very much a family. Also...nothing beats the social edge of hanging out in the waiting room chatting up with all the other pet owners/lovers
9 months ago Susan Olheiser
Great place to take your furbabies! Old fashioned feel with a very close knit and attentive staff! Prices for care are extremely reasonable also! There is a bit of a wait but totally worth it..I highly recommend!
2 weeks ago Ryan Bush
Good place to bring your animals
3 months ago Debbie Dominicus
No frills expert animal care helping the people of West Philly for years. Most species welcomed with an emphasis on the commonly kept feline and canine. Economically reasonable services show where their priorities are focused. Highly recommended.
10 months ago Melodie Rush
I have been bringing my dogs here for 35 years. The staff are terrific & know their stuff!
6 months ago John Moyers
Took my cat there to get fixed very professional.
3 months ago Elijah Ray
I loved seeing all the cats and dogs. So many had appointments and others were already treated and leaving.
8 months ago Randy Jeminez
Dr. Littlejohn and the whole staff are very sweet with our baby. Family-owned feel, reasonably priced.
6 months ago Malachi Cruz
Annie and Dr. O'Neal took very good care of my black Bombay cat named sweetie. Gave her the care she needed. Would highly recommend
7 months ago
Popular places from the category Animal hospital