Township Line Animal Hospital
Animal hospital Township Line Animal Hospital, 8510 Lansdowne Ave, Upper Darby, PA 19082, United States:
76 reviews
of users and employees, detailed information about the address, opening hours, location on the map, attendance, photos, menus, phone number and a huge amount of other detailed and useful information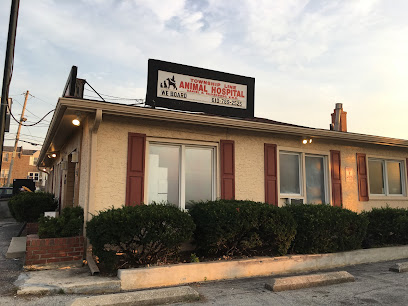 Address:
8510 Lansdowne Ave, Upper Darby, PA 19082, United States
GPS coordinates
Latitude:
39.9662966
Longitude:
-75.2944438
reviews Fred Sutton
The doctors, as well as the assistants and staff, are very thorough, knowledgeable and most important, extremely caring and kind to our dog. Whenever we had (in our minds at least) an emergency, they've always been able to find the time to examine her quickly which is very reassuring to us. Our dog is in good hands at TLAH.
4 months ago Lee Johnson
Well im giving them a BAD review because my cat has an ear infection & i tried to make an appt with them. "Normally", you schedule the appt & they do all the paperwork when you arrive. This place wants you to go on line & create a file first which is ridiculous!! My cat needed care..i should beable to just do everything there! So i got in touch with another vet office & they fit me right in this wk. It was that easy..! All this online stuff is ridiculous..the cat should be more important then that..! This place should be ashamed of themselves. ????
4 months ago Jeana Edson
Friendly and caring. Great team and very involved. Drs explain conditions and offer reasonable solutions. A very nice place to bring our dogs
7 months ago Stephen Rowe
Township Line is our regular vet and has been for ten years now. All of the doctors, and especially the vet techs, are absolutely wonderful. They have been nothing but sweet with our cats and our dog, whether caring for something as simple as a hotspot or something as major as PU surgery for our kitty with multiple urinary blockages. They even have a stars program for a $100 discount after $1600 in spending -- which is a lot, but hopefully you have healthy animals for many years, and can appreciate the savings every now and then!
9 months ago Brian Kile
Almost every experience I've had with them has been pleasant. They care for your pet and offer you options for their care and you can order medicine from their website. Very efficient.
10 months ago Marilyn Paradina
Took excellent care of my cat on our first visit there reasonably priced feels 100% better already he does I would recommend or use them to anyone so glad I found you thank you township line at animal hospital and Dr Jacobs!
7 months ago Pilar Delaplane
Our bird recently passed away. We had him for about 20 + years. They always took great care of him and when we needed to have him taken care of after his passing they were very empathetic to us. They went the extra mile and even sent us a card. I would highly recommend this place to anyone looking for vet /staff that cares for the animals. thank you !!
11 months ago Ekaterina Androsova
We love Township Line! We see Dr. Jacobs who is fabulous. They have an app and it's easy to order prescriptions through them online. They've done a great job transitioning to car-side service during the pandemic. It can be a little pricey (if you're used to going to Banfield or similar) but I think very reasonably priced considering the quality and care.
8 months ago Dawson Byers
They are always professional and do a great job with our animals.
6 months ago Kaley Hutchinson
I am very pleased with all the staff and how you treat tinker makes the trip easy and satisfied considering tinker is spoiled and a brat. Thank you for caring.
7 months ago Shirley Betances
We love Township Line Animal Hospital! All of the staff there, especially Elizabeth, Eric, Molly, Suzy, and Dr. Jacobs take such great care of Kobe. They treat us like family. I cannot say enough wonderful things about this place. Highly recommend you bring your fur babies here!
2 months ago Jeremy Plasse
Highly recommend... very efficient during curbside service. Service was excellent...
8 months ago Trish
I am very happy with Townshipline. The staff is caring and professional and the Vet team is topnotch!
7 months ago Destinee Fulk
It was my first visit and I couldn't be happier with the way my appointment went. Everyone was so nice and helpful. They took great care of my cat.
5 months ago Cindy Alderink
Took great care of my kitty Shine who was sick and treated for an upper respiratory infection.
7 months ago Jon Pildis
Great vet techs! Such great and attentive care from the vets. I also love that the try to find the cause of a problem first before just pushing meds that may or may not be needed.
3 months ago Alese Friedewald
Very positive experience. I recently made an appointment for my cat. The day of the appointment, I wasn't able to get my cat into the carrier (he was too scared). I called Township Line Animal Hospital and not only were they completely understanding, the receptionist calmed me down and gave me tips on how to get my cat to cooperate. My actual experience at the appointment was very positive too. No wait time, the staff are friendly and trustworthy. I would definitely recommend this place.
5 months ago Joseph Baratelli
Everyone was friendly. They took care of my kitten quickly and made her feel better
5 months ago Haeden Dyar
We walked in at 8 am without an appointment with a stray to check for a microchip. They were wonderful to us and helped us out immediately. Even squeezed us in to check the dog out more thoroughly. They were awesome!
5 months ago Lily Lang
Love the staff n doctors. They work so hard at the hospital and always do the best for your pet. Esp.with the pandemic, they are running around the clock fitting your pet in these risky times.
2 months ago Angela Broadley
It's a doggie and pet loving care facility and the animal seem not to missed home much when they are at the hospital.
6 months ago Patterson Patriciara
I am beyond impressed with the care that was given to our dog Rascal! Elizabeth was so kind and inviting! Michelle was Super Gentle, Sweet, kind. Even took the time to teach my daughter a trick on how to get Rascal to give him her PAW! Dr. Silverberg was Amazingly Gentle and explained everything he was doing! Prices were good. I am do glad we found you! Thank you!!!!!!! ????
4 months ago Gerbildral
You would be hard-pressed to find a more caring, compassionate, and qualified animal hospital. My cat Shelbie had food allergy problems all throughout her long life, and Township Line was always there for her. When we had to put her to sleep due to kidney failure a few days ago, Township Line was still there, and I appreciated their support immensely during that difficult time. A lovely little animal hospital, with a truly dedicated, compassionate staff. I can't praise them highly enough.
5 months ago Bob Alexander
As a first time pet owner I appreciate the time they took to answer all of my questions. The vet and staff are friendly and clearly love animals. I left informed, stress free, and confident that I found the right vet for my little one. The office is currently under renovation and I hope it will become a little more wheelchair friendly. It would help tremendously if they made the temporary/removable ramp they keep inside a permanent one.
7 months ago fedrico chrisnanda
This veterinary office has been great to us. Their prices are much better than our prior vets office, and Dr. Feaster is a friendly and knowledgeable veterinarian. I definitely recommend this place!
7 months ago Stephen H
Great staff; They always treat my dog with sensitivity and compassion. They realize that my dog really is my best friend, and I really appreciate it. The thing that really impressed me was the follow up call to see my dog was feeling. They treat my dog better than my doctor treats me... and I wouldn't have it any other way. They have excellent hours, and are very accommodating when scheduling my appointments. They are always extremely helpful everytime I call. Five started don't do this hospital Justice
8 months ago MJI
Wonderfully caring and knowledgeable staff! The quick response to getting my dog the medical care he needed was amazing!
6 months ago Kirstie Choo
Excellent animal care. Very professional and friendly service!
6 months ago Noah Sargent
Caring
5 months ago orville lewis
They are not my " regular " vet, but we have been there several times for emergency . The Vets and staff are great!! Emergencies are already trying , but the Vet & staff do their best to make sure Everyone is calm & okay!.
8 months ago Shama Sachdeva
The staff treated my cats and I very respectfully
5 months ago Joe Austin
Been a long long time customer, for my dogs guinea pigs and lizards. Dr Silverberg is a good vet. He gives thorough exams. He answers every question and gives good care and maintenance advice. His never seems to rush and will show you the care procedures so you can look after your pet at home. The vet techs are knowledgeable, caring and capable. They seem at ease with all kinds of nervous animals. We also board are dogs here when we go on vacation. The dogs are always healthy and happy when we get them
4 months ago joseph boyd
No long waits,they take you in at your appointed time,and very reasonable prices
7 months ago Nelly Doretha
This practice has seen our pets (and us) through everything from spaying to infections to injuries and recently, our dog's last visit. They truly were her family too. Our dog would be excited to go to appointments or for boarding. The practice was recently bought but even with some turnover it remains a great, caring place.
9 months ago D Perez
They take such wonderful care of our little fur babies! When they go they don't even get nervous. Everyone is so warm and loving.
4 months ago Sean B
The staff took excellent care of my cat ,and I have always have had a positive experience working with the Veternerians and staff.
7 months ago Oliver Haas
They're caring and thorough
6 months ago Edwin Castellanos
The doctors here are amazing. My wife and I are both very satisfied with how they interact with our fur children. The other staff is questionable sometimes. One of the lab techs has a tendency of being very direct, which comes over as obnoxious. Love their app and the rewards program.
4 months ago Antonio Hinson
My dog is such a chicken she really shy and very nervous around new people, but they were so patient and gentle, she got a little more comfortable, and they very professional.
8 months ago Henry Rodriguez
Excellent staff & Drs. Love coming here, always a great experience for my pets!
10 months ago Will Waddell
Dr. Feaster and her staff are awesome!!! They truly are kind, compassionate animal people who give TLC to the fur babies!!!!
4 months ago Elizabeth Lee
Very nice staff, had to drop off my pet cat for cremation. They offer reasonably priced cremations.
4 months ago Harish Kashyap
Every time we take one of our cats to this vet the bill is almost $200. They are healthy cats and they just go for general check ups but they always say they need vaccines. This place likes to over vaccinate your pets to make an extra buck. Same thing with boarding. We are not coming back to this place I had it. If you can go to another vet save yourself the headache. They like to overcharge their customers.
8 months ago efren chavez
Great service and care of pet. The really seem to care about animals, Dr and his Vet assistant, friendly. I would trust Rachel to care for my pets and trust doctors opinion
4 months ago Nitin Bulsara
Very caring staff and doctor. Highly recommend.
7 months ago Crystal Stevens
Very friendly staff, appointment time was spot on.
5 months ago Shawn Netty
I was amazed at how easily the vet handled my cat and kitten, so the level of comfort my cats had with the doctos is ultimately why I've chosen to commit to this location for my pet needs. They were almost too thorough with the breakdown of costs, which seems to be a direct response to some bad reviews, so that shows they are listening and implementing change. I spent a good amount of time with the vet, and got the appointment on very short notice due to the receptionist do everything she could to accomodate our needs and get us all seen. A seemingly opposite experience than some poor reviews I saw. I made the change to this location based on a reference from someone who used them for similar dental surgery for a cat, and I'm pretty happy with the decision. They have a pretty nice rewards program for their clients as well, for services and supplies.
8 months ago Bell Miller
Caring and knowledgeable staff. I would recommend anyone to take their pet there.
1 month ago Sherry Ng
We love bringing our dog Brady to the vets! Drs. and staff are always greeting you with a smile. We are glad we changed vets!
8 months ago Camila Lara
Wonderful staff. Very accommodating and takes great care with our fur babies
4 months ago
Popular places from the category Animal hospital