Washington Ave Animal Hospital
Animal hospital Washington Ave Animal Hospital, 1920 Washington Ave, Philadelphia, PA 19146, United States:
85 reviews
of users and employees, detailed information about the address, opening hours, location on the map, attendance, photos, menus, phone number and a huge amount of other detailed and useful information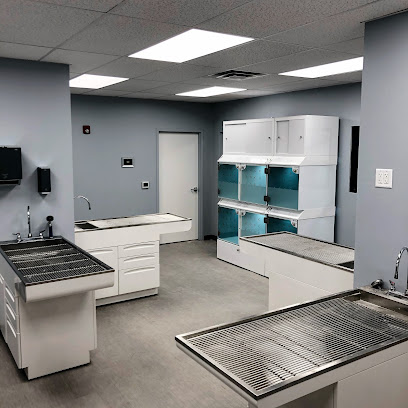 Address:
1920 Washington Ave, Philadelphia, PA 19146, United States
GPS coordinates
Latitude:
39.9387968
Longitude:
-75.1756417
reviews Narendra Patel
IT'S A GIRL!!!!! Great Great Great Experience bringing my baby to this animal hospital. We only recently moved to Philadelphia and having to find a nee exotics vet was something I was very stressed out about. I took my little girl to the same vet for a dozen or so years and good bird vets are hard to find. I am so glad I called this office and took her in for a visit. We were welcomed and made to feel like she had been a patient there forever, the front desk staff is super helpful and nice. The exotics vet was fabulous and the office is bright, clean. And inviting
6 months ago Tom Gagovski
Wonderful place for your fur family medical needs. The entire visit, everyone there makes you, and your furbaby, comfortable and you can tell they are giving exceptional and thorough care the entire time you're there. Compassionate, friendly staff. Transparent with pricing and your pet's needs.. Making an appointment was also very easy. Highly recommend this hospital. Thank you for taking such great care of my Graham Cracker!
6 months ago Jordan Garner
I was referred here by my old vet, Mt Airy Animal Hospital due to an urgent care need that they could not accommodate. They fit me in on a regular appointment the next day (a Sunday!) and also offered the option of an emergency walk in appointment the day I called (Saturday until 6:30.) if I felt it was needed even as a new patient. Dr. Brown was so caring and comprehensive in explaining to me what could be going on with my loving cat Bowie, and what the options were. He expressed not only concern, and knowledge of my animal but also compassion for me as his concerned human companion. All vets should be this capable in dealing with the emotional aspect of the special bond between human and animal as Dr. Brown. Despite him being very young, clearly his education and skill set displayed a true calling, and professionalism. Lab results were available in just under two days and the results quickly put my mind at ease. Dr. Brown thoroughly explained the details of the results so I could understand my animal's health more clearly. I really recommend this vet if you are located in Center City. Appreciate you Dr. Brown!
7 months ago Julia Ferrara
We love the vets and staff at Washington Ave Vet Hospital! They are generally very responsive (helpful you can message through the app for non-urgent issues). We adopted a hospice dog and the staff there got to know us and our dog very well because of the number of visits we had to go in for. They were always so sweet and were helpful in getting us in for last minute appointments when issues arose. When the time came, they were amazing on our last day with our furry friend. Would highly recommend and we're looking forward to returning when we adopt another dog!
7 months ago Elizabeth Maria
An extremely professional and pleasant veterinary hospital! Took my dog to see Dr. Brown for a multiple check ups and couldn't be happier. They managed to fit me in for a same day visit when my pup was throwing up, I was able to stay in the room with my dog, and they were open during the snow storms!
11 months ago Tynesia Thomas
Fast service. Caring and knowledgeable staff, empathic to your pets needs. ????We brought our cat in, he needed surgery and they were able to present a financial option that saved us money and SAVED his life. -Thank You❣️
7 months ago shirley lowe
They were able to fit me in day of! On a Sunday! Very personable and helpful. They were very gracious about me being unprepared for my appointment. Well priced too
7 months ago Yaro
After being disappointed by a different animal urgent care center I took my cat here and the service was a completely different experience. I was greeted and taken in right away and Merlin was seen right away. While he was being treated I ran some errands and they called me to give me updates and double checked with me about everything before going through with treatments which I appreciated. He already looks so much better and is eating again. Friendliest staff ever, and very knowledgeable and compassionate. Hands down recommend, had Dr. Friedenson who was an absolute pro and made Merlin feel right at ease
8 months ago Jim Souder
They took fabulous care of our Leo. They were able to diagnose him and treat him rapidly. We are so grateful to them
6 months ago zinnera parveen
My cat suffered a freak accident this past Sunday. I panicked calling vets in hopes of getting an emergency visit. I contacted Paws who referred me to Washington Ave Animal Hospital. The moment I spoke to the staff I knew we would be In good care. The staff was super helpful in providing estimates for care my cat would potentially need, unlike other vets I contacted. Although I did not expect to say good bye to my beloved Angel, my friend of 17 years . I can rest easy knowing the staff took good care of her and showed nothing but compassion and empathy not only to Angel but to my husband and I. Thank you wholeheartedly to Dr. Pete, Jordan, and Angela for the exceptional care you provided. Sincerely, The Spruill Family
7 months ago Gurpreet kaur
I wasn't sure about this place initially, but my feelings have definitely changed. Dr. Pete has been incredibly attentive to my cat, who was recently diagnosed with diabetes. Attentive is probably even an understatement. Dr. Pete was responsive even at night, and made himself available for any questions or concerns. I recently met Symphony at the front desk, who is soooo pleasant, and makes our anxiety-driven visits to the hospital so pleasant. My cat Milo is doing so much better, thanks to Dr. Pete Lands, who truly embodies what customer service should be. I hope this level service doesn't change going forward. I am very grateful.
8 months ago Patricia Morlan
I've recently run into multiple (some risky) procedures for my elderly dog, who is a classic aggressive chihuahua, and Washington Ave Animal Hospital has helped me through every step of the way. I was new to using them but I trust them 100% and will continue to use them for any pet care. The staff truly cares, keeps you informed, works with cost the best they can, and overall has an incredibly clean and professional environment. I don't know if my dog would be alive today without them. From my family and Tegan, THANK YOU!
7 months ago WEYMAN WOODS
Excellent service. Doctor was really helpful and consultation charges are fairly priced.
7 months ago David Teague
I brought my dog here after she was attacked by another dog at the dog park. She had emergency surgery. Everyone from the front desk to the vet techs to the actual surgeons themselves were SO nice to both me and my dog. It is extremely clean and nice inside. It was very easy to refill a prescription and everyone was very helpful. Two weeks later, drain and stitches are removed and my dog looks great! 100% recommend for emergency services or regular vet check up! Thank you Washington Ave Animal Hospital!!
1 week ago Elizabeth P
We live close by and I was told by a neighbor that they are amazing. We had an older cat that was 19 yrs old she was deteriorating slowly just stopped eating, she lost the use of her two front paws, and etc. My husband and I decided to let her go and I called this place and the girl on the phone was extremely sweet, understanding and told us to come right over . The veterinarian was amazing as well she was tentative, sensitive, soft spoken and very gentle. I will tell everyone I know about this place. I have never experienced such an amazing and family friendly place.
2 weeks ago Christiaan Bertulfo
I brought my cat to this new location recommended by a friend. As soon as I walked in I felt so comfortable and welcomed. The place is new and extremely pleasant, The receptionist is friendly. Above all Dr. Brown who took care of us is so knowledgeable and patient. He communicates clearly and convincingly. My cat completely recovered three days after we visited Dr. Brown. I highly recommend this place!
1 month ago Ethan Shepherd
My daughter took her reptile here since they advertise as having an exotic specialist on staff. She was not satisfied with the care and advice. We learned later that vet specialists are board certified in different areas of veterinary medicine regarding exotics. The vet was not a specialist as advertised on their website. This was basically a bait and switch tactic and is unethical and dishonest in my opinion. Can only wonder what else goes on there. Will never return or recommend
7 months ago Ana Cervantes
Great place to take your pet. Super nice staff..
7 months ago KB Me
Beautiful building, spotlessly clean and modern. Friendly and warm, professional and knowledgable staff. Quickly got an appointment within 24 hours. I was very pleased with the care for my new cat. Fairly priced for treatments.
9 months ago Jared Ison
I took my dog there as a emergency and had all types of X-rays and blood work to be told that he might have Addison disease in no moment did the tell me he had a hernia which could be causing his breathing issues. They call me me to tell me the blood work was lost and had to take him back in to draw more blood. This is a unprofessional place and a bunch of liars don't bring your babies here
7 months ago Lisa Melanson
Dr. Brown is absolutely fantastic! He's diligent, kind, and extremely knowledgeable. I wouldn't hesitate to recommend him to anyone in the area looking for quality veterinary care.
10 months ago mallory paiz
They really helped my cat and were able to get me in on the same day.They were very helpful and flexible with the prices
7 months ago Sarah Carnahan
Wow! This vet clinic is amazing! They got our pup in for an urgent visit that same day, and were extremely accommodating with our work schedule. They explained everything to us thoroughly and took such wonderful care of her. They were professional and compassionate. What a wonderful practice! We are grateful for the care she received.
3 months ago Amanda Knight
Best Animal Hospital ever!!! Service was A++++ physicians and staff were wonderful
7 months ago Sophia Sousa
While my cat was not very happy with being in a new place, I am very happy with the care that he received. Dr. Brown is exceptional. He is compassionate, knowledgeable, and very patient. Unfortunately my cat was very upset which isn't his usual behavior at the vet, so I was a bit concerned. However, Dr. Brown was very understanding of my cat's behavior and my anxiety as well. When my cat went in for a dental cleaning, the anesthesia nurse was great also, even though our interaction was brief. I don't remember her name but she made me feel very comfortable leaving my cat with her. Most of the other staff was very friendly too. I'm excited to see how the hospital functions once COVID restrictions are lifted and I can't wait to bring my other two cats in. The responsiveness and accessibility that this hospital offers is something I have not seen at other comparable vet hospitals in Philly. I'm a crazy cat mama and my babies mean a lot to me and WAAH offers the full package and checks all of my boxes. It's clear that Dr. Lands knows what he's doing when it comes to vet care.
10 months ago Tina Knox
Thank you for everything you did great service quality Veterinarian
7 months ago Bryant Vielhaber
The staff is so great here, the place is great and super clean, and their prices are very reasonable. Highly recommend this place!
7 months ago Mindy Kilpatrick
Dr Lands and his staff are amazing. They saved my 2 month old puppy's life when facing a case of extreme hypoglycemia. Thank God this hospital opened in 2020. The team acted swiftly when I brought an almost lifeless pup in and provided immediate critical care, stabilized the pup and cared for him all day. I was able to bring him home myself at the end of the day. I was astonished and will be forever grateful that they were here for me. Thank you Dr Lands! Michael Melle and Vinson (the pup)
1 month ago Mela Terese
Caring and knowledgeable staff, technicians and vets. Thanks again.
7 months ago Kyle Hamer
Needed an urgent care visit for my cat, and was able to get seen immediately
7 months ago Randy Jordan
I went to Washington Ave Animal Hospital with my dog because she was vomiting and not eating. I was greeted warmly by reception and brought into a room promptly. The hospital is all brand new and immaculate. Dr. Lands was extremely knowledgeable, he offered multiple options for me, he really took his time with us, and it was clear that he is really there for the animals. We decided to do blood work and x-rays and once we found out that it wasn't something serious, Dr. Lands gave Eloise some shots and fluids under her skin. The technician discharging was thorough and very knowledgeable. Eloise was feeling better by that afternoon and started eating by the evening. Overall, the staff at Washington Ave Animal Hospital made the experience as enjoyable as it could possibly be given the circumstances, and I will definitely be back! Thank you!!
2 months ago Elizaveta Vasileva
The facility is nice and clean. The staff is very nice and compassionate with the animals and their owners. Very nice place. I truly would recommend them.
11 months ago Khadijah Beyah
Our cat was doing these vomiting motions and our old vet couldn't figure out what was wrong with her. Turns out she is asthmatic and the vomiting was actually coughing! Washington Ave animal hospital was able to diagnose her correctly and treat her right away after a particularly bad asthma attack. They also kept following up to make sure she was doing better and adjusting to her medication. They have an app where you can keep track of your pets appointments and medications as well as a texting system for answering any questions! I cannot recommend them enough.
11 months ago Saravana N
We want to thank Dr Brown for his great treat treatment of our dog. Our dog had hot spots for a long time and we tried different clinics a few times. But the problem remains. We finally took her to Dr Brown. He gave us a few suggestions and prescribed medicine. The hot spots disappeared a few days later. We are so grateful to Dr Brown We highly recommend the clinic.
15 hours ago Wilson Vida
Couldn't be happier that WAAH is finally open. Until now, the area has sorely missed a top-class animal hospital with a Veterinarian who not only knows his stuff, but seems to really care for his patients. The remodeled building is fantastic and the level of care is unmatched. If you have a four-legged-friend, I definitely recommend stopping by and supporting Philly's newest pet hospital.
3 months ago Davis Minor
I took my 15 year old cat here a week or two ago for a recurring ear infection. I was amazed at how quickly they were able to get me in and out. The staff were all extremely nice, and you could tell they cared a lot their patients. One of the best vet offices I've been to. I'll definitely be bringing my pets back there.
2 months ago Carol Trimmer
I recommend anyone in The Graduate Hospital area to take their pets here! beautiful staff... beautiful atmosphere... very attentive.. they check up on your pet after the appointment.. I just love it!❤
2 months ago Randy Wigginton
My dog was referred to an ophthalmologist by my regular vet. I was initially very worried and stressed having to take my senior dog to a specialist. I honestly have nothing but great things to say about Dr. Mundy. She is highly knowledgeable and I had such a wonderful experience at the WAAH. Dr. Mundy's expertise in the field allowed her to appropriately diagnose and create a treatment plan for my dog very quickly. During the initial appointment, Dr. Mundy's calming demeanor put my concerns at ease. She was very informative in sharing her findings and steps moving forward towards treatment. At the 2 week follow up appointment my dog's eye issue significantly improved. I am so pleased and relieved with the treatment and outcome. It was a really cool experience watching her treat my dog in the realm of ophthalmology. Also, the techs and staff at WAAH are very friendly. I highly recommend WAAH and Dr. Mundy.
7 months ago Susan Doherty
Good small mammal vet on staff. Service was prompt. No complaints.
8 months ago Shelida Walcott
Went to Washington Ave. Animal Hospital with my Newfoundland for a check up. Dr. Lands was great! You can tell he truly cared about him and is very knowledgeable on everything. Staff was great as well! Will definitely be using them for all my pet needs in the future. The place looks great too!
3 months ago Carolina Pena
Very nice and staff was excellent. Would recommend to anyone.
9 months ago l graziano
Very friendly and able to schedule appointments when needed promptly.
7 months ago monet alisha
Moving areas and finding a new vet for my pets was something hard. This vet gave me the confidence to bring my two cats and newly puppy, they care so much about them. The staff is warm, well knowledge and gentle. So glad we have them in the area
1 month ago Cory Mallory
Thank you Washington Ave Animal Hospital and Pete Lands for letting us be your first official visitors/clients! ???? Our three tortie girls had such a great experience here. We needed a check up for some eye issues, and Dr. Brown did a wonderful job explaining what was going on and how we can fix it. The staff is amazing and we could tell how much they cared about these little beans. We are so excited to have the opportunity to continue working with you.
6 months ago Norman Wise
Have been to a lot of facilities in the past but this pet hospital is by far the cleanest and most professionally run I've ever been to. The staff is amazing and their doctors are compassionate. Highly recommend!!
1 month ago JoseATurner
My husband and I took our puppy in for his first visit last weekend. We had a great experience! I called on Thursday and was able to make an appointment on Saturday. Everyone was super friendly, professional, and really good with our slightly nervous little guy. The facility is also quite large and felt really safe from a COVID-precaution standpoint. We were able to go to an exam room with our dog, and then he was taken to the back for his exam. Dr. Lands answered every single one of my anxious dog-parent questions and really took the time to help us understand our dog and his needs. They also followed up a few days later to see how our puppy was doing. I am so glad we chose Washington Ave Animal Hospital and would recommend them to anyone!
8 months ago Fritz Egerter
Bizarre customer experience. They had me bring my animals and wait outside for two hours. Then sent me home without meds. I'd to come back twice.
2 months ago Lisa Ferguson
I'm Dr. Pete Lands's Dad and of course very proud. Here's something you should know. Growing up Pete had an affinity to animals that was different from my other 3 children. My wife and I first noticed this at petting zoos, when we literally had to drag him away from the animals. And then over the years I observed him with our own dogs and cats and his dogs. It was like he had another brother or sister. He could have done anything in life, but has definitely picked the profession that he loves. I can sum it up in 2 words, sensitive and caring.
3 months ago Bradley Kuester
My dog was having pain in his legs I took him to hospital they diagnosed him and cared for him appropriately and just 3 days later he is doing well. All who I interacted with the hospital were kind and professional. I will definitely be bringing my dog back to them for all his health care needs.
1 month ago Aeolus Meltem
Instead of performing expensive tests, the Dr. recommended a few medications and special food for our kitty who was having trouble urinating. Our kitty lost his owner in April and they addressed the emotional factor. We were so impressed with the entire experience. He is not having the issue any longer and he is relaxed and cuddling again.
3 months ago
Popular places from the category Animal hospital