Washington Ave Animal Hospital
Animal hospital Washington Ave Animal Hospital, 1920 Washington Ave, Philadelphia, PA 19146, United States:
85 reviews
of users and employees, detailed information about the address, opening hours, location on the map, attendance, photos, menus, phone number and a huge amount of other detailed and useful information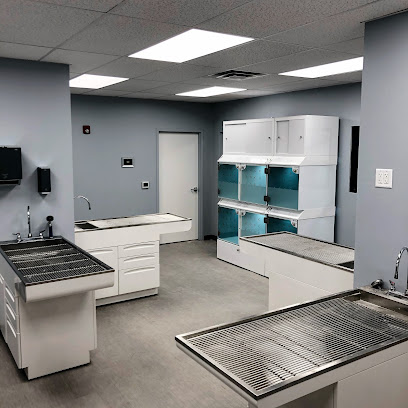 Address:
1920 Washington Ave, Philadelphia, PA 19146, United States
GPS coordinates
Latitude:
39.9387968
Longitude:
-75.1756417
reviews max mr
Very nice staff and excellent service. Covid-19 careful and explained everything. I would recommend them.
9 months ago Paul Pettis
Dr Pete Lands never disappoints! The WAAH staff are so friendly and personable, it's clear that they love what they do. Dr Pete always cares so much about his patients, going above and beyond to give excellent care. He's brought a wonderful practice to Philly, I'll continue to be a faithful customer!
3 months ago Jo Fedele
The people were very nice and it's a nice place!
7 months ago steve sheridan
This place. Could not have been happier with the staff and service provided. Absolutely recommend.
10 months ago stephen duran
Staff is awesome and very friendly. The office is really nice and they certainly care about your pet.
1 month ago Sobranie Zolotova
This animal hospital is truly the best i bought my cat here and they gave me the best service..my cat was not eating or drinking do to a dental problem..when i got home from this hospital my cat was eating and drinking again truly the best!!! I would recommend this hospital to anyone with pet's!!!????????
2 months ago GRACE PIATT
the staff here at WAAH is extremely friendly and professional. the hospital itself is clean and everyone is very knowledgeable. would recommend to anyone i know.
11 months ago Jen Smith
Great experience amazing staff, Stephanie always does her best to make sure your animals are well taken care of .. very comfortable atmosphere. I recommend taking your animals here
11 months ago Jack Maliszewski
I took my cat in for routine vaccinations and a check-up. Immaculate facilities, friendly and professional interactions with the vet, a tech and front desk staff. I appreciated the thoughtful discussion with the veterinarian after her examination and the reasonable costs (check-up was $65). My reason for not giving a full 5/5 stars is because I was unnerved by the way they led us into a room, I let my cat out of his carrier in anticipation of being seen by the vet, but then the vet tech put him back in his carrier and took him into another room to be examined and vaccinated by the vet while I sat in the room and waited. Why couldn't I have been there to observe, ask and answer questions during the check-up? Perhaps it's an anti-Covid measure, but I really didn't like not being able to accompany my cat and see what was being done to him. I've never been to a veterinary facility that operates this way and although I was pleased by the visit in literally every other respect, if this is their standard procedure for routine visits, I'm not sure I'll be returning.
1 week ago Justin Lindh
Dr Pete and his staff are always responsible and amazing with me and my pets !
10 months ago Shahin Jamali
Took my dog Tucker to get his annual shots. Staff is very friendly and Dr. Frank was the best.
11 months ago Judy Avery
Great place excellent staff great doctors very caring and professional they did a great job and would highly recommend them to anyone thank you guys so much for everything Kona and Robert
11 months ago Robert Garrett
I called and got an appointment right away fory dog die to je hurt his foot. All of the staff was great and informative. I my ue them for my pet vet going forward.
2 months ago S Schaefer
Brought our twelve year old yorkie in for surgery and as Dr. Lands will tell you, there is always a risk when putting a dog under anesthesia, especially little dogs, and so to say that we were a bit nervous would be putting it mildly. Fortunately, our boy was a champ and he is recovering, but I cannot tell you how thankful we are for WAAH, their professional operation and especially Dr. Lands for taking the time to explain the procedures to us, and go over the risks and then most importantly for taking care of our dog as though he were his own. If you are looking for a veterinary practice, and especially if you are in need of any kind of serious procedure or surgery for your pet, take them to Washington Ave Animal Hospital for the highest quality care.
1 week ago F F
Wow! Brand new state of the art facility. Staff is amazing and the doctors were extremely knowledgable with great bedside manner. So happy such a great place opened up in the area!
1 month ago Brandon Castro
Came in as a walk-in and was really pleased with the experience. Everyone was friendly and the place was new and clean. So nice to finally have a vet I can walk to for my dogs.
2 months ago Tiro Castro
Dr. Pete Lands cares about your animal and you. By word of mouth we got his contact information and communicated with him about our cat who was experiencing a long list of symptoms. His practice was not even open and he gave us wonderful advice throughout out ordeal. He took the time to respond to each email and gave his professional advice over a few week period. He's going to have something special on Washington ave for the pet owners of Philadelphia.
2 months ago Rik Arson
Beautiful hospital, amazing support staff, incredibly experienced owner/veterinarian. I wholly trust this team, they're awesome :)
5 days ago Steven Lawrence
Great experience. The front desk staff, vet techs, practice manager, and vet were extremely friendly and understanding when I brought in my super senior kitty for bloodwork. I was upset bc he wasn't acting like himself and was staring at walls. Dr. Pete Lands provided me with some incremental care options, and we chose to get a comprehensive panel done, which would be sent out. He called me 24 hours later and explained the results, which showed a UTI. We put together a plan for treatment and my cat is doing much better. Everyone was very professional but also down to earth, which made me feel very welcome.
3 months ago MIMI Warren
Helped my yorkie ! Best place ever!
1 week ago Yuliia
Excellent ☺️❣️
5 months ago Reynaldo Molina
Hands down the most friendly group of doctors and support staff. What was a super stressful time for me and my dog was made so much better by the caring, friendly, and empathic.
2 weeks ago Mike Reske
Loved everything about this place!
6 months ago mal lin
Can't wait for them to open to the public! I'm right in grad hospital a couple blocks away and can't wait to have a vet this close.
2 months ago Deborah Rudge
Nice neighborhood store, well equipped, friendly helpful stuff
11 months ago Digger Chen
Excellent service and friendly staff! The new remodeled building is beautifu.
1 month ago Denise Dooley
Very caring, understanding and helpful staff!
11 months ago Rafael Herrera
Black Excellence!
7 months ago Gordon Avery
Great animal care. Opening soon!
8 months ago David Blanchette
Wonderful staff
5 months ago Hassan Nawaz
They were fast and help my dog recover
4 months ago cesar verdugo
Very friendly staff, very clean facility
9 months ago Lucas Barros
kindhearted friendly informed
4 months ago Haroun Rage
We took our cat for urinary blockage. On the second day they did not return our calls when they said they would. After poor communication we notify them that we wanted him discharged at 5:30 because they made the decision to remove his catheter. At 8 we had not heard back from them so we went there they made us wait for over 2 hrs to get him discharged. They also billed us more money and initially didn't even justify it. During the discharge they never mentioned the procedure was unsuccessful. Actually the first three communications were the cat was doing very well then at the end they said there were some complications but again they never mentioned it was unsuccessful. It was obvious that they were short staffed, did not present all the options at the initial visit or laid out the proper procedures and sent us home thinking they did something to improve his health. In the end do to suffering and quality of life he had to be put to sleep.
4 months ago Stacey Quinn
Bamos precios
11 months ago
Popular places from the category Animal hospital