Pet groomer Perfect Paws Dog and Cat Grooming
Pet groomer Perfect Paws Dog and Cat Grooming, 502 Chester Pike, Norwood, PA 19074, United States:
87 reviews
of users and employees, detailed information about the address, opening hours, location on the map, attendance, photos, menus, phone number and a huge amount of other detailed and useful information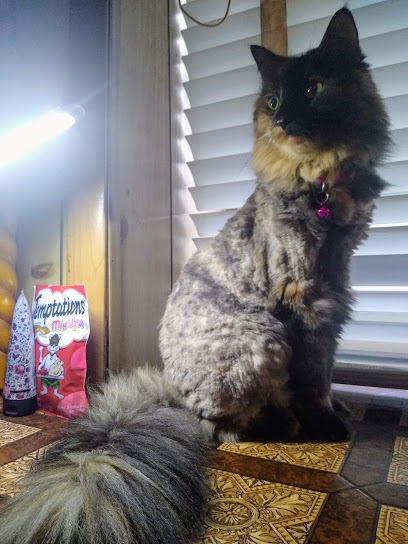 Address:
502 Chester Pike, Norwood, PA 19074, United States
Website:
myonlineappointment.com
GPS coordinates
Latitude:
39.8884751
Longitude:
-75.2997501
Location on the map
Reviews M Jiang
Good prices for your cat getting a hair cut
5 months ago Dave Rothamer
Mrs Brenda is truly AMAZING! First time taking my moody adult chihuahua to get beautified and we had such a pleasant experience! My moody pooch came out looking ravishingly GORGEOUS!!! Already have her next appointment scheduled! Pawsitively SATISFIED!!!
6 months ago Justin Childress
MEAN to the dogs and owners. Definitely does not need to be working with our fur babies. I saw and heard Brenda yelling at a dog myself while standing in there. My dogs haircut is terrible. I only came here off the strength of someone who referred me but I wish I would've read the reviews first. I believe every allegation of abuse. Needless to say I won't be returning
6 months ago Patricia Morlan
Washed, cleaned ears and clipped my kitties claws. So caring and reasonable priced.
8 months ago MaxCrazZzyTV
The people here are not at all friendly. And I'm not satisfied with the trim/cut on my dog. Bad vibes in this place and with these people and this was my first and last. My dog is even acting strange... that's just pitiful if they were to go as far as to abuse animals as they were bathing them..... ( p.s. I never write reviews) PLEASE IN THE NAME OF JESUS BRING YOUR PETS TO A MORE LOVING SAFER AND LOVING GROOMER. LOOK INTO ANYTHING BEFORE WALKING INTO A PLACE. AND IF YOU HAVE A DISCERNMENT. RUN. DO NOT PROCEED! IT IS NOT WORTH THE TORMENT. PLEASE HEED THIS WARNING! Because sadly I didn't.
10 months ago Alisha Pineiro
If i could give this place 0 stars i would... the lady was nice to us in person but the quality of work they do wasnt up to par. I also believe they may was been abusive to my cats because of they way they were acting when we got home. Wouldn't go back if it was free.
7 months ago Eric Godwin
I have been bringing my 2 dogs to Perfect Paws since 2018. My older dog is a 45lb nervous, skittish rescue. One particular appointment day I had parked directly in front of the entrance in order to make the trip from the car to the establishment as quick and easy for my dog. As I was leading him to the sidewalk, my dog saw some passers by, got scared, pulled away from me and slipped out of his harness. I grabbed his collar to keep him from running onto Chester Pike. Being a new dog owner, I was frozen with shock & fear. The gentleman groomer suddenly was at my side, picked my dog up and whisked him inside. I was shaking badly, trying to tighten the straps on the dog harness. The gentleman calmly took the harness and by the time my dog was groomed his harness was fit properly. That was one of the scariest moments I have had with my dog and if it wasn't for the incredibly nice man at Perfect Paws I don't know what would have happened or if I could have gotten my dog wrangled as quickly. I now have 2 dogs and this is my go to groomer. Both my dogs come home smelling and looking great! They get so excited when we pull up to the shop and are very happy when we go home. I recommend Perfect Paws to anyone who will listen!
1 month ago Joan Alaniz
I been with the owner Brenda, for years. My pets have stayed overnight and were groomed. Brenda does an excellent job with Dogs and Cats. Most importantly she gives them tender loving care. She treats all pers as if their her own. The price also is extremely reasonable compared to other groomers such as Petsmart. I would and do recommend anyone with a dog or cat to go to Perfect Paws.
4 months ago Gary Moederndorfer
The experience for me and my dog were amazing!!! This was my (our first time visit) From the warm welcome and the special attention given to my dog was overwhelming. I would give this place 10 ⭐. Amazing place and the customer service is above and beyond anything I have experience here in the area. Thank you again for taking excellent care of my ????
3 months ago tom HERZOG
Great people, my cat looks amazing everytime she gets groomed.
7 months ago austin l
Excellent job! I love bringing Jake to perfect paws. He likes it too! Thank you girlfriend.
1 week ago Kenneth Leonard
I have a pit and everyone turns us away just because of the type of dog she is sad to say their loss cuz she is a sweet girl who I had since she was 4 weeks old now 6 I love the atmosphere they do so well with her very understanding and loving I really like it there I take my dog once a month to get bathed and to get her nails trimmed
9 months ago Tyler Miller
Awesome place. My boy sebastian loves going there. He even enjoyed his overnight stay. Thanks guys.
10 months ago Robin Rowe
I brought my puppy in to get her nails clipped and her ears cleaned. The owner of the place was extremely aggressive with her. And yelling at her because she was nervous. I thought people were supposed to make our animals comfortable it they work in the animal field. So she was yelling at my dog and she didn't even clip all of my dogs nails. I left and I told my mom to call and confront her about being so aggressive so she did and the owner called the cops on my mom. The cops called my mom and said they were being investigated in the spring time and to call animal control.
1 month ago Janeen Gorman
They are the worst. Please if you love your dogs you will not take them here. Tried this groomer for the first time in April. They shaved my all white Cavapoo and cut her in her inner leg and did not notify me. There was NO way they did not notice this cut and it was bleeding.
1 month ago Christopher Suggs
Good I have long haired kitty ???? his bum gets dirty he will not let me near him Brenda and Michael help me big time
3 months ago Monty McClanahan
I didn't have the best experience. It's the first time I took my dog here to get groomed. The groomer was friendly and pleasant, so the service was great from the beginning. She also did a nice job on the cut. However, my dog's leg popped out of its socket and he was limping when I picked him up. He also acted strange for a few days. I'm not sure what happened but that's the first and last time I will go here. It just seems odd.
6 months ago Cynthia Molinari
I won't be going there anymore...I brought my dog in today for a bath, the people are nice but as I sat down to wait; I read other reviews as my dog cried while getting his bath....as other reviews claimed abuse and injuries I felt compelled to watch my screaming dog get bathed. I felt instantly very uncomfortable, though I didn't not witness anything I would consider full out abuse, I did not enjoy watching the way the man absolutely manhandled my dog. I watched him twice grab him under the neck in a way that was not at all kind or gentle. After the bath I watched as my dog was obviously stressed, endure another round of somewhat aggressive behavior as he controlled my dog by a steady yank on the collar and multiple knee shoves to his side. I won't say my dog was perfectly behaved but I 100% understood his stress after watching this stranger work on my dog. I can not recommend this place after watching that, and I felt terrible for my dog when I left.
3 months ago Pat Mattiacci
This was my first time going to Perfect Paws and I was extremely happy. My dog's coat looked great and the price was very reasonable. Count me in as a repeat customer.
7 months ago Kiran B
I've been coming for almost a year. Me and my cat loves this place. Its so pleasant to have great service, and this is the place. My cat looked and smelled better than ever. Thanks for the love.
8 months ago Sigrid Butler
The owner is very rude , they are very ruff with your pets and I will never recommend anyone here !And I'm never coming back !
7 months ago Kookie DeMonster
She is the best. She takes care of my dogs perfectly
2 months ago Cody McKinney
I just received a screen shot of animals injured while getting groomed here! I am sorry I didn't speak up when my 5 lb dog was injured when I brought him in 2018!!! I was too upset to even address the situation at the time and I regret not speaking up! How is this woman still allowed to groom animals is beyond comprehension!! She was very nice to me and I scheduled my cat and dog for the upcoming month. I wasn't crazy about the cut but that doesn't concern me bc I can express better what I want the next time, I thought 1 hour to fully groom a dog was too fast. I get into my car and discover a large pool of blood on my white T-shirt so my husband and I find a 2" cut on my dogs inner hind leg, still bleeding when I arrived home from a 15 minute drive. His carrier and my shirt was covered in hair clippings, his nails looked like they weren't cut at all! Everyone told me to speak up and I chose to just drop it, unfortunately. I also noticed a patch of hair missing all the way down to the skin on the outside of his hind leg about a week later so I took him to the vet and they said it was from his nerves. There are some great groomers in Delco and I have since found one that I trust with my dog. I am not one to write bad reviews but I wish I would've researched her reviews 1st. I hope it helps someone out. That shop should be investigated
6 months ago ChampaignCounty ToysforTots
Pet parents beware!! This business is known for its abuse on animals, there have been MANY complaints about this place and people's fur babies being picked up with injuries and weird behavior the days following after an appointment here. I would NEVER trust these despicable people who purposely hurt animals to groom my baby.
3 months ago Lora Bmw
This place is terrible. I took my dog in for a simple groom and comes out totally different then what i wanted. Also my dog came back with health problems. Wouldn't recommend to anyone. If you love your pet please take them to someone that knows what they're doing
7 months ago Rita Navarro
Thanks Brenda for always making Stella and Dixon look great! No matter how far I move I'll always bring my babies to you.
4 months ago Anita Cappalla
Fast and efficient
5 months ago Tony Laituri
Abusive to their animals , please do not bring your loved ones here. I recently brought my dog in for a haircut and when I came to pick her up she had bloodshot eyes (result of strangulation). I was already shaky on trusting a new place, my worst fears had come true.
7 months ago craig baker
The owner and her son were fabulous with my cat. I would recommend them to anyone looking for a groomer for pet. They handled my cat with great care.
7 months ago Todd Carstens
Brenda is amazing. Both my dogs look so good.. I have a husky which can be hard because of the shedding but she is Amazing.
6 months ago Thomas Ryan
If I could give zero or negative stars I would. This groomer is rude, unprofessional and did the complete opposite of what I asked for. My dog seemed almost scared when I picked him up and acted unlike himself for a couple days. I wouldn't reccomend to my worst enemie. She should be shut down.
5 months ago Daniel Nanasi
Brenda's great with your babies. She gets you in and out. And its a good atmosphere while waiting if you wish to do so .
6 months ago Ted Whelan
This business is doing whatever they can to stop people from reporting the facts of what actually happens behing closed doors. Unfortunately for them there seems to be many people with similar concerns after bringing their pets home such as bloodshoot and bulging eyes which seems to indicatethese pets are being strangled, changes in behavior, and cuts on multiple areas of their body. Not only picture evidence, which can be questionable at times but video evidence of these owners in action, audio recordings and client feedback of them actually witnessing the mistreatment of animals. Consumers beware and use this establishment at your own risk.
6 months ago Kim Hale
I have been bringing my Beagle for baths and nail trimming to Perfect Paws for six months now, and have no complaint. I was very pleased that the first time I brought him in and asked what products they used, they not only told me, but also showed me. Everything is as I had hoped (hypoallergenic, environmentally-friendly, etc). Most of all, I appreciate Brenda's patience with my little one, as he hates being bathed and screams bloody murder in her ears the moment water touches him!
7 months ago John Bethea
We had to get our cat and dogs nails clipped and it went really well and didn't take long at all. It's a nice and well maintained atmosphere. Highly recommended.
7 months ago Asma Benoun
Do not go here. Very uneven cut on my puppy. It looks as if a child cut her, there is missed spots all along her belly to the back. My friend also took their pup and had the absolute worst experience. If you search through, there are many reviews with hemorrhages of the sclera of the eyes and this is exactly what happened to them. Again, please do not go here if you love your pets.
4 months ago Brian Stover
She (I'm assuming Brenda, I didn't get her name) was awesome. We walked in, it was a Sunday after an Eagles game so nobody was around, she took my Buddy back, and his nails were done and looking good in about 2 minutes. He is a maniac when i try to do it, and I'm always so nervous about cutting them too short. She was sweet and loving towards my dog. I love the selection of things for sale, from leashes, shampoo, treats, etc. will be coming here from now on! Thanks Brenda! (I think) haha
6 months ago The Dealer
I got my cat shaved into the lions cut here! They were amazing! The cat looks great and they were fast and friendly! No problems whatsoever.
8 months ago Jake Moeller
Nice place good service awesome location wasn't happy my dog was dropped but realized it was accidental and he was fine.
6 months ago BKN Kutskov
Bought in my long hair cat for the first time & I've never dealt with such a fantastic job. They're very friendly, fast, and efficient. Would highly recommend!
8 months ago Ali Mohamed
Heads up to never take your animals to get groomed at Perfect paws dog/cat grooming !!!! Horrible service, uneven cut, they took 5 minutes to do their service and the woman that works there was extremely rude!!!!!! Not to mention my cat was completely soaked when I took her home! The cut was all different lengths.
6 months ago Chad Meyer
Love it Brenda and son are great
3 months ago Emily Reece
I came here with my cat, they let me wait while he was being groomed. I described exactly what I wanted and he came out perfect. They even gave him a bath. It's very tough to find a cat groomer during COVID so I'm very happy I was able to get an appointment quickly.
6 months ago S Schaefer
They were great to help me at
5 months ago Kevin Williams
I wish there was a grade lower than 1 star. This lady is the rudest grooming specialist I have encountered. Do yourself a favor and take your treasured pet elsewhere. With a temperant as hers, it would not surprise me if she abused the pets. No patience or customer service.
7 months ago tristan lamay
Worst groomer ever. My puppy's first groomer visit and had to take to the vet 2 times after finding out his eyes were so red when he came home and vet stated could be conjunctiva hemorrhage due to trauma/choking. DO not bring your dog there. He also acted as if he was drugged, as he would not get up for hours.
7 months ago Jennifer Long
Brenda is knowledgeable and a perfectionist with our beloved pets!????????????????????
6 months ago Andrew Chung
My Prince had hair for days. He was unrecognizable when I picked him up. The groomer did a wonderful job on my baby. We're definitely coming back for all Prince's needs.
10 months ago Phil Petersen
This facility accommodates me very well with an appointment when I need it, Brenda is awesome.
8 months ago Bilal Sarwar
Does great work.
7 months ago
Popular places from the category Pet groomer