Lancaster Central Market
Farmers' market Lancaster Central Market, 23 N Market St, Lancaster, PA 17603, United States:
220 reviews
of users and employees, detailed information about the address, opening hours, location on the map, attendance, photos, menus, phone number and a huge amount of other detailed and useful information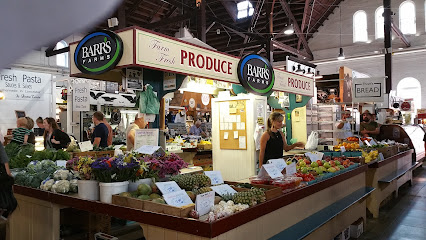 Address:
23 N Market St, Lancaster, PA 17603, United States
GPS coordinates
Latitude:
40.0383492
Longitude:
-76.3066939
Location on the map
Reviews Sue Barr
Great spot to get breakfast / lunch before going to Dutch Wonderland or exploring the area. Morning coffee, donuts, sandwiches, pretzels, juices, and fresh milk. There are lots of different food variety to choose from. The place does tend …
7 months ago Robert Kooflin
Fun, historic soda fountain and ice cream parlor and candy store with delicious homemade chocolates.
6 months ago SE Beechey
This is such a cute market!! They have a great variety of vendors to look at. Your such to find a treat for yourself or a loved one. One of our favorite vendors was a meat vendor right as you walk in to your right! They also had an awesome little stand with fresh jellies and jams! So much to check out and see.
6 months ago MaineWolverine
Really fun activity to do in Lancaster. You can buy pretty much everything here and it all tastes good. Our family got a smoothie bowl, pickles from the pickle vendor (half-sours were phenomenal), empanadas (amazing omg), a sub, and a …
6 months ago robert sprague
We honestly stumbled upon the market on a trip to Lancaster with a poorly researched destination. We just heard it was a neat place to visit and decided to check it out. So... we found the market and were really impressed with how nice the …
6 months ago SYLVIE TAITOUX
Great selection of fruit, vegetables, meats, baked goods! The vendors were friendly and helpful.
8 months ago William Weems
If you like your herbs, spices etc. to be of the finest quality and from a large selection, you must go to The Herb Shop in the Central Market. While the overall market is just OK this establishment is way above it's peers, priced about the same or better than what you find in jars at the supermarket, the selection is incredible.
6 months ago Dale Pinkerton
It is a fairly small covered market, just around 5-6 rows of shops/stalls, selling a variety of food and some artifacts. The food ranges from fresh produce to cured meats and cheeses. There are a few shops selling quick eats and a limited …
6 months ago Jay Altizer
Lancaster Central Market is said to be the oldest continuously-in-use urban market in the country (or was it the world). There are numerous stands inside. It is located right in the center of downtown Lancaster, PA, next to the old city …
7 months ago Dima Ruz
Delicious food! We got a peanut butter long John from Shady Maple. Yum!
6 months ago Mouse House
Really neat place to explore local food and wares! Everything from "Whiskey rye maple syrup to made-from scratch tote bags can be found in one of the aisles in this beautiful venue space.
6 months ago Richard Pace
The stalls selling fresh fish and meat looked like they had good offerings (no kitchen where we were staying so sadly couldn't try any). Various fresh fruit and vegetable stalls. We were able to get some tasty cherries from one of them.
6 months ago Ellen Stoppioni
I love Central Market, but the prices at many stands are outrageous! I only hit my usual stands because of prices. 19.89 per lb for strip steak? Not happening!
6 months ago simone assaad
Lots of fresh food. By noon, many bakery items are sold out and some of the smaller produce stands are pretty lean. I question the authenticity of some of the Amish and homemade goods. The market itself is pretty small and the wait to get in (due to social distancing) can probably be reduced by going at off hours.
7 months ago Levi Thayer
Whether you're a tourist or a local, the market has something for everyone. Get there early on Saturdays - it gets busy! I do 98% of my grocery shopping here and I almost never get the same thing twice. There's a huge variety of vendors and I love that they have gluten free and vegan options too.
7 months ago Tom Reed
So many options of prepared foods to snack on Lots of fresh meats and fruit, not that many vegetables stands Several stands with a large variety of loose leaf teas Great place to discover new things
7 months ago Tim Hemphill
Though it's getting a bit trendy these days it's still a great place to pick up not only good produce and meats but lots of unique prepared foods. Also plenty of great shops in the surrounding blocks worth checking out.
6 months ago Jason Gibert
So INTERESTING! FOOD...DRINK...SOUVENIRS...????????????
6 months ago Crystal J
Very conscientious of the corona virus. Mask are required and a greeter at the door enforces that they are worn and cover nose and mouth. Important because of the close quartered and poorly ventilated space. The market is as thriving as ever. I highly suggest making the trip to one of our cities best treasures.
4 months ago Ale Hayes
One of the best markets I have ever shopped in locally owned products fresh fruits and vegetables very friendly service
6 months ago Sung Alexander
If you can manage the in-town traffic and parking...this is definitely worth the stop. So many great local foods and crafts. They definitely get busy. So if you have a favorite, you'll want to get here early.
7 months ago Daniel Subervi
Great people and tons of stuff it's awesome to get there early and have free reign.
6 months ago Bruce Gillette
Lancaster market in historic downtown had wide variety of unusual tasty foods and handmade products, very fun to stroll throught
6 months ago Tony Fardella
Great variety of food and beverages both prepared and fresh. During COVID there is no eating or drinking asked in the market, so they have closed off their table and chairs dining area. We bought some fudge, other pastries, and some …
8 months ago Gerri Strawberry
Nice selection of food options.
7 months ago Jose Irizarry
This place will always feel like home. Especially their whoopie pies and all the organic produce.
6 months ago Juan Conde
A nice market with a large selection of fresh fruits, vegetables and many other items, but unfortunately just too crowded during COVID.
3 months ago Tia K
This place is absolutely fantastic as a symbol of earlier times when growers and producers of goods sold there goods at fair prices to the local people in their community. As time passes, it is becoming less enchanting to me because parking …
8 months ago Turtle
The donuts from Raspberry Falls bakery were amazing. This market has a wide variety of items to purchase. I can't remember the vendors name that ha# the goat milk but it was delicious.
7 months ago Tre God
The meat in each of the butcher shops looked beautiful. We loved the delicious home-made pierogi's and Ric's cinnamon bread. Will definitely visit again.
7 months ago Georgia Badgery
A fantastic variety of food! A can't miss stop in the cultural center of Lanc City!
8 months ago Szyna Szynkowski
This place was awesome. So many vendors with different fresh foods and what not. We got some Thai coffee and Thai tea and they were great.
7 months ago Rose Brandt
Support local. Any one who gives this less than five stars, seriously cannot see the beauty of Lancaster. This is one of the OLDEST markets in the COUNTRY! With it's beautiful brick architecture and great location in historic downtown …
9 months ago Maria Ho
Love it! Excellent selections of produce and deli items as well as locally made items.
1 month ago CookieCre
Good place to pick up some local goodies
2 months ago Rory Baker
I'll put the Lancaster Central Market up against any farmers' market. In a county renowned for its agricultural vitality, brimming with farmers' markets and roadside stands of dizzying variety and quality, and teeming with the best fruits …
8 months ago Robert Phillips
Always a fun morning. All kinds of prepared foods, produce and finished goods. Great place for a breakfast date or a family outing
7 months ago Marjorie Latham
This was a great place to stop and grab a snack or a few items for dinner.
6 months ago natasha moore
Real interesting building. There were lots of vendors selling different things. It was a bit crowded in certain places. I would suggest to bring a reusable shopping bag to hold all your purchases.
7 months ago Eric Rawson
Everyone was super friendly and was more then willing to talk to you about everything.
6 months ago Ratna Fleming
Nice place, everyone was friendly & helpful. Kinda expensive. Got some pickles bread & butter yum, half sour didn't like at all (there goes $10 down the drain) The deli that is right there was good a little pricey. I would go again definitely.
8 months ago Ameena Mohib
Designated as a market town in 1730, the City of Lancaster is home to Lancaster Central Market, the oldest, continuously running public farmers' market in the country. More than 60 local vendors call the beautiful 1889 Market House home …
10 months ago Ishmail
Very nice Marketplace with a long history in downtown Lancaster. Reminded me of a smaller version of Boston's Faneuil especially with all the different shops with everything from various drinks to homemade meats, seafood, cheeses, etc.
7 months ago Savisha Jones
Great local market to visit. Get some fresh vegetables, fruit and local goodies!
8 months ago Kyle McKinney
So many vendors and a great variety.
7 months ago David King
Such a fun experience and great food selection! Stop at the Cuban place at the back for some authentic cuisine. Well worth any trip or desire to browse unique goods and cuisine. Lancaster County Coffee roasters also has some great drinks to sip while you shop.
9 months ago Steve May
Felt very safe with their COVID guidelines. Some of the shops were closing by the time we got there around 1, but those open were offering good stuff.
8 months ago Francisco Ramirez
Fresh meats, cheese and produce from local Amish farms, along with a wide array of food stands and local crafts.Open on Tues. Fri. and Sat. from 6am to 2pm. I stop whenever I'm within 30 miles of the place( which is about how far it is from …
9 months ago Rahid Hantal
Fun place to walk around and see a variety of services and foods. Especially enjoyable when sharing the experience with family.
7 months ago Gregory Frame
Central Market is the best place to visit especially if you want to get as much Lancaster PA crammed into a visit. You have to go early to make sure your can get a bowl of hot chicken pot pie, a pretzel dog, chicken corn soup, "Amish Tapas" …
7 months ago
Popular places from the category Farmers' market