eNet Web Services
Website designer eNet Web Services, 200 N Church St, West Chester, PA 19380, United States:
204 reviews
of users and employees, detailed information about the address, opening hours, location on the map, attendance, photos, menus, phone number and a huge amount of other detailed and useful information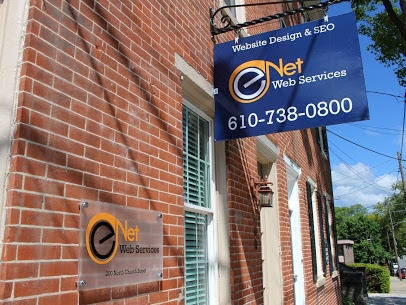 Address:
200 N Church St, West Chester, PA 19380, United States
GPS coordinates
Latitude:
39.9608915
Longitude:
-75.6075683
Location on the map
Reviews xavier pl
The team at eNet Web Services are All-Stars in their line of work. I was paying another web hosting service to run my website for the better part of 2020 which wasn't generating any traffic. I was referred to eNet Web service by another small business and after contacting them we were able to quickly get my website on track for 2021. the attention to detail and the quality they provide is what i was looking for. I feel confident with their team handling my website which allows me to focus on my line of work.
2 weeks ago Vincent King
eNet is top notch- their service is second to none!!! I have tried a bunch of different companies to market our business and all that happen was a one time phone call and a 12 month contract of us paying and not getting any service or results. Ron and his team are not like that at all. They are with you every step of the way, they actually care about me being a customer and they care about what I need for my business, and they have the expertise and knowhow to make it happen. I am absolutely thrilled with all there help and service. They go above and beyond to get you RESULTS!!
9 months ago Clarissa Eller
eNet Web Services is a business changer- surviving to thriving! I have struggled with finding a quality marketing company since I started Van Fleet Services LLC, Plumbing and Electrical last year. And what two other marketing companies promised they could do in 90 days eNet has actually accomplished in less. Ron is a genius at this. You can put your trust in Ron and his team to take your company where it needs to go in this social media driven industry. Call eNet today .
10 months ago Sammy Ashyi
Over the past few months, I've collaborated with eNet Web Services, and I've seen first hand the quality and amount of detail they put into their work, and how they always put their clients first! Ron and his team (especially Matt) were welcoming and responsive, and extremely helpful in walking me through the process of designing a professional website and implementing top-notch SEO services. I strongly recommend working with them if you need a quality web site for your business that stands out from the crowd!
1 month ago Nekeshu Dennis
Ron and Enet Services was highly recommended to me by my brother who has great success with their services. I enjoyed speaking with Ron and his staff who professionally and efficiently created a website that was reflective of my business message. Thank you!
2 months ago David Gregory
eNet did what they said they would. Built a very good looking website that was easy to use and not hard to follow / navigate. The best part is even with what has been going on with the Pandemic, my business has grown. We are getting great new clients exactly where we can service them easily. To say we were impressed is putting it mildly. eNet was there when we needed them and we are growing with their daily support. I would highly recommend their company.
4 months ago katherine jendrejeski
They have been my web company for years. Great results and we have always been able to get things done as they promised.
8 months ago Cheryl Krangle
We used eNet Web Services to build our website for a new business. Matthew was outstanding and made the process easy and seamless. We are very pleased and look forward to continue working with Matthew and eNet.to help grow our business. Highly recommend.
2 months ago Ravi Mann
Ron and his team are top-notch. They're professional, they have the SEO & web development expertise needed to grow your business in an online world, and they will be upfront with you about project requirements/costs from the onset. I spoke with a few dev shops but once I met Ron, I knew we found the right partner. I'm excited to continue working with his team and highly recommend contacting them if you are looking to grow your online presence.
2 weeks ago Theresa Ayotte
Ron, Matt and the crew at Enet Web Services really are the best. They have done an awesome job on our website and continue to help us out through the process. We did not really know where to start and Enet led the way for us. They continue to be professional, available, and their ideas are endless. Each time we request help, a zoom meeting is set up!! Our website looks awesome and we have gotten great feedback from our audience. Thank you Enet Web Services!!
2 weeks ago Tara Cawley
We hired eNet to refresh an outdated and under functioning website. They did an outstanding job! Communication was outstanding, turnaround time was faster than expected, and we were very happy with the overall design and functionality of the new site.
1 month ago Bruce Marsh
They did exactly as promised. Their SEO ongoing work has made our business grow. I will refer them in the future. In the middle of April 2020 when all hell was breaking loose they were extremely supportive and turned my sales/meeting end into an easy virtual setting. My business has grown substantially while others are still struggling. They were wonderful to work with during this difficult time. Money wasn't an issue as they offered to spread payments out for me to fit my budget. As luck would have it all went well with their SEO and we were happy to pay much quicker than expecting. Great work and simply stated very nice people.
3 months ago Sarah Handler
Ron and Jason have delivered an e-commerce site with thoughtful design, functionality, and the SEO optimization we needed to take our business to the next level. We highly recommend eNet Web Services and will definitely be using them as we expand internationally. Thanks again!
3 months ago armenian meanie
Ron and his team at ENet are simply the best. As a an attorney running a small firm my web presence is often my life. My first experience with Ron and his staff was when I went to his office with an outdated site and asked them to help me upgrade it. Ron called in a programmer and in fifteen minutes my site was already getting more traffic. I wanted someone local who was accountable and wasnt going to just force a cookie cutter site down my throat. Ron and his team listened (so unusual and refreshing), presented options and helped me make my vision a reality. I was online with a brand new site in days. Running a legal practice is time consuming and it's good to have someone I can trust keeping an eye on my web presence. Since my initial contact his team has exhibited the same high level of attentiveness and quality work. Ron regularly checks in to make sure my numbers are good and catches issues before I am even aware of them. I say web presence because they help with more than just my website and often assist me in decisions regarding social media and other advertising outlets. Ron has become a valued member of my team. His team is pleasant to deal with and attentive to my needs. They don't exhibit the arrogance I sometimes have come to expect from IT people. They make timely recommendations, are honest about costs, and have have helped my business keep performing at a high level. Again, if you run a small business you know you are constantly running in a thousand directions, Ron and his team have made my internet presence something I do not have to constantly worry about. I am glad I called Ron, happy I went to talk to him, and three years in truly pleased with how ENet has helped take my firm to the next level.
7 months ago Chuck Laster
I have been using this company for about 3 years now. We previously used 3-4 companies that completely overcharged for very little work and lots of problems. As soon as I spoke with Ron (owner), he put my mind to ease immediately. Nick is our account manager and we are sooooo incredibly happy with them! We have had zero issues with communication, they're always on top of every change that we want in a timely fashion (even with how picky we are). I absolutely would recommend this company to EVERYONE!!!
4 months ago Hoi Dag
I was looking for a new web designer and I came across Enet, and they have been nothing short then spectacular. They called me right in the morning next day to go over my needs and, where I want to be in my company. I can't wait to keep working with them. Thanks again - Jeff
1 month ago Michael Lavery
This company is the real deal with website SEO !!! Putting together a website is a task, finding the right individual or company is even more complex. I did my search around looking for this particular company that has the ability to create, design and optimize my web site. Thanks God I met Ron the owner of Enet Web services, not only do they have great taste in design but they can guide you through the process and beyond. This company is also brilliant in optimising your local map pack listing. Call this company and you will not be disappointed !!! The owner takes great pride in his work !!! Website marketing can cause serious stress, but this company will release that stress.
2 weeks ago Alex Moise
I called Ron @enetwebservices when our business website was hacked and dysfunctional. Enetwebservices was able to recover and build a much better and user friendly company website in a very timely manner. I highly recommend Ron and Matt at Enet. It was just what we needed to be accomplished. We are very pleased and satisfied with the outcome. They are very professional and pleasant to work with as well. Very happy with our new company website ease and design..
2 weeks ago obie bowman
As a small business owner, I appreciate the honesty that Ron brings to the table. A non-nonsense plan, reasonable price and doing what he says will be done go a long way. I was recommended to E-Net by a fellow small business owner who Ron helped turn around his site. I can easily recommend Ron for web site and SEO services.
8 months ago Brittany DuShane
eNet Web Services is simply amazing. eNet does not build websites or maintain them. eNet artistically designs tailor made sites that are customized to the customers needs. No website are the same. In my case I had Ron (Owner) recently build two sites for me and they were beyond expectation. The pricing is extremely reasonable. There are no problems with eNet websites. They are on top of maintenance so for the last 5 years since I have been a customer I have never had a problem with functionality. In fact they keep boosting my security on their own without charging me. Ron the owner is extremely responsive. I have wanted changes to my website and the owner personally calls me back within 15 minutes of my request for more details. One day Ron the owner forgot to call me so the next day I got a text at 5 in the morning. The changes to my sites happen almost immediately. eNet has built over 6 websites for me over the last four or five years and each site is better then the last. If you want a high quality reasonably priced website that will meet whatever goal you want then go to eNet. They have an army of web designers and programmers. A company is as only good as its owner and Ron stands behind and takes full responsibility for his work. If you want to work with an owner that will get back to you and literally cares about your business and your site then go to eNet. The other website design and maintenance companies do not care about you. If you go to eNet you will get the personal caring touch, professionalism, and the website you are looking for. I cannot emphasize enough...eNet will make sure the site they build for you will accomplish you goal and mission. It will be a worry free experience with a caring owner backing every site.
10 months ago Monika Pieklo
I highly recommend Ron and his crew! (Nik is amazing). Very easy to work with, VERY sharp and they really excel at what they do! I am so glad we found them!
3 months ago Ancy Jiji
Thank you for all your support and help. I would highly recommend your company.
2 months ago Greg Laden
eNet Web Services was great to work with. They helped us update our business website. Jason provided great input and was responsive. I would recommend them for both website development and SEO.
2 months ago Mina Saha
These guys are the best! Was looking to get a website done and sent contact late one night.. had a call back first thing the next morning, which was a Saturday. Met in the office and they got started right away and delivered as promised! So happy with the end product!
6 months ago lloyd shaver
I wanted again to say thank you for the web direction that you and Nick have given to SysTech. After many attempts to gain real traction with our website (using a multitude of "web" people who learned on our money), eNet has propelled our web visibility forward, and the results are impressive. What I have learned is programming a site is just the beginning of web success. Without applying SEO knowledge, a website is a glorified business card. eNet gave us the website and a continual SEO update. Another facet of our site is our Store. I admit I wasn't high on it early on. That said, eCommerce has been an essential part of our sales/marketing program, and the Store section of our site has proven very successful. As an augment to our equipment sales, it has been an essential add-on. You guys have always taken a positive assured position when it came to predicting web success. Not the usual "it might take a year to find out if we're doing a good job" approach that many have offered us in the past. It's refreshing to deal with an optimistic web design company. You've allowed me to interact with your team to offer suggestions to make our site useful and informative to prospective clients. That's a big deal to me. We want to be and believe we are a dedicated resource to our clients and would offer the same accolade to eNet. You guys are A1! Thank you. John
6 months ago Lee Keidel
A few weeks ago I started looking for a company to help create a web site for my business and I am so happy that I found Ron and eNet Web Services. After a initial consult with Ron, he walked me through the entire process and what needs to happen to create a great looking web site and exposure to prospective customers. This was truly enlightening and am thoroughly impressed with Ron and his team's (Jacopo) responsiveness, attention to details and experience level and feel very confident that I am in good hands. We are days away from the launch of the new web site and am very excited to see the customer responses created from such a great looking web site and online presence. Thanks Ron and Jacopo, job well done! Look forward to working with you for years to come! Bo Parke Hi-Tek Painting Solutions
2 months ago Aaron Tyler
Very happy that I found Ron and Matt. Within a short time they got our website noticed. They have been a pleasure to work with and I would highly recommend them.
3 weeks ago Steven Manjarres
Ron and E-Net have been a great help with the website for my husband's law firm, Whitney, LLP. Since hiring Ron, problems with past web service providers have been fixed, and traffic has improved significantly. There is something to be said for taking the mystery out of it as far as providing web services to small business. The straight forward recommendations, reasonable prices, and suggestions that have been made by Ron and Nick to improve the site and get traffic all combine to make E-Net a great provider for smaller businesses.
6 months ago Hemsley Moe
E Net Web Services have been a valuable asset to my company. Two sites are up and running with a third ready for launch. Thanks to Ron and his staff for the excellent work.
4 months ago Laura Bauer
eNetWebservices is a lifesaver!!. With all that is currently going on, working remotely is the only way my business is able to function and survive. Someone hacked my website and emails accounts. Found the problem about 8 pm, texted Ron, and within 15 minutes he personally called me and had his IT experts begin working to resolve my internet problems. Within less than 24 hours, my website was cleaned-up and re-instated by Google, my email accounts were active again and I was back in business. I am really thankful!! eNetWebservices is a great company to work with. Fully recommend them for all your website and internet needs. RJ Timko, PHD, President, RhoTau Pharma Services LLC
6 months ago wayne H
This review is overdue and a result of many years of seeing our business grow thanks to Ron and Nick. They have done a stellar job of creating, tweaking, and continually supporting our website for a long time. Thx much!
1 month ago James Miles
A strong environment that always puts the client first. Collaboration is the best in the industry.
2 months ago Adam Bain
I met with Ron and Jacopo and they were very easy to work with and very professional. They where helpful in explaining me how to market my business online and they came up with a beautiful design for my new website. High quality work!
5 months ago Christian Shalay
HIGHLY RECOMMEND! eNet Web Services has been maintaining jwtull.com for over a year. We found Ron after an awful experience with a website development company. eNet was able to quickly build our site the way we wanted it. They have been monitoring our site and providing SEO services since then. Ron calls regularly just to stay up to date with how we are doing and is extremely proactive in providing us guidance and recommendations to keep our site visible and relevant. He also has contributed to making our operations flow easier through utilizing the website to work with other programs used in the office. eNet has been vital to our company's growth. We are very glad we found them!
7 months ago Keisha Merritt
Ron and his team I thought did a great job being patience with my vision for my website. I would hire them again to do more work for my company.
5 months ago LaDarius Allen
I have enet web services helping me with my webside and i highly recommend their services they are really professionals and know how to get ur bussines to the second step.
2 months ago Otis k
eNet Web Services was very professional and accommodating for my eCommerce website, and making sure it was finished in a timely manner. I would definitely recommend them anybody looking for a sleek and modern eCommerce website!
9 months ago Nelson Monsalve
eNet Web Services has helped us establish and build web presence through their expertise in SEO. They are honest, straightforward and responsive to every request.
4 months ago jenni Bee
They have been there for my company over five years. Great staff and superb results. The SEO has mad a huge difference in my business.
9 months ago Jonathan Yuen
We just started working with eNet Web Services. They are very professional and they delivered on time a high quality product. I would definitely recommend!
5 months ago jaime torres
Choosing the right web development company is difficult. My business went through multiple companies and freelancers before we stumbled upon eNET. If you need prompt and competent web services then these guys are for you. Not all companies are equal and you need extremely bright web developers to deliver your application. The owner Ron and his software guru Nick are amazing and my business finally has the platform it needs to be successful. Also, understand you need to pay good money to get good quality so do not go cheap on this. Web development and programming is extremely difficult and eNET is worth the cost because your business will prosper and you will simply make more $$$. I wish I found eNET in the beginning because I would have saved a lot of money by not wasting it on sub-standard developers. Thank you eNET!
4 months ago Joyce Torchia
Great staff and delivered wonderful seo results- thanks
3 months ago Ian keeney
Hired Ron and his team to build a website for my construction business along with SEO services. Ron is straight forward and has done exactly what he said he could do from the start. Would highly recommend Ron to anyone needing the services he provides.
5 months ago Eric Williams
They treated me like family. Wonderful results and great businees coming my way. They are the best...
7 months ago Leslie May
eNet Web Services is the 3rd website and SEO company we have worked with and by far the best. My business partner and i met with the owner Ron in his office and he audited our website that was designed by another company and found that there was nothing built into the website to help us rank in google search results... That is what we were paying the other company for. In a matter of minutes he had our Google My Business page higher in the search results and came up with a plan to get us to the top. Within 2 weeks our monthly views went from 98 to 450+. You get what you pay for with Ron and his company, results and great customer service. Highly recommend.
9 months ago Jordan Scruggs
eNet has been a great SEO service we have used to market my business for over 20 years. They have always treated me professionally and exceeded my expectations.
8 months ago Rance Vogler
eNet delivered as promised and I am very pleased with their results. The market share my company now gets makes a big difference. We created an e-commerce section on the business website and it is working great.Thanks
10 months ago Karla Doak
Forward Moving LLC was scaling up from a poorly built website and was on the hunt for years for a good website and SEO package. I talked to Ron and he told me exactly what I needed to do, needless to say I didn't listen... I went out and wasted a year searching the internet for better deals and different website and SEO solutions and it was futile. We got ripped off by a large SEO and Social Media firm before we called Ron back a year later. I was hesitant because of my prior experience in this sector. I am very particular and careful when it comes to business. Ron and Jacopo created a professional, functional website for a great price. Most of all they helped us find customers. What they did with our SEO is changing our business. We anticipate abolishing all our third party leads within a year. We have set new records in Sales month after month since investing in SEO. Enet is responsive, they get back to you quickly and have great communication if you have questions or want to make changes. This was lost on any other companies we tried to use. Thank you Ron and Jacopo! If you are serious about business, marketing and website design you wont find better results for the price... Trust me I did the research for you..
7 months ago Arifur Rahman
I've had a great customer experience with eNet Web Services - quite frankly they exceeded my expectations. Jason Marshall of the eNet Web Services Team has done a great job listening to my needs, asking great questions, giving me numerous ideas and then delivering on everything I expected. Furthermore, service after the initial sale and website launch has been great - very responsive and highly creative. In addition, I asked Jason to help me with additional branding for my LinkedIn page - he did a great job for me. I've received excellent positive feedback from clients visiting my website. I highly recommend eNet Web Services to customers needing professional, high quality website and brand building. Al Luzi - President - Luzi Executive Search
9 months ago Cory Ericksen
I found the eNet Web from a friend, and its been a pleasure working with them ever since. They always answer the phone and my questions, especially in the beginning. They were patient and made sure my site was exactly what I needed. Couldn't be happier !!!
6 months ago
Popular places from the category Website designer