AutoZone Auto Parts
Auto parts store AutoZone Auto Parts, 1116 W Redondo Beach Blvd, Gardena, CA 90247, United States:
220 reviews
of users and employees, detailed information about the address, opening hours, location on the map, attendance, photos, menus, phone number and a huge amount of other detailed and useful information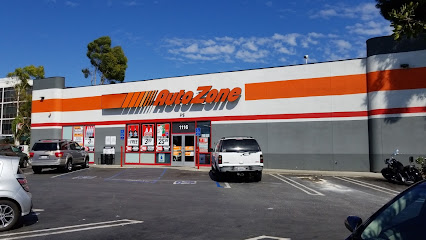 Address:
1116 W Redondo Beach Blvd, Gardena, CA 90247, United States
GPS coordinates
Latitude:
33.8920863
Longitude:
-118.2944378
Location on the map
Reviews Sergiy Asyeyev
My backup supplier is quickly becoming my "go to" place for parts?-!!#
5 months ago Kevin Schick
Parts and Customer Service are Great... However it's A very busy location so prep for time???? #07????VICCHRIS
6 months ago natika francis
Great selection of parts and supplies. If it's not in stock they can order it pretty quick. Fair return policy.
6 months ago Cesar Roman
I was having trouble with my battery and my car wouldn't start. My brother cleaned the Corrosion and gave me a jump. I drove over to Auto Zone. A very nice person named Paul helped me by checking it and letting me know that it wasn't good any more. I bought s new one and he put it in for for. And I have to mention I very big on Customer Service. Paul has Excellent Customer Service. Thank You Paul. ????
10 months ago Katie Hutton
Auto zone a great place to shop for car parts.
10 months ago Jessicca Goff
I love auto zone. The guys are helpful and nice. They Answer whatever questions you might have. It's where I go for my automotive needs.
9 months ago pooyan ghavidel
I went in today because I was told by my mechanic I need a new battery. Juan helped me pick out a good battery for my car, and also explained to me the warranty process. The store was pretty busy he apologized for the short wait, and made the time to install my new battery for me. I also work In the service industry and recognize great customer service when I see it. If you want great service go to Juan he was great, my car is running great!!!
3 weeks ago Aries
They didn't have an egr valve for my ford!! I had to hit up oriely ...
5 months ago Dheeraj Neelam
I was confused with so much parts wise etc..., but the store manager Kathleen was very understanding, & gave me great advise, she also took care of everything that was needed for me, in which it relieved me from so much stress. thank you very much! ???? I'll definitely be referring people to that store location
2 months ago Sever Krainii
This location depends on the time of day , Early mornings are the best time because some days ,around noon or so ,it can get really busy with a long line at the parts counter . There are times when they wont have my part in stock but another location will . If I had a choice , I would prefer this location than the others , It's cleaner and friendlier.
8 months ago Rowen Gray
The people who work there are very helpful and locating a specific item I really appreciate their knowledge on finding the right part for my car.
9 months ago Abigail Sullivan
I mean, it's a good AutoZone. What do you want from me?
8 months ago Doty Mage
Normally I don't review very often, I was suppose to review yesterday. Greeted by everyone as soon as I walk in. I would highly recommend this location the manager (Kathleen) is very helpful. She went above and beyond to help me with my brake light. She has great leadership skills, the rest of the other staff is friendly and helpful as well.
2 months ago Samuel Gray
Very fast and Great customer service.. Cat was a great help.
3 weeks ago Glen Maylone
Nice employee and you can find all parts you need
8 months ago Gabby Schropp
I like this house very good stock I can find what I'm looking for for my car and I get good advice I like this place very much
10 months ago CookieCre
Usually has everything you may need and service is typically good. I come often for parts and such. Prices aren't usually too bad.
1 month ago art esmeralda
Great staff with patience well stocked
5 months ago EriXa
They very reasonable with there prices on items and the customer service is very friendly ???? I will be back.
2 weeks ago Juli Hernandez
Always great service needed Coolant for MB.
9 months ago Christopher Boggs
Don't understand why they don't open a line for information and a line for parts. Most people that walk here need a tone of information. I have to wait like an hour for each customer because they ask a ton of questions. I have seen many customers walk out because there takimg long answering peoples question. Employees do what they can buy I blame this on management or the corporation. The really need to change this to attend customers faster.
4 months ago Thomas Ereth
This store is top of the bar...for greatest as a technican I can get my parts and outta there no hassles
4 months ago Becky cary
Great stuff and amazing selection always in the best prices all around
2 months ago anna lepretre
The employee's are very helpful and nice.
3 weeks ago April Holloway
Great Customer Service. Impressive Woman
11 months ago Iina Annunen
Took 30 minutes to get through the checkout.
5 months ago Pamela Eugley
Great customer service! Very welcoming as soon as you enter the door. Also very knowledgeable, can answer most questions you have regarding your vehicle. I would high recommend this location!
7 months ago Paku Zero
I called AutoZone and ask them for a specific part and they said they had it and even gave me the price when I got there they did not have the part Harry
9 months ago David Scrivener
This location has great customer service, i was greeted right away as i walked in and was help right away, the staff was very knowledgable about i was working with and was able to find exactly what i needed and also offered other items that could help with my repair which made things a lot easier for me. I will definitely be returning to this location. Thank you Kathleen for your help!
7 months ago Patrick Hollingsworth
I went in to get tyre rims cover and the associate one ricardo went to show me the item ,left me and made me go back in line with a long queue. I paid but cos of the customer service I had, I returned the item and asked him why he made me stay in line again and he reluctantly said ' I don't know' . He needs to go back for customer care training.
3 months ago Monique Bradley
Did not have the fuse I needed. But your service members were quick to help me.
2 months ago Mike Chrestman
Service is so amazing Fast and easy service
9 months ago Wes Forster
Good service, some time take too long to get service.
3 months ago Hlib K
Literally every single employee in this store deserves a raise!!! Every time I come here I get exceptional service, the kind of service that makes the customer feel valued. All employees here are knowledgeable, friendly, and go the extra mile to make sure the customer leaves happy. I am extremely happy with the help I received today and every other time I come here. By far the best AutoZone location I've been too
6 months ago Joseph Dickey
Poorly staffed for the amount of clients. Which make employees frustrated and provide bad customer service.
11 months ago Rachel Johnson
today was my family and I's first time here and the security guard was a b**** about us coming in without her letting us in. I get we need to take caution, but there is absolutely no way we could have known we couldn't come in without being let in first. You can simply let someone know politely instead of yelling at them. So future reference to anyone reading this during COVID-19: don't come in unless you want to get yelled at. other than that, the other staff inside were nice. thank you
6 months ago Tommy Curry
Came to this location to test my battery. Turns out its bad. I was fortunate enough to get wonderful service from an Auto Zone associate to replace my bad car battery for a new one. Extremely professional and really helpful. Come get your battery checked and replaced here. ????
6 months ago earlie layton
Everybody here is very knowledgeable and very helpful. I wont go anywhere else for parts. Keep up the amazing work AutoZone!
6 months ago David Thomson
Kat (the manager) was great with customer service. Sylvania would not honor their one year warranty on a replacement bulb. Kat helped me find a headlight for my vehicle and let me know she would price match if I found it cheaper online.
10 months ago Elizabeth Miller
The staff was very helpful and gave a very warm greeting when I walked in. The 2 ladies that I spoke to were very knowledgeable on their jobs and my transaction was done easy and swiftly. I really enjoyed my visit. Thank you again ladies!
6 months ago Doaa Habbeh
Service is awesome here! Kathleen helped me check my warranty by searching my name because I couldn't figure out what telephone number I used. It was such a quick and easy process.
6 months ago Erica Cannon
Exelent customer service and they are military friendly! Very happy with the service!
5 months ago Reggie Matthes
Service is excellent by far the best autozone i have ever been to. Came in there the other day to get a oil change bundle for my 1989 geo metro and the manager kathleen was really nice and helpful.
6 months ago Kyle Pace
Went to go buy windshield wipers since the news is saying rain for the next week. Did my research and saw the brand I decided on was at this Autozone. Looked through the book by the wipers and thought I got the right ones and went up to counter and Kathleen double checked on her computer for me and said I had the wrong sizes. I went back for the sizes and she checked again and I had one side wrong so then she went and got the right one for me. After purchasing, she walked out with me to my car and replaced my old wipers with the new ones. Kathleen (hope I'm spelling it right) has excellent customer service skills being knowledgeable, friendly and helpful. Impressive customer service!
7 months ago chris dawson
When I purchased my battery Kathleen was so gracious as to install it for me. I was so appreciative of her willingness to go the extra mile to help me.
6 months ago Genie Gross
Kathleen take it to five stars for me! She is incredible and has just what it takes as store manager and the wonan knows her stuff. Love when she's there to assist me with my mechanical needs. Keep it up Kathleen!????????
4 months ago Fariya Ahmed
The manager was very helpful she took her time to make sure I received excellent customer service ????
7 months ago Ray Wang
Good service
6 months ago Murray Briggs
Kathleen was amazing! Helped me get exactly what I needed and saved me from having to go to a mechanic.
6 months ago Steve Prusia
Great customer support
10 months ago
Popular places from the category Auto parts store