Car Wash USA Express - Centennial
Car wash Car Wash USA Express - Centennial, 13333 E Briarwood Ave, Centennial, CO 80112, United States:
220 reviews
of users and employees, detailed information about the address, opening hours, location on the map, attendance, photos, menus, phone number and a huge amount of other detailed and useful information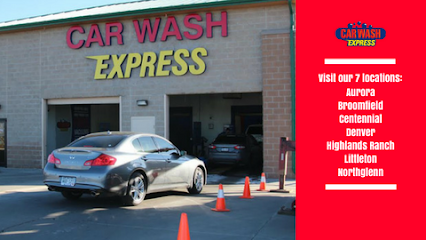 Address:
13333 E Briarwood Ave, Centennial, CO 80112, United States
GPS coordinates
Latitude:
39.5941246
Longitude:
-104.8337482
reviews Brandon Clark
Took our small SUV here yesterday for a wash. No staff at the check in, so I had to back up once they saw I was there and came outside. $15 wash didn't get the bugs off of the car, and you have to bring your own towel. The free vacuums did work well. There are similarly prices washes on the other side of Highlands Ranch that include towels and air stations for tire pressure. We will still visit USA express for a quick rinse, but we will go elsewhere for detail days.
3 months ago Wayne Pease
I have the monthly pass and came through today and the car wash didn't wash all the soap off and my car was still pretty wet when I was finished. When I was drying my car off I noticed it didn't even clean the bugs off. I do like having access to the vacuums after the wash.
3 months ago Yulita Ran
The workers are nice and the was is okay. The company needs to improve the process of signing up and any issues that come with that. Phone numbers don't save when you sign up online so if you need a replacement sticker you need your credit card. You would think you could just log in to the website to sort it out, but no, there is no log in or account to view. The cancellation process is ridiculous and the employees even complain about how bad it is working there. Overall poor execution on customer service.
2 months ago Layla Langdon
I like it AND close to the house. I'll be back!
3 months ago Kimberley Krumm
Excellent quality and price. It's a little too far for me, but well worth the extra time My car had been neglected for about two week, long after the snow & wet roads were gone. Yet their equipment better than any other would have done, so I'm pleased to highly recommend them.
8 months ago jihye jihye
I had nothing wrong with the wash or the vacuum. The person that greeted me was very unprofessional and seemed angry about everything. I have had him before and it was the same way. He is gentleman most likely in his 50's and he might be the manager because he doesn't like it if he can't upsell me to something more expensive. I come for a quick wash and a quick vacuum and because of the location. I would appreciate if there was someone more friendly greeting customers and who didn't get upset with you if you aren't willing to spend more than just a basic wash.
7 months ago Ernest Owens
I love taking my new vehicle to Car Wash USA Express! I like how I can vacuum it myself, they have a machine that can clean floor mats (rug or rubber) and the carwash itself does a great job. The employees are always friendly and the price is good.
6 months ago Paulo Pereira
Quick thorough wash. The option to vacuum and the availability of them are great. Almost guaranteed to always have spot available t9 pull into and vacuum your car right after washing it.
6 months ago Ms Mack
Always cleans my car very well. Doesn't damage or scratch the paint. I appreciate the staff and like my monthly pass.
3 months ago Jacqueline Gonzalez
Great car wash just missing amenities like towels, armor all etc.. at least available to buy???The free vacuum is nice but the monthly pass for one car may be a bit too high. They should run a $20 special per month. It's nice to wash whenever but they don't have enough locations to warrant a $29 or $39 a month cost. Think hard before you buy a pass it may not be worth it for you. Amos helped me out recently and he was extremely friendly and helpful, 5 star service from him! Again, good car wash just not great. I have a monthly pass myself but I'm about to cancel it. More cost effective to just buy car washes as needed.
9 months ago Tomaso Dattalo
I like this car wash. I just wish the pre-wash/scrub from the employees would put in a little more effort. When I go dry my car, there are so many spots on both bumpers that are still dirty but had they put a little more elbow grease, sure I would see less. There have been a couple that do make the effort. An older man and a younger female. I wish I knew their names!
5 months ago Tom Warner
I'm disappointed in this car wash. I've been coming to this car wash for 4 years and quality of service and the pricing have both gone in the wrong direction. I used to buy the unlimited monthly plan but the cheapest option is now over $350 per year. The basic wash doesn't even get your windshield pre-washed by the attendant. The worst part is the musty odor of the water. It might be time to find a new car wash.
4 months ago Dj C
I love that the employees brush off my care before it goes through the wash to give it an extra cleaning. Friendly employees and great price!
5 months ago Sabrina Sporer
Nice staff. You have to try the car mat cleaner, its awesome!
4 months ago Nychelle Shanck
Quick and easy. Quality wash. Good value. Self service vacuum
5 months ago Michelle Godinez
I'm getting texts about a service thanking a "samuel" I do not know anyone named Samuel
6 months ago Rohan Sharma
Quick & easy to get in and out. Friendly staff and affordable monthly car club rates.
4 months ago Richard Mendoza
Free vacuums and floor mats cleaner $15 for a good wash. Sure beats manual wash.
6 months ago Japreet Sahota
The car wash was nice quick, fast. I have use better vacuum. Wish they was a little bit more powerful. But the car wash was not shabby.
9 months ago Daniel Mondak
Great place. Easy in and easy out
3 months ago Jaime Velez
Very efficient process - employees guide your vehicle onto the conveyor track. Mark your windshield with the type of wash you selected and program the machine. The conveyor track moves your vehicle through the soft touch wash. No waiting in a line for vehicles that are in a non-conveyor track automated wash.
4 months ago William Rustenhaven
Great wash, excellent car mat wash, and vacuums are fantastic!
3 months ago Ken Katz
Car Wash was great clean my car really well, vacuums worked really good , we'll go there every time I need a car wash
9 months ago Evelyn Moore
My favorite car wash. I moved towards the city and still come out to this place to wash my car.
5 months ago Rafael Guevara
Car washes for $9, 12, 15, and 18. I did the $15 one. It was good. The car wash is automated. The car gets cleaned properly but some water spots do remains on the front glass and windshield of the car. They also have self vacuum pipes which you can use to vacuum your car after the car wash. I wish there would be a final manual towel cleaning to remove water droplet spots from the car. I just deducted one start for that. Overall, a good car cleaning experience
6 months ago susan frye
A great place with available materials for cleaning inside your vehicle. They also offer unlimited vaccum after the purchase of a carwash. Great place and spotless shine.
9 months ago Hana Kucerova
Great customer service I just purchased the one year deal. I like the way I can go in and out and get my vehicle washed it includes the vacuum cleaner so my car is clean on the inside and out side
10 months ago Stavroula Fili
Great place to get a car wash love it.
6 months ago Ravi Vyas
Thumbs up, effeciency and always a smile from staff.
6 months ago Adam Mast
My car was cleaner than when I went in, and I appreciate that it was touchless, but the sides just did not come out clean on about the bottom third. I'll be looking for a different carwash next time.
10 months ago Cory Albertson
Quick in Quick out. Job done !
8 months ago Alfredo Lopez
Can't beat it for the price, carwash + vacuums + floor board mat cleaners. My car was looking neglected AF, but now she's looking beautiful again. I do recommend bringing microfiber clothes and drying what water is left over, in place like door jams and around your LP.
3 weeks ago Kelly Bocek
Superb car wash and they have other locations around the metro area.
10 months ago Shannon Selvaggio
Like this place alot get the monthly atleast makes it worth it
2 weeks ago Sancy Womack
Have sent numerous emails to mgmt. with no reply!!
6 months ago Mark Townsend
I bought (financed $10k) my car 4 years ago and never had any kind of issue with the paint. I decided to treat myself to the monthly plan. I probably had about 4 car washes there when I noticed my car paint was looking dull on the top. I cancelled my membership to save money. That was a year ago. Now the top of my car had 2 deep paint fades. The hood and trunk are faded for now, but will eventually look the same with time and sun. My mechanic said Nissan's only have one layer of top coat and that is typical when hash soap is used. So be careful Nissan owners!! So my cheap monthly carwash deal is now going to cost me $1500 for a paint job when I can save that up. In the mean time Im making payments for a car that once was cute, now looks so trashy. Awesome.????
1 month ago J Mitchell
The car wash left most of the back of my car still very dirty. The trash cans near vacuum we're overflowing too. Not a good experience.
6 months ago Mark Boehly
The girl that is suppose to wash the grill, windshield, back windshield, and tail gate does not do so very well which i pay for. I have had to ask but still needs training
2 months ago Tracy Miller
Good car wash
2 months ago Armani Rincon
This is the best carwash and feel that it rinses the vehicle more thorough than other locations. Otheres leave soap spots and this one also guides the vehicle with out feeling like you have to correct it.
9 months ago Patricia Ware
This might be the best car wash place in this area. Fair price. Very long washing lane. Vacuum stations.
3 months ago Donna Shim
Not taking COVID seriously! I came to this wash last week and was surprised no one was wearing a mask, particularly the person taking your payment (yes, you have to give your card to a person instead of using an automated system). He comes right up to your window and is less than a foot away from you...the whole experience made me uncomfortable, especially given he was not nice on top of it. The wash was fine (just a regular wash) but I will not come back here again given the lack of precautions this business is taking.
9 months ago John West
I have been a member of this car wash for three years and in the past six months the service has declined greatly in the pre-wash there's never any soap half of the time the brushes inside of the car wash are not working and the other half of the time they are closed
5 months ago Sharma Aldridge
Decent exterior wash, vacuums don't even work, no rags to dry exterior. Definitely a sub par wash facility for the price.
9 months ago angelo zielinski
I have been using car wash express for a couple of years. Good car washes for the price. I am on the monthly plan.
4 months ago Pablo Micolini
I have come here many times and with each time recently have been less and less impressed. My car always has a lot of dirt left on the car and only half way dried before it exits. Not impressed overall at all.
10 months ago Rathi Priya
This is not how you treat your customers. Very disrespectful I want a call back from a owner. I have been part owner of a franchise car wash for a long time this is not how you treat your customers. I paid for my wash by the time I was halfway through vacuuming my truck. They turned the vacuums off with no warning. It would have took me less than 3 minutes to finish. when you have paying customers you don't just shut everything off and tell them to get the hell out. Paying customers come first. Very disappointed in the staff at this location.
4 months ago Cary Black
Service was good, but I went through twice and still had dead bugs on my windshield and grill. "Ultimate" wash probably not worth the $20
3 months ago Hallie Murray
I liked it enough & care about my car enough to buy a monthly pass. And I'm glad I did. Several locations around town make it convenient, quick & easy to keep my baby looking good. Love the mat cleaners and free vacuums also.
4 months ago Doug Schantz
Love the free vacuums
4 months ago
Popular places from the category Car wash