Mr. Tire Auto Service Centers
Tire shop Mr. Tire Auto Service Centers, 38080 Colorado Ave, Avon, OH 44011, United States:
220 reviews
of users and employees, detailed information about the address, opening hours, location on the map, attendance, photos, menus, phone number and a huge amount of other detailed and useful information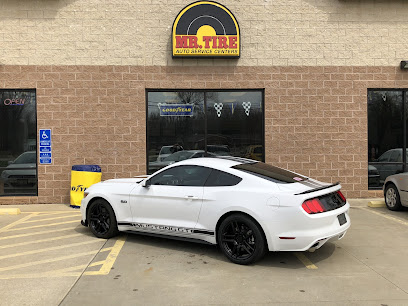 Address:
38080 Colorado Ave, Avon, OH 44011, United States
Website:
locations.mrtire.com
GPS coordinates
Latitude:
41.4604758
Longitude:
-82.0457321
Location on the map
Reviews Megan Koller
Simon and his guys are awesome. They got me in for an oil/filter change, tire rotation, and courtesy inspection for essentially what I would consider a walk-in. Only had to wait a little bit without making an appointment in advance and they …
6 months ago Larry Drake
Geoff and his team were fantastic. This was the second time we've used them and will definitely be back. They were very friendly and professional
4 months ago bucky A
I schedule an appointment for 5:30 PM. Dropped off my car, let them know I was walking to a local restaurant to wait for my service to be done. I got a call 45 minutes later, the technician had an emergency, had to leave and he could not …
5 months ago Alexis Garry
Simon and his staff took amazing care of me tonight. I was on my way home from work and my rear tire blew out luckily I had run flats. Got in at 6pm and he got me right in and found the absolute best solution to my issues. Found the best …
7 months ago Trevor Wood
Five Stars all around. Custom alignment completed on a 2019 RAM with leveling kit I installed. They had no problems working me in and completing while other places couldn't or wouldn't take on the project, including the RAM dealer. Thank you Geoff and crew!
7 months ago Jack Stonington
So I called today to see if I could get a good deal on some tires. They were so quick to work with me and make sure I got what I wanted, I also had to pay over the phone. Simon had such exceptional customer service. There was a …
9 months ago Jessica Cossin
Wow!! Simon and Danny at Mr. Tire totally helped me out when a screw punctured my tire! They fit me in and did the repair quickly!! Grateful for their expertise and kindness!! HIGHLY RECOMMEND Mr. Tire in Avon!!!????
6 months ago Sarah Cooper
Amazing customer service! Walked right in, told them my check engine light was on, they called my warranty company for me and got it all approved to be fixed. They had the part and had me out in an hour! Most definitely will be back! Thanks so much guys!
7 months ago Bobby Smith
They did exactly what I needed, helped explain/clarify what was wrong with my car and what I would need in the future. Never pressured me into buying anything, very kind. Was a bit of a wait but they were very busy so I understand. Will definitely keep going.
8 months ago Dirt Filthy
My name's Aladdin, I'm an 18 year old that's getting used to calling this Mechanic, Mr.Tire, my proud location for anything related to my fixing my car or anything to that degree. The manager, Simon, and everybody else that works here are …
9 months ago Troy White
Dishonest with the problems of my car. Thankful I got a second opinion somewhere else. Do not go here
4 months ago Emily Fountain
Honestly best customer service i seen, as a walk in i was serviced and out within hour, looking for quality and good prices trust me you will not go wrong...
5 months ago Jon Thomas
Simon who manages the Avon Mr. Tire facility is awesome. He understands that people can't always get everything done at once and helps customers prioritize repairs based on urgency and safety. He looks for discounts for customers and provides the best pricing possible.
10 months ago john Hammers
My car was shaking so bad..made me very concerned. I decided to stop at Mr. Tire twenty minutes before they closed hoping they would be able to at least look at it and Simon was very helpful. Not only was he able to tell me exactly what was …
10 months ago Logan Bass
I walked in Mr. Tire today because my car was overheating and I was 30 minutes from home. They immediately got to work and spent about 30 minutes fixing it and made sure it was safe for me and my kids to drive home. I am so grateful for …
3 weeks ago Dylan Filkins
Everyone was great to us. Very helpful
6 months ago David Streit
Worst multiple experiences I've ever had with a company. The first time I had to simple bulb change. When checking out the guy said I should have taken my car elsewhere and that Mr Tire was over priced. Then he said he'd give me a discount …
8 months ago Andrew Camp
Great service, everyone was friendly and quick. Would highly recommend to everyone!
7 months ago Luke Richardson
Highly recommended. Took my GL450 in for a balance and they did it better than the dealership...
7 months ago Jessica Benton
Simon is wonderful, all the workers there are great , they work with you and take the time to explain to you exactly what is wrong with your vehicle, I will definitely make this my official place to bring my vehicle!
8 months ago Charles Massey
I can not express how awesome the guys are here! Simon took great care of me, fair deal, and reliable service. I will be back again soon - thanks!
10 months ago Michelle Knapp
The awesome staff were able to patch up my flat tire and I was back on my way in a very timely manner! I was very pleased with their communication, abilities, and customer service. I will give them my business again for services as needed.
1 day ago Lily Chong
This Mr. Tire location is very honest and professional the employee that helped me his name is Simon
7 months ago Beatrice Maimon
These guys really know their stuff. I will not go anywhere else for any of my service needs. The staff is friendly and professional . I highly recommend this shop to everyone. Simon the manager was spot on!!!
9 months ago J Essig
Not only is the work quality high and service fast - these people work their hardest to get the price as low as they can. Exceptional folk over there. Walked in with brakes that were metal on metal and missing struts in the suspension - walked out NEXT DAY with my car in some of the best shape it's ever been in.
1 week ago Nassco Lee
Simon and the guys did great fast work as always. I have been going to Mr tire for years now and they treat me right.
7 months ago Stav McGuinness
Great service, fair pricing and friendly staff. Definitely recommend coming here for your vehicle service. I just got new tires and brakes for a deal.
10 months ago Kaz Soong
Went there to get one tire replaced. Took over three hours. Employees standing around. Didnt let us know that they needed to get the tire delivered there until after waiting for two hours. With no one in the waiting room. WIll not return.
9 months ago Pasang Dolma
Super friendly, super fast. Great prices:) Always satisfied ????
9 months ago Adelaide Ray
I had very low pressure on a fairly new car due to a nail. The estimates were high for replacement. I took it here after work and they inspect and patched it free of charge!!! The service was so quick and professionally handled. I would go here again!
2 months ago Ed Chambley
Had my tires replaced this past week. Couldn't be more happier with the price and service. Was in and out zero problems. Thanks Simon!
9 months ago jeff tan
The people there are friendly and honest, which in the auto repair world is a hard thing to come by.
6 months ago Amelia Camurati
Our family experienced a flat tire on a busy day. We changed the tire to the spare, but could not find anyone that was doing same day repairs. We stopped at Mr. Tire and they bent over backwards to get us repaired and on our way. Way to go Avon Mr Tire!
1 week ago Romain Bgc
Great prices, good quality parts and fast service. They try very hard to fit you in when you need service, and have never tried to upsell/ oversell me. Trustworthy.
2 months ago Caroline Grinenwald
Honest people, great service. These guys are great!
9 months ago Ashley Davis
Great Fast Service for oil changes Simon manager is awesome!!
7 months ago Glenn Stevenson
My wife and I take our vehicles here regularly because we are Homecare providers needing frequent service. Simon and the rest of the team do a great job. They always take good care of us.
6 months ago Nixy
Simon worked with me on a follow-up for a Carvana purchase. He was a great customer advocate, took the time to explain the process, and did everything he could to make the situation as positive as possible. I have not worked with them before, but I'll be back for the great service!
1 month ago JAYPAL RAJPUT
Good service clean waiting area and bathroom. staff and especially manager was very helpful and knowledgeable. Cost came in below estimate.!!! That hardly ever happens. They will get my future auto care buisness.
2 weeks ago Kathy Logan
I was broke down on the highway. I didn't know what to do. AAA said they were going to take two hours. So I just called Mr Tire because they were close. I talked to Simon. He was really nice. He came to my rescue. He may be my brother from …
4 months ago Luisa Cordoba
Seriously the best customer service I've ever experienced. I had low tire pressure due to a nail. They got my tire patched and had me on my way in 30 minutes! Not to mention, they did not charge me for the patch or anything!!! I will for sure be returning in the future!
1 month ago R R
I was initially very aggravated because of the wait. I had an appointment at 12 and got here at 11:50. My car was still sitting in the parking lot at 1 and I had to go up to the counter to see what was going on. The guy came in and had …
2 months ago Samuel Heyward
Workers were very polite and nice i would recommend anybody to go there as many places i went they were the most polite people thank u for your service
4 months ago Letitia Taylor
I scheduled an appointment to get an oil change and to diagnose/fix the reason the ABS and traction control lights were on in one of our cars. The car sat at Mr. Tire for 3 days without even being looked at; not even the oil change was …
7 months ago Bryan Schuessler
I had a unique wheel problem with a recently purchase used vehicle that a even a local Ford dealer was having problems resolving. Avon Mr. Tire had a quick inexpensive fix for my issue and I couldn't be happier with the work.
2 weeks ago RACHAEL KEREKES
100% RECOMMEND!!! Walked out of work today and noticed the side of my tire was bald, and there were small holes in it. I called and told them the situation, and Simon got me in immediately (at the end of their day). I was able to stop on my …
10 months ago Sergey Blashkov
Great service and low prices
10 months ago Joseph Lovelace
Been here 3 times now for different tire related services over the past year. Spoke with Simon on all 3 visits (all Saturdays), had excellent service each time, and felt that their suggestions were trustworthy. I have a Toyota 4Runner, and …
6 months ago Ed Shaheen
We felt that we were in good hands everybody was courteous honest and professional Great quick service and is where we found the best price for our money.
2 months ago JIXUE PENG
Simon always does a great job making sure our car needs are taken care. He is professional and goes above and beyond when we have issues. We have used them multiple times for both vehicles in our house and we are always pleased with the work done. Everyone should work with Simon and Avon Mr. Tire.
4 months ago
Popular places from the category Tire shop