Auto Lab Canton Center
Car repair and maintenance Auto Lab Canton Center, 5811 N Canton Center Rd, Canton, MI 48187, United States:
150 reviews
of users and employees, detailed information about the address, opening hours, location on the map, attendance, photos, menus, phone number and a huge amount of other detailed and useful information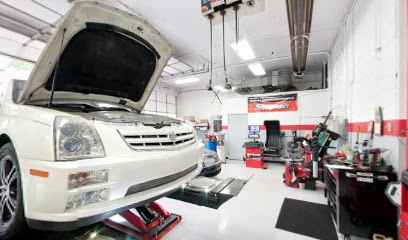 Address:
5811 N Canton Center Rd, Canton, MI 48187, United States
GPS coordinates
Latitude:
42.3240741
Longitude:
-83.4887721
reviews Albena Ivanova
They Claim they do a quality work. Hence charge more. They just quote 30% - 45% more. Make sure you do check the pricing around. They also claim, we are trying to save money to customer's not replacing unwanted parts. I don't know that. But they Charge unwantedly. Wonder, other licensed place will put back your tire that will run off your vehicle when you hit the road?. What is the quality they claim ?. They charged me $75-$80 on a 2 hour labor job (per their estimate)
6 months ago Jacob Sweeney
Top-notch place Very fair pricing Excellent work Friendly counter help
6 months ago David Huffstutler
Calvin was courteous and professional, gave me a quick and honest estimate of the problem and resolved it in a timely fashion, would highly recommend Autolab!
7 months ago Blake Dyer
Took care of me quickly, gave me a very fair price for putting on my tires on my FJ. Will be coming back. Bob seems very devoted to taking care of everybody.
8 months ago Bobbi Ott
Wonderful customer service. Answer questions very quickly and helpfully. Also they have a clean, tidy and comfortable reception desk which offers free snack, coffee and beverages. They do every possible effort to fulfill customers needs.
1 month ago Dennis Recinos
These guys are very professional! Replaced the motor in my F150, fast, fair, and knowledgeable!
6 months ago Andrew Vracin
I hate car repairs, but Auto Lab is amazing! I can't say enough about Bob and his crew. They are always going out of their way to make sure they are fixing it in a timely and cost efficient way! They really go above and beyond to take care of their customers. Great place, great people.
2 months ago Angel Montana
Auto Lab has serviced my car over many years. They are honest, caring and very professional. I've been to many auto shops and Auto Lab is the only one I will 100% trust with my vehicle. The customer service is also number 1. I've had a lot of work done on my vehicle and I'm completely satisfied. Canton Auto Lab is a huge step above the rest. ????
3 months ago LA Bendas
I can highly recommend this place. They did standard service like the oil change, but also complicated service on my front suspension, exhaust system and the brakes. At every single service it was explained to me in details which part is damaged and what can be replaced and what needs to be replaced. You can make good decisions, which influence repair costs. Prices are very fair and transparent. No complains.
5 months ago Pilar Rivera
Very honest and thorough.
5 months ago Pejman Aghaiipour
This is a great place to go for an oil change, got a same day appointment and was in and out in under a half hour.Their pricing was excellent also!
1 month ago Daniel Plante
Great service friendly workers
6 months ago Chris VanSickle
The service was fine. They did what I paid them to. My issues comes with the staff and their policy's. Not a single employee was wearing a mask and despite there being a sign on the door, they didn't enforce it so every customer that came in didn't have a mask on and came right up to the desk. I stayed 6' away with my mask on and the guy behind the desk kept asking for me to come closer which I refused as he wasn't wearing a mask. When I came in he was on the phone with another customer which ended up turning personal talking about homes, schools, and how he thinks this pandemic is a political plot which if that's what you want to think in your own time fine. But doing so during business hours, in front of other customers is very unprofessional. I will not be returning or recommending this shop or auto labs to anyone if this is how they treat customers safety.
10 months ago Norma Dunson
Great service and great price on an inspection. Very fast and easy
2 months ago Tian Mengyu
I have always had professional customer service and I feel they have always been honest with me!
3 months ago Katherine Perry
2x more expensive than dealer always
5 months ago hache Martinez
The work they did on my car was awesome. Great guys!
4 months ago Francisca Gomez
Shout out to Bob who was SO helpful, generous, and patient with me today. The entire team I interacted with was great. It took less than an hour to diagnose my car's problem, get a loaner for the afternoon so I could get to work, and by the end of the day I had already paid for the repair and got my car back. Fantastic, quick work. Highly recommended!
10 months ago User Name
Honest with the diagnosis and the price was good.
10 months ago Max Xavier
My car is working the best it has in years after visiting this shop for a day. Great Price, great quality, great team. I would absolutely recommend coming here for any repair.
5 months ago Andrii Azaiev
We just recently had a good amount of work done on our Ford Freestyle at Auto Lab on N. Canton Center. I am writing this review because the service we received was friendly, quick, and professional. We dropped my car off before they opened one morning, and a few hours later received a quote. The quoted work was only what we needed and was for a fair price so we went ahead with the work. They were able to get my car repaired and on the road by 6 pm. I have never had such fast, friendly, and fair service from an auto repair place before. I will definitely be coming back should the occasion present itself. Thank you to Bob and Torey for the great service you provided! My whole family appreciates if very much!
7 months ago bobby mcmillen
I appreciate these guys for being honest instead of taking advantage of my situation when a vehicle broke down. You can rely on them to give you honest service.
2 months ago scott kovanda
Helped me out quickly in an emergency situation. They were kind and professional.
3 months ago Megan Patten
Just left there for an oil change, and will return! They do a great job on all sorts of service small to big. Torrey and Bob were very helpful and thorough. They have awesome coffee, too. Just be sure to make an appointment as they can get busy! Thanks again, guys!
4 months ago David Carter
Came in this morning, staff were friendly and polite, but I came into the shop wanting an oil change, tire rotation, and transmission fluid change. In total the time I waited was just shy of 2 hours. Tech claimed he quoted the price at the beginning of our conversation before work began on my car, but there was no mention of prices except for the extra services that were trying to be sold for the oil change and transmission. After looking over the receipt as well it turns out that they flushed the transmission when I had simply asked for a fluid change. Once again, staff were polite, but since I was charged for the wrong service and it was not confirmed with me, I will not be returning.
8 months ago Nicholas Akins
My first time going to a car repair shop. They were fast, professional, and didnt over charge me. Would recommend.
6 months ago behzad godarzi
They are the best, they are thorough and patient! Tory has a great attitude and you will be completely satisfied with the quality of the work! Hands down my go to every time
7 months ago Mitchel Kirk
Auto Lab Canton Center has been my main go-to auto service repair shop for the past 8 years. From the personable and knowledgeable customer service in Torrey to the professional mechanics wrenching on my 3 vehicles, I would highly recommend Auto Lab. Since my vehicles have more than 150,000 miles on them they are often in need of service. Sometimes big fixes are needed but mostly normal service. I can trust what they recommend. Several occasions they gave me a loaner vehicle so my day would not be inconvenienced. Thanks Auto Lab! Jim
9 months ago Raymond Howe
They cross threaded my oil drain plug on my car and tightened it down with an air wrench. They also did something to my air conditioning and it stopped working after I left their shop. The drain plug was nearly impossible to remove, and we went in to confront them about it, and they were closed when they said they would be open on the first Saturday of the month. Stay away from this place, they're shady as hell.
3 months ago John Leforge
I have been coming to Nick and this auto-lab for a few years with my vehicle. I need to travel a lot for my job, so it's very important that my vehicle is in working order. When I need something done, they always take care of me in such a timely and professional manner, which is extremely critical. They are fast, reliable, fair in pricing, and honest. They have told me that they treat every vehicle as if it was there own, and I'll be the first to say they must take good care of their cars! I wouldn't bring my vehicle to anyone else!
2 weeks ago Cynthia Hall
Nick and the staff at Auto-Lab are truly there for us. We own a child care facility and have two buses that need to be safe to transport the kids to and from school. They are always quick to get the job done so that we can safely transport the children each and every day. They even go the extra mile and inspect things while they are working on the bus to let us know what could be coming up in maintaining the bus' safety. The have also worked closely with he needs of some of our parents' cars. They have helped them out so that their vehicles are safe to transport their precious cargo, also. Thank you Nick and staff for keeping us all safe!
4 months ago Albert Foley
Excellent job on the transmission. Nice guys. Thanks for your kindness. May the lord bless you.
8 months ago Trav R
I have used this shop for a few years now. Service is great and the price is fair. They have went out of thier way to help me out. Thank you for the help.
7 months ago Clint Shedd
My mom told me about Auto Lab and her great experience with their services. I recently had a head light and some work on my suspension done there. I was completely satisfied with the workmanship and the competitive price I was quoted. Torrey, the manager explained the repairs in detail and I waited in the shop while they did the work. The place was clean and professionally kept. I would refer friends and family after a fatastic experience. Thanks for a job well done! Rich
2 weeks ago Robert Holcomb
Fast, friendly, efficient, and affordable. Bob kept me updated on my vehicle along the way & I was back on the road in no time. Auto Lab did not try to upsell me on any additional services, which is refreshing. Great group of guys here - thanks again!
7 months ago Owen Whitman
The staff at Auto Lab Canton is amazing. They always take time to explain concerns and offer solutions. They take time explaining everything until I understand it. Always over and above expectations. Finding a tire replacement quickly, changing the dome light without an appt. Always willing to help. I trust them and recommend them to friends.
4 months ago Ashley Lazenby
It's hard to say enough about Nick and Canton Center Auto Lab. They have taken such good care of me, and I bring in multiple vehicles, with many miles on them, and they keep me running in tip-top shape. They take the time to answer my questions and offer full explanations and help advise me on fixing the most important problems first. Always courteous and friendly, and a good atmosphere to hang out in. I will keep going back.
8 months ago Brian Gastelum
I love Auto Lab of Canton Mich. They are friendly and courteous. As a customer they worked with me and my financial situation on everything. Nick and Torrey were very honest and upfront with me on all my repairs. Joe the mechanic was also very nice and made sure the job was done right the first time. Thank you Auto Lab for your great service. I definitely recommend you to all my friends and family
8 months ago Richard Otten
I had a water pump and timing chain replaced, with everything included and they gave me the greatest quote out of all the places I called. Had the work done quickly. Great communication. Car runs like a dream now. Even threw in a free oil change. Thanks guys!
8 months ago Rhonda Smith
Very positive experience. Will be a returning customer and referring this shop to family and friends.
6 months ago Robert Disalvo
This shop is great! Definitely recommend!
8 months ago Chris Plath
What a blessing. I'm including my Facebook post from yesterday. These guys are VERY honest and dependable! For anyone needing car repairs... AUTO LAB in Canton is the best place to go. Noah Downs heard them advertise on a Christian radio station so we chose to go to them. I had to have it towed because we couldn't get it out of gear to even drive it there so we were convinced that it was the transmission. When I called auto lab I explained to them that it broke down in December and that this entire time we thought it was the transmission. When the guy just called me he could have totally gotten away with telling me that it needed a new transmission, instead he chose to tell me that it only needed $450 worth of work to get it going again. And he added in a discount because I mentioned hearing their advertisement. Very honest auto repair place.
8 months ago Antar Hothi
Do you need some kind of service done on your car? Take it to Canton Auto Lab. It's easy to make an appointment online. The staff is friendly and knowledgeable and the service is great! I really appreciate the time they took to inspect the other aspects of my car, even though I brought it in for a simple oil change and alignment check. I also appreciate the honesty of the employees in terms of the services that needed to be performed without getting the feeling of being oversold. I highly recommend this shop.
8 months ago Ronnie Vilhelmsen
1500 miles from home and the car is dying!! Thank heaven for Auto Lab where you can get an honest and accurate appraisal of the situation. I can't thank Torrey and his crew enough for getting my Chevrolet back to spec. and for leaving me with cash in my pocket.
7 months ago Kelly Ante
Bob was wonderful and very helpful I've been going through so much after I bought a jeep and the staff there went above and beyond to make sure we were taken care of.. (even when I wasn't being the friendliest myself ????)I would recommend them to anyone!
8 months ago Baukje Oostingh
The worst car service place I have ever been! Most car service place in the minimum would like/at list understand the issue first before recommending a fix that is going to solve the source of the problem. What made me give 1 star is that, they were very quick to say it's going to cost you this much to replace this but their explanation for "why" was bunch of crap that did not make any sense at all. They were just so delighted to tell you need to fix this and it's going to cost you this much for none-compelling reason. In the minimum giving a great explanation/demonstration why I need to replace the part would of be helpful. I have no idea what google review had 4.5 star, I WOULDN'T RECOMMEND THIS TO ANYONE! ********************************* Update with more specific information: 11-25-2015 Still ONE STAR if there is lower than one STAR I will be happy to give that too. This place (Yes the one that is on Canton Center Road passed Ford Rd). They told me I need an alignment, brake replacement, inner and outer tie-rod. It will cost me more than $2000. I went to Bell Tire and described the same exact issue as I told this place, Bell Tire told me that all I need is tire alignment and that fix the issue I described it. And yes... Bell tire drove the car and prove the issue i describe to them. They heard what I say they prove what I say about the issue....then they address the it. That is more like a perfect Car service that deserve 4 or more STAR(s). I still....I WOULDN'T RECOMMEND THIS TO ANYONE!
4 months ago Attila Villas
I took my foreign vehicle to Auto-Lab in Canton to have my oil changed. My vehicle was purchased used, and previously serviced at this location by it's previous owner. My vehicle has previously had some service work completed that needed a very knowledgeable foreign auto mechanic, and Auto-Lab in Canton was able to complete the job with no further issues based on my inspection of the car upon purchase. The manager and customer service rep were very personable, and took the time to answer all of my questions regarding my vehicle. I will continue to use Auto-Lab in Canton for all of my foreign car needs.
8 months ago JoAnn Marzo
I took my van to the Auto lab in canton a few days ago. Was very impressed with the professionalism and work done. They were very polite, prompt and didn't try to up-sell a bunch of unnecessary services! The customer service area was very clean (usually a good indicator of the quality of work being done at any business) and the staff was very helpful in getting me checked in for my services and going over what was needed and what can be done at a later time. Will definitely be going here again!!!!!!!!!!!!!!
8 months ago Jasper Reis
If you're looking for a fast friendly and knowledgeable staff look no more! This is hands down one of the best auto shops I've been to in a long time. they've helped with everything I've Ever Needed! Will be back
7 months ago David Rafferty
This is by far the best car repair experience that I have ever had in my life. The partner and manager of this fine establishment Nick was extremely helpful and friendly throughout the entire process! They will not try to sell you unnecessary services that you do not need, but are straight forward about problems that need to be fixed. They were very speedy with my repair and got me in and out in just a couple of hours. I plan on exclusively going to the repair shop moving forward and I highly recommend them to anyone who is looking for quality, efficient service!
10 months ago
Popular places from the category Car repair and maintenance