Zakes Cafe
Cafe Zakes Cafe, 444 S Bethlehem Pike, Fort Washington, PA 19034, United States:
220 reviews
of users and employees, detailed information about the address, opening hours, location on the map, attendance, photos, menus, phone number and a huge amount of other detailed and useful information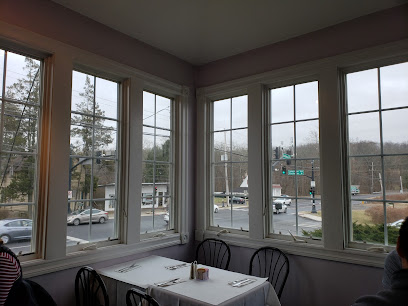 Address:
444 S Bethlehem Pike, Fort Washington, PA 19034, United States
GPS coordinates
Latitude:
40.1349620
Longitude:
-75.2138900
Location on the map
Reviews Arieh Marks
The place serves big portions and for affordable rates. very kind employees. Great work.
10 months ago Rosalie Bowers
This place always has well crafted dishes packed with flavors and plated well. Portion sizes are appropriate and service is always prompt and friendly. They have an often rotating selection of specials dependent on the seasons. Biggest …
1 week ago Devin Fowler
Cute old stone house serving as a restaurant. Cheery service and and solid basics at breakfast. Good coffee that is refilled frequently.
7 months ago Bill Reckley
Always good, Gets crowded around lunch but just before and after are perfect..
1 month ago J Lescault
Love the food and the ambiance. Coconut French toasts are amazing.
1 week ago George Wayne
Food is fresh, people are nice and the place is a cool old house and you sit in different rooms
2 months ago Alyce Morgan
Quaint atmosphere, good food. We had breakfast and were on a tight time schedule, we were served quickly, the server was attentive to our needs. I would visit again
9 months ago laura fritz
I got the crab cake sandwich and the cake had obviously been microwave horrifically. I had to really pull to take off pieces of it. I don't even want to talk about quality because they can't even put together a crab cake fresh or not at …
5 months ago lou crabtree
Delicious breakfast items (we both ordered different egg benedicts) at reasonable prices, friendly services, super desserts .... need we say more!? ????????????
11 months ago Barbara Thompson
I often take my friends to this place with my warmest recommendations. I go their often. This recommendation is always successful. The meals are tasty and the team is generous and cooperative. Every time we visit this place we enjoy a pleasant time. warmly recommended.
11 months ago varsha chandran
I'm not particularly adventurous when it comes to lunch. A friend of mine really wanted me to try Zakes. From what she said, I wasn't to thrilled about trying it, but she's not someone I'm prepared to turn down without a good reason. So in …
6 months ago Rashannon Blackmon
I shared the salmon and asparagus salad with my 4 year old daughter. She really enjoyed it, as did I. Salmon was cooked very well and the asparagus were grilled to a perfect texture. We were in and out, including dessert within 40 minutes. …
7 months ago Flako Rebollar
Great place everyone should go. Yummy food I really like the honey lemon pancakes.
10 months ago Nicholas josefik
For the last two years, I have taken my daughter to Zakes, for lunch, for her birthday, as she works in Fort Washington. Both times, we have had a wonderful experience. The food is wonderfully prepared, and well presented. The menu is …
6 months ago Lisa Carpenter
Delicious food, with interesting flavor combinations, such as the Wild Mushroom Salad; good service.
5 months ago Javier Lopez
Great place! The food is great, and people nice.
6 months ago Bonnie Morton
This spot constantly delivers. They have great food for affordable prices, there no long wait even when the place is packed.
6 months ago Bill Casale
Food was so mediocre. I had the mango beef salad and my husband had steak salad. Somehow the beef on our salads were the same - finely chopped and ridiculously sweet. The best part of the meal was coffee and it was nothing special.
11 months ago Richard Liu
I've been here 4 or 5 times for breakfast/brunch and every time the food had been delicious. Pancakes and French toast are great as well as the egg options. Definitely recommend.
11 months ago Patrick Hijduk
Wonderful food, I got the pumpkin ravioli salad. I love the way the house is decorated with lavender walls and paintings all over the walls. It did get a little loud at lunch. I'm looking forward to going back for breakfast!
6 months ago Cristopher Ceniceros
Upon arrival, three employees walked by me and did not greet me to see how many people were in my party until I flagged someone down. In addition to being ignored, I wanted a cup of berries in place of the traditional cup of fruit. Instead …
8 months ago Tobi Seidl
The place offers a great range of delicious food. I enjoy dining here. The employees are always welcoming, prices are affordable and the spot is always neat.
8 months ago LISA OGUIN
I haven't been here in 5 years, but i think that the owner recognized me. She said "Nice to see you again". Food was just as good as it was 5 years ago, and just as busy!
6 months ago Karthik L
Doesn't matter which meal you order they are all delicious. I had the chicken with chevre, pecans and cranberries. Hubby had shrimp and vegetarian chili. Everything was very good. Service was very good also.
7 months ago Gina Sharp
This was an ok place to go for breakfast. The coffee wasn't great and the menu wasn't all that special. The food was very tasty but the wait staff just seemed hurried and they weren't really able to pay attention to our table. All in all, the food was good but I'm not sure I would go there again.
7 months ago Jenny Nguyen
Great place for lunch. Food was delicious, staff couldn't be nicer or more helpful. Took a couple treats home with us. Can't decide which one was the most delicious, the honey lemon blueberry cheesecake, or the cream puff with blackberries & raspberries! Try this place you won't be disappointed!
8 months ago Emily Kraemer
I tried to go here today (Martin Luther King Jr. Holiday) but had a terrible experience. Since many people had off for the holiday, it was quite busy and therefore we had to wait to be seated. This was around brunch time and my wife and I …
7 months ago Maria Lucovich
Seems to be popular and everyone enjoyed their food. Some different and tasty choices. I wasn't thrilled with service by multiple people and the tight seating. My main complaint is we went on Sunday for a brunch and it was still single order off the menu. Though 40 good items, it's not brunch.
7 months ago Pink Zebras
My breakfast was amazing! Everything was cooked to perfection, looked beautiful, & tasted delicious. Zakes is my favorite place to go for breakfast!!!
7 months ago boukyaku SG
All I can say is check this wonderful, cozy restaurant out! Absolutely fabulous, delicious menu... & the sweets are also to die for!!! Family friendly, attentive Staff that never miss a beat on serving you... Thank you Zakes for always making my dining experience a positive great one! See you soon!
11 months ago YM NY
Great food. Everything is made in-house which is something that you don't see a lot of. The restaurant was busy for weekend lunch which is expected but did feel a bit cramped. Nevertheless, I would definitely visit again!
8 months ago Ellen Y
I've been here 4 or 5 times for breakfast/brunch and every time the food had been delicious. Pancakes and French toast are great as well as the egg options. Definitely recommend.
6 months ago Chris Corrente
A little expensive, but truly outstanding service. Food is prepared very well with high quality ingredients. Very fast, even during a very busy weekend brunch. One of my favorite places in the area! Get a great brunch, and take home some treats from one of the best bakery cases you will ever find!
5 months ago Helen Lie
My husband and I visited your cafe August of 2018, we will be back in Fort Washington this weekend (January 2020) and we will be visiting for breakfast again!! The food is phenomenal!! It will be a tradition from now on when we travel from Culpeper Virginia!!
6 months ago Chris William
Really great food! I enjoyed the onion, spinach, brie omelet. And the homefries were the best I've ever had! Cute cafe atmosphere. Great coffee! Perfect for a breakfast with friends.
1 month ago Denise Pettingill
This establishment is a must visit. The atmosphere is charming and food is of great quality. Oh and do yourself a favor and try their carrot cake.
9 months ago json griffin
Had their Chocolate Cake with Butter Cream icing, with shaved chocolate on top. Everyone thought it was one of the best cakes they ever had !
6 months ago Zarinokka Tv
Zakes is great! Food is exceptional, terrific selections, just super yummy. I haven't been here often, but over the years I've never been disappointed with my meals. Can get crowded because it's popular, but you will really enjoy it here. Cute decor, friendly staff, kid friendly. Yum!!
1 month ago Michael Barton
Had a wonderful lunch today for my friend's birthday. I had the Vietnamese beef and mango salad, and she had the chicken with chevre salad. We also had the lemon mousse cake with a coffee for me, and a tea for her. Everything was …
9 months ago Steph T
The food and service were very good. The portions were small except for the home fries. The pancakes were tiny compared to most breakfast restaurants. The prices were exceptionally high. Everything is charged separate. I am not a cheap …
5 months ago Meet Jhatakia
Excellent service, food was awesome and cooked just as we asked. A+for cleanliness. Plenty of parking. Can't say enough other then will return very soon!
9 months ago kay aycock
I can't say enough about this place. The staff is great, the owner is amazing, and the food is fantastic. I purchased $100 gift card and was given a half dozen cupcakes on the house! Totally unexpected but very much appreciated. To make it …
11 months ago heather cochran
It's a very quaint and cozy place. The wait staff was very attentive. Our palates were pleased. The only thing I was concerned was accessible issues because of the cobblestone steps and no ramps. It's a historical place as well.
5 months ago ferarzo
Has been one of the best places to eat for the entire time they have been open. I am guessing 30+ years. For almost 4 years I had lunch there every Saturday. Today i had a crab cake with salad and my friend had a Cobb salad substituting …
8 months ago Emmanuel Villar
Nice little place. Good tea. Good home fries. Good crispy bacon.
11 months ago Ariel Rumak
Was greeted by 2 different waitresses after we got seated, asking us different questions and if we wanted drinks when I already ordered them. Then another lady came to ask for our order. Then a different guy refilled my water glass with …
7 months ago frankie jones
placed an order for a couple cakes to pick up and they got the first order wrong and didnt even have the second order in their records. i clearly remember the conversation i had when i placed the order. we talked about the prices for both …
6 months ago Ashley Anderson
Love this place! I got the eggs Benedict and it was perfect. It's a pretty small place but instead of feeling cramped it feels homey. Service was great too!
9 months ago Brad Kaeser
My daughter attended Arcadia University and we often went here for brunch. The atmosphere is cozy and shabby chic anD the food is wonderful. No matter what we each ordered we got an order of the Lemon Honey pancakes on the side to share.
5 months ago ABDURRAHMAN NAFA
Great breakfast if you're in the Fort Washington area. Friendly and fast service, cozy environment, plenty of parking. We went Sunday around 9:45 and the place was packed, so be sure to get here early if you don't want to wait.
7 months ago
Popular places from the category Cafe