AM PM IDEAL PET CARE
Animal hospital AM PM IDEAL PET CARE, 12852 Pioneer Blvd, Norwalk, CA 90650, United States:
220 reviews
of users and employees, detailed information about the address, opening hours, location on the map, attendance, photos, menus, phone number and a huge amount of other detailed and useful information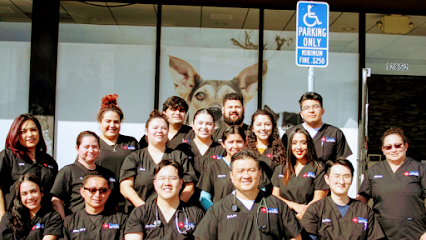 Address:
12852 Pioneer Blvd, Norwalk, CA 90650, United States
GPS coordinates
Latitude:
33.9132313
Longitude:
-118.0810795
reviews shreya ganotra
I love this place. Been taking my dogs here for couple years now and they are the best. The staffs and doctors are always nice and very welcoming. Bring your pets here you won't regret it . Am pm ideal pet care family Tiny and Roxy ???? loves you guys. Michelle thank you for always being such amazing person everytime we got there. Your the best .
10 months ago Syre Recamara
A bit of a wait, but super informative and nice staff. My little terrier came in from a bee sting and he is usually untrusting of anyone else who tries to hold him. The gentlemen that helped us, was super patient and caring with him and was extra careful when bringing him in the facility. I would definitely come back again should my little fur babies have an emergency.
4 months ago Gerald Heaverlo
I'm thankful to have found a place with reasonable prices. But to wait 7 hours to get seen and pay 600 bucks for them to not know what's wrong with my cat was disappointing. I ended up doing my own h.w. n healed my cat on my own. But like I said reasonable prices hence why they are busy. Mostly everyone there is nice. I think they just get stressed with all the people trying to get help for their pets. Keep doing great guys!
5 months ago Gucci Gwen
Dr. Lee and Michelle were nothing but wonderful with our pets needs and they were very helpful and supportive to our feelings and our emotions knowing how hard our situation was. We appreciate them very much for all their help. They're our heroes ???????? we didn't get to meet the others with this whole covid situation but it seems like they have a strong helpful team and that's just awesome. We thank everyone here very much ????
1 week ago Brian Clark
Great vet service and great prices but with covid protocols the wait is way too long.
4 months ago ron brock
I checked my puppy in at 10:15am they told me at 11:30 that there's a 3 hour wait time, it now 3pm and nothing!! I left keep calling every hour to see what is my space in line. They put me on hold for 45 minutes. Decent prices, but they take toooo long!!
4 months ago Shirley Wharton
Do not come here. They do not know how to deal with distressed owners. They do not have the patience. Being first pet owners we obviously had a thousand questions and felt like we were not getting the answers we needed. Especially when they give you devastating news about your pet. Why is it every time I go to the Vet I feel like I am at a used car dealer and they are trying to sell unnecessary coverage. They do have free consult but then they hit you in the wallet. They want to sell you unnecessary treatments and squeeze you dry. Then the options they give you are so ridiculous. Option 1 obviously the most expensive one Option 2 is even more ridiculous because the treatment has nothing to do with the diagnostic. Just a tactic to squeeze money out of you. Being a National Sales Trainer I can tell you that if you do not have your head straight they will milk you. Especially that you are vulnerable after receiving bad news. This industry need to be regulated. There has to be guidelines. We need to put this in the ballets. They put our integrity on the line. We went to a ER hospital as recommended by them and the ER Vet was shocked at their unprofessionalism. You know what you did. Shame Shame on you. Putting our pet at risk of not being attended else where. How spiteful is that. Just because we did not do the treatment with them. BUYER BEWARE!!!!!
5 months ago Yokesh jk
Absolutely love this place. I took my dog in after I noticed he was having a hard time urinating. AM PM Ideal Pet Care took care of him. Instead of rushing to surgery, they first put my boy on antibiotics to see if it would help resolve the issue. Unfortunately it didn't but the surgery was very affordable and they offered the best care. I definitely recommend taking your fur babies here. :)
7 months ago Fredericks Productions
This facility is a walk in service. I called and spoke with several receptionists about an emergency needed euthanasia and was given reasonable prices and told to bring our dog in. From filling out the info sheet to actually spoken to or helped was 4 hours. We waited with a dying dog with cancer and all we could think about was the sadness we were going through just waiting for any response or status. It was a terrible day and the actual procedure takes very little time. And during that 4 hours of waiting so many people showed up with their pets and were takin care of right away It was horrible
5 months ago Derek Berry
I took my pets to Dr Lee 4 years back. He is the best!! Too bad he moved far from where I live.
5 months ago Iina Annunen
Unprofessional place! My Godmother called to put sick dog down. They said they charge 100$ When we tried to go a head and do it, Then they increased the quote to double and they tried to blame the old quote on a new hire! We spoke to the manager Vita and she wasn't helpful and she didn't honor the price we were first quoted!
5 months ago Sophie Santoro
I highly recommend this place. I live in Carson and will continue to make the commute to Norwalk. I have tried nearby Vets, but not too satisfied with their service. AM PM Pet Care prices were reasonable for my dogs treatment. He has had 2 surgeries there and I will continue to take him there for treatment. Great Veterinarian's and service too. Everyone there was very friendly and helpful.
9 months ago Brianna Menoni
I've been waiting for 6hrs and they still haven't seen my pet this is ridiculouse like how long does it take for a dog to get vaccinated? This is the 1st time I waited this long dont get me wrong Dr. LEE IS THE BEST but I dislike the waiting time.
4 months ago Israel Heller
Great friendly staff. They took care of my dog and made me feel comfortable the whole time she was there. She had surgery and they checked in with me to assure me that everything was going good. Thank you!
9 months ago cynthia prince
Daughter is really happy and so is my pocket book expected to pay a lot more. You hear the horror store but they were really reasonable and they care about your pet!
5 months ago Mark Rivera
Good vet care, incoherent customer service, discharge instructions next to useless. This is one of the few lower cost spay and neuter places still open. Their vet care is good. That's the good news. The bad news: It will take an hour or more for them to process basic paperwork in multiple stages, while you and your pet bake in the sun. There is an itemized list for spaying that includes "extras" that are actually needed, like an IV or pain meds. What, would they otherwise knock your pet out with a baseball bat and not use anesthesia? In the end we got back a healthy, spayed cat. We appreciate that. They didn't call for pickup when they said they would and gave us aftercare pain meds that specifically said not to use on cats under 5.5 pounds. It isn't even close, our cat is three pounds. Our overall impression is of good vets and an unorganized front office. These are good vets for the price. Be prepared to deal with some difficulty to get that price.
5 months ago Loyd Gitari
Awesome place, great staff and care. The reason I'm giving them a three is because they don't answer phones. I've tried to call to refill my pets medication but they won't answer. It would take almost a hour for them to finally pick up.
7 months ago SPICEANDLAVENDER SAL
They took such good care of my fur baby.
5 months ago Bre Banks
Awesome vet urgent care!! There are really amazing and caring professionals working here!! Special thanks to Dr Lee and the rest of the team. Dr Lee saved the life of my Weiner dog, Freddy. I'm forever grateful and will never forget you all. Words cannot describe my gratitude to you. You are all the best!!!
2 weeks ago Angelito Lusterio
Amazing Vet, awesome nurses. I do recommend calling 2 hrs before to reserve a spot on the list if its not an emergency. However if it is an emergency, just go, they'll see the pets immedietly.
9 months ago Sarah Frank
Really nice people. Cheapest place for spaying a cat compared to others that were called. $82.50 compared to $200-300 in some other locations. ASPCA and some non-profits are cheaper but hard to get appointments right now.
9 months ago Peter Suk
This place has very reasonable prices but the wait is ridiculous. I waited almost 3 hours in the parking lot for my dogs to be seen. Then I waited 2 more hours just for them to receive 2 vaccines.
6 months ago Matt Lynn
It's a long wait. The doctor was great!! He was genuinely concerned about my dog.
7 months ago Kalpana Rajesh
The staff was great but the pricing was a little high. Also, when I asked a gentleman outside from the facility whether or not I could leave and return he acted like he didn't know by saying that a doctor would have to check my fur baby out first then they would call me. He was too busy talking to a lady in the car next to me prior to my question. Then about 5 minutes later this same man came out saying he was the doctor who examined my dog and he would send his staff out with pricing. I mean really???? I already had to wait for hours to get a call. When I originally called in the morning they said to come in and sign in to be put on a list. When they could have taken my name over the phone
10 months ago Becky W
This team did a great job with my dog
4 months ago Dave Alvarez
Great curbside service. My dog Papo has no issues going there whist he gets his vaccine shots. ???? This is my veterinarian spot.
9 months ago Gina Hall
My dog was misdiagnosed ... Offered me a sky high treatment for 1 week or to put my puppy down, I waited hours unsure of what treatment to proceed with my puppy, figured best thing was to put him down since they made it seem it was real bad, when I finally told them that was my decision one of the staff had the audacity to come ask me to release my puppy to her so she can care for him and she would be the owner. Which made me really think something was up so i gave my dog a one day treatment which wasnt offered at first that "one day treatment "was offered 5 hour later since i couldnt decide what to do with my puppy. Took my puppy elsewhere for a second opinion and here we are 1 week later puppy perfectly fine. DONT COME HERE!!!!!!!!!!!!!!!!!!
7 months ago Kannarat C
Great place to take your pets! Ppl are courteous & efficient & they have great prices!
7 months ago Nick Bartell
They don't take appointments. You just have to come and wait. I've waited up to 3 hours before so don't schedule it on a day you have any plans. My dog has allergies. He only needs an injection to help alleviate the itching/hot spots. I mean we need allergy testing but I'm saving up for that. The first time I brought him they ran tests (e.g mange, etc) just in case and they all turned out negative. (It was understandable they ran them, and it was just allergies like I told them.) They said future refills should be simple. They still required an exam the second time, but didn't try to make us do anymore tests. Unlike some vets that will pressure you into buying something, they only suggest items and will allow you to decline certain items.
10 months ago Jenn Choi
Super amazing to me, and the dog i had brought in for help. Donovan was very amazing and you can tell him, and everyone, care very much
8 months ago Abby Badger
They did a good job on my dog, Will recommend them
5 months ago Ruth Holsinger
I've been to 2 other local vets and left each time not knowing what my little guy needed. Dr.Lee was very informative and clearly explained what was going on with my cat. The staff is great. They really cared for my my baby !. Overall i was soooo happy at the pricing i received. Honestly i spent $400+ at my last vet visit and i have no clue what the procedure they charged me for was. They made it feel so urgent that i just said yes. I encourage everyone to bring ur pets. If ur looking for quality care, Affordable prices and. Excellent service. Am pm pet care clinic will over exceed your expectations!
9 months ago Dottie Blossom
Have brought 4 cats here service is great
6 months ago Polly Morris
Good doctors that really seem to care. Customer service personnel can do better with customer service.
1 week ago faith morrrison
Several months ago, I found a kitten, injured and sick, on the sidewalk. I brought him here for care and unfortunately, his tail was broken and he required a tail amputation. The staff here was remarkably kind. The day of his surgery they called me several times to keep me updated on his condition. They were compassionate and listened to any concerns I had. I also brought him here last week to get neutered and I again, had a great experience. They took good care of him and explained how to administer his medications. I understand that some people may complain about the wait time. I had to wait over 2 hours in my car on one of my visits but we must understand that this is a walk in clinic and sometimes there are cases more severe than others and therefore, must be seen immediately. This sometimes means longer wait times for the rest of us. It may take several hours to be seen or even to get your pet back. If you are looking to get in and out quickly you may want to go somewhere else. Because this is a low cost clinic, they are always busy and see many pets each day and I knew this, that is why I was not surprised I had to wait so long and I was okay with it. As far as care goes though, I can't complain. They did great with my little Alastor Wigglebottom. :)
1 month ago George Moomaw
Came here to just get my fur babies vaccinated. They do charge extra for a check up and beware if the try to charge you and add other services that you didn't ask for. Be prepared to wait about 3to 4 hours. I was there around 9:45am and got out of there at almost 1:30 pm. As far as how they treat the animals I have no idea since we cannot go inside so I have no say. It was my first time here and I will be going else where to get their second round of shots.
9 months ago Travis Baker
They treat your pet as if it were their own! Love this place we'll never go to another vet again.
11 months ago Jeremy Turner
The free consultation went great. Check in was easy and simple. The staff was very friendly and helpful. My kitten Gizmo was seen quickly. They gave a recommendation to help his tummy problems. They offered two options but were not pushy at all about a treatment plan. Very trustworthy and caring veterinarian. All of the the staff showed sincere care and many other people coming in seemed to have really good encounters with the staff. Everyone was definitely treated like family which was a big reason to trust them. They have free treats for dogs and cats. Many payment program brochures as well which is good if you are in need of financial help. The recommended treatments totalled up to $400 but my options were extremely flexible. Definitely will be back for Gizmo's future checkups and vaccines. Truly ideal pet care!
6 months ago Harley
I've never dealt with a vet like Ideal pet care. We felt like they truly cared for our baby. Answered any question we had, no matter how many we had, or what time. Unfortunately our baby Sheba crossed the rainbow ???? bridge today. She was diagnosed with parvo, we came here because Dr Lee has successful parvo survivors, he truly gave her the best care he could, but our little girl was so itty bitty, Michelle was phenomenal, so kind and genuine. She spoke to us like friends, not a bill and that is so rare at vet clinics, before and after our baby passed, Michelle gave us so much support and compassion. Thank you so much IDEAL PET CARE, your team is amazing, we will be sending all our friends and family your way. Continue giving these babies the quality care you provide.
9 months ago Susan Doherty
Both Dr. Lee and Dr. Choi were very helpful and patient in dealing with my foster dogs major illness. Dr. Choi took the time to explain everything clearly to me and consistently called with updates and information. He went out of his way to help us make sure we understood our options and all that was necessary to treat our fosters rare condition. The front office staff is always friendly and helpful, which is especially nice when you have a sick pet. I'm very thankful we were referred to Ideal Pet Care and we will definitely put our trust in Dr. Choi again in the future.
9 months ago Adam Holmes
Brought our dog here to get fixed and it was overall a great experience with professional staff and affordable prices this is our go-to spot for vet services!
6 months ago Greg Pflug
If you bring your pet just for vaccines be prepare to wait at least 3 hours and under the sun or rain , they charge for unnedded services .. too
7 months ago Natalie Mays
Great value but the wait is really long. I recommend going really early or late in the afternoon. The staff is friendly and help you through tough times with your pet.
1 month ago Ludmila Ludmila
Great place! Fast in and out and the staff is very polite.
8 months ago Albina Domasheva
Good place to bring pets.
4 months ago Sajal Debnath
Yesterday kalesi was diagnosed with IMHA a rare cancer form disease. Today I drop her off for her treatments. Was treated with care. The guy that took my dog in look like he care.
7 months ago sherry george
I found this Clinic because of my coworkers and I have to say they are very professional at their work. I know it could be expensive sometimes especially at this time we are on a Pandemic but there's always the option to apply on Scratch pay to pay half the price so far I'm very happy taking my pets here.
9 months ago Long Ip
If you care about your pet I advise you to PLEASE not bring your pet here. I brought my 3 year old dog because she was ill. A doctor had checked on her and said she was fine which you could clearly tell that she was anything but fine my poor baby girl had pancreatitis and liver disease and I only found this out after waiting a total of 8 hours outside until they finally took her in and by then a different doctor told me that she was not going to make it. I lost my little angel, she passed away the day after. I called a different animal hospital and told them about the situation and what happened they said that if they had attended her earlier and checked her carefully and how she was doing it was possible that she would still be alive now, but because they failed to do that and were unprofessional my best friend passed away way too soon. Please DO NOT come here I'd give them 0 stars if I could. Aside from being unprofessional and terrible at their jobs the staff was rude.
2 months ago abdallah hodali
The wait is long but honestly worth it. The workers are so nice.
10 months ago Jill Flynn
My cat Midnight was dying and the doctor was not in. They sent me somewhere else!
6 months ago
Popular places from the category Animal hospital