Whittier Dog & Cat Hospital
Animal hospital Whittier Dog & Cat Hospital, 12124 Philadelphia St, Whittier, CA 90601, United States:
220 reviews
of users and employees, detailed information about the address, opening hours, location on the map, attendance, photos, menus, phone number and a huge amount of other detailed and useful information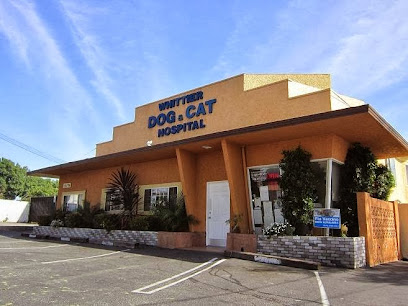 Address:
12124 Philadelphia St, Whittier, CA 90601, United States
GPS coordinates
Latitude:
33.9789404
Longitude:
-118.0470232
reviews Max Hap
As of right now they're still adhering to covid-19 protocols and regulations so once you arrive at your appointment you have to drop your pet off. Staff were all wearing masks and were very amicable. Dropped off my dog and walked around the Uptown Whittier area until they called me to let me know my dog had received her treatment and was ready for pick up. Overall positive experience.
5 months ago Eddily Paulino
I'm very happy with the care they have given my cat and dog.
8 months ago Arianna Muskatt
They no longer answer calls...calls go straight to the holding background music and are not picked up, they don't return messages (when you can leave a message), voicemail is now always full, they don't forward/fax records over for HOURS if at all. I use to rely on this Vet hospital, it was my go-to but in the past few months, this has been the experience. So disappointing for those that are doing their job there, and seems to be only a very few.
4 months ago Shabnam Khan
I have been a client since 2011 and all the vets have helpful and they explained to me step by step about my pets health. I love how they keep the place all clean.
4 months ago anime watts
Dr. Dilip, his wife and all the staff really care for our pets. Best pet hospital. Wouldn't take them anywhere else. Queen and Coco say "give them a try".
9 months ago Elizabeth Brewer
The staff was incredibly nice! I did have to wait in the car for 2hrs for my dog to recieve a check up but they were really busy so it was understandable. The doctor explained my dog's results well and professionally and prescribed exactly what she needed for her rash, and she's feeling a lot better too! Definitely will come back.
6 months ago Jay Huffman
Very good service! They took very good care of my dog. The one tech that helped me was amazing. She was so kind and made me feel at ease. She's been there for years and has always been great. Dr. Agnes was very professional, thorough and kind. Gave me lots of information. They took my dog in at a moments notice when other vets referred me over to expensive emergency partners. Very appreciative for the care.
6 months ago Allison Larrigan
This was my first time here since I don't live close to this location. I was skeptical at first due to some of the reviews, but those feelings quickly left me. The staff was very kind and helpful. Even when they were unsure about something, they went out of their way to find out to give me the answers I was looking for. The pricing for my visit was fair if not cheaper than what I was expecting or have experienced. The only downside that I can honestly say is that it wasn't easy getting a hold of them through the phone when I was just trying to check in. However, I credit that to the fact that their staff was busy discharging several other pets. I'm definitely coming back here even though it's a drive.
6 months ago Dave Worsham
These people have the biggest hearts, we have a paralyzed dog (his name is Axel) and we wouldn't dream of taking him anywhere else. The video you get from the staff is unrivaled. If you want your pets to have the best experience when going to the vet look no further!
8 months ago Usman Umer
Have brought my fur baby here all her life and even though she isn't always friendly towards strangers they are always super patient and kind with her.
4 months ago collene mccullough
My first time going was okay. My puppy had a routine check up. brought him back a second time, to my knowledge everything went okay. i made a 3rd appointment over the phone and after hanging up with whoever i spoke with, she called me right back and told me to take my pup to their sister Hospital because my dog wasn't nice. This honestly hurt my feelings because i know my pup, he doesn't bite and he's harmless he is just paranoid around ppl he does not know. I could not believe she had the nerve to tell me that. When i took him to the sister hospital i asked how was he because we had to wait in our cars also and the Dr said he did really well and was fine.
6 months ago Chantal Viljoen
Affordable prices and I feel like they really did help my pet!
5 months ago Nick James
I have been disappointed with the service that I've received. I've taken my dog twice and had him x-rayed twice by Dr. Agnes related to a cough he has. I was told he had a bronchial infection and was given anti onion is. He took them and the cough persisted. I took him back and paid For another x-Ray, again given the same protocol-antibiotics. Over a year later, my dog still has the cough. I need a specific medication, but they are always out of what I need. I have to wait and call several times to check on the status. When I call for assistance or questions or medication for my dog, I often don't receive a call back. I have to call several times and wait on hold for a very long time to get some type of answer (sometimes up to 40 minutes within someone coming on the line to ask how they can assist me no less than 10 times).. I have found it difficult to care for my pet properly due to lack of flexibility, affordability, and availability of medication from this vet. As I'm typing, my dog is still coughing. I went last week and they were out of the medication and I was told they would call me when it was in. The week is almost over and no callback. Another time I brought my dog in with a harness and leash and they returned him with no harness and his leash chewed in half. They handed him to me in the parking lot. They didn't mention the leash, I just happened to notice. I wouldn't recommend to a friend or anyone reading this. They may be able to get you in quickly, but I question the thoroughness of care and service for the money I pay.
7 months ago WG Studios
Waited 3 hrs for my dog to get treated I had to call to ask what was taking so long. They tried adding things to my bill that my dog didn't need . I hope in the near future the service improves here.
6 months ago tina tidd
Took all of my cats here. Great experience. Friendly staff and very affordable. I see lots of happy pet owners each time I visit.
1 week ago J Mills
I love that they are always very accommodating and genuinely are about our pets. I can always rely on them for any emergency.
6 months ago haley Woodward
Whittier Dog & Cat Hospital is terrific. My cat in not easy to handle and they consistently take care and do it in a loving manner. Great place to go.
10 months ago Sajal khosla
Accomodating staffs. Experts in their field.
5 months ago ben feldman
I had a really good experience here, I have a older dog that I'm in denial of (I still see her as a puppy) and I loved that she was treated sweet and gentle and was checked out thoroughly, my next appointment will be with our younger dog who is an aggressive dog and hopefully they'll be able to deal with him the same way, I left a dog hospital that we went to for over 19yrs who went from caring to money making and I'm hoping to make this one our safe stay hospital, thank you for caring more able our fur baby and not our money.
4 months ago Andrew Henthorne
They try and make you think your pet needs things when they really don't was charged almost triple the original amount for things my dog didn't need.. and when I tried to call and cancel the extra stuff they said it was already too late and I had to pay about $400... I think I'll take my dog elsewhere
10 months ago Susan DePeters
Very happy with staff and doctor. Excellent service
7 months ago Chrissy Lindsay
Always great care for our pets!
5 months ago vilcu adrian
Terrible service. Covid-19 protocol requires that you call when you are arrive, but they don't answer for 10-15 min. They have a very poor record of call backs.
4 months ago MINNIE JIMERSON
Friendliest veterinarian Dr. Patel! Thoroughly explains my doggies medical issue, with his cell phone photos! ????????Knowledgeable staff throughout office ???????????? . Doggie Park and Whittier Greenway Trail right around the corner! ????????????
8 months ago Welson Cavalcante
We have had our dogs there for over two years. Very kind, attention to detail, lodging was a must for us. They accommodate Large Dogs.
4 months ago William Pierce
We regularly board our dogs, Prince and Lucky, at the Whittier Dog & Cat Hospital. The staff is very nice and they have always done a great job caring for our dogs. I wish their app was active again.
3 months ago Conner Marston
Waited in the car...a lil different than before pandemic...I lived in Whittier since 1994..I believe in doing business in the same area I live in..keeps the city solid...I trust in them to do a good job...
7 months ago Lindsay A
Prices are a bit high but if your pet needs immediate attention this place is for you
8 months ago Sierra Campbell
Our visit today was positive. I took in two dogs, for a first time visit due to the need for vaccinations and a brief exam. As expected, due to Covid 19, waited in the car, while completing paperwork, prior to them being walked in, and was told I could leave once they went in. I did so, and was called to come get them a little over an hour later, for a total time there of 2 hours. Not bad. All staff were kind, and patient both in person and on the phone. I was pleased, and we scheduled another appointment for next week for another pet.
8 months ago Lynn Carson
My husband lil upset. Called knock door almost 1 hour finally someone came door!! Is the personal have problems
8 months ago Lorena Longo
1st Time customer. I will say that I am very happy with the care they gave my pet. They were very transparent and honest. I have found my pets new doctor
2 months ago Adam Seif
Waiting time for my neighbors cat exam was way too long
6 months ago Darvy Seang
I called all of the nearby animal hospitals for just a basic check up for my pet and their wait times were ridiculous. However, this was the only one that didn't have a ridiculous wait time and fair prices. Now I take all of my pets there. They provide the best care and are always professional.
4 months ago erin pollock
Been going here for years and unfortunately they will never get my business again. They took 2 and a half hours to give my pup her first booster when they told my it would take 45 mins. Then I got 4 different excuses from 4 different employees on why they were late one employee had a far out completely different story. Out right disappointed in this business
8 months ago Tiz Irie
Prices are great but we never got to speak to the doctor
11 months ago Megan K
Our first experience at this office has been great. The staff were very attentive and the Veterinarian took the time to answer all our questions even having to walk to our car as we waited for our pet due to Covid-19 precautions. We look forward to continue to bring our puppy here. Thanks!
5 months ago Michael Johnson
Staff is so nice here.
7 months ago Atinuke Ajayi
Staff was great! Very nice and polite and very thorough and vet took time to explain all options.
4 months ago Warnetta Trent
They are amazing.. professional...and extremely reasonably priced!
8 months ago tower Plaza
Their great, took a friend her baby for check up she's a handful the ???? so I'll be taking my girl soon. IF they handled a handful you know that's a good thing
4 months ago Musa Goll
I have been bringing my animals to this for over twenty years.
6 months ago Jaylynn Jacobs
I have placed a formal complaint with the California Veterinary Medical Board. My dogs were terrified to go in, they would start shaking. I should have known better (in tears). I feel I got bad advice and now my dog is dead. He was 11 1/2-year-old , we could have enjoyed a few more years of him. He had stopped eating the day before, and the day I took him had a little difficulty breathing. Dr. Agnes, recommended blood work and x-rays and we did them. She told us that he had either a fungal infection or cancer, but there was no clear diagnosis. 1. We had taken him less than a year before and blood work had been performed, we did all the tests that were recommended. We were told he was healthy. 2. We live in a hill side, so why didn't they include a fungal test, when they did the blood work. 3. When I took my dog this time I was told to take him to a specialist. I would have taken him immediately, I called the internist immediately, and suggested the action to the hospital, but I was told by Dr. Agnes and the hospital that it was not an emergency. 4. When I called to check on him I had to call over a dozen times until someone picked up. I was under terrible emotional distress while my calls were not being answered. 5. The person who took my dog inside, in times of Covid-19, was not wearing a mask. They allowed their agent to be there without a mask and handle others' pets. 6. Dr. Agnes without a definite diagnosis, seeing he was under stress, suspecting he was anemic, but without his blood work, still prescribed antifungal and an antibacterial medication. After some research it seems that the medication prescribed and administered (if they in fact gave him his medication and not another dog's medication) may have actually harmed him and contributed to his passing. He was prescribed and given (again unless he was given another dog's medication) ketoconazole, which I found "should be used cautiously in pets with ... low platelet counts, or those that are undergoing stressful events such as serious illness, ... or trauma", and doxycycline, for which I found "serious side effects include ... seizures". Before passing, my dog had a seizure. After he was prescribed and administered medication, over 24 hours after his passing Dr. Agnes informed us that he had anemia. She should have warned me of the risks of giving my dog the medication prescribed. At no point she talked to me about the side effects or risks of the medications she prescribed. And I feel I made the mistake of trusting Dr. Agnes. 7. If Dr. Agnes maintains that my dog was too sick for any treatment to work, then, she should not have prescribed and charged for any of the medications given. Instead she should have referred me to the emergency room of an internist vet or recommended a second opinion. 9. If she maintains that my dog was not as sick as to not be at risk of an adverse reaction to the medication provided, then, how can she explain his passing?, within hours since he visited the hospital. This place is very busy, are they seeing too many pets per day? 10. In one of the conversations, I asked what type of medication ended up being given to my dog. I was told he was given an injection. Dr. Agnes did not initially tell me about an injection. As I inquired I was placed on hold. The receptionist then told me that no injection was given. So now I wonder if my dog was given an injection that he was not supposed get. 11. Upon pick up, I was initially handed a bag with another dog's medication. I now even wonder if the medication that he was administered while at the Hospital was the medication that was prescribed to him. I feel Dr. Agnes did not dedicate properly handled my dog, by stopping me from taking him to the emergency room, by prescribing him medication that harmed him without warning us of the risks, or by working at a facility that administered him the wrong medication. It stinks in there! I also hope it will be determined whether this place is sanitary and does not pose a danger to their employees and customers.
2 months ago Ellen Y
They are wonderful!!! great experience they took me soon
2 months ago angelica parker
Quick friendly service and everything is geared to doing all they could for your pet.The Vet will take the time to explain all services needed...all precautions are used for your safety and pets safety during this time
5 months ago Susan Archer
Love this place, they treat my fur babies with much love, the staff and doctors are great, THANK YOU for everything you do and thank you for your care and attention towards my fur babies
4 months ago Aditya Valicherla
Very greatful to have the Whittier dog & cat hospital team by our side in these troubling and challenging times! Special thanks to Dr. Dilip and Dr. Agnes for your amazing work on the front lines and your God giving ability to be able to diagnose and care for our pet Diamonds professionally and with love for years now. Much love to you and your family's. May God continue to bless you! Ford family Diamonds ❤
5 months ago Brenda Nash
Love this place. Moved away and still drive back here for the doctors and staff! Good people!
5 months ago Mohammad Zaidi
The staff is always professional and loving to our Dogs and puppies. Love Nemesis Kennels
3 days ago Murat
I always know I will and have experienced warm, friendly, and professional services st your facility. My pets have always been well and professionally cared for. I love your vets as well as all your staff, even in these stressful times they have helped in a very timely manor.
6 months ago Kristen Wozniak
Always a great experience at Whittier Dog & Cat Hospital! My dog Coco is very shy and she's a big baby every vet visit, however the staff and Doctor Agnes demonstrate great patience and care when dealing with her. Thanks again for the superb service!
6 months ago
Popular places from the category Animal hospital