Studio 9 Salon
Hair salon Studio 9 Salon, 37717 Mound Rd, Sterling Heights, MI 48310, United States:
220 reviews
of users and employees, detailed information about the address, opening hours, location on the map, attendance, photos, menus, phone number and a huge amount of other detailed and useful information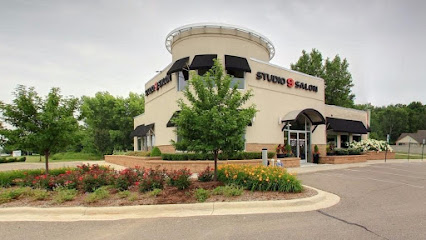 Address:
37717 Mound Rd, Sterling Heights, MI 48310, United States
GPS coordinates
Latitude:
42.5704572
Longitude:
-83.0503623
reviews Miriam Murphy
They are very welcoming and professional. Had my makeup and hair trial for my wedding and my makeup turned out stunning but the hair trial was a bust. My stylist was unable to do the style hair I wanted and they were completely honest about it, which earned my respect. Unfortunately, I had to reschedule another hair trial with a stylist who does that style but they made it worth it. They went out of their way to make sure I get what I wanted. I felt so bad for my stylist but she was a sweetheart and honest about her abilities and that's all I could ask for. High-quality salon that goes out of their way to please their customers. Highly recommend.
2 months ago Eddie Williams
Crystal did an amazing job on my hair. Listened to me and this is the result. I'm so happy. I do recommend Studio 9 Salon. Friendly and professional staff
6 months ago Jessie Hawkins
Awesome staff, great atmosphere and wonderful customer service. Went over and beyond to help me with an issue I had with my highlights from a previous salon. They knew I was getting ready for my upcoming wedding and wanted to make sure I felt and looked my best. I will be coming back for all my salon needs.
2 months ago jeff bockhold
I moved back to the area a few years ago and have been bouncing from salon to salon, trying to find a new stylist. Last summer I decided to try Studio 9 because ...well honestly because it was on the way to my sisters house who I was visiting that day. I was so happy I did! Alicia is amazing and the prices are super reasonable. I also love that I can book online and the email communication is so quick and friendly. After that first appointment, I went to my sisters and the first thing I said was "I think my hair finally found a home". I even convinced my sister to try it, and now she is a repeat customer. I love that I can say " I want my hair more fun" and Alicia says "how bout this..." does her magic, and I love my hair!! Very happy with this salon and over the moon happy with Alicia every time!
3 months ago Robert Redway
Nikki was great she corrected my color and was very sweet
4 months ago Hisham Dada
Kristy is an amazing stylist. Every time she does my hair I am just as impressed as the time before. She is friendly with a great personality. She makes sure to get all the fine details of when highlighting, absolute perfection.
3 months ago sitotime sitotime
I had a wonderful experience with studio 9 salon! I was contacted the day I submitted an online request and was able to schedule a next-day appointment. Everyone was so friendly and professional. I saw Jae for a bridal hair trial and she was able to style my hair EXACTLY the way I wanted - she did a stunning job & the price was much lower than other locations. I immediately scheduled my and my bridesmaids' hair & makeup to be done at Studio 9 Salon for my wedding day and feel very confident they will do a fabulous job. Highly recommend for all hair & makeup for your wedding!
4 months ago Jurgen Wenzel
Sam is absolutely amazing as always. I can show her or describe what I want and she knows exactly how to make it happen and it comes out perfect. I love my hair and enjoy Studio 9! Thanks Sam for giving up your day last minute and coming in 2 hours early to do my hair. Your the best!
3 months ago ShakZ Tv
Nikki always does an amazing job on my hair! She is so friendly and nice and so professional and amazing at what she does! I will always be coming back for Nikki, she listens to me and does exactly what I want and does an incredible job! :)
2 months ago Linda Cux
Teri is amazing! I told her what I was going for and she made it happen! She trusted I knew my hair and I trusted her expertise. Great experience!
2 months ago Lucy Rozell
I went to Studio 9 for the first time and I loved it. I don't typically like going to hair salons, but the people working there are very friendly and make you feel comfortable. It was very clean as well. Jenna did my hair cut and I love it!
3 months ago josep f
I always get great service at Studio 9. Mai is the best nail technician . Meg makes my hair look so good I even have a great Driver's License picture. The receptionists are always very upbeat and nice. A visit here is always a highpoint in my week.
2 months ago Esther Duquette
Kristy is a very talented professional hair stylist. She does a great job every time with my highlights and haircut. The salon is very nice and airy inside and the prices are affordable
3 months ago Tim Gilligan
Very friendly, clean and professional. Staff is amazing! Kelly is absolutely wonderful. She is patient and always does a fantastic job.
3 months ago Victor Kaminski
Extremely rude stuff, beginning from the front desk. Hairdresser Cristal was very noncooperative, barely touched the tips of my hair what was considered as a haircut. On my simple requests about how I want MY hair to be done I got very negative reaction. She even called the manager. Manager (or the owner it was) in her turn didn't handle the situation correctly. Overpriced, poor customer focus, attitude. Do not recommend to anybody.
2 months ago Phillip Decker
So great! It was my very first time going and my hairdresser Misty was so sweet! She really made me feel comfortable and wanted to make sure she did exactly what I wanted. I definitely found my new hair place!
3 months ago April Dupont
I am always so nervous about getting my hair done. Amanda did a fantastic job with my hair! She brought my hair back to life. I love my hair and I am definitely going back! Thank you Amanda!
3 months ago jasmin perez
Kellsea took care of me and was super lovely! She was very kind, did exactly as I asked and made sure I enjoyed my entire experience! It's always a wonderful time there and I will continue to keep coming back.
3 months ago Jean Papworth
Went in to get my hair colored and cut showed the stylist the picture of how I wanted it and she said we could do it. About half way through the rinsed out the back of my hair and finished putting foils on the side of my head. When it was time to wash my hair she was supposed to put in some deep conditioning conditioner which she did, which was the only thing that was used to wash my hair. No toner, no purple shampoo or regular shampoo. She then only dried part of my hair and then put me under the dryer to dry the rest which I was under for 20 minutes. Now my hair feels like straw and super dry. I've had my hair done multiple times and never once has it felt like straw and dry and I've never had a stylist only put conditioner in my hair. I was also supposed to have my hair cut and she didn't take off more than a centimeter. I love going to studio 9 but after this I'm not so sure.
3 months ago Wesley Cardone
Jae is my hair's best friend she is absolutely amazing. I dyed my hair black and I want to go lighter and so far she has done my hair twice now and both times I walk out with a huge smile on my face with my hair looking amazing. The salon is beautiful inside and gives you a great salon experience. I highly recommend going to this salon and seeing Jae you won't be disappointed. Thanks again Jae!!
8 months ago ZackEOD
After a botched at home attempt at bleaching and toning my hair, they literally saved me! After 5+ years trying to get the look I wanted from another stylist, I finally have the hair I have envisioned. Amanda is amazing! After speaking with 2 other stylist there, she came over and knew exactly what to do to not only fix my mistakes but give me exactly what I wanted. So grateful that she had a cancelation and was willing to stay late to accommodate me. You have created a loyal client and I will be bringing family members too! Thank you!
4 months ago Ali Ateeq
Nina did an AMAZING job on my gray cotton candy! Some highlights and an excellent cut and I am told I look 10 years younger! Very happy and will be going back????
3 months ago Hareesh Kapoor
Studio 9 is amazing!! The atmosphere is great, it's clean and professional, and the service is awesome. I wanted a full head of hand tied extensions, and Lexi was FANTASTIC. 10/10 - first of all, she's adorable and super personable. But more importantly she truly listened to what I wanted and clarified any concerns I had (this was my first time ever getting permanent extensions put in). The salon kept me informed through the entire process, letting me know when my hair was ordered and updating during shipping process. Once the hair was delivered, they called and got me in ASAP for the installation! I never leave reviews, ever, but this experience warranted one. If you want dream hair, Studio 9 is the place (and another shout out to Lexi - you rock sis).
8 months ago Ben Davis
Lori is amazing. She put bright red and blonde highlights on my hair and it turned out absolutely beautiful. I have been getting so many compliments? Thanks again Lori!!
3 months ago Laura
Alicia did an awesome job on my hair. I was so nervous because i hadn't dyed my hair since i was 18 and that was 14 years ago so like i said i was so nervous. She made me feel comfortable, answered all my questions, and helped me choose a color i liked. And i absolutely love the balayage outcome. Alicia will definitely be my go to person from now on. My sister in law loved the job Alicia did so much that she made an appointment with her for Saturday. Thank you Alicia.! ????
8 months ago JOE OWENS
Just a great experience!!! everyone had a positive attitude and Nina did a fantastic job on my hair she is a very pleasant person which makes my visit very nice.
3 months ago bong chunfat
Every time I go everybody is friendly and bright on top of things. Teri is my hairstylist, me and my daughter both go to her and we just love her she does a great job with a very nice professional attitude! I highly recommend this place!
4 months ago Nick Sikorski
Went here to get my hair done for a wedding. It's hella expensive! They took $100 to just do a bun, which did look good at the moment but started coming off when I got in the car. Started falling apart even before the ceremony began. I got my hair done from another place for the next day and they took half the price, did more work, and it actually stayed.
3 months ago Robert Anderson
Samantha went above my expectations....I LOVE my hair! They got me in last minute, too..mom schedules are rough sometimes. So thankful, and will definitely be back ????
3 months ago alatar
It was my first time their BUT NOT THE LAST!!! ERIN WAS THE BEST. I SO LOVE HER AND MY HAIR STYLE/COLOR!!! SHE IS VERY TALENTED. I WILL BE BACK. HIGHLY RECOMMENDED
4 months ago Joseline Dawson
I went to studio 9 for a consult and was greeted warmly. The receptionists were kind and helpful. I spoke with Terri and she was amazing. I appreciated her advice and trust her to help me in the future. I would definitely go there when I'm ready to make my hair color changes. Thank you, Terri!
7 months ago Brownmoney
Lori did such a Great job styling my hair. I have short hair, told her what I wanted and took all her suggestions and got a great cut. It was my first time there but definitely not my last. Finally found my new stylists!!!
5 months ago Peter Vigneault
Staff is excellent. Facility is beautiful. I had my hair cut. Daughter had eye brows waxed. Would highly recommend.
3 months ago Suzanne Spingler
Kristy is the best! I've been going to her for years and I recommend her to everyone. I continually get compliments on my hair.
3 months ago Ali Alrdini
I had the best experience with Erin. I highly recommend this place. They make you feel comfortable and take you on time. Very nice salon.
5 months ago Frank Fidelman
I take my daughter here. She just loves Crystal and refuses to let anyone else cut her hair. You can not tip on your card bring cash for the ladies!!!
3 months ago sherry phillips
I received a haircut, but was very disappointed. I had brought in the picture of what I wanted, and she would not cut it to length I wanted and with style I wanted. I had to have her go shorter twice and it's still not what I wanted. I've been coming here for nearly 5 years and loved who I used to see. I'm struggling to find a good stylist again.
4 months ago Eric Mouser
Lexi did a balayage on me and it looks great! she was on time and was so sweet I really loved how it came out she is the best!
3 months ago Macy M
First time going to Studio 9 and I was very impressed! The building interior is beautifully designed and very large. Really nice private hair stations. Kristy was fantastic! She listened to how I wanted my hair cut how I style it and now I love my hair again! Will definitely be going back to her.
3 months ago MIRON BOGOJESKI
Nice salon in a busy area. Nina is awesome because of her we go there. Salon should offer 20% off on hair products!
4 months ago Betty Jones
Happy, helpful, friendly, honest. Big thank you!❤️So happy with my hair!
2 months ago Alyssa Avila
Love Study 9! So happy when I found out the girl has done my hair was working here????????????❤
3 months ago dele amyson
I always get highlights and a trim, nothing crazy but they do a fine job. Clean and safe! Nice products! Lori, Alicia and Meg are all fantastic, professional and knowledgeable, especially for my natural medium blonde hair with beautiful golden shades of highlights. Trim and blowout are great too!
7 months ago GREENZ YUTE
Amanda is an amazing hairstylist. She does color terrific! She styles my hair so beautifully!
3 months ago Robert Miles
My stylist Jae was amazing!!! I told her I wanted roots touched up and highlights, a total change and she did just that!!! I am LOVING my hair! I highly recommend her!
4 months ago DZ
(I'm posting under my husbands account) My experience with Samantha was great! She really listened to what I wanted (which I wasn't even sure), and she did a great job with my highlights. They were following all their COVID protocols and enforcing it with their customers. It was my first hair appointment there and I'll definitely be back!
7 months ago manav mehta
Love love love this place. I cannot say it enough! Very clean! Everyone was super helpful and sweet! Will most def be back!
4 months ago Pete Waiters
I loved the friendliness of all the workers and the place was beautiful! My stylist Alise was friendly, cheerful and great at coloring and styling my hair. I would highly recommend. Thank you so much ladies for a wonderful experience.
7 months ago mariappan ravichandran
I had a fantastic experience getting my haircut today. The salon took so many precautions with ensuring social distancing. My hair stylist was so amazing and took her time to really listen to what I wanted.
7 months ago Sergio Daniel
I really enjoyed my first visit to this salon for a manicure and polish. Emily the Receptionist is very polite and welcoming both on the phone and in person. Betty, the Nail Technician, was very nice, did a thorough job, and was not in a hurry even though I was her last appointment for the day. I have scheduled my next appointment with Betty and look forward to many more!
10 months ago
Popular places from the category Hair salon