Rettig Music
Used musical instrument store Rettig Music, 5950 Airport Hwy, Toledo, OH 43615, United States:
61 review
of users and employees, detailed information about the address, opening hours, location on the map, attendance, photos, menus, phone number and a huge amount of other detailed and useful information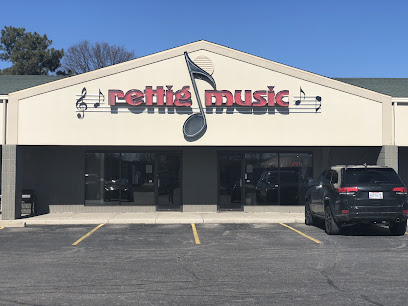 Address:
5950 Airport Hwy, Toledo, OH 43615, United States
GPS coordinates
Latitude:
41.6145364
Longitude:
-83.6836647
Location on the map
Reviews John Bircamshaw
Excellent service here. I found a beautiful violin and bow for one of my students here recently. I highly recommend.
6 months ago Mike Reynolds
They were very efficient in fixing my daughter's flute case and getting it back to us. I know it is place that takes care of their customers!!!
11 months ago Donna Lynn
Nice selection of books and accessories. Guys are very helpful and friendly
3 weeks ago Ron Pigott
Standing outside of the store I was threatened to have my face beat in by an employee/owner (not sure which) who wouldn't give me his name, he's short and stout with salt and pepper hair because I used a word he didn't like in a conversation that didn't involve him. If this if how your company wants to run business I'll make sure I tell ALL my musician friends who are teaching at UT and ONU, tenured doctors in music, to not send their students to your store. This was at the Airport highway location at closing time 9/24/2020 at ~6pm
11 months ago Scott Lewis
They were friendly, helpful and efficient!
10 months ago FelisNavidad
Unhepful rude on the phone absolutely no help with trying to rent an instrument for my daughter's band because my credut was in their eyes not good enough even though i gave my debit card and signed up for automatic payments sorry i dont live off credit cards
5 months ago Nick Penland
Always got what I need super nice staff.
6 months ago Jackqueline Bonner
Love this place! Great customer service, marvelous instrument rentals at a great price!
9 months ago Dorthy Felton
The staff is friendly and knowledgeable. They were able to fix my recently acquired violin without too much trouble and talked me through all of my options to find the best solution for me. I did have a little trouble with them getting a hold of me when the violin was fixed. I never got the call their records indicated had been made, but I suspect they may have dialed a digit off from my phone number and maybe gotten a hold of my brother instead. But that was all easily solved when I called to check in on it. Now I can focus on learning how to play the instrument in question.
9 months ago Anna Taylor
Rettig music is a great place for musicians! They are very resourceful and helpful. The only reason I gave a 4 star was because in order to rent my son's saxophone they do a hard inquiry credit check. I'm. Music teacher in the area and have referred students there for years, but never knew this. Wish it would have been known sooner and don't understand why it couldn't be a soft inquiry.
3 days ago Arlen Taliaferro
The gentleman was extremely helpful with my high-school band students trumpet issue. His helpful tips and techniques are going to prolong the life of our daughters trumpet. He let me pick his brain for 15+ minutes about the proper care of our instrument. I definitely recommend and suggest this store for all your band and Orchestra needs. Thanks for the help!
10 months ago Liz Drenkard
Great people, love coming here, just wish my daughter would practice more.
10 months ago David Kane
Excellent customer service. Great rent/rent to own plans. They provided great help in changing instrument plans and making sure everything works for everyone. We are also big fans of the participation with our school for easy repairs and service. Overall highly recommend.
10 months ago MICHAEL FASHJIAN
Friendly, helpful, knowledgeable staff.
4 months ago Sascha Mackens
I have taken my daughter's clarinet here twice for repair. One time she dropped it and another time to clean it and have a cork repaired. They do amazing work at an affordable price! Thank you!
10 months ago Geneva Sides
The staff are friendly and knowledgeable. They were able to repair my sister's violin surprisingly quickly.
11 months ago Krizia Jimenez
Friendly and knowledgeable staff. Most of them have experience and/education in music. Helped my friend get his saxophone fixed. They are best with instruments used in band/orchestra.
2 months ago James Monroe
Friendly staff very helpful
7 months ago icanhaz goodgame
Great group of people!
5 months ago Peter Stenger
Always friendly staff ????????
6 months ago Julie Nodine
Very good staff - polite and helpful.
10 months ago Sherrie Pooler
Very nice and helpful people helped us with everything we needed
9 months ago Christopher Lewis
Attended the brass work shop on May 18th, we thought it was very well informational. My son Nicholas plays the trombone, and got his instrument checked out and cleaned, we were advised of getting a flush and sonic cleaning. This was our first time there. Staff was courteous and friendly.
11 months ago Heidi Alley
Great place for all your instrument needs. Always helpful staff and good care.
2 days ago Max Heacock
Two weeks into school, find out they declined us based on credit (which... we have good credit so what???) and "mailed back our check" in june. I never received that. No call. No e-mail.
11 months ago Jonathan Banayan
Small assortment, three people working on a Monday and not very happy to be there it seems. Not a licensed Yamaha dealer. They did have the method book I was in need of purchasing for my daughter's school.
8 months ago Cameron Tucker
Really don't have much option as to where to get musical instrument when the school insists on this place. What I don't understand is the necessity of a credit check when using a credit card. I have to take a hard hit on my credit so my kid can be in band. It's done and she will have her instrument when school starts.
8 months ago Gabriel Clair
Great service and very helpful for our first instrument for my daughter.
10 months ago Albesa Salinas
Everyone who's taken care of us at Rettig is always amazing!
9 months ago Perfect Mixtue
Haven't purchased any instruments here, but they have fixed a couple and helped out my family in a pinch a number of times. Always great service and exceed my expectations.
3 days ago Ryan Leobwin
Love the people at Retrig. Very helpful with all our instrument needs.
8 months ago Jeffrey Young
Seamless, straightforward, professional. Highly recommended.
9 months ago scarface matt
Extremely helpful and friendly.
9 months ago Chad Bennett
They do are hard pull credit check will drop your credit score allot. Was told in store would be a soft pull. Nobody wants there credit score to drop 30 points to rent a saxophone
8 months ago Ben S
Very knowledgeable and friendly staff! The rent to own program is very economical.
4 weeks ago Steve Ragland
Fantastic staff. Very knowledgeable and they care.
10 months ago Dylan Cameron
They were very helpful and new what they were doing.
10 months ago Igor Sidorov
Knowledgeable staff that finds the best products for your price range. They are also able to provide was actual music educators recommend for supplies and instruments.
2 months ago Shelia Perkins
Great customer service, friendly and knowledgeable employees.
3 days ago snow rachel
After a little wait was helped and was able to receive the new music equipment
10 months ago Gerard
Very nice used instrument place, their delivery to the school can be off, received mine 2 weeks after school started. "Will be there by the time school starts."
2 months ago Max Brill
I wanted to BUY a baritone for my son. The guy at the Airport Hwy store talked me into renting one first instead. He told me it would be delivered to the school before the first day. 2 weeks into the school year, he still does not have his instrument. I called and apparently they denied my application, but did not even call to let me know. I now have to find another local store to purchase this instrument from by tomorrow. When I questioned why they didn't call, they told me they process 3000-4000 rental applications a day. I thought I was supporting a local business, not another Wal-Mart.
3 months ago Wren Miller
Super nice people and extremely helpful.
2 months ago Sharmeen Sheikh
Great prices and friendly knowledgeable staff!!!
2 months ago Mickey Martin
Over priced! You will do better on the web buying instruments, my sister was TSA and TYSO, no good deals here!
3 months ago Albert Lopez
The employees were all super helpful, I got all the things I needed for my sax and overall just the best music Store in my area
4 months ago William Harmon
Had what I was looking for
6 months ago Joel Shapiro
Very friendly staff. Was recomended by a teacher from TEC to fix ????.
3 days ago Cecilia Gorgon
Extremely helpful and friendly staff. The place to go when your child starts an instrument!
2 months ago Erica Bavarella
FANTASTIC customer service!
8 months ago
Popular places from the category Used musical instrument store