R Smith Paving
Paving contractor R Smith Paving, 315 Snyder Ave, West Chester, PA 19382, United States:
40 reviews
of users and employees, detailed information about the address, opening hours, location on the map, attendance, photos, menus, phone number and a huge amount of other detailed and useful information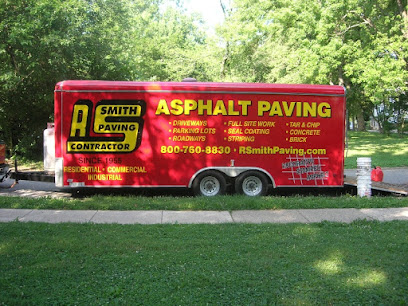 Address:
315 Snyder Ave, West Chester, PA 19382, United States
Website:
rsmithpaving.com
GPS coordinates
Latitude:
39.9493068
Longitude:
-75.5851563
Location on the map
Reviews Esther Perez
R Smith estimated a job for us on the house we were in contract for. They gave an estimate to the seller and the money was put in escrow, giving us 90 days from settlement to get the work done. I called, they didn't answer. I called back, they said they needed to come out and do an estimate. They never came. I called again, they assured me they'd come estimate. They never came. Our realtor called, they didn't answer. Our realtor called back, they assured them that they would come out the following week. They never came. If you're looking for a part-time job trying to get someone to perform work for you, these guys can certainly fill any free time you may have. Never felt so gaslighted by any contractor in all of the years I've worked with them. Would not recommend under any circumstances.
6 months ago Linnet Way
Our driveway and sidewalks are finished and look amazing! During the process, I worked with each of the brothers that rin this business and they are all top notch guys. They listened to our needs and had perfect advice on how to achieve our desired results. They were patient with us when we wanted to install a cobblestone border that took several months for us to complete but they were ready to jump back in and complete their work as soon as we were ready. I highly recommend R Smith paving.
5 months ago Jane Bennett
We selected R Smith over 3 other vendors. The patience they showed my family, as our decision took a year to execute was second to none. The execution of the work in the middle of a pandemic and a very rainy time of year was the best. They even entertained, at a socially safe distance, my kids and nieces and nephews who were playing in the yard while also watching the men work. My sons exact quote "Best day of my life." Plus the work looks perfect. R Smith is # 1 in our book!!
4 months ago Charlotte Heads
Smith paving did an excellent job for my office parking area. A few months later he did my residence as well. I will refer his company in the future. Good work and very easy to work with.
6 months ago Melissa Beckler
One if the drivers in there red Jeep cut me off in a very rude way.
7 months ago lina leombruno
Rich and his crew did a fantastic job on our new driveway. They removed our old concrete pad, prepped, and replaced it with asphalt. Everyone on the crew was professional and courteous. Thanks!! Loving our new driveway!!
8 months ago Isaiah Vargas
I am very happy we went with Rich Smith. His work is excellent and the price was more than fair. I will refer him in the future.
3 weeks ago Sarah Rerrie
R Smith Paving did a great job at re sealing my driveway. They were professional and did great work.
1 month ago David Maconi
Disappointed to have to post this but here goes. R Smith Paving seal coated my driveway the week of 10/21/19. Before they seal coated, we asked if it was too late in the season for coating and if so we'd wait until the Spring - we were told it wouldn't be an issue. Within several days of the coating being applied, rain washed large portions of it away. In R Smith's defense, they came back out within a week or two and recoated the driveway. However, the same issue occurred over the next several weeks in November. Rather than trying again after weather had turned cold in November, we opted to wait until Spring to have this addressed. We began calling R Smith in April 2020 after the PA State contracting lockdowns were being lifted to ask them to address the faulty job. I spoke to Richie, was told I needed to speak to Eddie, left several messages asking for help, etc. No response after many, many calls. Seal coating cost $1,100. Invoice says work guaranteed for 1 year. I'd be delighted to revise this review if/once this issue is addressed. Buyer beware.
3 weeks ago j fabian
Smith re paved my driveway and did an excellent job. I will refer them to friends in the future.
1 month ago Stacie Goeltz
DO NOT hire RSmith Paving. He comes out does the job guarantees the work, but if you have an issue, forget about it! He NEVER returns your phone calls, I've left at least 10 messages in 10 months. I sent videos, no response. Terrible way to run a business!
1 month ago Cheryl Perkins
I found their work to be excellent and we are very pleased. Thanks
2 months ago bennett ray
An honest paving company that does quality work is hard to come by. These guys are the best we've ever found! They milled, paved, sealed and striped our apartment complex parking lot all in one day. They were reasonable and a pleasure to work with.
7 months ago BonBonJ
I have seen their trucks for years and was very happy I decided to use them. Found them on the internet and now three of my neighbors have used them for driveways. Thanks
4 months ago Rachel Waterfill
They did a great job and are very pleased with our new driveway.
4 months ago William Smith
They did an excellent job and their price was very fair.
3 weeks ago aishwarya patil
Great job! Water was entering the garage for years. Completely removed old drive ways (one on top of the other) and carefully made a new driveway and widened. Made sure the new stone was compacted properly before adding asphalt. Took a little longer due to wetness near my garage door. Very pleased they took the time and did it right! No more water in the garage. Highly recommend these guys!
5 months ago Elena
I'm very happy to give Rich a great review. His price was very fair and they did a good job. I have a few neighbors and some friends I will be referring his way by the end of the summer. Great job and so easy to work with. Thanks
11 months ago C J
A friend had recommended R Smith Paving following recent completion of a driveway at a new high-end home he built for a customer. My experience with R Smith was excellent. This was a big project for us and I wanted to complete it before the arrival of colder weather. Richard Sr was prompt and thorough during the estimate. He proposed some repairs and resurfacing rather than pushing for a brand new driveway. I also requested figures for a new driveway as there were some grading issues with the 75yr old+ driveway. Resurfacing would have been sufficient but I am pleased that I decided to spend a little more to address all issues and establish a new driveway base. The estimate was reasonable and well below many of the other bids I had received. Other companies were scheduling months out, R Smith had me on the schedule in less than a week. I was very impressed with the demo and preparation process. Glen skillfully removed the old material and made necessary revisions prior to the arrival of the paving crew the following day. The paving crew was prompt and professional and Bill Smith was on site all day running the equipment and ensuring quality of the work. The team took care to create precise edges and to protect our fairly new walkway pavers. Our property was left in good condition at the end of the job. I have some touch up soil and seed work to do but I expected it based on the scope of the job. I have had many poor experiences with contractors but this time I was not disappointed. I am confident that R Smith will be responsive should I encounter any issues with the new driveway. For now, I am happy with the way it looks and the fact that the project is off my list.
6 months ago Sergii Martseniuk
My parents were extremely pleased with the quality of work Smith Paving provided. The price was very fair and would highly recommend their company. Thanks
6 months ago Lizzie L
They came today and seal coated the driveway as promised. As stated earlier, they do very good work. When quoted for driveway replacement, I was promised a seal coat one year from service. The job was done quick and well but unfortunately now I can't get a call back for the seal coat.
7 months ago Toni Stubbs
Rich was terrific with adding addition space on my existing driveway. Resealed and it looks perfect. Thanks
6 months ago Laura Samperio
They did my neighbor's driveway a while back and it's holding water on the one side when it rains. My neighbor said he tried many times to call them back and they never came back to fix it. We share the driveway it's like a double driveway and they have a middle divider between us. I was told that it was surveyed but I don't didn't do not believe that it was surveyed by them or anybody. So I don't trust anybody or any contractor make sure you get everything in writing and make sure that this proper permits pulled also again be careful
1 week ago Arlondrea Hardiman
I want to thank Smith for a job well done. We appreciate the work you accomplished cutting in by our pavers. Thanks
8 months ago Richard Tregilgas
I'm a masonry contractor and refer business to Rich all the time. I know he does first class work and my clients will be pleased.
7 months ago Stephan Geiger
I am very pleased with the work that Richie and his crew did at my house. I had my driveway re-paved and widened and the project was well planned and executed from start to finish. Richie earned my business with a very competitive price and his desire to make me a happy customer. There was no time wasted from the initial meeting to fit our project quickly into their schedule. The final product shows how important quality is to this company, as no corners were cut and they spent the time needed to make sure I was happy with everything they had done. The compliments from friends and neighbors haven't stopped and we are thoroughly enjoying the new driveway! I highly recommend R Smith Paving!
3 months ago Stephanie Mansfield
We had R. Smith Paving complete a paving / tar & chip project on the roadways in our cemetery. They completed the job in a professional manner always maintaining a safe and clean work area and adjusting to our schedule. We can highly recommend them for their quality of workmanship, reasonable pricing and friendly staff.
2 months ago Dave Davidson
They just completed my driveway and I am very pleased. During the process they offered suggestions to my plan and they worked with me, not against me. Everything was explained clearly and they did the work they said the would do.
10 months ago Bruce Belanger
They did as promised and the driveway looks incredible. Thanks
7 months ago antonina sciortino
Used them to seal coat our commercial property and they sealed around our dumpster. Within a week the seal coat started to flakes off. Paint striping was watered down. Unprofessional work. After numerous calls the owner still never called back. Update 8/28: Owner called us to resolve the issue. Will update again when it is fixed! Thanks!
2 months ago AJ YAZDANI
Smith gave us a first class driveway at a great price.
7 months ago Alvin Edwards
Aug 2017-They installed a drainage pipe under driveway and repaved our driveway. It looked great but we were concerned the pipe was already visible thru lawn. Winter 2018- after cold weather pipe was now completely visible through lawn and it was busting through the corner of the driveway. April 2018- called R Smith to report the issue Spring/summer/Fall 2018- repeated calls and emails with no result. One day in late June I came home to find their business card stuck in the front door. No note, no voice/email. We felt that was a good sign but guess not. I reached out again right before July 4th and they would be be out and would call us 2 weeks prior. They assured us the work was covered under warranty but they were all closed for the holiday week. Sept 2018- after another unreturned call, we emailed saying we wanted a plan and date in place by Oct 5th or would post this info on social media. Oct 2nd 2018- recieved a VM from Eddie asking me to call him back to pick a day we could meet to discuss the plan. Called him back 2x but message said "mailbox was full". Oct 14th- here I sit posting on social media. Frustrated! SIX MONTHS HAVE PASSED BEING BLOWN OFF AND NO ACTUAL INFORMATION!!!
5 months ago Marina Feenix
Great quality work for the price.
6 months ago Jared Naegle
Within 3 months my driveway was crumbling. Richie kept promising he would fix it. Almost 2 years now and he won't return my calls. Avoid at all costs.
11 months ago Shelly Reed
Great experience working with Rich. He offers competitive rates and does outstanding work. Look no further if you want a quality paving company.
10 months ago Leechantay Bostic
Rich & his crews do great work. Extremely pleased!!!
1 week ago Michael Schiele
Used them for years and always did a good job.
7 months ago Tinamarie Lazalde
Came right out for estimate however very over priced
9 months ago bobby johnson
The way this man talked to me and my husband when he came to measure the neighbors lot I'd agree he is rude and very unfair. I would never want to use the service of R Smith Paving Contractor. This man has no class working around people. Kitten Creations, a week ago, I agree with you stay away from this company.
9 months ago David Renes
I would never advise anyone to use him for anything. He's a very unfair person.
11 months ago
Popular places from the category Paving contractor