All Roofing Solutions
Roofing contractor All Roofing Solutions, 1167 W Baltimore Pike #242, Media, PA 19063, United States:
45 reviews
of users and employees, detailed information about the address, opening hours, location on the map, attendance, photos, menus, phone number and a huge amount of other detailed and useful information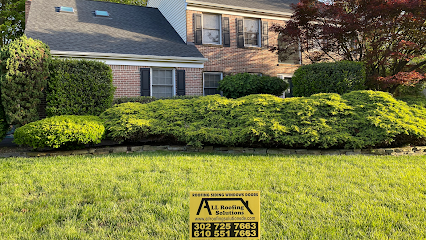 Address:
1167 W Baltimore Pike #242, Media, PA 19063, United States
GPS coordinates
Latitude:
39.9172145
Longitude:
-75.4054368
Location on the map
Reviews Juli Wall
We couldn't be happier. The price was reasonable. The quality of the workmanship was superb, the attention to detail was excellent. They replaced our 28 year old shingle roof with a brand new roof. The new roof looks really good. The workers are very pleasant and clean up after themselves every day. Jacek (Jack), the owner, is a great guy, he shows up regularly to make sure everything is running smoothly and is done correctly. We highly recommend All Roofing Solutions.
6 months ago magic ninja
Jack and his team did an amazing job!! I got a new roof replaced and the price was very affordable. I highly recommend All Roofing Solutions for your roofing needs.
10 months ago Andrew Fox
All Roofing Solutions did a great job replacing our roof. They removed both existing layers of shingles, installed the new roof in a timely fashion, and did a great job cleaning up the property. You would never know they were there other than the fact I have a new beautiful roof. Great company!
10 months ago Jerry Calloway
I stumbled on them from google reviews, no joke, after an exhausting search for a roofing outfit and I still wasn't happy with my options. I thought the 5 stars was a bit much, but after all is said and done, they earned them all. I was nervous navigating the weather, what a challenging life they have. After the first half was done the next day was high wind warning, just my luck, but the roof held up no problem. Work crew was friendly and paid attention to detail, and hell, he straightened my gutter that got mangled from the snow which wasn't even on the roofline, and I didn't even ask him to. They nicked my front window screen, informed me, who knows if I would've ever known, and came back and repaired it. All in all, paying for a roof replacement was stressful, but with Jack and his crew you can't go wrong. Price was more than reasonable relative to others, and the workmanship top notch. Thanks Jack, best wishes.
8 months ago Phillip Hall
We had our roof replaced in a couple of days. These guys know what they do very well. Jack, the owner, is very smart and patient. He recommended to create a small slope to my flat roof in order to let the water run down to the gutters instead of staying on the roof. He is honest and nice as well. Their prices are reasonable. I highly recommend 'All Roofing Solutions'.
1 month ago Ernesto Nieto
I've have used All Roofing Solutions twice now. Once on a rental unit and now on my own home. They are very professional and fair in pricing. Jack was quick to come out for an estimate and the whole job took only two days. This included removal of all the old wood underneath the shingles. The crew was on time, courteous and were excellent to work with. They also did a great job with the clean up. I highly recommend All Roofing Solutions for your next project!
10 months ago Lilisbeth Castillo
All Roofing Solutions really did a nice job on fixing our roof leak. The problem stemmed from bad flashing from another roofing company prior to owning the property. All Roofing Solutions were nice, professional, and reasonably priced. I really liked the extra craftsmanship they did on the roof as well. The project was a few weeks ago and we have had plenty of rain since the job, no more water damage to the affected room. We will be using All Roofing Solutions again.
10 months ago Justin Tillman
A recent storm caused a lot of damage in my area, including damage to my gutters and shingles from a fallen tree. It was difficult to find a gutter and roofer who would do both jobs and do them quickly. My gutters had a leaf guard that was also damaged. All Roofing discussed options and in the end offered an option that salvaged and reused some of the leaf guard in one section, while replacing another section with a new guard. My insurance had factored in two new leaf guards which wasn't necessary. All Roofing did excellent work and the cost was within the insurance estimate. I'd recommend them.
6 months ago Canh Bui
Great service and reasonable pricing!! I own many properties in the area and have worked with a handful of roofers and other contractors. The owner Jack of All roofing solutions was very responsive, communicative, and got the job done fast! I will be recommending him to everyone and using them in the future. Thanks for the great service!!
9 months ago R K
Professional, extremely helpful and trusting. Honest and fair pricing. I would recommend them to family and friends
9 months ago Keleigh Nichols
Love our new roof. Great quality and very reasonable prices. Hard working, courteous and dedicated team. Very knowledgeable. Highly recommend ????
8 months ago R Tao
Service is excellent and price is a lot more affordable than quotes I have received from other companies. Jack's team is very professional. They cleaned up all garbage and old materials when they left.
7 months ago Matt Lynn
Just had some shingles repaired, but they were fast and fairly priced.
4 months ago Zami Zakaria
Jack gave us a great estimate for the roof and gutters in Feb. Of 2019, then life happened and it took a year until we were ready to deal with the roof again. When we called Jack back in Feb 2020 he honored last year's estimate and scheduled the job. They did a wonderful job from beginning to end and took care of the details we wanted done.
6 months ago Greg Hogue
Amazingly helpful. Very responsive and on time. Plus called day of appointment to update arrival time.
4 months ago jon garcia
Jack was the only roofer who answered the phone and was able to come out and meet me when I needed. Great work on our church roof and gutters and all new windows! Great work- great people to work with.
8 months ago Mij Mason
Jack came out within a few days of calling. Measured my roof and gave me a great price! Very fast, efficient work! Would highly recommend!
9 months ago K S
I contracted All roofing solutions fir capping and soffit work on multiple properties. Jack is quick and all work is performed in a professional manner. Highly recommended.
9 months ago Jessica Ware
Jack was great, they were able to do the job in one day, cleaned up great. It was exactly how you want it to go.
7 months ago RogueCrippler
Did a great job. On time good clean up
7 months ago Nathan Funkhouser
We used All Roofing Solutions several times for roof replacements and repairs and their work was always exceptional and reasonably priced. They are very responsive and a pleasure to work with. I highly recommend them and will certainly use them again in the future.
8 months ago Dimple Ranga
No call no show on their original appointment. When I called them to see if they were coming out they said or I'll be out on Wed or Thurs. When I asked for a time the man was vague said maybe around 11. Wound up going with another company that gave me an exact time and same day service. You have to speak with call center people and they will have someone call you back. No direct contact with a knowledgeable person.
7 months ago Patricia Johnson
Very efficient and thorough, was quick to respond to my roofing emergency. Would highly recommend
6 months ago sheila williams
All steps of roof replacement were done on high professional level.
6 days ago Vita Lisevuch
It all went great. Jack helped us choose the right roofing product within our price range, and gave us a great deal on gutters that allowed us to get the outside of our house look beautiful. This was a lot easier than anticipated. The workers made changes to their schedule to suit our needs, making this a pleasant experience. Well worth the effort.
3 months ago Jargery Felix
Excellent service! We had collected four roof estimates for our rental property in Media PA and All Roofing Solutions was definitely the best value for a superior product.From the beginning they were VERY professional and easy to work with. They did Excellent job on our roof and clean up was perfect also! I would highly recommend this company for roof replacements
3 weeks ago Jack Jafarmadar
Excellent work. Arrived on time as promised.
8 months ago Wendy Spears
HIGHLY RECOMMEND! Everything about All Roofing Solutions is top notch from owner to the workers. My New Roof, Siding and Gutters look great . Top quality work, best material for BEST PRICE.They are professional contractors who care about your residence. I recommended them to all our neighbors who have been extremely impressed with their professionalism and quality of work.
2 months ago Janet S
Excellent local roofing contractor. Jack was great to work with, explained the process in detail answering all of our questions. Our roof was one in one day. Best price and quality workmanship.
10 months ago Kapila AGM
We've hired All Roofing before and so it was no brainer when our roof was damaged by hail and needed replacement. Jack helped us through the claim process and re-roofed our home in under two days - we're very happy with our new roof!
3 months ago Nathan Neal
Fast response and did a great job fixing the roof.
8 months ago James Disney
A pleasure to work with! Did a great job and was able to do the work very quickly!!
1 week ago Elaine Skinner
The technician did a great job with the good price.
10 months ago Darla Powell
My experience with All Roofing was great and I highly recommend them to anyone wanting a roof replacement - the whole process was quick and painless!
10 months ago Dwane Leighton
Knowledgeable and fast service! Would recommend!
6 months ago Kristen Shields
Great roofing contractor, our new roof looks amazing now Thank You
11 months ago Clinton Adjei
All roofing solutions is GREAT Roofing And Siding company They did excellent job on my house. The Price was good too ,best all around
6 days ago Teresa Ptak
Jack is phenomenal, one of the only contractors in our area that is responsive (returned all of my calls and answered a lot of questions) and does good work.
11 months ago Chris Reitmeier
Professional, efficient, perfectly priced with sound workmanship and attention to detail. All you could ask for in a roofing contractor.
8 months ago CastreyYT
Great team, skilled roofers and above all very courteous and professional! By far the best roofing contractor we've worked with ever since we've moved to Pennsylvania!
6 months ago Amanda Marie
Best roofing and siding contractor in our area They were highly recommended by our neighbors . Our new roof and siding look beautiful now . We would hire them again......
5 days ago John Rose
Great and very skilled roofing contractor. Thanks to this company I saved a lot of money on replacing my roof and siding They did perfect job on my house in Broomall PA Exellent service ! Highly recommend!
1 month ago Benjamin Vance
We had a fantastic experience with All Roofing Solutions. We called them after other contractor failed to fix our roof leak.They called back the same day and then came on next day to check and fix the problem. I would highly recommend All Roofing Solutions.
3 months ago r wolfson
Company worth recommendition .
6 days ago Sara Pena
Great job, competent crew
9 months ago
Popular places from the category Roofing contractor