The Home Depot
Home improvement store The Home Depot, 1700-D Fruitville Pike, Lancaster, PA 17601, United States:
220 reviews
of users and employees, detailed information about the address, opening hours, location on the map, attendance, photos, menus, phone number and a huge amount of other detailed and useful information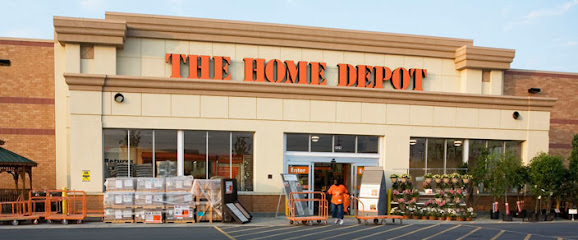 Address:
1700-D Fruitville Pike, Lancaster, PA 17601, United States
GPS coordinates
Latitude:
40.0677843
Longitude:
-76.3202190
Location on the map
Reviews Brady Reed
The employees her are so helpful. I went to a Home Depot in Harrisburg, PA but they only had 2 curtain rods and the lady there, told me to go to this Home Depot in Lancaster, PA to get more. I got there and the store did not have the small curtain rods I was looking for but they had the larger size. So the employee their gave me the larger curtain rods for the same price as the smaller ones. I was so happy and I will be go back out there to pick up some more things. Just because this employee was so understanding, this store will always get my business.
6 months ago Mike Rouse
My go to place for "everything home improvement". My last trip was to get paint for a bedroom makeover. I chose Black Orchid from Behr. It's not a color I would typically choose but on the walls it is dark and soothing. The 4 person staff in the paint department were very busy but still prepared my paint in less than 15 minutes. Pretty great for a Saturday morning!
10 months ago Andrew Anderson
This is your standard Home Depot. I went on a Tuesday and it was so busy! I had to ask several times for someone to help me in lumber to cut a 4x8. I was told to go and get a 4×8 and bring it to the cutting center. I really struggled to pick it up on my own being a single woman but I managed. The guy that cut the wood was very helpful about what wood would be a better option for my project. He was helpful but definitely not friendly.
7 months ago Thomas Hughes
I was looking for a particular belt sander because the one I had finally burned up after 15 years. There were none on the shelves but the nice lady found more up in the storage area. Super, now I can finish my project
9 months ago EJ ohta
This is my home town store :) I'm a huge Home Depot fan ! This store is wonderful , with room for improvement though. What they could do better: 1.) Offerings & selection : Try to keep the store stocked better. I wish I didn't leave there disappointed as frequently as I do. I almost expect them to NOT have what I stop for. 2.) Customer support : It's not always easy to find help at this location. Maybe the employees are spread too this & given a broader range than they can effectively handle ? 3.) Cleanliness: The men's room usually isn't up to par. I think a supply house could replenish the soap in the dispensers in a more timely manner , especially in these pandemic times we're experiencing. What they got right: 1.) Location & convenience: This store is strategically placed right off the Fruitville Pike , amongst other successful national stores . Accessing this store is always easy, it shines by association :) 2.) Nice employees: Most persons working this store are very nice. I love that ! 3.) Size: It's a big , open store . I never feel cramped in or uncomfortable in this store. Navigating the aisles is a breeze . Rarely are there choke points or other barriers to hinder your search. Feel free to visit this store as you drive past Lowe's :)
5 days ago Barbara Anderson
Easy in, easy out. Very polite and helpful employees at the front of the store offering assistance as you enter the store. Great selection and stocked shelves. Check out was a breeze and no lines! I go out of my way to shop th here!!
7 months ago NCd Ness
We ordered some furniture. Nick, at customer service helped us, and we were able to get what we wanted quickly. We are very satisfied. Great job to nick.
7 months ago Tamyka Tucker
Great people and stock levels good. Security bars have now been placed on expensive items. Apparently they were walking out the door.
7 months ago Kathleen Avery
Fast and easy service, friendly staff. We've purchased everything from little screws to garden mulch to a lawn mower, and more from this Home Depot location. Never had a bad experience.
7 months ago luis vega
Curbside pick up was quick. But the parking spaces in that whole parking lot are super close. Be good at parking in tight spaces.
7 months ago Heather Ireland
I don't know if anyone is going to read this but there was an associate lady (at this time and day) in the tools and fasteners section that was super condescending to customers who asked simple questions. She made them feel dumb and it actually got a little awkward so I left that aisle with what I had in my cart instead of asking her for more help to find some specufic Milwaukee tools I decided to just order them online since if she answered me in any way she answered three other customers then I would've probably not had a good interaction. I never experienced this lack of regard to customers so blatantly at any other store.
7 months ago Charissa Calhoun
I like Home Depot. Yesterday you could tell that they are struggling to get up to speed for Spring. Pallets of unpacked merchandise blocking aisles, unmarked shelves, lumber with no sku labels. It was difficult. But, I know they will catch up. It's just the ebb &flow of seasonal retail.
8 months ago Neta David
Overpriced rolling tool chest found much better price on Amazon also we were looking to get a HE washer we were willing to go with a Samsung one then the sales man started to add a lot of extra prices ,$30 for hose $25 to haul away old appliance we decided against it and decided to go with one from Costco better a washer and all the extras homedepot was trying to charge us was included in Costco sticker price
6 months ago Francisco G
I'll go here in a jam but would prefer Lowes. Home depot is always less organized and has less attentive employees than Lowes. I'm not a fan of the politics this company supports either.
6 months ago Josh Kisner
Very nice employees and very helpful. They have a little bit of everything. I love it there
10 months ago Althea Houston
The store was well organised and well stocked all of the employees knew where every item was and walked around looking for a specific employee from a specific department. all in all it was a good experience
7 months ago Rilriia Kilurden
Great store. Best hardware, paint store in lancaster
6 months ago M Hernandez
Absolutely no respect for mask wearers and they do not mask their employees. A worker tried to sway me to believe that "covid has been around for a very long time". That same worker was not wearing a mask and told me he was not vaccinated then proceeded to get closer and closer to me. I'm disappointed.
7 months ago Dawn Allen
I could spend all day here lol ladies, idk about you but I usually wander off from the hubby and check stuff out that I like. Just saw they carry rubber coin flooring on rolls like linoleum!! ????
6 months ago C Nice
Im disappointed in that this home depot doesnt share the customer service value as other store.. employee in cabinet area by the name of Liz was really rude and unhelpful she will get a attitude if she need to get up her chair. I hope they dont treat all there installer or costumer the same they treated me i dont recommend this store
7 months ago Joe montez
Store is not designed for distancing and not requiring masks so i placed a small order online for curbside pick up in 2 hours as the site said. 6+ hours and 2 phone calls later I was able to pick up my order and start my project. Short one board of course because the didn't have quantity i ordered. Which i guess they weren't going to tell me because i had to wait for someone to find out why one was missing. Shortly after i got home i got my notification my order was ready for pick up.
4 days ago Harper Emswiler
Went first to the "other place" but their saw was out of order, so I called ahead and spoke to Nick P in lumber - when I arrived 10 min later, he already had my MDF board cut to specified size and waiting on a cart for me, and was in the middle of writing me a note. He was quick, efficient, with a touch of humor. I will be skipping the "other" place in the future and just some straight to Home Depot. Thanks Nick!
10 months ago Paul Kang
My go to hardware store. Great employees, only downside is they need more space
7 months ago Elizabeth Taylor
Expensive bad customer service and the never know where the stuff is or ignore the customer
6 months ago Wells Crandall
This was the worst experience I had in a home depot . the staff was rude. Isles blocked on the busiest day of the week and staff said to bad. Left my stuff and left. Staff member did not care even to the point that he got smart with me. I've been in custumer service for over 30 years and never seen such disrespect for a customer and this is the first time I ever voiced my opinion on service I received.
7 months ago Jesika Chism
I'm writing this review for two reasons, one good & one not so good. It may be a little long but I'll do my best to explain. For the past 10 years my wife & I have been renovating & remodeling our entire home, from top to bottom including the roof & the basement will be last. Our favorite go to is the Home Depot on Fruitville pk in Lancaster. We love the store we're almost always satisfied with our shopping experience there except for there was an incident there this past Sunday 4/25/21. We went there to get a new garbage disposal & a few other items as usual plus do a little window shopping for new ideas. It's our favorite place to look around. It was about 2pm & my wife said she needed to use the restroom so we went to the back of the store & I waited in the isle right across from the restroom area with a cart, her purse & just trying to stay out of the way of other shoppers. A gentleman who appeared to be an employee came right up beside me & closed the gate to the isle I was standing at then he closed another gate blocking of the restroom area so when my wife came out, she would have to go down a separate isle in order for us to meet in the middle of the store somewhere. That wasn't too big of a deal because we're probably going to walk the entire store anyways. The problem is when the man closed the gate on me I was a little confused because he never said a word. I had to look around to see what was going on. & right through the shelves in the other isle beside me was a towmoter getting ready to lift a pallet off of the top shelf on the back wall. The towmoter was less than 8 feet away from me. I thought why couldn't this man warn me. I was literally blocked in to a danger zone. I operate crane for a living & I've seen too many incidents & close calls for me to be standing practically right next to someone making a lift. I opened the gate to remove myself from the area & I closed it behind me. I opened the second gate by the restrooms & was exiting that area also when the employee came up behind me & in an angry voice he said " Sir, don't do that! We put those gates there for your safety." I couldn't believe what I was hearing. This guy actually blocked me into a danger Zone & now he's telling me I'm wrong for taking it apon myself to get out of harms way. I was angry myself. I pointed to the spot where I was standing & told him, "I was standing right there!" I couldn't believe that he didn't even warn me or ask me if I would like to exit the isle before they made the lift. After the young man & I had a few words with each other I could also hear the towmoter operator asking him if he wanted him to come over to handle the situation. I thought to myself that these guys are an accident waiting to happen & they seemed to be waiting for a confrontation of some sort. I hope that someone who works in management reads this review & check the security cameras at around 2pm Sunday 4/25/21 maybe you can use this info for a safety meeting with your employees so nothing like this happens again.
7 months ago Jared Smith
It was hot and I walked down to the pond to see the wildlife
6 months ago Patricia Davis
I just bought a weed wacker and blower. I am always satisfied fully when I go to home depot.
8 months ago Juan Rivera
Great Did not have enough time to look at everything next time I'm going alone
8 months ago Steve Thompson
Great home improvement store with large selection and good prices. Lost 2 for no cashiers. Only self checkout. Long lines and customers are way slower than cashiers at ringing people up. Bring them back!
10 months ago Jennifer
Staff is clueless...3 different people ran me all over the store. Left and made my purchase elsewhere.
6 months ago Sayeed Azad
Experience was GREAT. I had questions and I received help right away. Employee where VERY HELPFUL. THANK YOU.
4 days ago Lisa Morgan
Very friendly and professional associates and cashier especially helpful. Didn't project a sales person attitude. Great experience!
10 months ago Irene Naranjo
Awesome Home Depot. Unlike walmart there are carts available.
7 months ago Keith Lambert
I was here to look for a new kitchen range. Nice sales but everything under $1000 was unavailable or discontinued but still advertised on sale. Very nasty tactic to get you to purchase a more expensive model. I left with nothing
8 months ago Sheer Glee
If I could leave negative stars I would. Awful customer service. Put an order in online for curbside pickup. Arrived, clicked the link and waited.....and waited. Moved my car closer thinking ok maybe they didn't see my car. It was dark. Waited. Notified them again I was there and waited some more. Finally, left after about 45 minutes. The called me saying they came out to tell me my order would be out in a few minutes due to them being short handed....well, maybe they should have called to tell me that 45 minutes before. Thanks for wasting my time and money.
2 months ago Samuel Holder
Got a copy of a house key made by an employee....new key that they reccomended doesnt unlock my door.
8 months ago Anton Makarov
The place was extremely busy on saturday. Had a hard time getting someone to help us. Also what we were looking for only had 2 modles.
10 months ago Brandt Miller
Great store...sometimes it's hard to find someone for help though. It would be cool if they had a person for each section or possibly a digital information pad everywhere so a customer can find something quickly without having to find someone. Just a thought.
1 month ago Sabrina Mize
You can't change the delivery address after an order has been placed. There is only a 45 min window to cancel an order. Only cancel an order...can't change the delivery address. I asked for assistance since the address is new and no one lives there yet. I have a baby at home, I'm super busy, and I JUST needed the delivery address changed. Should be a lot simpler than this. Now I have to figure out how I'm going to get my order from an address I don't live at...
1 month ago krazy rocker
Associate helped with me with heavy bags of yard supplies to load in my car. Grateful.
8 months ago sebastiano cornelio
Worst customer service! Employee paged someone for appliances because we wanted to buy a stove we found and noone would help us. This is the second time now that nobody would help and I have lost my patience! I'll go to Lowe's instead!
7 months ago Dennis Cronkhite
no safety practices in store at all. Incredibly useless staff, you look someone in the eyes and ask for assistance they look away and keep walking.
8 months ago Agneta Kita
We order and got weber grill delivered today it was not still in box get free delivery and i checked mark for it to be put together want to know why it wasnt
8 months ago Carla Calvert
I was actually shopping for pegboard for my kitchen and I was helped by two different sales associates, the first one knew exactly where the item was in the store, and the second associate knew exactly what I needed to install the pegboard. Great customer service! ????????
5 days ago Scott March
Pretty good, very busy on a saturday. Also narrower isles then Lowes, which makes it feel more crowded. But selection and prices are good.
11 months ago Patricia Ware
The store assistant at Asle 3 [Pump Accessories] was so nice and professional skills. He gave me a bunch of good advices. Thanks so much!
1 month ago Kelly Moon
Love shopping here for my home, garden and for most of my crafts...????????
8 months ago Nathaniel Aiken
What can I say, most things you need for the house and yard. Always good to find the folks that have good experience in their background.
10 months ago Bernadette Parsley
They were sold out of what I needed, but the help was superb.
9 months ago
Popular places from the category Home improvement store