Bed Bath & Beyond
Department store Bed Bath & Beyond, 3341 E Foothill Blvd, Pasadena, CA 91107, United States:
220 reviews
of users and employees, detailed information about the address, opening hours, location on the map, attendance, photos, menus, phone number and a huge amount of other detailed and useful information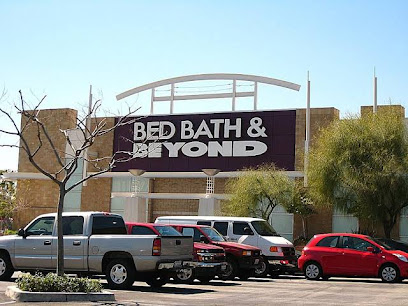 Address:
3341 E Foothill Blvd, Pasadena, CA 91107, United States
GPS coordinates
Latitude:
34.1511146
Longitude:
-118.0818377
reviews Michael Shipley
Purchased a new blender that had a piece broken off as I pulled out of the box. Spoke to Alicia over the phone and was instructed to return the item to them so that they can switch it out for me the same day. Picked up another order I had placed while I was there. Absolutely the best customer service. Very friendly and helpful staff. The store itself is always immaculate and clean and easy to navigate. If the item I'm looking for is not in store, the online services are very easy and the shipping is quick.
5 months ago Duane Ishman
I originally placed a order for the WITHINGS BODY CARDIO SMART SCALE. It worked for the first few days and then it began to fail. Then by day 6 it no longer took readings for body mass or muscle mass or hydration or any of the other perks of the body cardio smart scale. Let alone the weather forecast.... lol
5 months ago PGHS
Clean and nice. They must have been short of staff today. Lines were incredible long and only two registers open (out of 8) . But that worked hard, you could see that. Store looks nice and clean.
8 months ago C Stultzy
Great customer service as always! Will helped us pick out the perfect vacuum cleaner. We love BB&B!!!
5 months ago Timothy Fogg
That's coffee machine is awesome, let me have good coffee every morning.
5 months ago Heidi A
The curtains I put up in my place my first place I have alone they look great so sad the one in Monrovia is leaving can't believe it
4 months ago Francesco Ciampi
Very neat and clean. Customer service could use a little work,but overall...my wife and I were very pleased
5 months ago AD
The store is well organised with staff who know their products very well. We lost prescription glasses while visiting on Sunday. Staff searched, we searched - and believe they were picked up. Hoping they will be returned to Lost Property ASAP.
6 months ago Keeley Carter
It's my favorite place to go to. I use my coupon. I feel it's a big savings to me
5 months ago D Hill
Worst customer service ever. I come in the store with my backpack on. I didn't hear the old lady employee, who was outside pushing the shopping carts, tell me to put my backpack next to some room with computers, desks, and chairs next to the entrance/exit since I had my headphones on. As I left my backpack, I decided to stand and wait and ask another employee if I could talk to a manager (I'm not sure if he was the manager as another customer asked him if he was a manager regarding some customer assistance) because I was concerned if my backpack were to be stolen then who will be responsible? Will the store be responsible? I don't think so. As I wait I see another customer coming in the store with a mini backpack on and the lady who told me to leave my backpack at the room does not say anything to her when the customer passes her. I bring it up to her and the other employee but she said it's a store policy and she mentions the other customers with their purses on, saying that they're only returning since they're at the return/exchange line, after I challenge her about those customers. What kind of "standards" does this store impose? I'm not here to steal nor commit theft actions. I guess I'll be taking my business somewhere else or at another Bed Bath and Beyond location if other locations are not too "standardized" and/or are picky in terms of who gets to fall under the "favoritism" of their standards...
10 months ago Paula Nunnally
1st time at this Bed Bath & Beyond. Love the customers service. So friendly, so felt welcome. Very organized and very clean. Hand sanitizers are provided, and carts are clean after every used. I give 5 ⭐⭐⭐⭐⭐ for Bed Bath & Beyond. And 5 ⭐⭐⭐⭐⭐ for customers service.
9 months ago Keith Hendrix
Anie was very helpful and provided me with a great customer experience with my return. I will definitely come back to this store because of this experience.
8 months ago Kimberly Bunting
This Pasadena location has the products like shampoo, face wash, body lotion, etc. that other stores don't have, I go there most time for those products, I am happy it has those, my favorite BB&B
11 months ago A J
Associates here are friendly and helpful. Selections are plentiful and you can always order online and pick up here.
10 months ago Chris Brewer
I gone there many times and love to shop for certain appliances or products that I need. They have 20% off on a single item witch I love that. Still, I search for what I need at the store or online too. This store has more and more convenient for me.Plenty of parking in front of the store. Yes, it's a bit pricey but good quality.
6 months ago Chris Rodriguez
Mark was very helpful with advice on curtains. He was great.
8 months ago Molly Parr
Great service and prices nicer xx staff. Thank you
7 months ago Donica Blager
Well organized and a lot of staff to help and answer questions. Covid friendly. Everyone is spaced out nicely.
11 months ago Kevin Pena
Awesome store, everything is awesome. The restrooms there are clean too the store is clean too. Good environment and the workers there are nice and always look up to you kindly and get you what you need
1 month ago Gerald Daniel
Everything was nice y clean
4 months ago mansha sharma
It's always good to to bed bath and beyond, good prices and really nice merchandise
10 months ago Varsha Hulekal
Parking lot can be a pain but otherwise a decent BBB location
5 months ago Staci Glover
Finally got my plush!
5 months ago ASSA TAMIL
Great store for most of your needs
7 months ago dale leddy
Every employee that I talked to was helpful. Certain product that I wanted was an online only, that was a massager, and no facial steaming products. Other then that it was very well stocked and clean.
2 months ago Khaled Alneyadi
We did curbside pickup and online order at the store. Good service. Ever counter purchase the clerk sanitized the area. So they are watching out for you. And like best buy. Be ready to go in and at least come out with something.
5 months ago Knile Mile
Always awesome here. Associates are always friendly and helpful. I drive half an hour to this location because it's my favorite.????
2 months ago Clinton Adjei
Very friendly and accommodating
4 months ago Edward Darby
They have a lot of merchandise, but hurting on curtains. I went to get some short ones and was told to order online because they dont stock short curtains. I went to Amazon instead, better selection. Not everyone needs drapes BB&B
2 months ago Infinite Journalists
I exchanged an item and it was done so with ease. The associate who waited on me was pleasant and courteous. This is my favorite Bed Bath and beyond store.
7 months ago cliff hughes
Hope this location does not get shut down. There is no other store near by. It's always busy. BBB is the best store to find sheets, pilows, towels, bath products, soaps and cooking products. The help is always friendly and courteous, and the 20% coupons are as always great. Best prices on contact lense solutions too!
5 months ago Frank Vennix
My husband and I started shopping at BBB when we registered for their wedding registry. I love the variety and abundance of products. Friendly store associates. I find their pricing better than other stores when the 20% discount is applied to on sale items. I trust their quality of products over ordering the same thing on Amazon.
7 months ago Keith Weakley
So surprised to see an excellent section for cosmetics hair care and other items. This store basically has everything you need.
1 week ago Roma Nsa
Long lines on weekends nothing here you can't find online or somewhere else more like a Walmart then a Home essentials store
7 months ago Deryn Hannapel
Had what I wanted when I went there friendly staff also
10 months ago Candy Bonhomme
Lots of beautiful stuff, very busy I did not want to wait, there is always something for any one
1 month ago Angel DAmico
They have a great selections of items. They still honor coupons.
2 months ago Mykel Lie
This is my favorite Bed Bath and Beyond. It's a big store so they have many things to offer in certain departments. Price range varies from affordable to high so bring those coupons and get a good deal. ????
6 months ago PAT BRADLEY
Google has incorrectly listed pickup hours up to 10 pm for this location. Pick up hours are the same as the regular store hours. The store closes at 7pm on Sunday and 8pm Monday to Saturday.
9 months ago Rodger Weathers
Love the store. Lots of unique items.
1 week ago Pat Mcneil
This store is 1 of the best Bed Bath & Beyond stores that I have been to & this store is always clean, Helpful Workers, always very happy to help you find whatever you are looking for, & No matter how bad their day is going for whoever is working they never show how frustrated they are & will help with a Smile on their face...
5 months ago Running Pro
I don't understand the format of this store. They have a lot more desirable products online than in the store. Also the website has different pricing, not just by a buck or two, but the last item I was looking at was 50% cheaper online and the sales guy said he couldn't price match even though its the same company...so I've decided to just shop online instead of going into the store anymore.
10 months ago Laura Smith
Shopped just now and this location was not busy at all, alot of space to walk around and check out everything I wanted to see. To top of my shipping trip I used a 20% off coupon and saved a whopping 26.00 on a 130.00 dollar purchase. Hit this store now for great uncrowded shopping. Enjoy
10 months ago Koren Hairston
Always a fun place to walk around. Usually, find something new. This trip was an aisle devoted to the little bottles we use in our travel kits. And I mean on both sides of one aisle. Also, this trip in the coffee section they have several selves full of decaf coffee pods. I will be returning
5 months ago Selva Kumar
Best place to shop.
1 week ago Katie Edwards
I like shopping here I always find things to buy, and I like using my discount coupons. The cashiers are super nice. I wish the pet dept had more items.
8 months ago Lorrie Bandy
B B & B is my Go-To place for so many things, and the discount coupons make it a no-brainer. Since they've expanded to a lot of health and beauty items, it's even more of a reason to go. I recently bought a most unusual door mat, I love the variety I find in B B & B.
5 months ago Alex Hoover
Friendly service
5 months ago Albreesha Culberson
They get new products for Christmas only. Some of them are available now that I looked for a year. Their service is good too! They would explain the difference between two products.
6 months ago Andrea Farris
hauled 6 empty bottles of CO2 (SodaStream) only to be told that they have zero and will only sell 2 per day. No wonder SodaStream can't fill their orders - they have no empties because their retailers won't accept them!
3 months ago
Popular places from the category Department store