Cellular Solutions
Cell phone store Cellular Solutions, 1311 W Roseburg Ave, Modesto, CA 95350, United States:
38 reviews
of users and employees, detailed information about the address, opening hours, location on the map, attendance, photos, menus, phone number and a huge amount of other detailed and useful information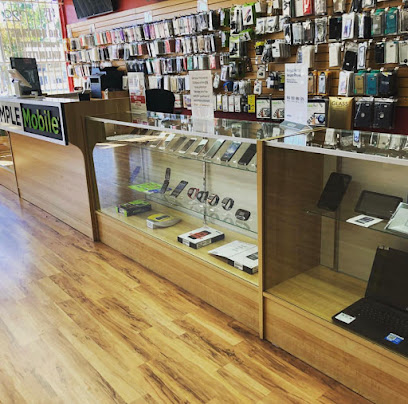 Address:
1311 W Roseburg Ave, Modesto, CA 95350, United States
GPS coordinates
Latitude:
37.6606093
Longitude:
-121.0127006
Location on the map
Reviews Mike Fadamiro
Took in my tablet pc to repair a battery issue. Motherboard died during the process. Cellular Solutions stepped up and provided an equivalent replacement at their own expense. It's so rare, these days, to find a good solid company that stands behind their work and takes care of their customer. This place deserves your trust and your business.
1 month ago Erick C
They were very professional and the price was pretty good for both the front and back glass. My phone looks like brand new again.
4 months ago Ali Esco
I was given a estimate for roughly $100 for a repair...but this guy did a fast easy repair while i was gone and really took care of me....he couldve fixed it and say its 80 or 90, but he was honest and took care of it for nothing
11 months ago Lloyd Bacon
I trust NOBODY except Cellular Solutions to fix my devices, fair prices great service!!!
4 months ago Debbie Albertson
excellent fast and very responsive definitely recommend ????
1 month ago Gokul prasad
Good nice folks
11 months ago Suresh balachandar
I didn't even know there were businesses in this location, so not easy to spot. It's a very small store, few accessory options, and the selection of cases were limited. The employees were nice, and extremely helpful though.
11 months ago gabriel garcia
Thank you for what you did today! It was very kind! :)
3 months ago carol korb
Absolutely best service I am so thankful, best prices, quickest stop ive had to do for my iPhone that got destroyed front and back and the gentlemen stayed after hours to leave my phone brand as new! 5 out of 5 recommend.
1 month ago Kaiju Kid
Juan is an excellent tech, honest, affordable and reliable, thanks again Juan for an awesome job!!!!!!!
7 months ago Jeffery Raven
No good
2 weeks ago pokemon channel
Exceptional service! The parts supplier failed to send a needed part. Instead of just making me wait several days extra, Cellular Solutions drove to the Bay Area to pick up the needed part. (The parts supplier should take a page from Cellular Solutions' book and provide THEM with great service when they make a mistake.) This kind of customer service is what separates good from great!
4 months ago Beccah Flynn
They fixed my last phone, so I'm back again with another.
2 months ago Gerardo Perez
My iPhone 7 was stuck on the apple logo and Sargon was able to fix it without loosing my information. Definitely recommend this place!!
11 months ago Raphael Gassies
My laptop works great
8 months ago Lawrence Fontana
So I read the reviews for this business and thought I will give them a try. Worst service... I took my sisters Ipad 2 air there to have the screen replaced and the gentlemen told me it would take an hour and a half. I went back 3 hours later and he proceeded to tell me that the screen they had was defective and he had someone bringing him a new screen at 7:30; however, they closed at 7 and he wouldn't be able to get it to me until the next day at 11. Okay, well as inconsiderate as it was for him not call and tell me before driving down there I decided to leave it and have my mom pick it up the next day. She called at 11 and they told her the person didn't show up with the part and but it would FOR SURE be ready by 5. She drove down there at 5 to pick it up and again he told her that the person had not yet arrived with the screen. There are many upsetting things about this whole situation. 1. Did you ever had the screen to begin with? I doubt it; I am sure you just wanted my $120 and hoped that I would wait around until it magically appeared in your store... 2. If it wasn't going to be ready, a phone call would be appreciated. How inconsiderate to guarantee something and not even call to let someone know that unfortunately it won't be done on time. I can appreciate someone being truthful but I can't appreciate a lie...I think that is terrible business and definitely won't be referring or using their services again.
2 months ago Steve Papal
Great place, simple service with modern touch. My phone was already unlocked but I couldn't check it. she was honest and told me it was unlocked already and I didn't need it done while I'm sure others would have charged me and said done. A+
11 months ago Donna Woodard
I went there on my break to pay my bill but there was a be back in 15 min sign on door i waited 15 plus another 15 and worker didnt show up lost my job because i chose to wait the 30 min and went back with no cell service
3 weeks ago Jackie Ames
Man these guys are incredibly awesome! Great service here! Highly recommend everyone to give them a try!
5 months ago Dan A
Cool place owner is.cool and he knows what he is doing
1 month ago Dennis Eiseline
This place has a really courteous staff with great customer service. I also used the website and found it to be quite user friendly. If you're in Modesto, this I the place go for your cellular needs.
11 months ago edward wilson
This store is really helpful i didnt have the funds to get what i needed to be done but some way some how Sargon found a way to help me out. Thank you so much folks and thier attitude is great such as how fast they get things done
11 months ago Junab Ali
Super friendly and fast service. I would recommend this company if you are looking for the best quality parts and best service. Thanks again!
7 months ago Dallas Explorer
Who ever took over this place needs to take a course on customer service. New owner sounds like 2 year old. Have any questions or problems DON'T look for these guys to help. Your better off asking your pet for help. I'm sure the baby bottle toten rug rats running this store won't be in business long.
5 months ago Gina Hall
Great customer service!! I took my iPhone 3g to them to customize it, they did a great job!! Really nice people! I recommend Cellular Solutions to all my friends and family.
11 months ago Mike Lynch
Was recently in Modesto for work and dropped my iPhone cracking the screen. I found Cellular Solutions online and decided to see if they could fix my phone. I was completely wow'd by their fantastic customer service and affordable pricing. I would definitely check with them if you want to upgrade to a newer phone or fix an old one. They were wonderful and saved me a lot of time and frustration!!
5 months ago Jonathan AMT
Great place I had a crack in my screen the owner took initiative too fix it even though no one else in my area could. Great customer service
9 months ago Elizabeth Thompson
My i phone 6+ one day stopped touching and a grey bar started flickering at the top. Took it to the apple store and they told me my phone had a "touch disease" and that i needed a new phone.. Never heard of that.. I called around to a few local phone shops and they all told me i needed a new phone as well. Once i found celullar solutions a young man named Sargon told me that it is in fact fixable. So i took it on down and sure enough it got fixxed. Very quick process. Thank you!
4 months ago Mac Xtc
No seller in the world can have a 100% perfect record with 0 incidents. Nothing works like that, but in my personal experience this place was actually pretty great. I got a refurbished galaxy note 4 from these guys when it was new, a little over a year ago. I have at&t and it was a verizon phone but the guy set it up for me. I got a really good deal on it, considering at the time the phone new was around 650 dollars, I think it cost me 450 out the door, with a glass screen protector. Also when I messed up the first screen protector installing it and came back to buy another, they gave me 25 percent off the second one and I didn't even ask, just said I'd goofed it and i'll buy another one. I'd take my phone there, and I will be going there when I want a new phone
7 months ago Sam Murphy
Wow. Fixed my iPad and my galaxy both in the same day. Super nice. Don't go anywhere else.
5 months ago thomas gabriel
Good place todo electronic repair, prices are exelent.
11 months ago Adam K
One time my Iphone screen cracked and i didn't know where to get it fixed. So i did my research online and found this place , so i gave them a call and spoke to a guy named Tony. He was very helpful and polite over the phone and listened to all my questions first and than he answered them after i was done asking. He offered me a great price to get my screen fixed since i had a budget.Ashley and Tony were so nice when I went in the store. They took good care of me while i was waiting on my phone. i will reccommend this place to everyone and als oto my friends that needs their phone fixed or anything. very clean and welcoming place.
6 months ago Dean Wessels
WOW what a joke. This place is a complete scam. I had a cracked screen and took it there. My screen falls out now and phone turns off. They broke it cause they have no idea what there doing. The black guy and old white girl destroyed my phone. DON'T TAKE IT THERE
11 months ago jeff jackson
The guy gave me wrong pricing for a screen on my phone I was upset that I had to go all the way out there to find out he didn't hear me correctly. Someone else and my business that day!
2 months ago Sebah Hussen
Great costumer service and professional!
2 months ago shawn graham
Not sure what kind of solutions he's providing, either he was stoned or doesn't know what he's doing...
8 months ago Duane Johnston
It's okay,
3 weeks ago Cindy Meyer
Helpful
5 months ago
Popular places from the category Cell phone store