Peter Pan Bus Lines
Bus company Peter Pan Bus Lines, 625 8th Ave, New York, NY 10018, United States:
220 reviews
of users and employees, detailed information about the address, opening hours, location on the map, attendance, photos, menus, phone number and a huge amount of other detailed and useful information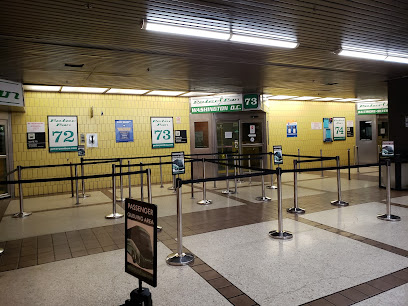 Address:
625 8th Ave, New York, NY 10018, United States
GPS coordinates
Latitude:
40.7569466
Longitude:
-73.9905126
reviews Aaron Desjardins
I've never had an issue with this Bus Company before & I don't expect to ever have one ever. I'm always an hour or two early, with ticket in hand or E-ticket & ready to go! This company is very reliable and their prices are reasonable. Always my go to place when I need to travel between my Hometown NewYork & My new home Philadelphia PA. It's the only Bus Company I trust. Driver's are courteous courteous, respectful, & helpful. Will be a loyal customer for as long as this company will be here
5 months ago Jason Krivachek
I was going to take the bus from New York to Boston. I was going to take the bus at 9am on 10/09/2020 I got here at the Port Authority 8.56am. And the bus already left. Now i had to pay $20 for reschedule fee. This is not my fault and why i have to pay for it. And why i had to waste my time 1 hour to wait for another bus. I supposed to get there early, but had to wait for your mistake? You can check at the camera that i got here before 9am. And there is no manager at the station or at the cashier.
1 month ago Matthew Hughes
I had a great experience with Peter Pan Bus. My round trip went smoothly and without any last minute delays. Bus was clean and seats were comfortable. Drivers were nice too. Please stay like that because I'll be using your services pretty often.
6 months ago Simon Drifty
Took bus from NYC to BOS today. Could NOT have been nicer. The bus driver is the person who made all the difference. Such a nice, friendly person who made everyone feel welcome. Very cheery. Easy trip. Outlets and wifi as advertised! The only complaint I had is that the driver kept the temperature very cold, but I'll take it if that's the worst thing. A-rated (by me).
5 months ago Cristina Puzio
I got to the bus line late, like 12:06 from NY the door was already shut and the driver was so understanding. He was not rude he came out scanned my pass and opened the bottom to put in my bags in. I even offered to help him but he handled it he was so kind. I know he had a schedule and he didn't rush me at all I am so grateful. I mean I almost missed the bus. Cheers to you sir.
7 months ago Peg Nelson
The bus is scheduled for 6pm. Now it's 6:20pm and the bus is waiting for a connecting bus to arrive. We are not leaving NY port authority for another 15 minutes. The ticket purchase was also misleading, it shows no stops between NY and DC, but looks like we will make 2 stops at Baltimore and Silver Spring on our way to DC. Why doesn't the Peter Pan website mention these stops at the ticket itinerary? Terrible business practice, not traveling with this bus line again.
5 months ago Diana Ciccolini
My favorite bus moved to New York from Maryland 3 years ago and it's the only way I travel to visit family. It's the cheapest and the drivers are the friendliest love Peter Pan
5 months ago Amariana Hustles
Buses are getting old compared to Peter Pan competition (ie Blot Bus or Megabus). Staff is friendly. Don't know what's the criteria on choosing routes, but Boston to New York was too slow. It took a huge detour to end up being the slowest possible route.
5 months ago Donna Dobell
OVER PACKED! Considering that we are STILL in the middle of the PANDEMIC. Just a thought, but maybe lives should matter more than money for once. I DO understand that they don't want to go belly-up, however if we stay sick with this covid, who's gonna be riding the bus lines then? They need to think about that.
6 months ago Christina Vaughn
I had very bad experience with this bus. The bus is supposed to leave at 6 pm from NYC to Boston. I dont know why the bus has problem. All of passengers has to move to other Peterpan bus. Actually I have other bus to catch after. So because of this issues. I missed the other bus. I really really disappointed.
5 months ago magicmilla
The bus was pretty fast, beating Greyhound's bus by an hour to Boston from NYC, which was great. My concern is over how crowded the bus was, given the ongoing pandemic. Every seat was taken. Stuffed to the max. If I caught Covid, I'll come back and change my rating.
7 months ago Ron Bailey
I've never had an issue with this Bus Company before & I don't expect to ever have one ever. I'm always an hour or two early, with ticket in hand or E-ticket & ready to go! This company is very reliable and their prices are reasonable. Always my go to place when I need to travel between my Hometown NewYork & My new home Philadelphia PA. It's the only Bus Company I trust. Driver's are courteous courteous, respectful, & helpful. Will be a loyal customer for as long as this company will be here ⭐⭐⭐⭐⭐
1 week ago madd
The bus was a little too crowded for me. I purchased a round trip ticket to Baltimore from NYC. The Bus drivers were pleasant and they were on time. I would use this bus line again.
6 months ago Taylor Baylor
Not bad bus looks good and everything is okey
5 months ago Drea lord
The bus was clean, left and arrived on time. The driver was friendly the station was easy to find.
6 months ago hindi treailer
Great and comfortable buses with wifi.
4 months ago Brad Yoder
The driver showed up over 30 minutes late. He made absolutely no attempt to make up the time. We pulled in over 35 minutes late which caused me to miss my next Bus home. The port Authority desk agent made no attempt to rectify the issue they caused me. She gave me the customer service info and sent me on my way. They don't have a live agent you can speak to , but they do have a person you can email back and forth that will waste your time as well.. I lost $35.00 from my Mega bus trip .. I lost an additional $70.00 because I was forced to purchase a train ticket to get home at a reasonable time . I would advise everyone reading this to NOT BOOK a bus ticket through Peter Pan. They don't take care of their customers
11 months ago Jake Long
Great bus line, but overprized tickets.
5 months ago Arash Irani
Bus is CROWDED. I mean, it is filled at 100% capacity. The company is not following covid precautions at all, no temperature check, no masks control.
7 months ago Mitchell
Pretty easy to get to. Convenient. This person tried taking a pic on her computer to help me and accidentally took a pic of her cell with my phone. Very helpful and kind ????
3 months ago Brianna Dance
The driver was over 30 mins late, which caused me to miss my connecting bus headed back to Dc. The front desk agent at port authority was absolutely no help. Peter Pan does not have a line to call and get you issue resolved immediately. They run you through the ringer
1 week ago Payten Curry
The driver was excellent! His speech in the beginning was elegant and not ghetto for a lack of a better word! Thank you! See you tomorrow upon my return. I can only wish he will be my driver once again.
2 months ago mi la
Always use this terminal. Always on time and the drivers are very warm and friendly. Once you're on the bus you feel very safe. The best way for me once I'm going to Ma from New York. Prices are affordable as well. Will not stop using the Peter Pan bus line. ????????????????????????
6 months ago Miler Sanchez
Its great and awesome bus than the Greyhound ..
8 months ago Brandon Zahradnik
Mixed review. Buses more packed than chinese run lucky star. Drivers don't seem to care..
10 months ago KAYO KANE
Wish the charger ports worked. And they had Bigger seats.
6 months ago Vikki Mac
The buses are cleaner and roomy. The drivers promote quiet bus rides and safely drive us to our destinations.
2 months ago Lee Burke
Absolutely terrible service. Their buses are slow and because of their terrible service made me miss my connecting bus but somehow refuse to award refunds due to their mistakes. This experience taught me to never take their bus lines again and anyone contemplating purchasing a Peter Pan bus ticket absolutely should NOT. All the other buses are sold out including other bus lines because of their mess up. Terrible.
9 months ago John Schultz
I've had a somewhat of a great experience, no concerns, issues, problems nor communications, this trip
6 months ago Shantal Brown
Yesterday I rode one of their buses from Boston to New York. I was very surprised and extremely disappointed and uncomfortable to see that the bus was at full-capacity, with strangers sitting right next to one another (not six-feet apart as it's supposed to be). Going to Boston, I took Megabus and they took all precautions to ensure we abided by the safety distance rule, yet PeterPan did nothing of the sort. It felt unsafe -- not all riders were wearing masks and were going to the bathroom without one on, which is why I chose not to use the restroom even though I had to go very bad. I still can't believe this is acceptable at these times.
2 months ago Tim Bitz
DO NOT take PeterPan bus during COVID-19 pandemic because they did NOT take any precautions! I took the bus from New York to Boston on Oct., 2020 and was extremely shocked that the bus was almost at full capacity. I had to sit next to strangers for 5 hours. Very disappointed and uncomfortable. This is not acceptable, this bus line is not recommended.
1 month ago Vicki Robinson
Very relaxing and professional and I was on time with 15 minutes to spare. EXCELLENT SERVICE!
1 month ago Kate Reddan
The little tables connected to the seats need to be cleaned they're very dusty so you can tell they haven't been cleaned in a while. Also buses should not be filled to compacity, if there are 50 seats it's no reason why we all need to be stuffed on the bus. Currently, I'm on a bus packed with people with coughing , the dirty tables , people eating & of course others not wanting to give up the free seat next to them. I guess 6ft doesn't apply when Peter Pan wants to get all money possible?
8 months ago marco novelli
There is no social distance, I had to leave at 11am and Peterpanbus changed the schedule and I believe he put us all on the same bus. that is not safe due to the situation that we all live in these times.
4 months ago Nicole Baker
Pretty effective and worth the money.
8 months ago Luke Brownell
If you book a trip with them except to leave on time and arrive at whatever time we arrive. This is my second trip with them to the same city and each time i have arrived at least 35 to 40 minutes after excepted arrival time. If you dont care what time you arrive then Peter Pan is your bus. But if you are on a strict time constraint YOU HAVE BEEN WARNED!!!
8 months ago Bruce Thomson
Most disrespectful bus driver I've had since middle school. He got mad at us for not having our tickets even though it explicitly says we don't need anything but our last names. He then explained that we were the ones holding up the whole bus. What a joke...
2 months ago Walter Bozeman
The trip was smooth. The driver was courteous and professional. Bus was clean and it was easy to breathe with my mask on.
5 months ago Stephanie Maitin
I waited on the wrong terminal and missed my bus. I went to the associate and she was able to get me new tickets for the next bus with ease and at a great rate. The ride was smooth and quick. I'm using then again.
5 months ago Christopher Suggs
No power outlet for charging phone for long ride .
10 months ago raymond moure
Currently on the bus and it's PACKED with passengers This company is not adhering to covid guidelines at all!!! Not checking temperatures and some people are not wearing their masks on the bus. Its insane and I wish there was a way to report this! Never again!
8 months ago Mike Garvin
I left Washington for New York on March 10 at 10.30 a.m. when we arrived at the station, I asked the driver to help get a suitcase, which was in the back of the luggage compartment. he rudely refused me saying that he could not touch the luggage and said that I could complain. I was forced to climb into the luggage compartment with a sore back. my complaints are only to the driver. otherwise I liked the new comfortable bus. and that we arrived and arrived exactly on schedule. great company.
6 months ago Matt Santiago
Good service
8 months ago Ronald Duncan
Took the 5.30 bus to Boston on 5 Mar 2020, and was very fortunate to have had a very friendly and warm driver who said hello to everyone, and made the safety/etiquette briefing surprisingly refreshing and funny (for a bus briefing). Didn't get his name but one of those people that make New York that bit nicer.
5 months ago stayroula xarhoulakou
Peter Pan Bus Lines is far and away the best long distance bus provider I've taken. The buses are very comfortable (better than the train in my opinion) and the prices are less than a 10th what one would pay for a train or plane. The station is in a convenient location, clean, not crowded and the staff are friendly, although I would recommend buying tickets online in advance of travel to get the best prices. Overall, Peter Pan Bus Lines is my recommended mode of mid or long distance travel.
5 months ago Clyde Garland
Pretty clean but alot of stuff is closed
3 months ago Robby Reeder
Rode the bus from Union Station Washington DC Sunday June 28. Made several stops along the way picking up patrons. Social distancing went out the window. The bus was at capacity with people sitting next to each other. Witnessed people not wearing mask for the duration of the ride 3 hours. It was awful.
6 months ago Deana Pourian
We have a HORRIBLE experience with your company for a NY-BOS trip at the independence day 7/4/19. The bus has no A.C since boarding, the passengers seat's fan only work for several seats in the front of the bus. Bus break down in Bronx, according to Bus Driver " the engine light is on and the engine is over-heated". We have to stop in the middle of a Bronx highway and stay under the sun for 10-15 minutes until the bus is repair and of course there is no A.C. through out the whole trip, everyone on the bus were sweating and suffer in heat pain. The trip was delayed for 20 minute in the end.
5 months ago Andrea Parrish
The bus ride was good but they need to clean up the port authority bus terminal more!
6 months ago Dan Silva
Fastest way on and off the Cape other than driving or flying.
3 months ago
Popular places from the category Bus company