Extreme Gym
Gym Extreme Gym, 1516 Chester Pike, Folcroft, PA 19032, United States:
23 reviews
of users and employees, detailed information about the address, opening hours, location on the map, attendance, photos, menus, phone number and a huge amount of other detailed and useful information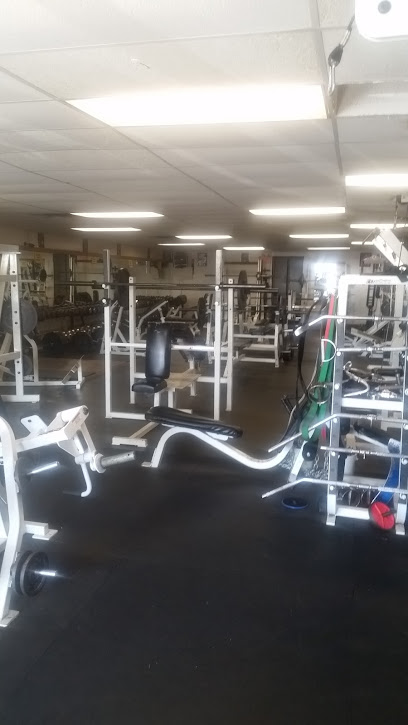 Address:
1516 Chester Pike, Folcroft, PA 19032, United States
GPS coordinates
Latitude:
39.9049650
Longitude:
-75.2810900
reviews Roman Liscenko
If you are trying to be cute and just be SEEN at a gym then this is NOT the place for you!! If you need a "Spot" every 5 mins then this is NOT the place for you. It's not frilly, but has everything you need no matter where you are on your fitness journey. Dave the owner is AWESOME! He has a wealth of knowledge and heart of gold! SUPPORT!
7 months ago Griselda Reyes
Nice small gym. All the equipment you need achieve any goal. No one flashy walking around holding up equipment. Never crowded. Everyone respectful and cool to be around. Steel weights is a plus. Dave the owner is a great and knowledgeable gym owner. He even does gym group lottery entrees.... it's like family here.
3 months ago Emil Ahadov
Great gym. Trying to build some muscle!
5 months ago Natalie Makamson
Small but more than enough equipment
6 months ago Cindy Geer
Great place, great prices, great people.
7 months ago Maggie Guthrie
Best gym I've ever trained at and I trained at alot of gyms over the years.Great owner,great equipment and great atmosphere.
6 months ago Mark Briggs
Nice gym, a little pricey. Good customer service. Your right I gave a wrong review for membership prices. I reviewed 3 gym's that I had a guest pass for. Thanks for your response.
5 months ago Nard Ruygrok
Great neighborhood gym. Very clean and Up to date equipment. Owner is very cool. And its 24 hours!!!
6 months ago Raul Serrano
Best in Delco
9 months ago Veronica Klakotskiy
2nd time around love it... clean... And you can get a good work out at a good rate... And very private.
6 months ago Renarda Williams
Great gym with an amazingly friendly atmosphere! First time in my life that a gym has inspired me to incorporate fitness into my everyday life!
7 months ago Mandy Perendy
Good spot
11 months ago Kay Blake
I've Been a member for a number of years. The prices are great. You also get help with nutrition and workouts. Everyone treats you like family. It is very welcoming, doesn't matter how old or young you are.
4 months ago Scott Lloyd
Fantastic place to workout. Look no further
5 months ago Ana Hoyt
Just joined at the beginning of the year. Great place to lift and work out. Quiet and safe. People are there to do their thing but are completely willing to help you out and are always super nice.
1 month ago Najla Sabeh
Went here with a friend, its pretty quiet and low key
1 week ago Allen Baines
This place is awesome can't beat it for the price
7 months ago Shelley Rom
Been a member at extreme for over 15 years... It's all anyone would need to get your body right
6 months ago sabine henderson
Couldn't get into the gym the 3 times I stopped by to get a membership. I never had an issue before. I wont be back. Lack of service says alot about this place in whole. Not worth my hard earned money
6 months ago Taylor Olszewski
All the equipment you need. Weight heavier than planet fitness. And you support small business owner.
4 months ago Lori Droste
Extreme Gym is a terrible gym, the bold dude at the front desk is rude and wants everyone to talk to him and think the gym is a place to carry a conversation, its not! some people want to come to the gym and just workout, but he doesnt see it like that and if your not a kind of person who likes personal space he will blurt smart comments out, which will make you fill real uncomfortable, another thing is the weights are old and needs fixing and they said they have personal trainers.....lies...lies....its a small gym the size of your kitchen with old weights....please dont waste your time or money...glad i only was there for acouple of days and cancelled my so called membership...trust me take a tour before you pay....also the so called locker room is just a bathroom with acouple of lockers and it smells like pee all the time....trust me go and pay for a gym thats worth it...you get what you pay for( which is the truth) it my not be 14.99(15.00) but aleast you get privacy and a nice place to workout and clear your mind!
2 months ago Crystal Sugar
Great atmosphere
8 months ago Fangru W
Propose beaucoup de diversité dans le choix des instruments de sports, possibilité de se faire aider par quelqu'un, prix abordable
4 months ago
Popular places from the category Gym