Whittier Daily Greens Cannabis Dispensary
Pharmacy Whittier Daily Greens Cannabis Dispensary, 10710 Whittier Blvd, Whittier, CA 90606, United States:
220 reviews
of users and employees, detailed information about the address, opening hours, location on the map, attendance, photos, menus, phone number and a huge amount of other detailed and useful information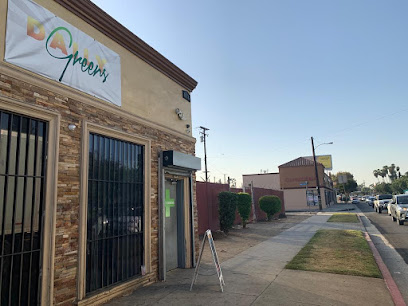 Address:
10710 Whittier Blvd, Whittier, CA 90606, United States
GPS coordinates
Latitude:
33.9899530
Longitude:
-118.0648729
reviews Samantha Smith
Loved the experience. Had amazing help. I wish I remembered the worker who helped me. But anyway highly suggest this place no pun intended. If you're coming from out of state like myself definitely go here, fair prices quality stuff great selection.
2 months ago Becky Hardenburgh
First time coming for the daily deal for Thursday 59% off glass. Thanks for helping me choose one out Venus! Best dispensary near downey! Also pick up jack herer
6 months ago Ivan Rykov
I had stopped coming here for about a year (last time they served me a dab that was less than stupendous) to give them another chance I came in last week ..great deals. Very pleasant knowledgeable Bud tenders yes. Summer (the young lady who helped me today) was a pleasure to meet. Pretty, energetic and very interested in helping her customers. I'll be here more regularly when I'm on this side of town. Thanks, Summer!!
3 months ago aishwarya patil
Summer hooked it up today. Was extremely helpful ! Great environment. Will recommend this place and send them to Summer exclusively.
2 months ago John Emler
Very clean and stocked dispensary with the most friendly staff.
7 months ago Katie Lang
Great experience, opens early and service was amazing! Arnold helped me out and got a bunch of deals for patient appreciation day. COME HERE COME HERE!
2 months ago Bridgett Soles
I'm from out of town and whenever I come to Cali I always make my way to Whittier . Great selection and my bud tender LYSSA was absolutely amazing ! She was very knowledgeable and a true sweet heart , she was also very patient. Super friendly environment and easy parking. My only negative comment would be that not all the bud tenders will allow you to split your half or zip .
3 months ago Sang Nam
Arnold was very helpful finding me the edibles I wanted. Awesome bud tender. Nicest I've come across in here lately.
2 months ago Brenda Pride
This store is very good. Plenty of parking open late night. I would recommend to anyone
2 months ago jodee white
Alyssa thanks for helping me out today. Always a great experience when I stop by here. Definitely recommend giving WDG a try out for your herb selection.
2 months ago Michael Nieves
Summer did an awesome job helping out my friend and I pick up some bud and edibles! Definitely recommend!
2 months ago Ivette Palacin
Summer helped me and she was so sweet and patient. She took her time and made really good recommendations for edibles
2 months ago Kathy Orvis
Jade is always up to date with the 411 on every strain. She knows what's what and always suggests the best strains. She is helpful and very nice. Very fun experience. Get to spin a wheel and get freebies if you spend a certain amount. Totally worth it. Variety is insane. Drive there from 29 palms every week. Best dispensary in So Cal... Love this place.
6 months ago Amber Riley
Ms. Summer was a great help. First time went smooth and this will be my spot. Loyalty is everything!
2 months ago randomanonymous smith
Coco is the best!! I only come for her and the great energy! She's super friendly and informational! she makes you feel at home always gassing me up !
2 months ago Judy Wearmouth
I've been stopping by this place for at least a couple years, haven't had a bad experience yet! Service is good, they'll fix a mistake for ya real quick on the rare occasion they make one, and they've always got some great stuff available on any tier. Definitely a big recommend. Nicky's one of the best budtenders here and she'll definitely hook you up on some good deals.
4 months ago Katlyn E
T is the best. This is definitely the best dispensary open near me in Whittier I will be back soon for their Pad deals
2 months ago TOTAL LICE
T was great! Best place to buy bud in LA. Best dispensary open near me in Whittier. Awesome deals on weed. Free pre rolls free edibles. Top shelf free edibles
3 months ago Susan Bolcuc
Came in for PAD to pick up some flower & Arnold helped me out. He's very friendly, thank you! Definitely will be coming back.
2 months ago Dani Cai
Best dispensary near me open in Whittier. Shout out to T I was looking basswood but she recommended me the high voltage joints for a good deal. I will be back soon
3 months ago LuckyClover
Coco helped me out. Got some free items. Great service. Highly recommended
2 months ago Jennifer Churchill
It was my first visit and it went AMAZING! Our sales rep, Coco, was absolutely delightful to work with. She hooked me up with some SOLID pre-rolls and I'll for sure be back because of her. Plus her lashes were on point.
3 months ago Mike Lawson
T is awesome. Best shop in Whittier. I came for their pad deals
2 months ago Jennie Atkins
Ari was so sweet and really helped us find some good carts! We're gonna come back for more! Hit up daily greens for some good stuff and stop and say hi to Ari she's awesome!
3 months ago chad vasquez
Always have an amazing experience at this place! Shout out to coco! She always makes me feel welcomed and makes the atmosphere so welcoming! I always come here to buy! 10/10 recommend
3 months ago Kendra Lefere
This place was amazing! It was our first time and everything was very professional and clean and the lady at the window is very sweet and helpful! I would definitely recommend this dispo to everyone ❤️
3 months ago Mark P
Alyssa did a great job she was very friendly and even hooked us up with free swag definitely returning!
2 months ago MKS
Arnold was super helpful with picking out some flower and hooked it up. this is the spot for good bud for good prices
2 months ago Dave Bansal
Great place and very helpful. Alissa did an amazing job helping me out.
2 months ago Dave Crisp
Best dispensary open near me in Whittier. T Is amazing. She helped me out with a free gram on their daily deals on Monday. I will be back this is my favorite shop
3 months ago Michael Lopez
I was helped by summer. Very helpful and knowledgeable. Will be back
2 months ago Deril Stubenrod
Thank you the amazing medicine all the time. Alisa was amazing thank you ☺️
2 months ago Spencer Poore
You guys must check out Daily Greens they have the greatest deals and bud. The place also has excellent service. Sage helped me out tonight with everything. :)
3 months ago Jessie Klisz
LOVE IT HERE THE BUD TENDERS ARE ALWAYS SO SWEET AMD WELCOMING ESPECIALLY COCO
3 months ago Shawna din
Best dispensary in Whittier open from 8am-midnight. Thank you T for helping me out with full gram stiizy carts. I will be back soon
3 months ago Jonni Micheau
Summer helped me out! This girl is hot !! She's the best <33
2 months ago Perniece Moore
Cloud was great customer service very very nice. Best place in town.
3 months ago Cynthia Mello
It was my first time coming here after being recommended by a friend. I had Ari help me because she was super warm and welcoming when I walked in. She was really nice about helping me find something that suited my needs for anxiety and didn't make me feel judged or nervous. I think i would definitely come back here and recommend to a friend!
4 months ago Hernan Salgado
Best dispensary open near me in whittier. T is awesome she helped me out with first time patient deals on weed, free edibles, free top shelf joints. coming back soon
3 months ago Nicolas PINAULT
Summer helped me out today and she was amazing! Super helpful and knew a lot about products ! I got hooked up! Awesome spot
3 months ago DevSanjeev AnandKumar
Very knowledgeable staff and always the best prices in town. My budtender Nikki is amazing and helped me out! I highly recommend this place.
3 months ago Anthony Farrer
Today is and was the day to stop coming after 3 years strong after moving here to California. Buy nothing but exclusive connoisseur before they had the exclusive shelf. 2 oz every two weeks usually. Always splitting in 4 strains. But was told today can only spilt up to 3 strains. Guess sale not needed. Nor customer. Buds were tho. Always left tip as well. But oh well peace the f*** out Daily Greens.
4 months ago Johnston Boyd
Ari was super helpful and hooked it up with some joints! She was the best! Go to her when you come here
3 months ago Kevin Kloepfer
Best dispensary open in Whittier near me. I came in for my birthday and T help me out with some great flowers she is awesome I'll be back soon. She Hook me up with a gnarly cupcake for my birthday.
5 months ago Laura Lanham
Cloud was so amazing . She was very knowledgeable and a genuine happy person. Brings out an awesome vibe. Must go!! Ask for cloud..
3 months ago shelby matlock
Nikki was awesome! Great customer service. Make sure you ask for her at the shop. They got some bomb
3 months ago Chris Thigpen
This shop was friendly, helpful, and very convenient to my location. Jess helped me out and made sure I got everything I needed. Definitely gonna stop by again.
3 months ago Juan Rivera
Cloud is wonderful! And very helpful assisting us for our first time here. I will be back!
3 months ago Sarah Cottle
Cloud was amazing. Very informational and friendly. Great prices. Clean. And overall good vibes.
3 months ago Jeana Edson
Alyssa was a great help and super nice while getting my pack for me. The workers here are always super nice
3 months ago
Popular places from the category Pharmacy