Whittier Daily Greens Cannabis Dispensary
Pharmacy Whittier Daily Greens Cannabis Dispensary, 10710 Whittier Blvd, Whittier, CA 90606, United States:
220 reviews
of users and employees, detailed information about the address, opening hours, location on the map, attendance, photos, menus, phone number and a huge amount of other detailed and useful information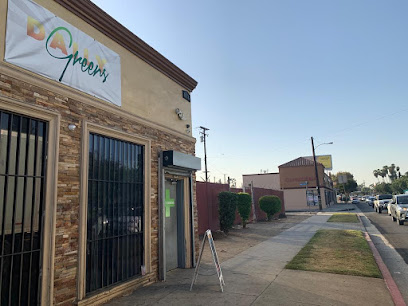 Address:
10710 Whittier Blvd, Whittier, CA 90606, United States
GPS coordinates
Latitude:
33.9899530
Longitude:
-118.0648729
reviews Wayne Libby
Cloud was so nice! And they always have good deals!
4 months ago Sarah Froberg
Thank You Cloud for your good help. Help to share the strains ????
4 months ago Jessica Jordan
ari was so helpful when looking for a new cartridge! im so excited to try out the smashed carts! thank u guys!
5 months ago Michael McTwigan
Sage helped me out great service. Came during happy hour. Gre
5 months ago Telly Gomez
Best place in town, they got a variety of flower and some of the best edibles in town. Make sure you get help by Henny.
5 months ago Susan Peek
Great customer service, Henny was amazing. Great prices and look forward to coming back soon.
5 months ago Andrew Aken
Best dispensary near me in Whittier daily greens. Shout out to T thank you for helping me pick up the best weed. Will be back soon
7 months ago Chelsey Bush
Coco hooked me today with a bomb deal on the sweeter high edibles! Great deals aLl around, check them out (:
5 months ago Joeyena love
Ari was very helpful and hooked it up with a free gram for their deal on Mondays! Def come thru if you want some fire! Thank you
5 months ago Levent Vural
Summer was super sweet and really hooked us up!!! Got us some private reserve popcorn <3
4 months ago Rusty Connelly
Lyss is an awesome budtender! loved her recommendations <3
4 months ago Nene Lavarro
LOVE IT HERE. THE BUD TENDERS ARE SUPER NICE ESPECIALLY SUMMER
5 months ago Lindsey Scheer
Henny hooked it up real good with a couple joints. Fast and easy! Highly recommend!
5 months ago Tom Crowther
Cloud is so pretty and helpful ❤️ 10/10 recommend this spot !
4 months ago Elena Lopez
First time here and Arnold was an amazing help! Very knowledgeable
5 months ago Amit RC
Great place have been coming for years! Arnold was an amazing budtender.
5 months ago Lance Boucher
Henny, is always so helpful and pleasant. Very knowledgeable about ????flowers. Great deals.
5 months ago Amanda Michelle
This place is great, staff are very friendly. No bad vibes, good vibes only. Coco is great, she was very helpful, and very nice. I would go back again..
8 months ago kennedy james
Cloud was such a great help. Answered questions very thoroughly.
5 months ago Kathy Deng
All around great service.. employees are awesome.. only complaint is I've gotten seeds in my product 2 out of the ten times I've gone.
8 months ago Brandon Fisher
Alyssa was awesome. Very orofey and friendly. Great priced on all their products!
5 months ago Jeffrey Schneider
Picked up some syringes from Arnold! Super sick :) nice art on the walls
4 months ago Ashley Conley
Alyssa showed me all the deals and she's cool af
4 months ago Tara Dusenberry
Great deals. Nikki showed me good edibles! She's awesome, be sure to ask for her next time!
7 months ago William Head
Great place and staff. Alyssa was super helpful. Would come back
5 months ago Mohammad Momani
Best dispensary open near me In Whittier. T is awesome and very knowledgeable. She is very friendly. I will be back within few days!!!!
6 months ago Benjamin Revoy
Whittier Daily Greens is the dispo to go to! Summer helped me out today with picking up my eighth and golanis. Everyone's so sweet here, 10/10!
5 months ago De B
Alissa was super helpful and recommended some good strains to me that I was very pleased with TWICE !
5 months ago Madison Roberts
Henny was such a great help today and hooked me up!
4 months ago Sameer Bhura
Cloud was an awesome bud tender. Great shop and superfriendly staff...
5 months ago Arthur Davila
Coco was the sweetest human I've had the good fortune to meet in a very long time. All the budtenders are wonderful, knowledgeable folk but Coco is truly exceptional. Thank you all again for the wonderful experience.
7 months ago Eugene Gu
COCO IS THE BEST TENDER HERE LOVE THE ENERGY AND NEVER FAILS TO MAKE ME SMILE WITH HER SERVICES ! Love daily greens !
5 months ago JoLynne Elliott
Cloud did an awesome job helping us newbies out who know nothing about weed ????????????
5 months ago amel posner
Came in brought a friend , and really liked the customer service especially from Andy . He's the man , I recommend this place . This place is in whittier blvd , if I can give it give 100 starts I would . 100/10
5 months ago Jenil Patel
Ari was so sweet and hooked it up with some goood weed and joints! Chexk it out here
5 months ago David Torres
Yo first time coming to whittier daily greens, the customer service was amazing. I was helped out by ari she's the best. Make sure y'all pull up and get y'all gas ⛽️
5 months ago Grace Coleman
Alyssa was really nice to help us today, good deals.
4 months ago brina salvado
Shout out to T. She's amazing she helped me and my homegirl get with some bob Indica on top shelf 8.5G for a quarter. And she hooked us up with some free 250mg chief edibles.
5 months ago Lisa Hyde
Coco was great! She hooked it up amd they have good happy hour deals. Come check out.
5 months ago Dolores Ashe
Alyssa helped me out with everything I needed and was able to get me the best flower I was craving.
5 months ago Ameen Rauf
Henny help me out and let me say her vibe is exactly what I needed today such a sweet awesome person. Hope to see her again for my next visit.
5 months ago Kathryn Donathan
Coco has been really helpful every time I come in! The environment is also very relaxed and everyone is friendly.
5 months ago PJ Ray
Andy gave great service with my purchase. He gave me moon rocks pineapple express and cookies and cream. Great despensary in whittier
6 months ago Diego Rodriguez
Summer helped me out today with some house joints, hash bullets and conn joints! Really recommend this place!
5 months ago Elizandra Espada
Alyssa helped me with selecting edibles and great service!
4 months ago Alexa
1st time and Henny made me feel right at home and helped with all my questions from start to finish will definitely come when in the area!
5 months ago therese beckr
Henny was so sweet just like her name, precious and hooked it up
5 months ago Christopher Cabral
I love a shop that has not only the freshest greens with so much variety, but being helped by a bud tender who makes you feel welcomed. I had already walked in the shop in a bad mood and this girl name Devine I believe? Was so patient and sweet to me. I'm so happy with the flower she recommended for me. I tipped her fat because that's what you call TOP NOTCH CUSTOMER SERVICE. Most definitely coming back and making this my go-to shop.
8 months ago Casey Hoffman
Devine was absolutely fantastic! Super friendly, super knowledgeable and world class service. She steered me in the right direction all the way. You won't be disappointed if you visit Whittier Daily Greens.
8 months ago Eloiza Delgadillo
Coco is the best bud tender. Super friendly and professional. Best dispensary in Whittier.
5 months ago
Popular places from the category Pharmacy