Total Leather Care
Furniture repair shop Total Leather Care, 423 Horsham Rd, Horsham, PA 19044, United States:
11 reviews
of users and employees, detailed information about the address, opening hours, location on the map, attendance, photos, menus, phone number and a huge amount of other detailed and useful information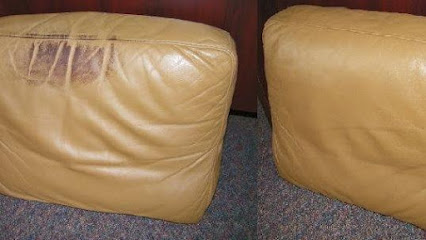 Address:
423 Horsham Rd, Horsham, PA 19044, United States
Website:
totalleathercare.com
GPS coordinates
Latitude:
40.1842833
Longitude:
-75.1399572
Location on the map
Reviews Susan Crowther
Chris & team did 5-star work from estimating, scheduling, follow up to repair "pleather" automobile driver's seat tears (2). Very well done, fair pricing, short wait 90 minute job.
5 months ago Hasan Zeki
I had always liked our sofa, chair and ottoman, but (though still comfy) they were tired and faded, plus I was no longer a fan of the (once) original lighter color. I sent TLC images of what we had... and images of what I'd like them to look like. Though my wife was perhaps skeptical, she's quite happy, saying they don't look like the same pieces... which they do not. Just in time for Christmas!???? Thank you TLC.
7 months ago Tara Cawley
My husband contacted Total Leather Care to repair cushions on his office furniture. Quickly an office call was arranged, a repair strategy was determined, and the cushions were taken into the workshop. It was important to match the color, sheen, and grain of the material and within two weeks the cushions were returned looking like new! In this disposable world it is nice to know that furniture can be given new life. We were very impressed and my husband's assistant then decided some of her furniture could also use this expert craftsman to handle her repairs. We are VERY PICKY people and I write this review because we found Total Leather Care via a Google search. Look on his website and see the kinds of repairs that convinced us he could get the job done. Those photos don't lie - his work is superb.
6 months ago Amer Ammari
Pre-service communication was thorough. Repair visit was punctual to the minute. Super polite and enthusiastic. Excellent repair...a true craftsman. Pretty expensive...but totally worth it.
8 months ago Diedra Barrion
The best leather repair company we have ever encountered. Simply the best.
6 months ago Hugh Hussey
TLC provided remarkable repair service to my 20 year old Chesterfield Leather couch. From estimate to the actual repair, their work was exceptional. I would definitely use them again and I highly recommend their service.
6 months ago Frank Leira
The owner was not able to help with my specific need, replacement not a repair, but he kindly took the time to refer me to another business which could. If I have a repair I would certainly go back.
4 months ago Justin Taylor
Brought my Maserati here to have some scratches on the seat and wear on the bolster repaired. The seats are red, and a shade I would image could be difficult to match. Total Leather Care not only met, but exceeded expectations with the job - both in terms of quality and pricing. If Chris tells you "it won't look 100%" he is just being modest. To date I have not found one person that can identify where the seat repair took place. I cannot recommend this shop highly enough! EDIT; 3 year follow-up: The repair still looks amazing. My initial review opinion remains unwavering. I cannot recommend highly enough.
5 months ago David Buss
Total Leather Care revived my 25-year-old, full-length leather coat and made it look new again. All the grayish, worn spots vanished, and the whole coat is evenly black. The drooping hem was repaired, giving the coat the sharp look it had lost with time. It truly feels like I just got a new (but favorite) coat! What made the whole experience excellent was the people. Each person I dealt with was professional and helped me get the results I was hoping for. I highly recommend them!
8 months ago Phumlani Mngxekeza
They are very professional and do a fantastic job. I highly recommend.
5 months ago Ron NWCC
Dopey dog + granola bar left in leather bag = massive, deep scratches. Whoops. Brought my wife's leather professional bag in here with only low expectations. It was so scratched we only hoped that it could be restored enough so that she could use it for casual occasions. I don't quite understand how they did it, but a few days later we picked up the bag and it looked amazing. It's not exactly "perfect" but unless you know what you're looking for, you absolutely cannot see the marks. We're very impressed, and she went back to using the bag professionally immediately. The fee wasn't cheap, but neither was the workmanship. This place is professional, and we were happy to pay for the minor miracle they performed. I'll be coming back here soon, as we just had a leather strap break, and I trust these folks will be able to take care of it...
4 months ago
Popular places from the category Furniture repair shop