Audiologist South Bay Hearing
Audiologist South Bay Hearing, 3734 Sepulveda Blvd, Torrance, CA 90505, United States:
215 reviews
of users and employees, detailed information about the address, opening hours, location on the map, attendance, photos, menus, phone number and a huge amount of other detailed and useful information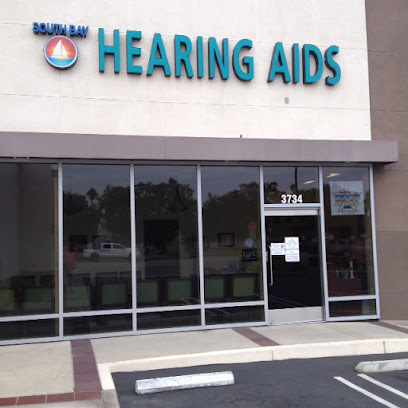 Address:
3734 Sepulveda Blvd, Torrance, CA 90505, United States
Website:
southbayhearing.com
GPS coordinates
Latitude:
33.8250196
Longitude:
-118.3493022
Location on the map
Reviews Nancy Glass
I needed to do a hearing test and this place got it done for me. Overall I had a positive experience would recommend this place to anyone who needs to get their ears checked or needs to do a hearing test. Thank you!
5 months ago Edith Synco
Thorough professional and super friendly place! I had my first appointment 10 days ago Matt spend about 35-40 minutes in free examination. After that he had a detailed conversation with me about my exam and made recommendations for the hearing aid. Today after 10 days I went to pickup my customized hearing aid and I can not be more happy and satisfied as I left the facility.????
7 months ago Ike Webb
After a disappointing relationship with a different audiology office I decided to try South Bay Hearing as I noticed some very good 5 star reviews. I was not disappointed, the people there were very professional, polite and thorough. They did a hearing evaluation and recommended a set of hearing aids for my type of hearing loss. As of this writing, I've only had the hearing aids for a few weeks but am happy with them.
7 months ago Troy Martin
I am very fortunate to have met Jacob Iveland and to have had his guidance through my hearing improvement journey. It was my son who originally nudged me to start this process, however, it was Jacob who immediately made me feel comfortable enough to proceed with getting hearing aids. It is a decision I am very happy with. Jacob is a very patient, kind and understanding person and I look forward to his continued assistance over the coming years. I highly recommend Jacob Iveland!!!
5 months ago bonnie autrey
Dr Young was very thorough in his evaluation and came across as highly professional and highly ethical. He is probably the best audiologist we have come across. The staff at South Bay Hearing was very caring and friendly
5 months ago Luisa Medrano
We had an outstanding visit with the Audiologist, Dr. Young. My mother had been suffering from a blocked ear canal and was basically deaf. The Doctor removed the blockage and restored her hearing during our visit. Can't say enough about the patience and care provided by Dr. Young, he is wonderful. Thank you so much for the excellent care we received. I highly recommend South Bay Hearing.
8 months ago John Challenger
I could not recommend Jacob as an audiologist more highly. He was kind, efficient, patient, and friendly when he took my numerous hearing tests, but the most amazing part was the time he spent with me (over an hour by phone and numerous emails) explaining the results so thoroughly and offering recommendations. He is clearly someone who both knows and loves his job really well and is in it for all the right reasons - he cares. You could not get better treatment anywhere. If you're looking for the best hearing center in the LA area, you have found it!
9 months ago Alexis Heyn
Totally happy with my experience there today for my 1st visit. Staff were so nice and friendly, the Doctor Chis Johnson who saw me was so patient and understanding and gave me the confidence i needed to hear today, thank You Guy All, keep up the good works you're doing. Best Regards; Hamid
8 months ago Cindy Welch
I was VERY happy with my entire experience at Mercedes-Benz of Long Beach, starting with Sales Manager Joel Turett, with whom I started to deal in the fall of 2020 when I looked to order a new A 220. A few dealers contacted me then, but the sale went to Joel. He was always prompt, courteous, and straight forward. It was a pleasure dealing with him - due to Covid, all by phone and e-mail. He helped me ordering the car with special options to my liking. When my special ordered car came in recently, he delegated the hand over to his assistant, Kristine Valencia, and she was just as nice and efficient as Joel. Last, but not least, Kristine turned me over to Jose Quintana who gave me the technical introduction to my new car. He too was as nice and great as the others. So overall, I applaud these good people who made getting my new care such a pleasure and GREAT experience. I can only highly recommend them.
6 months ago Julie Fine
I'm new to the area and in need of hearing aids as i've been postponing this for years. Finally, went to South Bay Hearing and i am beyond impressed by the service all the way from making appointment to attending the actual appointment. Dr. Matt spent almost 2 hours on testing and explaining everything in detail. They are knowledgeable with my insurance and are making sure everything will be billed correctly. The office is clean and everyone is friendly. I left the office feeling confident about my future hearing aids. Definitely recommend this office.
10 months ago Joel Passmore
Every aspect of my 86 year old Mom's experience Was a true 5. Chris was outstanding in making My Mom feel comfortable about the WHOLE EXPERIENCE.
5 months ago Lydia
I don't normally write reviews, but after my experience with Dr. Jacob Iveland at South Bay Hearing, I wanted you all to know that if you are thinking about having a hearing test (and possibly getting hearing aids), this is definitely the place to go. I am a 72 year old male and have been having hearing issues for a couple of years (my wife may tell you it has been longer) Dr. Iveland immediately put me at ease and conducted the hearing test. He then went over the results and helped me understand why I was a good candidate for hearing aids. I am so thankful and blessed that Dr. Iveland took the time to explain my hearing loss and how the hearing aids will help me hear conversations, music and my TV without having to turn it up so loud it annoys others. He is a true professional and I highly recommend him to all you other folks that are having hearing issues.
6 months ago Dwana Harvey
Great experience! Very informative visit. The front desk staff was also very nice and helpful. I have recommended South Bay Hearing to a few friends.
8 months ago Gigin Krishnan
Amazing experience. Life changing for my 85 year old mother and our family. Chris is awesome.
8 months ago sean reed
Had an appointment for new hearing aids. Dr . Iveland took his time explaining the results from the hearing tests and my options for new hearing aides . Extremely comfortable experience with no pressure to purchase anything. Would recommend South Bay Hearing and Dr . Iveland to anybody.
8 months ago Quynh Dang
Great service friendly service recommended for anyone with hearing problems
5 months ago Mk Watson
It was my first visit and I had a free consultation. Dr. Matt Young made me feel very comfortable. He was very kind and respectful. I really liked that he took his time to explain everything to me. I can tell he cares and understands what a patient is experiencing. I am definitely coming back.
1 month ago Roselyn Hanson
Went in for tinnitus check, doctors and staff very knowledgeable and friendly.
4 months ago Gloria Trujillo
I have been a cochlear implant recipient for four years. While my hearing greatly improved with the implant, the programs and maps must be adjusted on a regular basis. For me this meant taking about 3 - 4 hours to go to the clinic in downtown L.A. and pay a fortune for parking. Several months ago I learned that a South Bay Hearing audiologist specialized in cochlear implants. In my hearing aid years before I received the implant I always had great service at South Bay Hearing but when my hearing worsened suddenly I was referred to the facility downtown. So I made an appointment and met Dr. Iveland and am receiving excellent care within minutes of home. And Dr. Iveland was able to provide additional programs to improve my hearing in special situation. I am thrilled to receive care once again at South Bay Hearing and recommend it for anyone experiencing hearing challenges.
7 months ago Dave Caselman
Best hearing exam my 82 year old mom said she's ever had. Matt Young was so patient and kind and explained all of the hearing aid options very clearly. We had a really a great experience and highly recommend South Bay Hearing.
1 month ago Tammy Drook
It is very exciting to be able to hear and understan the conversation in the similation of my hearing capability. Regain of hearing ability gives me confidence in life.
7 months ago Jeffery Costigan
I have come to their office in Torrance quite a few times for custom earplugs. They were so knowledgeable and very helpful with getting the right plugs for me. This last time I was here, I came in for a hearing test and I am very pleased with Matt's expertise. Not only are the doctors excellent, but the front office is very friendly and accomodating. Thank you so much for everything.
1 month ago Eric Mrazik
I had amazing experience with them and I highly recommend this center. They were extremely helpful, and ,knowledgeable.
10 months ago Olga Ignatovitch
A very good experience. Jacob checked out my aid and then spoke with me about my problem.At that time he discovered the problem and fixed it. Jacob also arranged for me to have a captioned phone installed in my home. I think Jacob is an excellent audiologist
8 months ago adem karakum
Long time user and supporter of South Bay Hearing and Balance. All the staff are remarkable - well-trained and cordial. Dr. Ian saw me today and provided wise counsel..
9 months ago Gales Ferry
Chris is a terrific audio doc who provides a great test experience.
6 months ago Edna Henrich
Dr. Ian was very informative and professional. I would highly recommend them to others
8 months ago Emil Hood
I went to South Bay Hearing to have a hearing test and to inquire about some relatively serious tinnitus that developed over the last couple of years. I was blown away by the level of professionalism and personal attention I received throughout the entire visit. The front office staff were amazing, friendly and accommodating and my audiologist was incredibly cool and extraordinarily professional. I received a thorough examination and several hearing tests using various state of the art equipment systems, but more importantly, the time the doctor spent with me after the testing was complete, describing my levels of hearing loss was really amazing. I never felt rushed, or brushed off as if this was a cattle call medical office which I am sure we all have experienced at some point in our live. Instead, every question I had was answered, every concern I had was addressed and I was give several options to consider for potential relief from the annoying tinnitus I have. I HIGHLY recommend South Bay Hearing and am actually looking forward to my follow up visit. Great place, great people and really a good overall experience. THANK YOU South Bay Hearing !!!
1 month ago jessica conrad
Easy to find and park. SB Hearing was friendly and professional all the way! Audiologist Ian was knowledgable and patient answering even my engineer's questions about ears, my hearing and test results, and the devices and options. The demo was clearly helpful to hear the improvement and a week later with the device I ordered, he did the final assembly with the ear fittings and set the electronics characteristics to my hearing profile. Though COVID isolation has made it hard to assess the full benefit (like in noisy restaurants or with loud music), simple conversation and TV dialogue was noticeably more clear. Yaay!
3 months ago mini sharma
I have been a South Bay Hearing patient for 9 years (I visit about 4-5 times a year), they earn a 5 star rating from me every year.
9 months ago Jonas Hidalgo
staff was friendly and efficient. The audiology professional, Dr.Jake, was very personable, informative, respectful, knowledgeable, and easy to relate to. He answered all of my questions and explained the results in a manner that was easy to understand. He explained what might happen next, depending on the MD who referred me. Very efficient and satisfying experience.
3 months ago Dustin Fortier
All my questions were very professionally been answered, and l was very delighted visiting this high-civilized place.
10 months ago Glepht
Went the extra mile to help me understand the billing. Professional and nice people. Went again on 10 -8 20 and had my new hearing aids fitted and adjusted by Dr. Matt Young. He is very professional and the front office too. Maggie and the others. I can hear better and my life has improved again. I recommend these people for anyone experiencing hearing loss. 5 stars!!????
3 months ago Franklin Jimenez
I was very happy with my appointment with Dr. Young this afternoon. Dr. Young sure knows what he is doing , he made an enormous improvement with my hearing aids, I can hear very well now, he truly is awesome! Thank you very much, I deeply appreciate your kindness. Dr. Young. God bless you. Anastasia Wittenberg
1 month ago Tonia Covington
My appointment went well. I was treated very nicely.
7 months ago Deirdre Preston
Professionalism,integrity and just plain caring is a hallmark of the staff at South Bay Hearing. For all your hearing needs,whether its a cleaning, repair or purchase of new hearing aids South Bay Hearing is the place to go.
8 months ago Dave Vachon
It is always a pleasure to interact with Dr Jacob Iveland. He is an expert audiologist, thoroughly familiar with the various hearing aid devices. He is patient, respectful, and very accommodating. After testing his patients' hearing, he adjusts the instruments to their highest efficiency. I have been a patient of South Bay Hearing for 12 years, and found all employees helpful and respectful. I just received my 4th set of instruments last week, and look forward to an uninterrupted relationship with South Bay Hearing and Dr. Iveland. Nabil
9 months ago Jordan Hurst
Wonderful experience from beginning to end. The receptionist was kind, attentive, and helpful. Chris is an amazing audiologist and explained everything with great detail and answered all my questions. Truly was a good experience.
2 months ago Gales Ferry
I thank you Ian so much for being helpful, gentle and patient with my 9l year old mother. You answer all of her questions, and she never feels pressured to make a hurried decision. We both look forward to doing business with South Bay Hearing and to letting other people know how wonderful you all are.
3 months ago Ahmed Khalid
The staff was very friendly. Dr. Jacob was awesome, he did a full evaluation of my Mother, very professional.
10 months ago Larry Brewer
my wife and I have been patients here for years. SBH is always both very professional and personal. They are concerned and proactive without being intrusive. Dr Young is the best: knowledgeable, personable, and helpful and fun.
2 months ago Emily Breeden
I was very impressed with Matt and the procedures your firm goes through to provide hearing aids
6 days ago Jamal Mitchell
I have had nothing short of a great experience here. From the minute I called in to see if they worked with my Insurance, to getting a hearing test done to getting fitted with my hearing aid. The staff is great, helpful and sweet.! I'm so glad I chose this place.!
2 months ago Sergey Kudrenko
What a great experience. Very nice people, thank you for helping my Mother in law with her hearing aides.
2 months ago Al F
I always have a great experience at South Bay Hearing. Have been a customer for several years and highly recommend!
1 month ago Natalie Davidson
The services at this company are outstanding. I am still in the process of upgrading my hearing aids. Unfortunately, the type I thought I would like is not something I cannot live with and they are trying very hard to make an exchange for something better suited for me. They live by their word and have your interests at heart.
11 months ago Mats Playz
South Bay Hearing was great. My audiologist is great. Dr. Iveland is pretty good about explaining all of my options. The staff is polite and professional and the office was quiet, well-lit, and clean.
3 months ago Chris Karasek
Doctor Johnson was fabulous as was the rest of the staff. Knowledgeable and caring. Highly recommended !
1 month ago Stacie Wittman
Dr. Ian is awesome! He answered all my questions clearly and made sure everything was in order. I was able to do a hearing test and HA fitting all in my 1st appointment.
4 months ago Charles Sumrall
I was very pleased with my visit.
8 months ago
Popular places from the category Audiologist