University of Jerusalem
University University of Jerusalem, No.47, Kamarajar St, Tambaram West, Tambaram, Chennai, Tamil Nadu 600045, India:
21 review
of users and employees, detailed information about the address, opening hours, location on the map, attendance, photos, menus, phone number and a huge amount of other detailed and useful information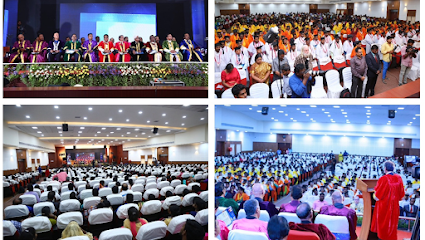 Address:
No.47, Kamarajar St, Tambaram West, Tambaram, Chennai, Tamil Nadu 600045, India
GPS coordinates
Latitude:
12.9294064
Longitude:
80.1139110
Location on the map
Reviews Manuel Aguilera
I'm writing just a quick note to say that I always learned something that challenged my perspectives and enjoyed doing so! Thank you, again, for such a wonderful learning experience, and I hope to learn from you again Thank you .
6 months ago Jacob Silvia
Praise the Lord, it's been a amazing experience to join in UOJ and complete My PhD in biblical studies, encouragement n motivation toward my studies from our university was awesome. I encourage everyone to join n grow in the knowledge of Christ.Best University to study.
10 months ago Ruthlesswill
Good Syllabus and Teachings... This University also offers Special courses like BBA & MBA... and also we thank Brother Ebenezer for giving us a opportunity to work with you in the Social wing of Jerusalem University 'One another Outreach' - Regards, SATHIYAM FOUNDATION
9 months ago Shiva Bongu
If any one want to do the Theological course through correspondence connect with UJ. One of the best place to do the course.
9 months ago Christopher Dysart
I Reg no 9234 am really thankful and happy to do my M.Div from the University of Jerusalem i have been blessed and I feel all the Pastor's Must do this course
10 months ago Delia Viljoen
Had a great learning experience with University of Jerusalem. The experts and mentors of this institution makes your learning easy. I strongly recommend this college!
2 months ago Pinki Arora
I have completed my PhD in Christian Leadership, the books sent by UJ were excellent. I am not ashamed to admit that most of the things I leaned while studying these books, excellent syllabus, I am going ahead for one course
11 months ago Carlos Ariza
I've completed my bachelors in theology from university of Jerusalem Chennai, it was a wonderful study time during the 2 years. I was blessed. The syllabus is awesome and in accordance with God's word. May the Lord continue to bless UJ.Amen.
4 months ago BKN Kutskov
It is a Unique opportunity to do your Theological Studies in University of Jerusalem..
10 months ago Hikmatullah Hotak
University of Jerusalem is one of the best theological institution.I really thank God for being connected with this institution.I wish many young people will train up through Univ of Jeru. And fulfill God' assign tasks for His glory.God bless Univ. Of Jerusalem.
1 week ago Dawn Hofmaster
Glory to God! I am Isabella working as a school teacher. I had a thirst to study the biblical study and Pray for that chance to get in my life. In that time I heard about University of Jerusalem, immediately I joined my M.Theology and completed the course and also got a honorary doctorate and Ordination on 2019. And instantly I joined D.Divine and completed the course this year. I never expect such a great chance in my life. This is done by the Lord Jesus! I thankyou so much for UJ for their immense help and support. May God bless UJ and multiply their divine work!
3 weeks ago Andrii Azaiev
I joined UJ as I had a desire to know more about God's kingdom and found their fee structure, flexibility , courses offered and subjects and books prescribed exactly as what I required. So I read, absorbed, wrote with the guidance of the Holy Spirit. The University in turn was prompt in replying, assessing, supporting and encouraging us in a sweet gentle Way to complete assignments and study further. Thank you UJ for helping me complete my God given assignment of finding the origin of canaanism through a doctorate in Biblical studies. God bless
2 weeks ago joan petrowski
The spiritual University with special Curriculum and Courses... Thank you very Much..
3 weeks ago Joan Lagasse
Dear sir/ madam UJ, Greetings in the name of our lord and saviour Jesus Christ .My self Bro: Bijendra mahanandia , Asso:5925 delighted to share the experience as a student in University of Jerusalem . The journey of PhD in Christian Counseling was indeed a blessed and matchless in term of insight knowledge and spirituality which I needed but did ever thought of. It would be a difficult task certainly for me to bind up what I have got from UJ within some sentences. The study materials is simple but best and cooperation from them is unforgettable certainly. People who are in the ministry and due to family and children cannot leave them and go for training or higher studies UJ is the best place to fulfill their dreams. May the lord God Almighty be with the institute to be the blessings continually to million in building the Kingdom of God . Thanks to UJ for helping me to fulfill my dream as an institution. Amen In service of God Bro: Bijendra Mahanandia Email: mbijenkkms@gmail.com Asso: 5925 PhD (CC)
3 weeks ago Jessica Wallace
Completed b.th here and applied for M.th ... The syllabus and the lessons are totally dependent on the word of god !!! It was a wonderful experience ...a good knowledgeable Bible study ....
6 months ago Mink Korver
Great place to both study and get prepared for ministry!
1 month ago Breanna Richards
Good teaching on Theological matters
2 weeks ago Danny Guihen
Great place
10 months ago Tim Martin
Very happy with them. They are providing good courses. Syllabus also very good. Highly recommended.
7 months ago Loyalty Memphis
This is a degree mill, Please be careful this university has nothing to do with the Hebrew University of Jerusalem. Degrees are not accepted in the academic world, nor they have any accreditation from an accredited body. One can receive a degree by paying some money, Though the website claims to offer accredited degree, but the body of accreditation is not mentioned, based in Chennai India, this university is not approved by University Grant Commission, Govt of India nor it is part of Asian Theological Association or the Senate of the Serampore College ( the main theological accreditation agency in India or Asia. In their website its mentioned "Accredited by International Council of Evangelical Theological Accreditation Inc., Louisiana, USA" upon checking their website I couldn't find this institution. Nor you can find any accreditation with Great Commission Europe, No website is found of " Member of National Association for Theological Accreditation (NATA), Bangalore" and Member of Asian Board of Theological Accreditation (ABTA) . Please be careful unless you want to buy a degree to grace your office or put the degree in your letter head or business card. Any Tom Dick and Harry can get a degree and ordination here by paying money.
8 months ago Lastgal NJ
A Chennai based academy into conversions. Gives away honorary doctorates to every Tom if he is a Christian
8 months ago