The M & M Team Realty
Real estate agents The M & M Team Realty, 9230 Mayne St, Bellflower, CA 90706, United States:
21 review
of users and employees, detailed information about the address, opening hours, location on the map, attendance, photos, menus, phone number and a huge amount of other detailed and useful information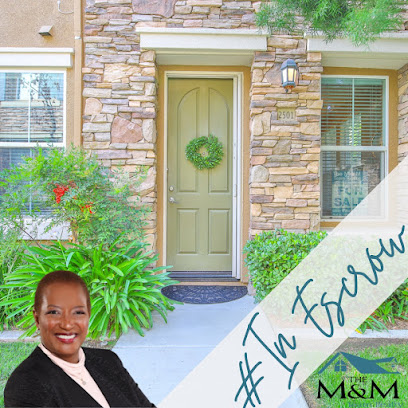 Address:
9230 Mayne St, Bellflower, CA 90706, United States
GPS coordinates
Latitude:
33.8853362
Longitude:
-118.1371279
Location on the map
Reviews Scott Carroll
Theresa is absolutely amazing! The whole process from start to end was such a breeze. She guided me through the whole process and was super helpful. I had so much on my plate and wasn't on top of things and she always reminded me and followed up with me. She's the best! You can tell she loves her job and she's so good at it. She's great to work with, super friendly and just impeccable all around .. wait until you meet her yourself, you'll understand what I mean. She found us great tenants as well and I'm so glad we hired her for the job. She made my life so much easier. Best decision I made.
6 months ago Thairy Cornelio
We hit the jackpot the day we met Theresa from M & M Realty, We wanted to sell our Condo in Downey, Calif, at the best price and fast. We interviewed several companies but when we met Theresa we both knew she was the one to sell our Condo, And she did what she promised, It sold for more then we asked and very fast. We were both very impressed with her plan to sell our unit. If your looking for a realty firm thats works for you she is the one. Thank you Theresa David & Teri Martin
6 months ago Robin McCarver
I used this realty group and got blessed with Theresa Miller. She is wonderful. Very nice and above all, she gets things done. She stood by my husband and I for almost a year while we went on the search for the perfect house. Even after escrow closed she is always just a phone call away. I would definitely recommend this group to anyone who is looking for an attentive realtor who will listen to you and answer every phone call.
10 months ago Rob Sulaver
Excellence. The M & M Team Realty has been excellent with my family. I feel secure and grateful to have found the owner, Theresa, as our pillar in my family's journey to purchase a new home; Furthermore, if I have questions, Ms. Theresa gives my family answers. If I feel unsure, I get reassured. If I don't believe, Ms. Theresa's strong will and faith make's me a believer. So far, Ms. Theresa gave me clear, honest, and transparent information while searching for my future home. You will know what you get with The M and M Team Realty. I know it's the only team for helping my family buy a house; you will not regret it.
11 months ago Alexander Tischenko
Theresa is knowledgeable and a true professional when it comes to real estate. She takes her time to answer your questions and explain things to you so you have a better understanding of things you may not quite understand during a real estate transaction. Not only did Theresa sale me my dream home in 2018, but I enlisted her help again to find a tenant for an investment property. Theresa not only found me a tenant in 3 days, but she also had every guest follow COVID safety guidelines. She has been a godsend to me and my family. Her team of realtors is exceptional, honest and trustworthy. I'm always referring people to her and they too have been very satisfied with the M&M Realty Team.
11 months ago Alex Holland
Theresa Miller is the one you want on your team! She has generously provided her professional expertise to me on several real estate issues. I look forward to working with her on all my future transactions.
10 months ago Victor Torres
There are many up's and downs when embarking on such a tremendous task as the acquisition of real property, Whether you're buying your first property or you're a season investor having the right " REALTOR " is the key ! The M & M Team is that key !!! They never missed a step that fought as hard as me and my team here at 3LG Network,LLC to get the deals done !!! It was their knowledge of real estate and their ability to communicate our position, setbacks and desire to close the deal that got these two deals done . What a " AWESOME TEAM " From our team here at 3LG Network,LLC THANK YOU WHAT A GREAT JOB !!! Michael Sims, Operation Manager
11 months ago Nick Summers
I was executor after my mother's passing and left with the responsibility of selling the home that she lived in for fifty plus years. Living out of state, I expected an enormous amount of work. After being referred to Theresa by a close long time friend, Theresa made me comfortable from the very start. She took very good care of all the big and small details and kept me very informed at every step. I had complete piece of mind throughout the whole process. She is more than talented, extremely personable and a pleasure to do business with. In the process I feel like I made a new friend. Thank you Theresa!
6 months ago missy h
We unexpectedly found ourselves in a bind, the house we were renting would be foreclosed on and we had to make a decision. My husband and I decided it would be time for us to take a leap of faith and buy a property. Theresa was a godsend. She was precisely the person we needed leading our homebuyer journey. As soon as we met her, we knew she genuinely cared about her clients and wanted to help us realize our dream. Theresa was confident she would help us find a house and fast! We started looking the week of Thanksgiving and within a matter of a week we found a house, our offer was accepted, our loan was funded, (thanks to the amazing Joe Soto team- also, Theresa's referral) and we closed on Christmas eve!! Theresa was phenomenal to work with. She was always available and ready to answer any one of our questions. Theresa made this scary process a breeze and I would highly recommend her!
8 months ago Samantha Kratzer
Theresa is very friendly and has such an outgoing personality. She is your one stop shop for everything. I personally think she knows everyone and provide exceptional services. She has been very consistent and I have known her for more than 10 years. She is your go to person for everything.
6 months ago Bianca Rezzonico
Theresa is a very professional ands hard working agent I'm very thankful for her service she found me and family amazing cozy house Thank you again Theresa I will be send more referrals your way and look forward in the future closing escrow with you
10 months ago Daniel Durant
Super profesional and responsible.. really good team, helpful and responding any time. great experience.. I recommend
8 months ago Dylan Walters
I was relocating out of state and needed a quick seamless transaction. I entrusted Theresa Miller with the sell of my home and could not be more pleased with the results. Theresa understood my urgency and handled the matter care and expertise. Thanks to Theresa, we completed a smooth and timely escrow. Working with a knowledgeable and professional realtor made the process smooth and easy.
10 months ago Stephen Frost
The M&M team are fantastic! They were patience with me , sensitive to what i was looking for, knowledgeable , and Really helped me to find my perfect home. If you are looking for just the right person, to put you in just the right place, contact the M&M realty team. This was more than a business contact this became a relationship. Thanks Lady T. You are the Best!!!
4 months ago Kimberly Rose
Leroy and Theresa are good honest people! They're dedicated to what they do. I didn't know them before they started helping us, but soon came to luv them both! Although we decided not to sell our home, they will be the first we go to if we ever do! They helped us get ready for our sale, didn't rush us and were positive and supportive the entire process, even when we changed our mind. They're "outstanding", as Theresa always says! Thanks for working with us Miller family!!
9 months ago Ken Shows
The M & M Team Realty is led by the knowledgeable Theresa Miller. If you are looking to buy, sell, or lease, this is definitely who you want to represent you. They educate and walk you through every step of the process.
6 months ago Dasha Shevchenko
M&M realty is awesome. They were very informative regarding your goals and what you need to do to make your dream home become a reality.
6 months ago Demitrious Kelly
Theresa and Leroy respresented the buyer for one of my listings. Along every step of the way, they were very orderly and professional. It was a pleasure working with two amazing agents that cared not only about their clients, but cared about keeping the communication flowing. The deal closed flawlessly. I feel honored to have the M&M Team part of my professional network as well as now personal friends.
4 months ago Cynthia Abbott
It was beyond amazing working with 'The MM Team Realty.' As a fellow Realtor it is very easy to recognize true professionals when you not only see them, but actually get to work with them. Theresa Miller is professional, strategic, great problem solver and pleasantly balanced in demeanor. One heck of a Realtor!
3 weeks ago Hlobisile Mkhondwane
Theresa and Leroy are outstanding realtors. They are dedicated to their clients and extremely hard working. I put my full faith and trust in them to sell your home or find your dream home.
7 months ago Dwana Harvey
Good people, honest people!
7 months ago
Popular places from the category Real estate agents