SF Moto
Motorcycle dealer SF Moto, 275 8th St, San Francisco, CA 94103, United States:
220 reviews
of users and employees, detailed information about the address, opening hours, location on the map, attendance, photos, menus, phone number and a huge amount of other detailed and useful information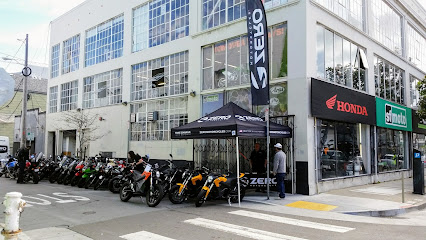 Address:
275 8th St, San Francisco, CA 94103, United States
GPS coordinates
Latitude:
37.7753560
Longitude:
-122.4103222
Location on the map
Reviews Emily Domeyer
Fantastic dealer! I flew from Nevada to San Fran to buy my bike from them. Such personal and professional service. A gift really to find such amazing people willing to go the extra mile for you.
8 months ago Lee Broaden
Great selection of bikes, gear and a super friendly staff. I showed up as a rider just needing a little rest and to browse a bit. Stayed for a while and enjoyed every minute. Sat on my first view of the Zero electric bike too... Big 'ol San Fran building full of great bike stuff! What's not to love?
5 days ago Mendel Ehrenreich
Great experience from start to finish. Knowledgeable and friendly staff from sale department to mechanics. Eric, the owner, went above and beyond to make sure that I was comfortable with my new Versys 650. Thanks to all.
7 months ago Corvus Corax
Helpful, no-attitude staff make this place a gem.
10 months ago Lamont Way
Looking to get my first bike and had a TON of questions. They have people who specialize in each department and they are all super friendly and very helpful. I now have a good idea on which bike will be a good fit for me and all the gear …
2 months ago Deatrice reason
I would say the thing that stands out the most about SF Moto is the service. Everyone I talked to was super courteous and friendly. It's a completely different experience than what I've experienced at other dealerships. I would most definitely be back whenever my bike needs service.
7 months ago Augustinas Drulia
I recently sold my motorcycle to SF Moto. The whole process was very quick, smooth and easy. The staff was responsive and friendly. I would highly recommend SF Moto to anyone.
7 months ago Ramiro Fire
I purchased my Honda NC-750 here and use their shop for upgrades and repairs. In particular, Ray (in the shop) has been excellent. He is the rare combo of very knowledgeable AND great at customer service. I feel comfortable that he is giving good advice (and not just upselling me) on things for my bike.
9 months ago Val Hodge
Fantastic place. Made special arrangements for me to test ride the floor model, answered all the questions. Everybody in the store was super helpful.
8 months ago Andrii Siedin
SF Moto is a fantastic dealership. In purchasing my first motorcycle (2017 Kawasaki KLR650), I dealt with five individuals; the young man who showed me the bike, two sales reps, a knowledgable gear associate and the owner of the business. …
8 months ago Luke Goodine
The staff SF Moto very kind friendly informative please if you're going to purchase a motorcycle and have any questions go there
8 months ago Brandon Rockwell
I would give SF MOTO 6 stars if i could! We bought a crf250f a little more than a year ago as they had probably the last crf250f on the west coast. Drove there from Oly WA to get it for my son as his graduation present since we couldn't …
7 months ago Kasun Fernando
Well informed, low key, patient, sales staff willing to help if you ask. COVID safe and well managed shop. Easy to buy and enjoyed the Finance and Parts Dept interactions as well. Followed up on my order and delivery dates too. The owner …
9 months ago sayan mallick
SF Moto staff made it really easy on buying a motorcycle. Thank you!
7 months ago ken brandes
These guys rock. Super friendly, great customer service. We are lucky to have these guys in SF!!
10 months ago Morgan McCollum
Just rip off!!!!!!! go other place ..trust me there is a lot better place to fix your scooter . Old guy in finance is really rude . try to sell you all kind to make his commission . TIGER SCOOTER REPAIR in sf is the best and cheap compare to them . Never see u and recommend you ..............no business for you.
9 months ago Laurie Hoppe
I had been looking on cycle trader for quite some time for a very specific bike, 2017/18 Ducati Cafe racer. Eric and his team at SF Moto happen to have what I was looking for. I contacted Frank in sales and he was amazing! Answers all me …
9 months ago Jon Pildis
Great sales people. They know their stuff and they are always happy to talk about bikes. I've learned so much
4 months ago Tiana McNain
In the same day we purchases the same motorcycle from two different dealerships and I have to say that having the buying experiences back to back made it perfectly clear that SF Moto is superior! We would have had a much easier experience …
1 month ago Joshua M
Purchased our second set of motorcycles today. Super happy with the price and service. They are friendly, professional, and accommodating.
4 weeks ago Marsha Motzkus
Helpful and attentive stuff, a true SF gem. P.S: there's some on street parking, but space is highly limited, so if you're thinking to pick up your bike on a truck plan accordingly.
11 months ago Omar Hussein
Ray and Chris and the whole SF Moto team helped me to dig a scooter out of storage, get it shipped to them and make the repairs necessary, explaining the whole process to me up front and keeping me in the loop over the time it took to get …
3 months ago Dayvid Brooks
Super friendly! I was over charged 45 bucks. As I was about to leave one of the guys found me and told me he over charged me. They refunded it quickly and sent me on my way. As always, they took great care of my bike. It's really the best …
9 months ago frances prochilo
These guys are the best when it comes to service. Super honest. Saved me money with great advice. Much better than Bay Area suburban motorcycle shops.
7 months ago Judith Noameshie
At SF Moto I was able to confidently choose my first motorcycle. I came in looking for one thing, and went out with a bike that actually looked and felt better, while also being more cost friendly. I have also gone to SF Moto's service team …
7 months ago Hadian Hartanto
Great dealership. Service Dept. is a star. Maybe not the cheapest service, but you can be assured that it's done right. Because riding a bike is dangerous enough, you don't need to add to the risk by riding a poorly maintained bike. …
11 months ago Cody Burnette
Great service, let me peruse to my heart's content. Never came across as pushy. Takes covid precautions seriously!
3 weeks ago Lisa Goddard
Helped me with battery change. Raju is very skilled & a general cool dude. ????????
3 months ago Bhavya Lilawala
They had the part I wanted and cheaper than I was expecting, much friendlier people than the previous place I went... So I'll spend my money here more often.
4 months ago YOTE MEISTER
Not a fan. Zero customer service or salesmanship. I had to ask questions, I'm an uninformed buyer, the sales girl gave me no additional information on her own. It felt like she didn't really care to sell me the scooter or thought I wasn't serious who knows. Went to Mr. Scooter and was well taken care of. Bought my first scooter!!
4 months ago kamaraj krishnaswamy
The service is impeccable and their selection of both new and used bikes is great. I would highly recommend this place to anybody who's interested in purchasing a motorcycle.
5 months ago Rokhaya diaw
Surprisingly large selection and really helpful and informative staff. Purchasing was made easy, fast, simple and I greatly appreciated the thoughtful opinions and answers to my questions. Would recommend to anyone.
7 months ago Audri Aguero
Whether you're looking for a new bike, gear, parts, service or need financing to get all of the above, they do everything. And they do it very well. The sales staff are some of the friendliest and knowledgeable people I have met in any …
7 months ago Randy Nafso
Since my son's "graduation" kind of got destroyed because of the Rona, our celebration trip to Disneyland was cancelled. So, he wanted a motorcycle and decided on a honda cr250f. Since Honda's production was halted, there were absolutely …
1 month ago Fernando Sanchez
Customer service is amazing. The service manager usually sends me a follow up text to check in and ask if I have any questions. I bought my moped here (knowing next to nothing about motorcycles) and have been so happy with all the knowledge …
7 months ago Gee F
Friendly, knowledgeable people and quality products at reasonable prices. Perfect. The minor fly in the ointment is the reservation process in the service department. No service because a technician is unexpectedly out (with no notice to …
5 days ago Ian Stead
By far the worst service. It took them three weeks to find out the problem on my scooter, and i bought that scooter from them almost brand new only 162 miles.
9 months ago Michelle Redlinger
Traded my 2007 GSXR for a brand new 2018 GSXR. SF Moto offered me a fair price for the trade in. Originally there were several motorcycle that I was interested in. The sales folks answered all my questions regarding each model, including …
7 months ago Melorna Windross
Overpricing store and NON negotiable people.
10 months ago Acacia Bloom
Good service. Knowledgeable staff. However, they don't keep any room for negotiation and bump up the base price of the motorcycle with lot of hidden fees which are not mentioned on the website or clarified at the time of purchase. Also, their website doesn't show accurate price and availability of motorcycle.
8 months ago Austin Waldron
Great service. Friendly employees. Fair prices!
6 months ago Jessica Thies
Ray got me on my NC700X, thanks!!
3 days ago Aaron Troxell
Professional, very nice people who made purchasing a bike super easy in these hard times. I've read a review below about the hidden fees, I always ask what the out the door price is because it can be variable from what county you live in. …
9 months ago Gregory Preston
I'm never disappointed when I visit Eric and his team.
7 months ago Sal Falco
Good place.. cosy and comfortable. Helpful staff. Not much selection in stock though. Not a problem if you can wait and they will order it for you
7 months ago Julie Mandrell
Usually I don't write bad about other business because it's just not Ethic and not ok on my point of view, but this business wrote a bad review about me and I would like to give my side of what happened there, I had dropped bikes at this …
10 months ago Violetta alf
I've owned many motorcycles, from many dealers. I've had many bad experiences as I am sure anyone reading this has, from the sketchy salesbro, to the people you know have no idea what they are talking about. SF Moto is none of those …
7 months ago Nanci Velasco
These guys are the real deal. I bought a bike from them last week and the whole experience - sales, finance, service, orientation, helmet fitting, etc. - was amazingly joyful! They are the epitome of customer service. Everyone is very …
6 months ago Imtiaz Alam
Great place for motorcycle gear in SF (I came here for gear, not to buy a bike), they had a good selection of gloves and jackets, the employees were super helpful, and the gloves were well organized whereas every other place I've been in SF is a total shitshow when it comes to finding a glove that I like and finding my size.
5 days ago Takehiko Nakamura
Living in SF we had many incidents involving hit and run drivers, drivers driving into us, and homeless people messing around with both of our bikes. Every time we needed a fix or a tune up, SF moto was our go-to from the the first visit. …
6 months ago
Popular places from the category Motorcycle dealer