Tate Modern
Art gallery Tate Modern, Bankside, London SE1 9TG, United Kingdom:
220 reviews
of users and employees, detailed information about the address, opening hours, location on the map, attendance, photos, menus, phone number and a huge amount of other detailed and useful information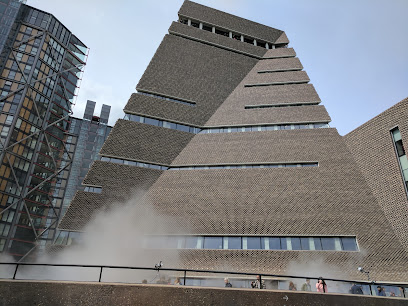 Address:
Bankside, London SE1 9TG, United Kingdom
GPS coordinates
Latitude:
51.5075953
Longitude:
-0.0993564
reviews Dale Gallagher
The building itself is art. It's huge inside, very modern architecture. We like the art from all over the world, especially the babel Tower. Nice views of river Thames when you are on balcony.
2 months ago J Bivins
Excellent conversion of the former Bankside power station into a world class modern art gallery. The building is as much an attraction as the art and is perfectly located by the Thames and the Millennium Bridge. Free to enter but a donation of £5 is encouraged. Recommended.
2 months ago vivek m
Currently requires pre-booking, but still free. There's a one way system which, when combined with the reduced number of people allowed in, makes this a much calmer experience in my opinion. Felt very safe, and wonderful to be back.
2 months ago Kojak Baseleres
Tate Modern is incredible. An amazing building (the Turbine Hall is breathtaking) and inspirational art. The staff in the Members Bar are exceptional, the food is gorgeous, and the view of London is unbeatable
2 months ago Mark Sullivan
lovely place! the artworks are genuinely amazing and awe-inspiring. entry is free and if you book before hand, there is barely any wait. it is simply picturesque. it is near to London bridge station, so the journey is easy. just outside it is a river, a park and beautiful bridges and buildings. there are also many food places nearby so it is perfect for a day out
3 months ago Yandel Richardson
I love this place so much ! The building and all the exhibitions. We recently just went to the infinity room exhibition and it was amazing . Very well organised as usual ! ????
2 months ago Jeremiah Masse
Was expecting there to be a little bit more but a beautiful museum and great displays none the less.
2 months ago Troy W
1st time visitor. You will find something that is interesting and slightly out there all in the same well known building. Well known artists alongside, in my limited artistic knowledge, lesser known artists. Always challenges your perceptions. Well worth a visit. It is also free! Why not go?
2 months ago Ian Cooper
Brilliant gallery with lots to see even for free. There was a bit of a queue to get in but it moved quickly due to the booking system and inside it wasn't too crowded. Beautiful art.
3 months ago Brianna Johnson
Modern is what it is.... Couldn't be less. But there's always hope, hope is all we have. A nice place, a lot of space, and then more and more space. Big place.... yes very big. And there's always fun outside, the river bank's full of people.
3 months ago Ricardo Concepcion
The museum itself was inspiring, a fantastic layout with some even more fantastic modern art. We thoroughly enjoyed our day out there. The only down side would be the limited choice at the restaurant for extortionate prices. Eventually, we decided to go elsewhere as there were not really any decent dairy free options. I would advise taking your own food or grabbing a burger from a nearby restaurant after visiting the museum.
3 months ago Rafael Guevara
A great museum despite a few exhibitions were closed because of covid regulations
3 months ago Luis Garay
Entry remains free for everyone, with a charge for some exhibitions. All visitors, including Members, need to book a timed ticket online before visiting. There are one-way routes around the gallery, guiding you through rooms in the collection. Each route offers access to toilets, a shop and an opportunity to buy food and drink. Please limit your party to six people or two households only when visiting. All visitors are required to wear face coverings in our galleries, apart from those who are exempt
2 months ago Torris Loucks
Beautiful and tasteful art within the Tate Modern. A lovely experience to go both with a a group and by yourself.
2 months ago Paul
It's a really cool place to visit. There's a lot to see and a few floors to cover. Now with Covid, you have to book a ticket in advance but once you do, you can go through the whole place and all the different rooms. It's not made very clear on the website since you're sort of booking individual exhibitions. Apart from that, there were many fascinating works and I definitely recommend.
3 months ago cymone henry
Loved this museum and was so glad I decided to stop by on my weekend trip to London. If you like modern art, you should definitely come here. They had more exhibits/levels than I expected so I spent a decent part of my day there. They also have so many cafes and even a restaurant here. They have a cafe on the top level with a great view of London. The museum is also connected to the Millenium Bridge, which is pretty cool.
3 months ago melvin jones
I bought a ticket to The Making of Rodin exhibition, which cost £18, but admission to all galleries was included in the price. The was very interesting and I was delighted to see The Thinker in all its glory! The staff are helpful and knowledgeable and I would thoroughly recommend the Tate Modern to anyone visiting London
3 months ago Brandon Ruttan
What a wonderful tranquil place to visit. Away from the hustle and bustle of busy London life..
3 months ago anders nikula
The gallery isn't fully filled yet, but it is still amazing. The collection of modern art is really breathtaking
2 months ago M Jiang
A wonderful place, beautiful art and not as busy at it was pre Covid. Go..... Now.....
3 months ago Andrew Russell
Bit of faffing about no longer able to walk in spur of the moment. Seems they closed the viewing deck too. No exhibit on in the main hall. But this is covid times so I understand why
3 months ago Barbara Lourdes
Visited The Making of Rodin exhibition at the Tate Modern. Very good - with plenty of exhibits and many plaster artifacts from the Musee Rodin in Paris. Informative and very well curated with a good narrative story. Good lighting and good use of space. I would have liked a bit more information (nb I did not use the audio guide). Overall: good to see Rodin in London again but I think that Rodin and the art of ancient Greece at the British Museum in 2018 was a touch more impressive.
2 months ago Marilyn Andress
The kids had a blast playing "I spy with my little eye". They also loved the activities that the Tate had for them. One way system was effective and easy to follow.
3 months ago George Boateng
All around brilliant! The architecture, the collections, the write ups...what was beautiful was to see so many young children looking at the exhibits with so much interest! Keep up the great work!
3 months ago Kelsey
I would like to say that I liked this place as I visit exhibitions and museums very often and usually really enjoy it. Also Tate Modern supposed to be 'the place' to go for people who are into modern art. Let's start with negatives and leave positives for dessert. Unfortunately, I was disappointed by nearly every exhibit I saw there. Most likely, it's just me and, must admit, I'm not an expert in art, although I'm very open-minded about a lot of things, specially when it comes to culture, architecture, music and art. Sadly, there wasn't a single moment when I thought 'I love it, it's great!' It's upsetting to think that the word 'art' has totally lost its true meaning. Also, I should remark: I have only visited free galleries and exhibitions, so my review only covers those. You could probably have a totally different experience whilst attending the exhibitions that you are paying for. Also, practical warning: the cafe on the 2nd floor is very small, the choice of food is very poor and coffee is overpriced. Also, dirty tables (I'm very fussy about it), they are obviously lacking stuff members there. So don't expect a nice relaxing 'coffee time' during your visit. Now moving on to things that I thought were positive. Firstly, the visit was very easy to book online and you don't have to pay when it comes to permanent exhibitions (some others you have to pay for). Secondly, I thought everything inside was very nicely organised, very clear signs for directions, helpfull stuff. All Covid measures also have been followed. I liked that rooms hadn't too many objects in it, so you could actually concentrate on one at a time and socially distance. Thirdly, the cafe has a nice view of St Paul's Cathedral and the Thames (if you manage to grab a good table). Fourthly, the location of the gallery is great: minutes from the river bank, The Globe, Millenium Bridge and St. Paul's Cathedral. I guess, it's a 'must visit' site if you like art. I'm glad I had an experience but it wasn't my 'cup of tea' and I would rather return to National Gallery than to Tate Modern. At the end of the day, it's a personal choice. So, I'm giving 4 stars based on the organisation, accessibility, Covid19 measures and location. Cafe let the place down, but I hope that will improve overtime.
3 months ago Kiera Sofia
Love to visit when back in my old home of london. Amazing contemporary art, free or with donation. Exhibitions regularly and in the turbine hall. A real triumph for London.
2 months ago Shelli Hendricks
Really enjoyed visit today. Perhaps more signage to indicate which entrance to use. It was very hot and walking around in a circle to find the side entrance rather than the front made me extremely red faced.
2 months ago Ashif Marakkar
A great place to have a nice day out with the family or art oriented friends, beautiful exhibits from all around the world are on display here. And to make it a real treat there is the Artwork of the famous and very unique Japanese artist Kusama on show at the moment. Simply loved the experience.
3 months ago karen Ocampo
Went there to write a report on my opinion of modern art for college, glad to say my opinion was correct and that the best part was that its free considering the restaurant was full and I couldn't even enjoy the view, the art is bland and boring, pretty much defining modern art, the radio tower was okay, more useful as a Instagram post than an actual gallery, also a room full of blank canvases was way too much, such a big space that could be filled with gorgeous artwork, shame its wasted on 3 pieces of stocking wrapped around a canvas. The quality is lacking is replaced by long and tedious meaning that fails to make up for it.
3 months ago Alix Lendl
Place to find a creativity in every way. Really educational about history or the future.
3 months ago Lixi i
Ending my year of lockdown with Tate and the most powerful exhibition! All is good in the world.
3 months ago Chad Franks
The Rodin exhibition is stunning. World beating. Got to be seen.
3 months ago Betty iarca
The modern part of it is really nice and it is a very spacious museum. However, the contemporary side of this museum is definitely not for everyone. Either way, it's interior and use of the old factory is stunning.
7 months ago Worldwide Tv
One of My favourite museums in London. Has clear guidance board and exhibitions there are always mind blowing.
2 months ago C E
Love tg the Tate, looking forward to more 'normal' times (I visited just after lockdown)
3 months ago Pam Seidler
Lovely art gallery, but the best bit is the beautiful view of London from the roof top platform. By far my favourite of the Tate Galleries!
3 months ago Jeff Brown
Always amazing to see great and modern Art. Friendly and COVID secure.
2 months ago Jason Boon
Visiting Tate Modern after two years made us feel in contact with the world again. Diverse artists and mediums in the collection rooms available and loads of space to walk around :)
3 months ago Brianna Lawlor
Rodin exhibition was great! TATE always brings good exhibitions ????????????????
2 months ago Sam Therriault
Always well worth a visit. Has the best view of St Paul's Cathedral.
2 months ago Sherwin Lu
Absolutely wonderful exhibitions. Safe, friendly, staff are delightful. So good to be back herr
4 months ago Kate P
Wonderful as always! Loved the Infinity Mirrors installation!
3 months ago Adam Welch
Loved the exhibitions and the depth of all the artworks. It is the most inspiring place for artists.
2 months ago David Sossman
Been a few times over the years went yesterday with a friend. It's a good way to pass a few hours and it is FREE minus Exhibitions ofc.
3 months ago Heather Ireland
Good exhibitions, just not that much on when I went. Will try again in the future though with a new exhibition
2 months ago Yanemi Sarabia
World class exhibitions all year round. The members' room on the fifth floor of the old building has the best views of St Paul's Cathedral in London.
3 months ago Raphael Hidou
An incredible museum focusing on modern art. It is Britain's national gallery of international modern art and it's totally worth it spending several hours exploring the exhibitions. Unlike other major museums, And similar to the other modern-art-oriented ones in world, there temporary exhibitions and galleries change constantly so it's a good idea to visit Tate Modern once in a while.
11 months ago Jen Koch
Some really interesting exhibits that are completely free, unfortunate that the paid exhibits are so expensive but understandable considering how expensive the place must be to run. All in all a good place to take edibles ✔️
2 months ago Lisa Grabowski
I really disliked this museum. The building itself is quite cool and impressive to visit on the inside, but the collection was quite poor, most wings were full of special exhibitions meaning a free ticket did not get you very far, and the art was not really my cup of tea.
3 months ago Brian B
Saw a few Picasso pictures and some more modern basic art, easy to book, let us in early, great pizza and drinks before
2 months ago
Popular places from the category Art gallery