Business management consultant Breakaway Seminars
Business management consultant Breakaway Seminars, 8000 Frontage Rd #300, San Antonio, TX 78230, United States:
114 reviews
of users and employees, detailed information about the address, opening hours, location on the map, attendance, photos, menus, phone number and a huge amount of other detailed and useful information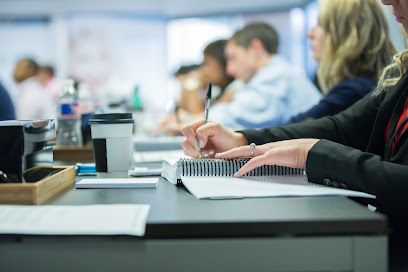 Address:
8000 Frontage Rd #300, San Antonio, TX 78230, United States
Website:
breakawayseminar.com
GPS coordinates
Latitude:
29.5134536
Longitude:
-98.5547956
Location on the map
Reviews Javari Music
Great Information and Presented in a way that is easy to apply in our office! We enjoyed the Seminar and found it very valuable.
5 months ago Hasan Tamimi
My owner doc suggested Breakaway Seminars in order to help me in my eventual goal of private practice ownership. We utilize many of the systems recommended by Breakaway in my boss's practice currently, so I know they WORK. In comparison to my own father's more conventional practice (a dentist of 35+ years), it's no question that the systems pioneered by Breakaway are invaluable to create a great, highly efficient practice providing customer-driven quality care of patients. And even better, the Breakaway model allows for LESS STRESS and less burnout. I have never worked in a DSO and want to continue to keep private practice alive. Overall, the Business Masters seminar was eye-opening and almost like a boot camp highlighting my own shortcomings and where to improve. Can't wait to take the next step with the Start-Up Seminar!
4 months ago Bill Freeman
We attended the Office Manager Mastery course and had a wonderful experience. Dr. Scott Leune is very engaging and had a wealth of information to share with our newly promoted office managers. The seminar does focus mainly on general dentistry, however we would still highly recommend attending breakaway seminars for the leaders of your practice. They will walk away with useful and applicable information for your team.
7 months ago Russ Ault
Been to other dental management courses and after this two days I could say that in my opinion the Business Masters from Breakaway seminars is the most pragmatic , no non sense , and overall best value I've been to . Even if you take one concept and apply it or every concept it's worth the time and money invested . I would definitely recommend it to anyone .
7 months ago James Bowser
This is the WORST PLACE EVER! They are horrible! Worst JOB ever! They are not professional and A typical day is to sit there for 5-8 hours a day and take phone calls and schedule appointments or take messages for dental offices. You are required to complete all notes within a call and have 30 seconds after. Their missed call rate is always high and they blame the schedulers all the time even though management should figure out when more people are needed to take calls. Management is very unorganized, lack of communication, and exceptions are high when the management it self is a mess. This company is extremely unorganized and lacks true leadership and management. You are not appreciated at all. There are also multiple interruptions from management throughout the day and no consideration for many of the employees because you are expendable, therefore, expected to take it and most do not, so being short-staffed is common. They say they want to make a "difference" but all they are doing is discrimination against you because they want to make money! Don't sign up or even take this job! Treating people like trash. Run away !
7 months ago Adrienne Bodo
I learned so much at the Business Masters course offered by Breakaway. It was a two day course packed with loads of helpful information! I now have over 75 ideas I want to implement for my practice thanks to Breakaway. Scott is an amazing, captivating and informative speaker. I am so grateful for getting the opportunity to be a part of this learning experience! Highly recommend for anyone who wants to take a good practice to GREAT!
6 months ago Dottie Roland
Life-changing! Where else can you go to learn all the systems you need to run a phenomenal dental practice. Also hands down the most efficient, actionable, impactful CE I've taken while being entertaining and motivating. Fantastic food and great memories. Just freaking take Breakaway if you're going to be a practice owner. Why fly blind when you can follow a map?
8 months ago Mary Wood
Wow! What a great seminar. The skills & techniques given are amazing! You won't be sorry if you attend one of these seminars in the future!! Well Worth It!
6 months ago Keith Finley
The office manager mastery series is an excellent continuing education course. I have been in dentistry for almost 30 years and have attended a multitude of courses through the years. This is probably one of the best seminars that I have attended. I do not think I have ever left a course with as much material and ideas to implement into our office. I cannot recommend this course enough!
8 months ago Derek Marsh
Dr. Leune is amazing. "If you want to fly with the eagles, don't run with the turkeys"
5 months ago Tracey Kelley
This was such an excellent educational opportunity. I have been practicing for 5 years in a myriad of dental offices but I have never really have an organized system of how the business of dentistry should run successfully. This is the best course I have taken in a long time and I will definitely implement these systems when I open my new office.
7 months ago Olga Covarrubias
Thank you so much for your presentation and for sharing all of your tried and true methods. Great presenter AND terrific amenities?? Not only were we provided with lunch both days, but transportation to and from the restaurant was appreciated! No worries about traffic and/or the parking situation. Thanks again for a terrific experience from start to finish!
4 months ago Darshan Sakariya
Absolutely one of the best seminars I have attended! I cannot wait to begin implementing this in the practice. This is a MUST for dentists and office managers! Great experience. Go, learn, do!
5 months ago Adrianne Roach
Great resource for dentists that are starting out with their first practice or seasoned dentists looking to refine their systems for profitability. The content is dense and organized, and Dr Leune is a great speaker and very engaging. I highly recommend this course.
6 months ago Greg Park
Phenomenal CE for anyone who owns a dental practice! Exceeded expectation
4 months ago Mainechick
Best CE I have been to. I received the information I sought out and more. I will sign up for other courses down the road. No fluff or sales pitch. While they are affiliated with other companies that offer different types of dental services, they don't shove it down your throat. If you are interested, they have tables you can walk by and talk with someone after class regarding the other services. You will learn different and innovative ideas to run/manage your practice more effectively and more efficiently, specific to your type of office (specialty, group, solo). You will not be disappointed if you're looking for methods to organize the systems in your office and decrease the headaches. Thanks Scott!
4 months ago Leshia Wolfe
Best course out there! Total game changer. Dr. Leune is so charismatic and seems to genuinely care about the success of his clients. The seminar was packed with helpful info and not just 2 days worth of him talking about his own successes. It was amazing and I highly recommend it! If you are thinking about it, stop thinking and just do it! You won't regret it.
7 months ago Christine Newman
This was the most useful CE seminar that I have taken to date - so much so that I have encouraged every one of my classmates to attend it before they finish dental school. Everything was done in the most professional manner possible and Dr. Leune did a fantastic job with answering all of the questions that we had throughout the seminar. A definite 5/5 stars!
7 months ago deidania Santanamartinez
This what the BEST seminar experience! I have been to many different seminars in the past, this was my very first Breakaway and I would HIGHLY recommend. Thank you for a fantastic 2 days with TONS of information and always keeping us fed with never ending snacks, lunches and drinks.
10 months ago Wenhao Song
Amazing course! Great content, very well organized and easy to understand and process all the information. Definitely worth it. Before I went to the seminar I was overwhelmed with all the information and ideas of what was going to be my next step on my dental career but after taking the New Dentist Bootcamp I feel now I have a plan and I know where to start.
8 months ago Joyce Torchia
Great course diving deep into the business side of dentistry. If you want to run a successful and efficient practice this is the course for you. It really helps anyone looking to either implement or improve systems in their practice. Highly recommend!
4 months ago Webb Chastain
Hands down the best course on practice management out there. So many things to implement in practice. You get a huge book that covers everything you need. Everyone who's taken this course will be successful practice owners!
9 months ago Vyshnavi Rao
I attended the Advanced Startup seminar. Very concise, useful information - and lots of it. Scott presents everything very clearly and the manual given out is followed step by step. The organization of the material follows the same thought process as if you were about to open a practice. Its best to take this course up to a year before you plan to be open. Yes, they have products to sell but only because they developed their own version of resources to stay consistent with the model they present. Scott's belief in his model is apparent in every one of his companies.
4 months ago Sss Wyremm
Amazing conference. Very informative and I learned a ton that I can use in my practice. We have put forth some of the ideas already and have seen great results. Only thing I would recommend is to have a seminar on back office for the dental assistants and hygienist so they can run the back efficiently. Overall, I would highly recommend attending.
8 months ago Scott Carroll
I took the advanced start up seminar. Excellent CE course breaking down the different steps of starting your own practice. Definitely focused on GP's starting up exclusively on a loan but I think it's still worth it even if you're a specialist or a seasoned doc with working capital. They will push their own products but nowhere as bad as other courses so that was a plus. Would recommend.
7 months ago Robert Niknam
The Business Masters Series course provided me with the missing links that I was looking for to take my office to the next level. The course is very concise and easy to follow. Very happy I went.
7 months ago David Greer
Best course I have ever taken! A "no fluff" course. You couldn't shorten the course by 5 minutes and not miss out on valuable info. Engaging and fun!
7 months ago Patricia Alabi
Easily one of the best seminars I have ever attended. Scott knows his stuff and how to teach it. Practice ownership can be predictable with the right systems in place!
8 months ago John West
During my 42 year dental career, this is by far the best practice management seminar I have been to. Dr. Scott Levine is very engaging and tells it how it is in the "real" dental office. The seminar ran like a well oiled machine treated and made you feel like a VIP.
7 months ago sharon gray
Amazing seminar, very eye opening! Can't imagine moving forward in my profession without the information I NOW know after taking the seminar. Great experience, fun, engaging, very informative!
6 months ago STALKER
I've helped dentists open 300 offices and this is THE INFORMATION that a dentist needs to be successful. I've never see. Such a cohesive package for starting an office!
5 months ago EL Marie
Absolutely invaluable learning experience. Scott outlines all the steps needed to start a practice, implement systems, and be successful as a new practice owner. This is worth your time and money to have this information all compiled for you and presented in this 2-day seminar. Highly recommended
7 months ago Kevin Hardimg
The start up seminar was informative. Scott is a great lecturer. I plan on attending the business masters seminar next.
6 months ago Dawn Ramirez
Great information in this course for start up office all the way to established office. Real life, metric based/tested, systems presented in an organized manner. Lots of pearls that can be implemented next day in your office. Would highly recommend.
7 months ago Amanda Chapin
Scott and the team at Breakaway Seminars presented a comprehensive set of information that is backed by testing and market research that anyone can apply to their business. I highly recommend anyone that is currently rly frustrated with their practice or team to come learn the systems for predictability and success. It was great to see that some of what Scott presents we were currently doing but could tweak for greater results. Get down to San Antonio and take one of the Breakaway Seminars!
9 months ago K Mains
Superb content. Well written and presented. Proven success from simple measures clearly laid out ready to implement. Amazing seminar, highly recommend to every office manager and new owner.
8 months ago Kenneth
Dr. Leune does a fantastic job of going through systems for every part of your practice and for every phase of practice. His methods are backed by empirical evidence and will challenge what you think you know about efficient and effect systems. I wish I would have taken this seminar 8 years ago. Thank you Scott for a great weekend of learning and giving me the tools to advance my practice from good to great.
8 months ago Fegefeuer Diddlors
Not your regular dental seminar. Want scripting? It's included in the book. Curious about bonus plans? Yep, that's covered too. Want to know which metric is most closely tied with profitability and growth? It's all here in black and white. (Hint: it's not production, collections, or New patients). Can't wait to send team members.
7 months ago Lisa Kelley
I've taken 2 Breakaway Practice Seminars so far, Practice Location & Design and the Business Masters Course. Both of these courses gave me the guidance and confidence I needed to start my dental practice. The information I learned saved me thousands of dollars. If you are a new dentist who is considering opening a practice listen to me, "Take the course before you buy anything else!"
4 months ago Gentle Horse
I absolutely LOVED the Breakaway Seminar! It was the very BEST one I have ever been too!! I am super excited to get back to the office and share all this information with our team!
4 months ago Peter Jones
Great seminar! Very practical information to grow your practice. We will be taking staff back in January for the Office Manager course. Highly recommend.
4 months ago Jonathan Neuzil
Loved this seminar. My doctor and I have the tools to grow, revamp, and make our practice more successful and profitable. 2 day seminar and I would gladly have sat in class for 2 more days!
3 weeks ago Phil Randall
After attending both start up and business seminars, I signed up for their outsourcing services. Their team, Tiffany, Faith, Terrance&Pedro, has been GREAT help on my start up process. Jesse from IT has been phenomenal! Without him, the IT, networking, and internet would have never been set up properly. Fantastic attitude, very hard working group! Would recommend them to everyone that needs it!
8 months ago Caitlin Conger
Phenomenal experience for both the Advanced Startup and Business Masters course. Best CE course I've ever taken and worth the investment!
8 months ago Frank Simmons
Hands down the best business training in dentistry. Dr Leune is an excellent lecturer and makes difficult topics easy to understand. Most course you take, you would be lucky to leave with 1 or 2 pearls to use in your practice. This course gives you hundreds of pearls. For the first time, Im excited for the business aspect of dentistry, not just clinical. Thanks Dr Leune!
7 months ago Ana Marie
I've heard great things about this seminar from friends, podcasts, and blogs. But what I experienced during the Breakaway Advance Start up seminar surpassed all my expectations. This seminar should be mandatory for anyone wanting to start their own practice or if practice ownership is something you want then this is a MUST! It is well worth it.
8 months ago Phuc Nguyen
Very happy with the Breakaway Seminar! Thank you Dr. Luene!
8 months ago luci lewis
Second time at a Breakaway course. Lot's of useful pearls. The methodology paints a robust, albeit an incomplete picture of the dental business landscape.
8 months ago John Hess
Dr Leune is awesome as always! Has a great team! Great take-homes for the office!
6 months ago David Placzek
By far one of the best CEs I have attended. It was fun, motivating, and very informative. Dr. Leune and his staff have a lot of knowledge they are willing to share! I plan on going to many more in the future.
7 months ago
Popular places from the category Business management consultant