Famous Footwear
Shoe store Famous Footwear, STADIUM CENTER, 2300 Daniels St, Manteca, CA 95337, United States:
49 reviews
of users and employees, detailed information about the address, opening hours, location on the map, attendance, photos, menus, phone number and a huge amount of other detailed and useful information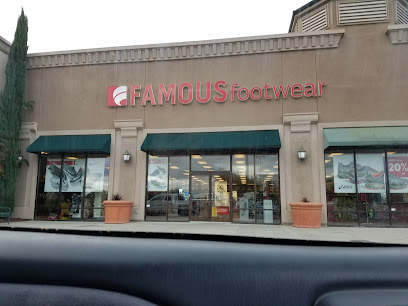 Address:
STADIUM CENTER, 2300 Daniels St, Manteca, CA 95337, United States
Website:
famousfootwear.com
GPS coordinates
Latitude:
37.7854093
Longitude:
-121.2570560
Location on the map
Reviews Tracy Douglas
This store is very clean and organized. I was greeted as soon as I walked in. The selection at this location is much better and also a bit cheaper than the one I live near in Riverbank. I picked up a pair of Adidas for only $36 with a coupon.
2 months ago Coumba Soumare
Their shoe policy you should be aware of. If you wear their shoes even a few days and try to return them for legitimate reasons they will not take them back. For example work shoes should be non slip and if you work with the shoes for a few days you find out if they work or not. I found out they don't work and they do not take them back cause they expect us to know if we aren't satisfied with our shoes without wearing them in the setting they are intended for. They've lost a customer for life. I've always bought shoes here without a problem.
11 months ago Camila Lara
So bad one of the workers treated me so bad with a mean face!!
4 months ago alatar
Love this shoe store. It's affordable and I love that you can save points on their app to get coupons. It's close to home and I'm always able to find cute Nike shoes I need for work. The employees always check on the customers as well to make sure they are doing good.
11 months ago Laura Jacobs
Great store for shoes
11 months ago Sideria Philson
Best place for shoes!
4 months ago Reynan Guarte
Mediocre experience, only staff was behind the counter, nobody on the floor helping customers. However, I did find shoes that I am happy with. A little more than I wanted to pay but, I like the shoes. So good selection just don't expect any help.
11 months ago Gina Hall
Great customer service. Staff was very helpful
4 months ago Maria Windham
Alright selection, good service.
10 months ago Charles Seeley
Great service, sales, and selection. I always gets deal when I go here and with 5 member family deals are needed.
11 months ago Katherine Thomas
The sales people are very helpful in finding shoes that fit.
5 days ago Monica Byers
I love the selection and I love the fact that the workers are so sweet and willing to help you find the perfect shoes. Always bring my kids here because I know they're quality shoes and we will always have the help you need.
1 month ago Rebecca Smith
There was helpful salespeople, a good selection of shoes to choose from
11 months ago Angelina Douglass
Visited twice once in 2027 n now this year while was there on California..The store having full variety which again tempted me to buy my sports shoes.
4 months ago Katie Adams
Good old fashioned style wth modern price tag.
11 months ago Alex Jardine
The clerk was very helpful. I was looking for a certain shoe and she found it for me and it was buy one get one 1/2 off.
1 month ago Devin Espindle
Good customer service i usually find good deals
11 months ago Loyal Patriot
Called them to put up shoes for me. I came and picked them up and few others fir Christmas gifts. Staff was very helpful.
2 months ago John Carter
The clerk didn't know what Stan Smiths are. I now know why I don't shop there.
2 months ago Stavroula Fili
Excellent customer service by the staff at this location. Rebecca was very professional and helpful.
10 months ago Aubrey Webb
Great clearance items, service with a smile and a great conversation!!!
5 days ago Camryn Esma
Prices are fair, but the most popular sizes 8- 10 were gone in a lot of styles.
2 months ago havana sabbirith
The workers here seem to racially profile some shoppers or they profiling based on what they have made up in their minds as to what a thief looks like. I really felt for the guy because he honestly didn't seem to be doing anything wrong and he was with his daughter. We shouldn't teach our kids that this treatment is acceptable because its not. A lot of big businesses have gone under in the past 8 years this one may be next with this kind of activity..... good riddens! BOOOOOOOOOOO AND SHAME ON YOU FAMOUS FOOTWEAR
10 months ago Smith Schwartz
Price's are a little high. I try shoes on then order on line. I Am A bargain hunter.
11 months ago Keonda Portier
Always have what we want in stock. And friendly helpful employees .
2 months ago shashikant yadav
I drove 45 minutes to pick up a pair of shoes I purchased online thinking that they were open until 9 o'clock on Saturday nights but when I got there I was informed that they were not also being that tomorrow is Easter Sunday they did not post a sign stating whether or not they would be open and the lady inside was not rude when I asked her through the window whether or not they were open Easter Sunday but I am still very irritated
2 months ago Angelina Barmina
I bought running shoes last week. I went running in my new shoes. I start to feel my feet hot inside shoe. I ended up getting a blister on my foot because of the shoe. I went to return them and the store will not refund my money. It's upsetting I have to wait a few days until I get a respond to see what the store can do. It is a nice shoe but evidently not supposed to be a running shoe.
2 months ago David Barron
Bad. Only one person in store need more workers
10 months ago Christian Lee
Always have what we need.
10 months ago Brian Reese
Good selection and decent prices when items are sale.
3 weeks ago Tamiko Mcclain
good prices but not variety on shoes n size
10 months ago Char Holdeman
Has all kinds good wide foot selections
3 weeks ago Jamie Engel
Great place to get shoes with a reasonable price
2 months ago James Regal
Okay place to get shoes, they have a wide selection.
1 month ago Gail Lyons
Very pricy but hey have good shoes there. You should probally go to target or old navy if you want good priced shoes.
7 months ago Michael Landesman
Famous footwar nike selection isn't what it once was and boot selection isn't much better. Very friendly staff though.
10 months ago Heather Uccio
Good store
10 months ago Alima Mukhtariva
Love it, love it good service
1 month ago Karthik L
Clean and they have good sales.
3 months ago Tiana McNain
Friendly customer service
4 months ago Alma Jones
Stuff all over the floors and everything is over priced by $10-$20 especially the name brand items.
2 weeks ago Leanne Hudson
Good shoes
1 month ago Asnath Thobejane
Very good
2 weeks ago Collin Compton
They got shoes
9 months ago Randy Waller
Great!
4 months ago you nagu
Great location
7 months ago Shamyra Gilyard
I got heelys
2 months ago Joevis Tai
+ o - no tienes suficiente mercancía para la necesidades
1 month ago
Popular places from the category Shoe store