Window installation service Window World of Akron
Window installation service Window World of Akron, 2424 Gilchrist Rd, Akron, OH 44305, United States:
122 reviews
of users and employees, detailed information about the address, opening hours, location on the map, attendance, photos, menus, phone number and a huge amount of other detailed and useful information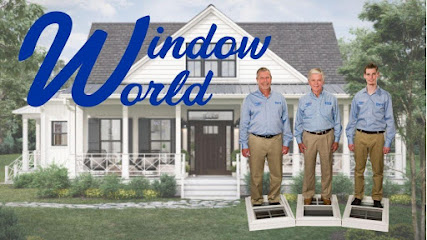 Address:
2424 Gilchrist Rd, Akron, OH 44305, United States
Website:
windowworldakron.com
GPS coordinates
Latitude:
41.0659015
Longitude:
-81.4388180
Location on the map
Reviews denizot isabelle
I have used Window World in the past when living at a beachfront home. Their lifetime guarantee is really true! After a hurricane if a window seal was broken all I had to do is contact them. They would send me a replacement sash without a problem. I choose Window World for their great customer service especially follow-up with Lucille from the Akron/Youngstown area. She was great, kept me informed of the status of the production of my windows as well as installation and after installation calling. Lucille wanted to ensure I was satisfied and if I had any questions or complaints. I would recommend Window World to anyone replacing windows. The windows are quality, affordable, and durable.
9 months ago Lynda Johndrow
They are the best. Customer service is great. Installer were the best. Lucille and Lisa kept us informed the entire time through the project. Thank you.
7 months ago Jeffrey Schneider
Update: they have reached out with a reasonable solution. While the window is beautiful, the process to get the final installation was beyond frustrating. We were told 8 to 12 weeks to have the window and it took just shy of 6 mos. I received the runaround for 6 weeks when I asked to speak to a manager...which I still have not been able. The company cancelled our installation appointment three times before finally getting it done. I gave two stars because I do love the window but would never recommend them because of the fumbling of the project and lack of customer service.
9 months ago Tracie Tanner
UPDATE: I have added a star to my review. We just received a $50 gift card in the mail from Window World. Of course they didn't let us know they were sending a gift card and there was no message in the envelope with the gift card (yes, just a gift card in a Window World envelope), but we already knew they're not the greatest communicators... Thank you very much, we really appreciate it. ???? Original review: Communication does not seem to be a priority for Window World. I really like the windows I bought from Window World. The person who came out to measure our windows was very nice. Both times installers came to my house they were friendly and did a nice job with the installation. The person who came out to measure, made a mistake measuring one of our windows. He accidentally noted one window twice when recording the measurement for another. An honest mistake that was discovered when the first installer came out to the house and one of the windows didn't fit. So the correct window was ordered and eventually installed. The time all of this took was very long. Actually 4 months to the day. However, thinking about the pandemic and how it affected the logistics of all of the businesses in the supply chain (closures, fewer employees, etc…), it's not fair to blame Window World for that. What I did find unacceptable was that Window World would only communicate with us when they had to. We literally went weeks between hearing from them with absolutely no clue in regard to what was happening with our order or when we might have our windows installed. If we wanted to know what was happening, we had to contact them. It was a very frustrating experience. Also, considering the mistake made by their employee and the time that we had to wait for Window World to finish our installation, it would've been nice for them to do something for us. I mean, Window World did apologize, but only after we finally contacted them when hearing nothing for two weeks after the first round of installation. How about $50 off? or a gift card to Red Lobster?
1 month ago Ricky
After waiting 5 months, the day had come! I had taken a day off work ,prepared my home for installation and waited .When the installer got here he soon found out they had measured wrong. After waiting 2 more months for my windows I now have an installation date. I have called numerous time, with promises of a call from the manager, Chad. Still waiting...
6 months ago Susan Holley
I primarily worked with Lucille and Dustin though the whole staff were great. A little long of an install process given COVID, though the team was responsive with minimal prompting. Definitely a great experience!
9 months ago Susan Smyth
I chose Window World of Akron to provide a new bay window for our home as they were a well established local company. Our journey is now approaching its 1 year anniversary and we are still waiting for its completion. All-in-all we have had 12 appointments and 9 in-home visits for one window. Three appointments were cancelled by WW, two due to our products not actually being in the warehouse and one for weather, which was not cancelled until 2 hours after the install crew was supposed to arrive. In June the initial install of our window was complete. But it arrived damaged and defective. This was not known until after our old window was removed and destroyed. The install took three visits to finalize the items that the installer could address, leaving us with some hardware and glass issues that we were told would be addressed by the service department. It was at this time I made the MISTAKE of signing off on the install and WW charged us the balance if the cost. I've been waiting TWO MORE WEEKS for SEVEN MONTHS. Over this time we have had three service visits. The wrong hardware has been out all three times. In July we received new glass that was broken by the service technician when they attempted to install it. And the second piece of glass was made incorrectly and sent back after six months of waiting. I have made repeated calls to the service department who have no authority to say anything else then we should see it in our Friday delivery. I have left messages with the District manager who evidentially can not be bothered to return my calls. I find lack of communication and knowledge of their products to be the downfall of this company. When I do get an apology it always comes at the expense of the manufacturer and it's never WW's fault. They like to say that they "Stand on their Windows", but in all actuality it's more likely that they will throw them under a bus.
10 months ago Eliot Malone
Window world was great. The group of worker were great work hard and fast. I recommend them!!!!
9 months ago Gerard Ferrer
We ordered our windows and doors in mid May, told it would be 6 -8 weeks. Nothing went the way we were told. We finally had our windows installed about 3rd week of July. Our 2 sliders were delayed till end of August. Install day came and what a disaster, while door one was being put in old door 2 was taken out. Time to put in door 2, oops it was the wrong door!! The wrong door was installed anyway cuz the "manager" was here and insisted it was the right door even though the installer told him it was not. So there we were with the wrong door jammed,really jammed, door would not budge either direction. I was so stressed out!!! They scrambled to locate the correct door, they did, the used it from another install coming up so I imagine that person had to wait! Problem with this door, we paid for key locks door on both sliders and this door did not have a key lock. We also paid for vent locks but did not get them. The company was made aware so they ordered a keyed handle and 2 vent locks also lock latches for my slider screens so that I can lock my screen doors. That took approximately 7 weeks. When the parts arrived they scheduled a service call, when the service tech opened the package to do the fixes he had no idea what the parts were they sent!! Unbelievable! It is now December 28th and still have not heard a word!! This company took something that I was so excited about and ruined it for me!! I was serious when I talked the district manager that I want some sort of rebate for all the anxiety and BS I was given. I truly thought he was going to try to do something but I was wrong he hasn't even checked to see if we have been squared away yet!. I would not recommend this company ! WE ARE STILL WAITING !!! The reason I gave 3 stars was because of the compassion of their installers.
10 months ago Amy Fehr
went to price windows out. told them we needed windows to fit air conditioners were told their windiws would not work for us. how dumb did that sound. very disappointed????
8 months ago Jennie Calixto
Our window replacement experience was great. The installers were quick and thorough and completed removal of the old windows with very little mess. The customer service rep was quick to respond to our concerns about minor issues with a couple of the new windows. Overall it was a positive experience.
4 months ago Loves Hiking
My installer Chris was on time and very professional. He cleaned up after he was done. My new window makes my home look so much better and I am very happy I used window world of Akron. I would recommend them to anyone. Great service!!
4 months ago Jennifer Mosley
Ordered my windows on August 15th. Dave the salesman was great no issues there. Came the very next week and measured the windows and all that was fine. Was told usually takes 6-8 weeks possibly a bit longer due to high volume of orders. I was okay with that. Was called in October to schedule my date for November 24th install. I had called November 23rd in the morning because I had forgotten what time I had scheduled. Was told might be later in the afternoon due to another project possibly taking longer, that was not a problem. Then I receive a call a few hours later saying the project was going to have to push my install back, in my mind I was thinking next day or next week. Oh no it's pushed back to December 18th. On top of that it was made to sound as if a favor to me was being done because supposedly window world is scheduling out to January already. Frankly that is horrible customer service. Asked to have the regional manager call me and have yet to receive a call. Long story short if you want you're windows on time or as promised and with better customer service You may want to consider a different company we'll see if they try to make this right. ***Update.... Was contacted by the regional manager the following day. He said he will try and get something worked out. Haven't heard back on what that exactly is yet.
1 month ago Nadia Belliaford
I have worked with window world two times now and both times I was very happy with the end result. We love our new sliding door . Very professional and easy to work with at the right price. Thanks window world!
5 months ago Paul Fehmel
Ordered 22 windows on November 18, 2018. I paid in full, up front. Windows were promised in 6 weeks. Waited and waited. I called Window World and the Windows finally showed up in April 2019. They were mis-measured, reordered. They Returned in June 2019, windows had sharp welds, reordered. I called the "main" store in Youngstown, was treated poorly. 22 more windows show up on July 19, 2019, they were worse than the first batch. Factory rep comes out. Said it was a "quality control" issue. ???? Yeah.... Gave us his word to personally inspect each one next time. September 2019 windows arrive, the inside is cherry, which is what I ordered, but the grids were light oak. Now they switch factories, another factory rep comes out. The fourth run of windows were not exactly what we wanted but "settled" for them. July 23, 2020 they return, a window was whistling due to improper installation. They scheduled me for July 22 and cancelled that day. For the July 23 appointment, I was told they would be here between 9-11am I heard my doorbell ring at 7:50am, yup! It's Window World. Seriously??? I truly cut this review down a bit as this story is unbelievable and very long. No one can make this stuff up. It has been the most gruling experience I have ever had to pay for. There is not ONE employee left at the Akron showroom where I unfortunately went. Entire staff has turned over twice since November 2018. Advise... If you are thinking of using them, RUN.
5 months ago William Whiteley
Working on rehabbing a house and used Window World windows. Other than normal Covid delays beyond their control, all aspects of my installation were top notch. Value and expert installation are remarkable. Will definitely use them again.
8 months ago AKASHDEEP KAUR
The installation was quickly and professionally done. The guys cleanup left my yard looking better than when they arrived. The window is great! I would recommend your company to anyone looking to improve the comfort and value of their home.
7 months ago Andrew Oneal
Love my Windows! Heating costs have decreased 10% in first month. I believe the energy efficiency will increase. Chris our Salesman was very knowledgeable and personable but not pushy! Customer service is fantastic; Lucille was there for me every step of the way, answering questions or connecting me with the proper department. Ann Marie took care of Installation appointments. Both were professional, friendly, respectful and returned my calls in a timely manner. The window Technicians were timely, efficient, knowledgeable and cleaned up after themselves, which I loved! I would recommend Window World to anyone who it thinking of replacing their old or outdated windows.
6 months ago Lars Watts
Everyone is so pleasant and easy to work with, very considering of how I felt on everything.
5 months ago kofi mawue
Still waiting on windows that I ordered in September. I was given a 10 week waiting period. Just got a letter in the mail stating that they are experiencing unusually long delays in securing an installation date. Also stated that the remodeling industry has a shortage of skilled labor. I'm sure they are still out there selling windows though. Just FRUSTRATED!!!
6 months ago Shelby Harris
37000 to side a 1 1/2 story house no thanks
4 months ago Lynne Morgan
Great customer service. Excellent installation crew in great follow-through correcting minor quality issues.
5 months ago Iliana Cruz
We love our new sliding doors. They look beautiful and are of high quality. The installers were friendly and professional. The only reason I didn't give 5 stars is because I noticed that one of the sliding panels was sitting crooked in the track after the installers left. I called Window World and they sent someone out within a few days to fix the problem.
6 months ago Saksham Gupta
Very good experience. I'm happy with the large picture window I had installed. I would definitely recommend WW.
7 months ago Ashley Kennedy
Ordered windows on November 4th and have since never heard back from them. I have sent several follow up emails and heard nothing back. Update: I had a small job, just 5 windows, the installers only show up with 4 and then try to bill me for all 5. The manager assures me I won't be billed until all the work is done which was a total lie. I will never be doing business with this company again and will be reaching out to the BBB.
5 months ago Feli Krue
Very satisfied with the installation of my new windows. They cleaned up any mess they made which was minimal mess anyway. Very friendly and knowledgeable about their job. They didn't have the one part to install the windows and had another worker run down part from wearhouse the same day to complete the project. Highly recommend.
5 months ago Mitchell Ruilova
This place is the best local store to buy windows. The team here that installs your windows actually know what they are doing. They are very careful around your stuff and they install the windows perfectly without one scratch. And the windows come with great warranties and the windows stay new forever.
7 months ago Michael Fitzgerald
Professtional installers. Showed 100% respect for my home and me. I would purchase Window World again.
8 months ago Julie Gamez
I just this week had Windows installed in a 3rd House in the last 5 years. The 3rd was just as good as the first 2. The Chris my Sales Rep was right on top of what I needed and the rest of the staff was great. The Installers knew what they were doing, were on time and were super considerate of my property and cleaning up thoroughly. I was fully explained the warranty and the operation of the Windows and received a follow-up call the day after installation to make sure I was happy. Great Job by all and Thank You! Mel S
10 months ago Bill Mechnick
Entirely too expensive. 1000.00 for 1 small window. What a joke.
11 months ago celia staffa
We're so happy with our new windows. The Window World staff, from sales to installers, were very professional & courteous. We would never know they were here except for the transformation of our home. We would highly recommend Window World to our family, friends & anyone looking for a quality product.
7 months ago Stacy Coonse
They were fantastic. We love our windows. Professional and did a great installation's. I would recommend them to anyone.
8 months ago rk osburn
I am still waiting on a window that was ordered in June. They arrived in August to install, but the window was too big. They reordered and scheduled a date for installation. They cancelled. My husband called them for an entire week, and they still have not return his calls. He contacted the corporate office and they called twice and left messages. Guess what? Still no return call. They have our money. We have no product. No great customer service. PLEASE GO SOMEWHERE ELSE. THIS IS A NOT A GOOD COMPANY.
6 months ago joel daskal
Great service...in each phase....and great follow up with everything....very pleased. Mike Nichols
7 months ago GOPINGVI
The guys were very professional and answered every question I had. One if the windows broke while they were taking it out, but they did a very good job of cleaning it up. I had one window which due to old wood was warped, they added a little caulking to it and explained that it was sealed I just needed to get some finishing wood to make it look better. Overall I am very pleased with the guys and my new windows! Thank you.
9 months ago Bri Jamshidi
The whole experience was simple and pleasant. Wes showed up for the no pressure consultation and explained everything very well. I did not buy right away. Wes followed up about 6 months later and I was ready at that point. The measuring guy showed up exactly when scheduled and was in and out in about a half hour. The install team also showed up exactly when scheduled, and gave a courtesy call both a few days before and an hour before they arrived. I'm very happy with the professionalism of the company and the quality of the product. They get my recommendation!
6 months ago Art M
We love our windows. Our house is so warm now it was so cold and drafty before. The installers were great.
5 months ago ctwaitsfisk
Great experience. would recommend . Installers Ryan and Jessie are amazing. Would do business again.
6 months ago Lucy Rivera
The installation team worked efficiently in replacing our 50+ year old sliding glass door and showed great craftsmanship in the trim work around the newly installed patio door.
6 months ago Carlos Collazo
Came out promptly, gave great service. I don't remember the representative's name but he was very professional and very knowledgeable. I'll definitely consider using them in the future
7 months ago Israel Gruber
Very professional. My windows look great. Cleaned up work area.
8 months ago Ramin Safaie
The staff lady was nice. The displays were a little underwhelming and higher priced. She told us instation would only be about $30 a window and there was a lot more things necessary for the install. Seemed a little like buying a car. We got nice windows elsewhere at fraction.
7 months ago Matthew Kirkland
The guys were great, and I love my Windows! Thank You
4 months ago Java Developer
Salesman was very professional and answered all my questions. Installer was also professional and got the job done quickly.
4 months ago Jerry Davenport
Real professional very knowledgeable answered all my questions
6 months ago Katherine Zhang
I'll start with the good. The sales person was very knowledgable and explained the construction and features of the windows very well. We did not feel pressured to buy. The sales person came back a week later to complete the sale, after we compared estimates from other companies. Th installation team could not have been friendlier and more courteous. They answered all my questions and left my house cleaner than when they arrived. The windows are beautiful. ********* Now The Bad ****** We signed the contract in May. We were told the windows and two storm doors would be ready in late July. We were given the name of a customer service rep who was to be our contact at the company, should we have any questions. I had questions when August first came and went without a peep from Window World. I received no response to multiple voicemails and emails. Finally, we contacted our original sales person to complain. The sales person investigated the situation a found that the windows had been ready for weeks, but the doors we had ordered had been discontinued. No one had bothered to contact us. After several more gaffs and blunders on the part of their customer service team, we had our windows installed on October 2 - with the WRONG grids. And also still no doors. They claim they will make it all right before the end of the month. We shall see. ????
6 months ago Von Parker
My installers were quick, efficient, and very professional.
6 months ago Chealsea Erman
Our entire experience from the estimate to the installation was fantastic. Everyone was straight forward and polite. The installers arrived early and was completely professional and polite. They explained to us how to work the windows and went above and beyond to clean after themselves and leave no messes behind. :)
4 months ago David Canada
We love our new windows! It is so nice to have some fresh air as our old windows had been painted shut. The windows open and close very well and arre attractive both inside and out. The installer did a great job of cleaning up after himself. My only complaint is that he arrived late both days when I could have been sleeping in because I was on spring break. He was by himself because his helper had quit the day before. This caused a problem because he couldn't remove our huge, old, picture window by himself. He had to come back a third day when he had someone to help. Because the third day was on a Saturday when we had other plans, we weren't home to do the walk-around inspection. I would still recommend WW to other people.
3 weeks ago Kristijan Dragic
Josh and Ryan came out and did our windows today in the freezing cold. They had it done in way less time than they initially said they would and did a wonderful job. They were completely professional and great customer service. Windows look great and they left with everything completely clean when they were done. Second time using Window World and I would highly recommend!
4 months ago
Popular places from the category Window installation service