Menyhart Plumbing & Heating Supply Co
Plumbing supply store Menyhart Plumbing & Heating Supply Co, 6304 Lorain Ave, Cleveland, OH 44102, United States:
120 reviews
of users and employees, detailed information about the address, opening hours, location on the map, attendance, photos, menus, phone number and a huge amount of other detailed and useful information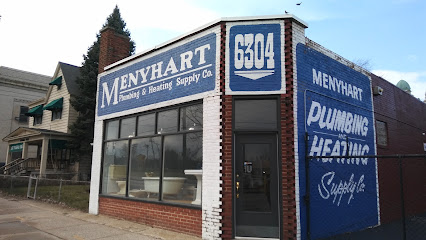 Address:
6304 Lorain Ave, Cleveland, OH 44102, United States
GPS coordinates
Latitude:
41.4751054
Longitude:
-81.7290544
Location on the map
Reviews Jeanette Lendon
Had a leaky outdoor faucet on a very old home and was told told if any place had the replacements parts it would be Menyhart. Once I got there I was greeted immediately and although they didn't have the replacement parts they took the time to fix it for me and it works perfect! No more leaks! Thanks!
11 months ago fernando longobardi
I love these guys. You can go in with no knowledge and always come out with the right part.
6 months ago Jeremy Logue
Staff is helpful, expert, and pleasant. They're very patient so even if you're not a pro and you go in there and you don't know the terminology for things, they're still going to be super cool to you. We're very blessed to have Menyhart and its great staff.
1 month ago Zeeshan Mohammed
The guys at Menyhart were incredibly helpful. As a woman going in by myself, they were incredibly trustworthy and gave me everything needed to replace the fill and flush valves, including instructions. They answered all my questions. My dad is even excited to go in to get parts for their bathrooms (if it's even a thing to be excited about?!?).
3 months ago Bright Chung
So great to talk to knowledgeable people who understand customer needs. We just bought a claw foot tub drain assembly. He hooked us up with all the attachments and sent us on our way. Menyhart is a haul from Pepper Pike but with service like that, we'll be back!
2 months ago Kim Bellevue
Pretty long lines because they're very efficient free people behind the counter so it wasn't even with the long lines at moved quick and they know what they're doing
10 months ago y Faas
I've been coming here for years... These guys are hands down the best experts in the city of Cleveland.... They can beat any home depot furnace price and they help load your materials for FREE! The staff is super friendly and they are experts within the Plumbing and HVAC field. Don't waste your $ at the big box stores!
7 months ago Joann Gomez
Very knowledgeable staff. They have all the parts at the best prices.
10 months ago Sawsan Jaber
Menyhart is a great plumbing store. Old school, you dont go hunting down the part, show them what you need and they get it for you along with professional tips and advice. I've paid a little more for items I could have gotten cheaper at the box stores because I want these guys to stay around .
3 weeks ago Brooklyn Goodall
Hands down the place to go for expert help products and reliable courteous services
10 months ago Jonatan Artola
Very pleasant visit for my furnace. The gentlemen are just that. Respectful, very helpful. Know their products. Thanks Guys, Monique
3 weeks ago Infinity Love
Very knowledgeable and courteous staff. Hands down the best local area for plumbing and heating supplies.
1 month ago WVW WVW
The parts counter was very busy and all of the staff was very friendly and very knowledgeable, I feel confidant that I can fix my shower without having to call a very expensive plumber,!!
1 month ago Joe phelps
This was my first visit. However on this day they close at 4pm. And in retail most customers do come it last minute as with this store. I get workers are tired and ready to go home but you should never voice your opinion out loud in front of customers. The statement made was "We open every day at 7:30 to 4 and everybody waits until last minute ". Im from the Eastside and our local store closed due to the pandemic. It would be absolutely cool not to let paying customers see you upset about having customers to spend money with you so that YOU can take care of your family.
3 months ago Nate Harris
Tons of experience personel, wide variety on hvac, plumbing supply, and in some cases they go the extra mile for their customers for hard to find parts.
10 months ago Damini Patil
Love this place always willing to help and answer questions I've been going to Menyhart seance i was 8 yrs old
1 month ago Julia Smart
Called for two American Standard components they held them for me at will call. Wow what service!
10 months ago Alexandria Crow
The most epic staff!!! super knowledgeable, always on there A game. Not to mention if they don't have it, its not available..
4 months ago Jimmy Nguyen
Good place to find hard to find plumbing parts.
11 months ago Stephanie Marie
fantastic if they dont have it then it probably dosent exist
7 months ago Kyle Bellevue
Always have what I need and very friendly
11 months ago Cinus Findus
Very helpful in helping and having everything we needed for water tank replacement. Fast and friendly. Will definitely be my first choice and first recommended place for all plumbing needs!!!
8 months ago Deon Grandon
Very nice organized, covid safe place.
3 months ago Pete Kendall
Amazing knowledge of these gentlemen and the respect they have for the contracter and the home owner they will assist to solve your plumbing issue
7 months ago Chaun Harper
Great price and exceptional customer service! Two furnaces went down in our building last year we were able to pick up two replacements with all the necessary parts immediately. Thanks for keeping costs down and the service up guys!
9 months ago Mike Gallagher
Finally somebody had decent hours on Saturday
3 weeks ago Muhammad ashraf
It seems the more in demand a particular place is the Ruder they are allowed to be with you
2 weeks ago Jane Pate
A plumbers paradise, thanks for all the advice guys. Great corner hardware store. Great local business. A+
9 months ago Eli Jun
They had every part I need and we're very knowledgeable. My new go to....thanks guys!
8 months ago Miguel Reyes
I love Menyhart, they have an amazing staff, great products, and you can't beat their prices.
7 months ago Peter Recchia
The guys here are great. Good prices and super knowledgeable.
9 months ago Kevin Youngblut
The staff was great ????
1 month ago Tait Darby
Fast and friendly service was looking all day for a certain part and they had exactly what we needed
5 months ago DAVID FERNANDEZ
I asked about a display item and when the guy came back from looking up the price for me he looked me up and down talking from the side of his mouth (judging me) "yeah that's going to be $236... what about this over here?" Trying to direct me to a cheaper item. I was very offended he then tried to explain "well we dont sell many items like that in this neighborhood".... Who the f do you think you are mister judgmental.
10 months ago Rowena Zylali
These guys know their stuff. If they don't already have what you need, they will order it for you.
9 months ago Tina Gui
I walked in with an old part of a shower faucet that was old as the house I lived in and the people in the store took there time with me and we're extremely patient with me as I know nothing about plumbing. After looking around their available catalogs and searching through inventory they were able to fix the faucet stem and gave me tips for reinstalling the part. I have not had the best of luck when dealing with plumbers and hardware store associates before but I was amazed at the service I received here. I will suggest this place to all my friends and family and feel that I will be a life long cuatomer here.
7 months ago Dave Crisp
They were very helpful and they generally have the majority of your plumbing needs.
9 months ago William Bruce
The guys that work here are great! If they can, they'll give you tips on how to diagnose your problem. They're good about not over selling you on what you don't need. I was given options about my furnace and then also a recommendation to record my test of the furnace and they'd help me if what they had sold didn't work out.
10 months ago Omar Guinier
Went several places for a part for my shower drain Menyhart was the only ones to know what the part was and even carried different brand fitting replacements. I will ignore the local big store and go here from now on for my plumbing parts. 100% worth shopping at
7 months ago Rich Mcl
Top notch super knowledgeable they have everything you could need or can have it in a day or two. Only time I've seen them abrasive is when someone is trying to do something that they have no business doing. If they tell you to contact a plumber it's because the project you are trying to do is too difficult for you. They are super helpful and will walk you through a do it yourself job but there are some plumbing jobs that shouldn't be done by do it yourselfers so when they say contact a plumber heed their advice
11 months ago bishoy azer
Fast efficient and fair
2 months ago Irving Cruz
Not only the best plumbing store in Cleveland but possibly anywhere. The professionals working the counter are the most informed people you will find in the plumbing industry. I am a homeowner and they treat me the same as they do the plumbers that go there regularly...excellent customer service. This place it truly a gem in the city and hopefully it never goes away.
1 month ago Maurice Murphy
Great service
3 months ago Kane Esser
Needed to repair my almost 70 year old shower faucet. These guys knew exactly what I needed and had it in stock. Shower is fixed. Friendly and knowledgeable staff. I will be back for all my future plumbing projects.
10 months ago Roman Gogolev
I came into Menyhart with my old bathtub faucet and the professionals there instantly new what part I needed. Not only did they provide the part immediately but they also gave me tips on re-installing. I would recommend stopping in there for any and all of your plumbing needs. Thanks again.
11 months ago Violeta B
Great place to get older and new pl Plumbing in and air conditioning parts. Great selection a lot of stuff. Staff very helpful at the counter.
11 months ago Jack Alexander
Recently purchased a part for my air conditioning unit, which the salesman recommended. Well the part was the wrong part and I tried to return it less than 7 days after purchasing it, and was told they it couldnt be returned, even with the receipt which clearly did not state a no return policy. It's a shame how companies dont conduct business with its consumers to make to want to return and continue doing business with them. They had a take it or leave it mentality. I DONT RECOMMEND doing business with them, if it's the last company on earth...
9 months ago Lakshmi GR
I've been going to Menyhart for 30 years. In that time, I have had alot of unusual plumbing situations. I have yet to have them tell me something couldn't be done. Everyone there is incredibly knowledgeable. They will have either a direct replacement or a work-around. Seriously, if they don't have it, it probably doesn't exist.
7 months ago Jim Libs
Awesome local business that specializes in plumbing and Hvac supplies. This is the place where you can walk in with any obscure plumbing piece and they recognize it immediately and fix it for you on the spot with a couple of gaskets and a few dollars. They have IN STOCK the most obscure plumbing parts known to man, since the beginning of time. All of the staff is super friendly, and knowledgeable.
1 month ago Jacqueline Delaye
Allways loved this place since I was a child#!!! ALLWAYS have what I need!!!
7 months ago
Popular places from the category Plumbing supply store