Kohl's
Department store Kohl's, 35906 Detroit Rd, Avon, OH 44011, United States:
220 reviews
of users and employees, detailed information about the address, opening hours, location on the map, attendance, photos, menus, phone number and a huge amount of other detailed and useful information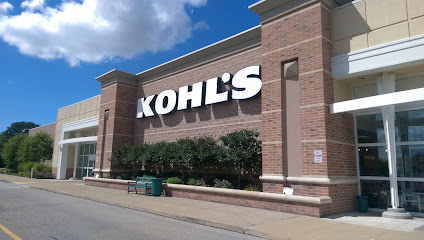 Address:
35906 Detroit Rd, Avon, OH 44011, United States
GPS coordinates
Latitude:
41.4629594
Longitude:
-82.0151576
reviews Dave thomas
Had a very helpful associate. Always seem to have great people working at this store
3 days ago Suzanne Lewis
Went in to do an Amazon return, it was quick and easy. Spent less time Ryan I thought so went shopping and bought myself some item's.
11 months ago brandi pasternack
Clothing choices were good for grandchildren. Bathroom facilities horrendous!! Maintenance DOES NOT CHECK OFTEN ENOUGH!! Very Disturbing/Disgusting filthy/unflushed/waste in toilet bowls???????????????? Something HAS TO BE DONE WITH PERSONNEL FIR CLEANUPS!!!
1 month ago Ivette LO
Thinking we can start using both areas of registers, but the line does move relatively quickly and you get to make friends in line!!
2 months ago Donna Paddock
The cashier was super rude. I am a new mother and needed a pair of jeans and waited at the register . There was a couple standing there and I didn't know if they were in line. I finally asked and they said they were not so I acknowledged her and asked if she was open and she rudely said "I didn't acknowledge you because I was cleaning , I don't let people over until I'm ready" and was a nasty nasty person about it. She then said "I guess I'll take you" like it was a problem to help a customer out. I'm sorry but I would not want this woman in customer service, she was super rude and unhappy.
4 months ago Morrigan Morrigan
Nice store,very clean but the workers have seem to be very very rude. I was asking for snowpants and the lady told me "were all sold out it is winter ya know" a simple yes or no would have been good. So I'm not to keen on the workers there
5 months ago Angela Arnott
Anna Maria at check out was great helped download app for further savings. Limited clothing apparel.
3 months ago Cari Lynne
It. Was. Spent. Absorbed. In. Shopping. Fun. Friendly. And. I. Love. It. There. To. Get. What. I. Want. And. Need
3 months ago Asish Dassgupta
This particular Kohl's is always clean and well-stocked. Everytime I go here I find what I'm looking for.
5 months ago Merlotte Toussaint
Associates are very friendly and helpful. Only thing I didn't like was I could not try on pants. Now I have to return the jeans I bought.
9 months ago Joe Lamb
I drove over an hour on an extremely snowy day to pick up my online order to find out that they weren't doing drive up that day. So I called the store to see if someone could run it to the front of the store because my kids were sleeping in the car and they said that they can't and were rude about it. Totally ridiculous.
6 months ago Nathan
Helpful and lovely cashiers. Very pleased with selection and as always, never have left a kohl's empty handed.
7 months ago Kerry Batt
Friendly staff when checking out, can't find any help in the developments, Kohl's needs help!
2 weeks ago jing liu
Always has the merchandise I want, and the merchandise I don't want, but buy anyway, as the prices and selections are great!!!
1 week ago Kelli Knight
I went with Kohls cash so a marked down item was even less. They usually have nice things marked down pretty good
4 months ago Philip McLane
It was a kholes. Good selection. Reasonable prices. Felt less made by children than Old Navy. Kholes cash is the oldest game in town. If I ever go back into the store while it's valid it'd be a miracle.
10 months ago Wes Thompson
Great location for me to return my Amazon purchases if I have to
11 months ago Paulette Thomas
Always love shopping here
1 month ago David House
Good prices when.they have a sale
2 months ago Debra Schaefer
Best store around, love this Avon store and it's employees????
3 months ago Caroline Jiga
Love this store for childrens clothes, very busy,i think everyone from lorain county was at avon commons today ????
6 months ago Bikram Bajaj
The store smells amazing and the employees are so nice! A very kind employee helped me find the slippers I needed to exchange while being pleasant throughout.
3 months ago Krystal Melton
Everyone here is very nice and helpfull. Masks and social distancing is definitely being practiced.
10 months ago michael yaun
Did get great deals on women's shirts. But was very upset that the coupon they sent me for $10/$25 had already expired before I even got it.
8 months ago Paxton Craig
My daughter and I were shopping for towels and bathroom accessories, and she suggested we go to the local Kohl's store. We were able, in a short amount of time, to select two sets of bathroom accessories and towels within a half hour or so. The store was coping with the coronavirus pandemic, so they had one entrance closed. Face masks were required as in many other retail establishments. The other door was open, but limiting the number of customers into the store. We made our selections, and proceded to the cashier's station. The enployee rang up our purchase, we paid, and left the store. As we were leaving, we noticed the cashier wiping down the counter for the next customer. My opinion of the modified service was that store employees were very efficient and professional, allowing customers to shop and keeping the store open despite the pandemic.
2 months ago carlos hernandez
Quick checkout...Big savings.ove Kohls!
8 months ago Kory Drake
You can find the newest sports wear there
6 months ago Johnny Gutierrez
I like the one in Avon, staff is nice and everyone complied with distancing. Great deals as well.
9 months ago Isiah Broen
Covid restrictions usck
5 months ago David Weiss
Love the clothes but wish there were more petite jeans!
11 months ago Josmy Bristo
Clean store with a variety of everything Kohl's has to offer (clothes, shoes, homegoods, toys etc). Was able to knock out some Christmas Shopping with ease with tons if variety and quick cashiers. The only issue is that the aisles are incredibly narrow. It can be frustrating trying to navigate with a full cart or stroller. Overall though, I would recommend shopping here.
1 month ago Mandy Bauswell
Quick and very helpful with Amazon rerurns!
7 months ago Josh Lauer
Not bad for a kohl's.
3 months ago Barnita Karmakar
Nice friendly staff.
5 months ago David Mcnally
Only thing I have to say is the prices aren't always correct in the system to what it says on the signs for the sales
4 months ago Yoshiko Stoutenburg
I like how Amazon returns can be taken here. Than you get a coupon good for I believe 7 days for a percentage off your shopping. I have always liked kohls. deals can always be found here. Ive never had an issue with Customer service or workers. And its kept pretty clean.
11 months ago L Mabu
Staff is knowledgeable and courteous. We called ahead and inquired about an item, Dana was particularly courteous. Our cashier was also efficient and courteous, her name escapes me.
3 months ago Kai Sun
open up dressing room so annoying!
3 months ago Leona Naiki
Great customer service! Quality clothing!!
7 months ago Batty Mouse
Nice place to shop????
7 months ago Martha DiDato
Despite the typical craziness that comes from Holiday shopping, this Kohl's location is exceptionally well prepared for thd extra press of people. All the registers are staffed, lines move efficiently - and they manage to pull it off without either making you feel like you're a hassle to the employees, or that you're overly rushed - which is no small feat this time of year. Of course, having an easy location for Amazon returns - and being rewarded with a discount coupon for the convenience is an added bonus.
11 months ago Zeeshan Mohammed
Love it there, very clean and great workers
11 months ago dan cheung
Great bargains. Kohls cash!!
8 months ago G Mad
Good experience, aisles were clear!
6 months ago Louise Blinn
Yuppie haven. If I was into this kinda thing. Truth be told; you really can't get good deals here unless you open account. My mother swore by kohl's for school shopping and cashed in well. I myself haven't the need for this. Easy Amazon returns though and you get a coupon. Just not my place.
1 month ago Alex Movitz
Double check your prices on Amazon before you ever buy anything at this Kohl's. Today I went in there and found the exact same blanket I just bought off Amazon. The price Kohl's wanted $99 marked down to $40. Price I paid on Amazon? Just under $11. What a JOKE! Plus the workers there are completely rude and have no regard for customer personal space. I was looking at a clothes in women's section and it seems like every rack I was at the employee followed me and continuously reached in front of me as I was looking. I got so fed up with the constant intrusions that I put everything back on the racks where it came from and left without trying on the clothes. I don't need to feel pushed around as I am shopping by anyone, especially employees.
2 months ago Belinda Ledford
Very clean environment. Good service.
5 months ago Dana Kelly
This location is great for getting help for whatever questions you may have! The employees are so friendly and all you have to do is ask for assistance to get what you need!
1 month ago Deepinder Sandhu
Great sales going on. Really wanted the Columbia ice fiber down alternative pillow and mattress pad but price detered me a bit. The lady who was in the bedding department was extremely helpful. You can use your Kohl's cash right now too. Very clean store and adequate sales help.
5 months ago angelia brown
I like Kohl's I just wish they would put the prices on their items. Or use better signage. I hate not knowing how much stuff is and half off the digital signs aren't working so I never know if something is supposed to be on sale or not. So I might like something but see an $80. Price tag and if it was on sale I would buy it, but the digital sign above it is blank so I don't know if it is broken or just not on sale.
5 months ago
Popular places from the category Department store