ALDI
Store ALDI, Rathmines Rd Lower, Rathmines, Dublin, D06 VK57, Ireland:
220 reviews
of users and employees, detailed information about the address, opening hours, location on the map, attendance, photos, menus, phone number and a huge amount of other detailed and useful information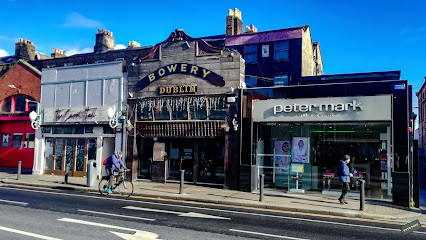 Address:
Rathmines Rd Lower, Rathmines, Dublin, D06 VK57, Ireland
GPS coordinates
Latitude:
53.3252321
Longitude:
-6.2649670
reviews Mohamed S
Nice place. But something that really come to my mind every time I go is: why do they have the crips around the place and they don't have an actual place for them? They also have them close to the cleaning products (!!)
4 months ago Rachael Grenz
I love there because it's very cheaper
5 months ago nick raymon
I love this shop. Workers are so kind and friendly to customers also products is excellent quality. 5⭐!????
5 months ago Sue Houston
Brilliant shop great service and staff are so supportive and friendly
6 months ago Aaron Spaulding
You can finf differents food
7 months ago Kendall Knotts
I like the taste of the products and the price.
7 months ago keila mena
Ok nice Shop no to big
8 months ago Daniel Mota
It's a good shop, small but there are lots of varieties. You can get most of the stuff you need there.
8 months ago Nicole Jennings
Very convenient location. Good range of products and fresh vegetables.
10 months ago Bradley Mock
Small store but good for people living around ????
9 months ago Charles Townes
Great local shop ,they have everything you need ..
11 months ago Justin Mull
Bratty cashier with black dirt under uncut fingernails was walking around the store reciting whatever welcoming mumbo-jumbo he's learned at staff training in a contrastingly monotone voice, repeatedly, at customers who were browsing and …
6 months ago Patrick McAlinden
Full range of products, very clean but don't get clamped in the loading bay outside!
5 months ago stephen duran
Where'd we be without Aldi, especially during lockdown?
8 months ago Sofiya
I wouldnt go there again 2 reasons. 1st is health concerns 2nd is Palm oil is supported in many products such as their oat cakes: So as follows Today nothing happened nothing or was said by staff member to deter them when the person after …
10 months ago Justin Mackey
Cheap and good products
4 months ago Zochyl Flores
My favourite shopping spot. They have very nice deals all week for several fruits and vegetables. They have healthier options too. Love their flowers and fruits section. They have a lot of candies, chocolate and confectionaries too. The staff are friendly and helpful.
5 months ago Joseluis Garcia
Nice Aldi. Though it is relatively small it tends not to run out of stock and has most of the basics. Good value & generally good quality. A much better choice than the dingy Tesco down the road and the much pricier but lower quality Dunnes store in the Rathmines shopping centre.
11 months ago Christopher Harris
No kevin the carrott pjs tryed 3 stores
11 months ago fernando longobardi
The staff is always polite and chill in Aldi. Thank you guys!
9 months ago B Rodriguez
excellent place very good prices very excellent food. and finds many varieties of food
11 months ago Will Morales
Great selection for a small store.
9 months ago Luciano Garnelo
Good place for grocery shopping
8 months ago ZGF
Excellent value and friendly staff ????
5 days ago Jeff Kaspar
Great for groceries but not for hardware. Lovely staff as always ????
2 months ago Rod Scott
Noticed several people entering the store without a mask. Really not ok for a store that also serves a lot of elderly people.
8 months ago Avery Noah
Good prices at all
6 months ago C Seider
Love this store very organised
9 months ago David Whoo
When chap on the till wipes his nose with bare hand and then went to put the item with rest of my items. I refused the item only then he used the sanitised in front of him .
1 month ago karamvir grewal
If you want something from Aldi, this Aldi does the job. Staff are always very nice.
6 months ago Carlos Rodriguez
Not huge but has everything you'd need for a weekly shop and the cashiers are always quick
8 months ago Stephanie Taylor
Nice staff run well great prices
1 month ago Sarah Connor
Very helpful staff always have everything you need what more do u need
7 months ago Dan Pearce
Staff at tills where very friendly and had good customer service but the 2 guys on the floor were rude unhelpful and were only short of pushing you aside as they rushed around doing online shopping orders by the looks of it.
8 months ago Kyle Admire
Smallish Aldi but carry most of what's in other Aldis. No car park
11 months ago elizabeth latham
Great value freindly staff
2 months ago Adam Stith
I like ALDI as most of the vegetables I got from them are nice and never rotten.
3 months ago Gene Hightower
Very cheap very friendly and helpful staff too
3 months ago Lucy Beam
Good place to shop. You can find almost everything you need for grocery
8 months ago Leticia Gonzalez
Not much of selections
4 months ago Francesca Gandini
Great prices in high quality products in a big variety of products. It is easy to keep a budget by buying in ALDI.
6 months ago Shterna Z
Always enjoy shopping at Aldi
1 month ago Delvia Jennings
Best grocery shopping
9 months ago Eric Seymour
Great prices and friendly staff but some products are barely ever available. You buy them once and don't see them stocked for days or even weeks after that
5 months ago Eric Seymour
Slightly less stocked than the Lidl store across the street but less busy as well, it has become my favourite during the covid restrictions period.
6 months ago Jacob Maxim
Very good
6 months ago REY SOL
We love going to Aldi in Europe! We got the best fresh croissants and scones, local candies and drinks, and all of our basics for so little money. This Aldi is close to public transportation and many other shops and restaurants.
10 months ago Haley Dalton
Nice prices, on rush hours is very busy
5 months ago Susan Jenkins
Staff is ALWAYS friendly, very organised and well replenished shop. Price is a bargain, i like it.
6 months ago JA Arbuckle
Reasonable price, good quality.
5 months ago
Popular places from the category Store