Sterner Veterinary Clinic
Animal hospital Sterner Veterinary Clinic, 575 Apple Tree Dr, Ionia, MI 48846, United States:
220 reviews
of users and employees, detailed information about the address, opening hours, location on the map, attendance, photos, menus, phone number and a huge amount of other detailed and useful information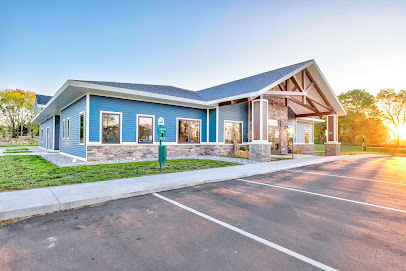 Address:
575 Apple Tree Dr, Ionia, MI 48846, United States
GPS coordinates
Latitude:
42.9962962
Longitude:
-85.0742964
reviews Timothy Bordages
They care for animals and are willing to do whatever it takes to keep your animals safe and comfortable. Friendly, knowledgeable staff. Quick appointments and willing to answer all questions. Couldn't ask for a better health care provider.
4 months ago Alena Maslivzenko
Our Mr. KITTY seems to have been taken care of really well. Our friends and family around the globe that know our famous cat will be happy to know he's back to tip top shape soon.
6 months ago Shivani Sood
Always excellent service. Caring staff. Reasonably priced. Very good with our pets.
4 months ago Marissa Rodriguez
Have always had great experiences with these guys. Would highly recommend. Dr. Montgomery is AWESOME. Rae and Maureen were so nice and so so helpful.
4 months ago Joseph Dickey
Sterner is hands down amazing! They have been amazing at answering any questions I come up with as well as being friendly and welcoming! Our two dogs are in good hands at Sterner Veterinary!
4 months ago Manas Bende
Pets and their humans are treated with care and respect, and the vet is very thorough in giving information, options, and tips for any extra or special care/needs your pet has or might have.
5 months ago Kristy Hill
We have been going to Sterner for a little over a year, and have nothing but good things to say! Throughout the pandemic, they have maintained a safe environment while continuing to provide excellent care for our dog. Appointments are easy to schedule through an app or a quick phone call, and they always fit us in quickly, even for routine and non urgent appointments. There is even a rewards program where we can earn discounts, a free bag of treats, etc. My dog tends to be nervous at the vet, and the staff are gentle and caring with him, even if he growls or refuses to walk inside. We have a good vet in town, but choose to drive the 30 minutes to Sterner's because their quality of care is unmatched.
5 months ago beth fremel
Great knowledgeable people who care and keep prices down. Great place highly recommended
4 months ago Patrece Vaughn
I have trusted Sterner Vet's for my pets (babies) for 37 years. They have comforted me in troubled times, offered top notch care for my pets, and kept them healthy for long lives. I see them take care of so many in our community and beyond. This is the place you want to choose for your animal (family) needs! Best wishes.
7 months ago Melanie Robinson
Sterners's has been all of my dogs vet for at least 40 years. I have had nothing but problems this entire year trying to get an appointment for shots for my dog. I brought him in last year December to get medicine for an ear infection, all was good at that point. Not a few days later I get a message saying my dog needs his distemper shot, why wouldn't you tell me that when I was in getting medicine for his ear. Now I have to get another visit set up. I have tried for the last 5 months to get an appointment, whenever I choose a day, it's not available. They offer another day, it doesn't work for my schedule. This has been going on for several months. I asked to get a prescription filled today, they chime back it's ready for pickup, I drive after work to pick up..they are closed! I have never had issues like this ever before. They helped me thru losing a pet back in 2015, it was the hardest thing I ever went through, so I can't imagine going to another vet. I don't know what else I can do..I guess I am looking for another vet..
5 months ago Alex Harvey
Great crubside pick up for pets. The kids and I waited for our pup. They were great with both our dogs!
5 months ago Daryl McCleery
Your evaluation of him was good. The medication and advice was good. Yesterday I doubted he would even recover and disagreed on the cause, but eventually I listened to the advice and you were right on. I wasn't feeling well, mostly from lack of sleep from him waking me up, and I wasn't very cooperative to start with. Today he is feeling better and is active, hungry and pestering me more than usual.
8 months ago Meghan Brittain
I had a wonderful experience with the vet's at sterners. They were all very friendly and thoughtful as well as good at their jobs. I would recommend them to anybody
6 months ago Heather Hannigan
Appointments are easy to make, staff is responsive to questions and needs. Fees seem to be quite reasonable and the energy the staff bring into the room is unmatched. My cats and I have no complaints and look forward to our recare visits.
6 months ago William Hadley
Great place! Care about my animals. Dr Courtney Matheson is just great
5 months ago Tu Nguyn
Went here for a second opinion I felt like the get was very honest she didn't try to get a bunch of money out of me for unnecessary tests and gave me a referral to a good ortho Dr. To skip the "middle man" i appreciated her helpfulness and honesty.
5 months ago Jason Elliott
I was so thankful that Wynter was so well taken care of. You went above and beyond on making sure she had the best care possible. We were thankful you made time to see her on such short notice.
7 months ago Robert Anderson
These folks were very helpful and understanding. I have an older husky and we've had a bad experience with Arrow in Lowell, where the vet refused to examine her on the floor and forced us to put her on the table- something that might be normal, but my dog is terrified of heights and with her 12 year old hips a jump or fall could be very damaging. Sterner's gladly took care of her without a complaint, their staff and doctor were polite and efficient, and very friendly. I'll be using them exclusively in the future.
10 months ago Tanya Wilkins
Very kind, compassionate and professional staff. New facilities are really nice too.
5 months ago Thomas Cheng
They are not only curbside only but when I requested to see the vet face to face, she was easily 10 feet away and I was in my car. She demanded that I pull my mask all of the way up. They did not clean out my dogs ears as I requested they just sent me on my way with antibiotics. He is still shaking his head and rubbing his face. I am actively looking for a new vet. $96 to have next to no result in my dogs condition plus being insulted....I will never recommend them again.
7 months ago D Nev
This is where we bring all of our cats, and our dog, and the kittens we foster for the shelter. They're reasonable, and have not ever suggested unnecessary treatments, even if we went in thinking we'd need them. Also, for COVID, they're completely curbside -- pull up, call them, they take your pet in and bring it out.
8 months ago Jasen Strutt
Absolutely great vet care. Our Chihuahua fell and broke her leg. They explained everything and fixed her up.
5 months ago Austin Love
Awsome Vet clinic was late they still got me in there they were very good with the pets
5 months ago Chang Wayne
Been going here for years with all my pets great people and service
4 months ago Tekesha Black
Had to have my 17 year old cat put to sleep. Workers were so helpful and compassionate. Made it so much easier on me, I could pay in advance, and they came to the vehicle to collect him, and swiftly returned carrier, so I didn't have to wait and worry long.
7 months ago Victoria Taylor
Wonder customer service. They have taken very good care of my pets. Very satisfied.
6 months ago Althea Houston
Amazing place. They treated my cat wonderfully!
5 months ago myla bunda
Took my cat there to have a dental surgery and get some teeth pulled. I drove over an hour because they had the best rates I could find, after calling all over West Michigan. Even after removing 10 teeth they still managed to remain in their quoted/estimated price. They were very helpful after in answering any questions I had and even called the next day to check in and see how everything was going. A bonus was they gave my cat a nice nail trim while she was there as well. If I ever need another major vet service on my animals again I will not hesitate to drive out of my way to go to Sterner Vet Clinic, I was very pleased with their services.
1 month ago Julia Jackson
I've taken my animals here for awhile now and they are the best! The care and compassion they gave my babies is top notch. They also made sure I was well informed on what was going to happen, and what actually did happen. I've never felt uncomfortable with taking or leaving my pets in their care.
6 months ago Mike Ferrara
Great service and honest. A little pricey but if you love your pet it's worth it.
5 months ago james randall
Overall a good clinic. You can't see a vet in person now due to COVID restrictions. You have to talk to the veterinarian over the phone while they have your fur baby. All of their prices have increased drastically across the board. Office visits are now $50.
8 months ago Elizabeth Somboun
It was a great place to take your furry friends! It is sad they closed!
5 months ago Dj Ampp
The staff and vets are top rate! We took advantage of dental month for our 4 yr. old teacup yorkie. She did great and so did everyone involved!!! We are new patients and we are totally satisfied with the care, the cost, and the experience. We have upcoming appointments scheduled for the felines in our family, and are very confident that we made the right decision to move our furbabies care here. Thank you everyone!
9 months ago Jen Amos
Your care for my dog was excellent!! Could not have asked for anything more.
5 months ago Emil
Very friendly and knowledgeable staff. They take excellent care of my animals and everyone who I recommend them to also love Sterner's too!
8 months ago Emily Dorman
Very good doctors, friendly and caring. I've had them all my life. Family oriented
5 months ago Hope Harris
I think sterner VeterinaryClinic was awesome they are very good people and they know what they're doing and I'm glad to be a part of it to be there at their facility in Greenville the Veterinary Clinic Town and Country Hospital and I will go there again thank you for your service
6 months ago Zuko
They were quick and attrntive to our pets needs. They were compassionate to our feelings and checked on us the next day. They were awesome.
7 months ago Adam Castaneda
I've brought every pet Ive ever owned here and wouldnt go anywhere else. They've been a great help and support throught good and bad times.
5 months ago Andrew Camp
I went in for the first time, for my cat. The service was great! They got me in a room right away, and were able to get us in and out within a short period of time. The vet technician, Kandice, was amazing and friendly. She even went the extra mile for us. I will definitely be recommending this business!
11 months ago Ivor Kirwan
Great vets office. Very friendly and on top of things. My dog gets nervous in mew surroundings and they did amazing w her
10 months ago Rebecca Lowery
Everyone is so friendly! Love the app they have!!
5 months ago Matthew Schmidt
Great covid protocols, but anxious to be able to bring my dog in soon personally. First timer, but great puppy care so far.
8 months ago Changhui Han
Always quick to get my dog in and reasonably priced.
5 months ago Eliot Malone
First time there with my pet, awesome experience, diffently my choice of veterinarian.
6 months ago Justin
Everyone is super helpful and friendly, prices are really reasonable and they are great with all our fur family.
8 months ago Mary A
Anytime I've needed to get my fur babies in to see the docs, we've been able to get in right away. The entire staff welcomes you and seems to genuinely care for your animal. Whether its been a routine visit, or having to say goodbye to a friend, their follow-up messages and phone calls show that they really care about their patients and their families.
1 month ago Wayne Allen
Very courteous, friendly and very pet friendly they have gained my services...
7 months ago Kelly McLanahan
They are so nice and explain everything.
5 months ago Sarah Yk
I am am a second generation customer of Sterners, my Mother took all her pets there and I have taken all mine there, they are fantastic and compassionate when a Pet passes.
8 months ago
Popular places from the category Animal hospital