Blooming Waters
Holistic medicine practitioner Blooming Waters, 7135 W Manchester Ave #6, Los Angeles, CA 90045, United States:
15 reviews
of users and employees, detailed information about the address, opening hours, location on the map, attendance, photos, menus, phone number and a huge amount of other detailed and useful information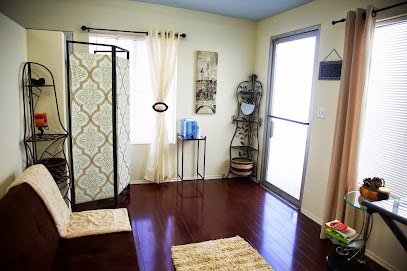 Address:
7135 W Manchester Ave #6, Los Angeles, CA 90045, United States
Website:
bloomingwaters.com
GPS coordinates
Latitude:
33.9601038
Longitude:
-118.4180332
Location on the map
Reviews Eli Robbins
This was my first colonic and Karina at blooming waters made this whole experience wonderful! Karina is very kind, personable, and knowledgeable. The space was very peaceful and zen. Instead of trying to up-sell me, she was also very honest and told me that I personally wouldn't need another colonic for a while. Then she went above and beyond by giving me a little goodie bag with samples of essential oils. Thank you Karina!
7 months ago Landry Jones
Karina is so caring, informative and sweet. As much as I could not receive her treatment for my personal reason, I trust her expertise and recommend her and her services to anyone.
6 months ago NESHA GANG
I had heard wonderful things from a friend about Karina's place. She was extremely kind, warm and caring. She made me feel completely comfortable and was happy to explain and help when needed. Her place is very clean. I'm happy that it is a private experience as I would not want anyone else in the room. She is very knowledgeable and takes time to make sure you are comfortable and happy. I HIGHLY recommend her and this experience. I've done these before and this was by far the best experience I've had.
9 months ago Andrew Anderson
I have been going to Blooming waters for a few years now. Karina really makes sure you feel comfortable. She is always professional, warm and inviting. The place is very clean. She has water for you and and other drinks for purchase. You feel calm and relaxed with your choice of music, a movie or read a healthy book. You will have a great experience! :)
11 months ago Bo Wang
I had a colonic at Blooming Waters over the Christmas break. The space is very welcoming, cozy+private - just the kind of place that makes you feel comfortable while undertaking a colonic. Karina is knowledgeable, kind, sweet and professional. She walked me through the process, took a lot of time and care in explaining the procedure and after-care, and helped me feel confident in my decision to cleanse. She set-up a video for me to watch during the procedure, which was fantastic! I would highly recommend a colonic at Blooming Waters, to everyone!!
9 months ago Karasaph Exonar
5 stars--Karina is absolutely amazing!! Very professional, she's so caring, and really knows what she's talking about! Love Blooming Waters! This place is absolutely adorable and I feel great when I come here! Karina is truly a lifesaver! -Elena R.
4 months ago Svitlana Bondarenko
Karina was absolutely amazing! She made the process Very comfortable and put my worries to rest. She thoroughly explained the procedure beforehand so I knew exactly what to expect. I have recommended my friends and will be returning as soon as possible! Thanks again Karina!
10 months ago arun arunm
Karina, the owner of Blooming Waters is a gem. What a highly trained, knowledgeable and genuine person. Her facility is warm and inviting and the open LIBBE machine is the best - absolutely the Rolls Royce of colon hydrotherapy machines and I know because i've tried them all... but with sets Blooming Waters apart from other colon hydrotherapy places is Karina. She knows how to operate the LIBBE better then anyone else I've met. And not only that, but she takes time to meet with you and learn about your particular problems so she can know how to best help you. And she really cares ! Expertise, caring, beautiful, relaxing and immaculate place, I simply couldn't recommend Blooming Waters and Karina more. Simply the best; Highly recommend.
7 months ago Ankita Dobariya
Blooming Waters & its owner Karina are the best of the best! Clean, comfortable, discrete and knowledgeable. You will leave feeling amazing and empowered towards achieving your best health. Highly recommend to all health-seekers.
8 months ago Noodle Dangle
Everything at Blooming Waters was clean and inviting. The services I've received from Blooming Waters was prompt, effective, and professional. I highly recommend karina to anyone interested in wellness and fitness. The environment is very comfortable and relaxing.
8 months ago Nettie Parks
Karina is awesome! After doing 2 years of research about colon hydrotherapy, I finally decided to stop in at Blooming Water. I've actually stopped other places before but felt intimidated and nervous because it was too much of a doctors setting and decided to opt out. However, was so happy to see that Blooming Water was more of a boutique style establishment, I felt immediately cozy and I'm so glad my first time was here! The place is SO clean and comfortable. Karina is so sweet and professional, walking me through step by step on how the machine works and what I might feel before and after the colonics. I seriously couldn't believe what I saw coming out of me, which is why I will back for my 3rd visit in 2 months. Not only does she have the Libbe system, she also has an infrared sauna that you can use to detox your body further. I am so happy to have this place in my neighborhood!
4 weeks ago Joseph Dobb
This is one of the best clinics I have been to. Karina is so pleasant and very knowledgeable, she is motivational to change the world. I highly recommend going!!
4 months ago Steven Ryan
I would never be able to have this type of service with anyone else! Karina is so personable and makes the experience super comfortable! My health and body would never be the same without her!
4 months ago David Day
I really didn't appreciate when myself and my daughter went to visit this blooming waters to get more information I was immediately was told that I couldn't wait in the waiting room that I had to leave we don't live around the corner from this location so I went to the car and waited for 1 hour she didn't ask me if I wanted to have service done for myself the place doesn't look nothing like the pictures it's much smaller...I didn't like the way I was treated so she has lost me as a customer and I wouldn't tell a friend no thanks...
4 months ago Echo Trucking
Amazing..Love Karina
7 months ago
Popular places from the category Holistic medicine practitioner