Westmead Hospital Emergency Department
Emergency room Westmead Hospital Emergency Department, 176 Hawkesbury Rd, Westmead NSW 2145, Australia:
220 reviews
of users and employees, detailed information about the address, opening hours, location on the map, attendance, photos, menus, phone number and a huge amount of other detailed and useful information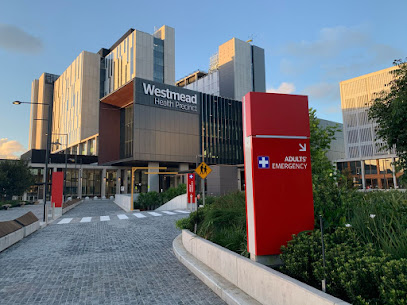 Address:
176 Hawkesbury Rd, Westmead NSW 2145, Australia
GPS coordinates
Latitude:
-33.8046759
Longitude:
150.9885746
Location on the map
Reviews Tammy Thomas
Took my mum there with a very painfull gallbladder and we were very impressed with the high level of service and care. All nurses, doctors and staff are extremely nice, knowledgeable and very attentive. So far the best Hospital I have been to.
6 months ago Derek Cook
Can't blame the staff they are understaffed however the process of triage is flawed . No body checks what's wrong when you register so you just sit there waiting and May have an urgent need to be assessed but no you just wait until the nurses call you . Get your act together @ minister Hazard . Contact me I will tell you first hand what's good and what's not working. Gladys more staff !!
6 months ago Nazy Khadem
The hospital staff are relatively friendly and nice people. Unfortunately the quality of service is really beat-down by the horribly long wait-times to actually talk to someone, and for the one time I came to the emergency department I had arrived about 7pm but didn't see a doctor until up to about 2am; I had fallen asleep and was surprised to be awoken.
7 months ago Jennifer Long
The nurses, doctors and staff are extremely nice. But the wait time was not great. Arrived at the ED at around 10:30pm, ended up leaving at almost 8am. Just for a blood test and a conversation with the doctor. He was very polite and understanding. However I can't say that I was too happy with waiting 9 hours to get through it all. I assume there is a severe understaffing issue here, and I witnessed another patient complain that she was waiting for 12 hours. I advise everyone who goes there that you'll need to be aware of the severe wait times and that its possible not get the help you need immediately. If I knew how long the wait time would've been, I would have rather just stayed home :( I needed help immediately for my situation but honestly when I left, I felt worse than I did coming in after being forced to wait for that long. I usually don't like to leave negative reviews anywhere, but I just want everyone to be aware that the wait times can get extremely long here. This does not mean the staff were at fault, however. Their service and attitude were nothing short of great.
7 months ago peter Salamanca
Great experience. From getting checked out at triage to urgent care and short stay all of the doctors and nurses were amazing. Jo the night nurse and all the day nurses were amazing and very caring.
8 months ago Jaan Altosaar
Very helpful staff, I was seen amazingly quickly - once I found the right place. Google, it is critical that you note the movement of both the adults' and children's emergency departments at Westmead Hospital ASAP. It happened 2 months ago. You still show the old separate sites on your map. How many people in need of urgent care have followed your directions to the wrong part of the large hospital site? If you refuse to believe me, then call the hospital, or ask other trusted Google users in a survey.
8 months ago Young Auteur
On Saturday 10/4/2012 at 2 a.m., my wife felt very bad pain in her back and abdomen. I immediately took her to the emergency room of Westmead Hospital. They injected and took a blood sample, the nurse said that 1.5 hours later the test result will come, my wife was still in pain. Very few were in the emergency room that night. I saw the nurses and staff, talking and laughing. From 4 a.m., I was looking for the ward doctor, and the nurses said that one person was in front of me. My wife had no place to lie down in the waiting room because she had injected morphine, and despite all the pain and confusion, she had no place to rest. One of the nurses, who unfortunately hid his name under the etiquette and did not give me his name for the night shift nurse and the next shift, did not answer anyone at all impatiently and was just in a hurry to say goodbye and laugh until At 8 a.m., the doctor did not see anyone and the patients were still waiting, and when I protested, no one answered and they kept saying that you should wait. We went to the emergency room to see the doctor, if my wife was going to wait a long time I would stay at home and visit our family doctor the next day. In response to my protest, the head nurse said; You go and complain about your own so that the authorities understand that we have less manpower if they mean more shifts, more income and less work. They want to brutally put more pressure on patients to make more money, they just want to make money on patients. They see patients in dollars. Doesn't the hospital management have the power to manage this unit ??! At 8 a.m. we still did not see the doctor, I asked to remove the anjouct from my wife so that I could take her to a doctor, after half an hour a nurse came and acted in the middle of the waiting room in an unsanitary and uncomfortable environment. He took out the injector, which made my wife very upset and very stressed, and then I took her to my family doctor, who gave her sedatives and anti-stress medications to calm her down a bit. It is a question of why the management of this unit treats people like this. I think the star is too much for them if I could give them minus 5 stars.
9 months ago Teresa Tapia
What is the meaning of emergency? I came at 8 pm and now it's 4.30 am... And still waiting.
6 months ago Kip Vehorn
Terrible nursing staff who lack critical thinking skills and empathy. They were incredibly rude and disrespectful and it is surprising how poor the quality of the staff can be considering their profession, there is clearly very low morale and they need to learn how to treat patients with empathy, rather than with snide remarks.
6 months ago Boris Prokopenko
I am sick to death of hearing about COV19.I cannot listen to it 100 times everytime I ring the hospital. I need an urgent dental appointment but keep hanging up. I will not get the vaccination out of spite.
7 months ago Amy Venables
even during covid they still did the best they can. The entire team was amazing. Thank you for helping me and my child
11 months ago Kyrstin Cote
Emergency amazing service, amazing team and very clean :) Thankyou to the nurse jo (Friday morning 30th of april) for constantly looking out for me and being so gentle and polite. Best hospital I've been too. Wish I could have my baby here
7 months ago Timothy Hilkemeier
Thank you so much to the team at Westmead for their amazing service , knowledge and care . I have had 2 presentations to Emergency with a family member and am so grateful to the staff Fi their help . Congratulations to the nurses and doctors for their professional, understanding and care .
9 months ago Jerry Baldock
I've been here twice in the last three years. Both times in the acute care section so I can only speak of that area. Both times I was seen within the hour. The Dr was compassionate and honest about why I should have certain tests, and in the end, he was right and probably saved me vision loss and a great deal of pain. The nurses were lovely. Don't expect a single room or anything fancy. This is an underfunded, overcrowded public hospital where the best of the best are working hard often on little sleep and a lot of coffee. Thanks especially to Dr Cheeseman who got my Lumbar Puncture done first try!
10 months ago Joseph Bragg
Unfortunately it was not a good experience at all I went to westmead emergency tonight at 6 pm with my mum 88 years old after her GP referred her for a CT scan / Brain urgent after a fall and symptoms of a possible subdural haemotomas / oedema. The first impression of the place it was really crowed with not seat available... in 5 mins we went throughout the triage nurse then she asked to wait outside and she said the scan will be ordered during that time... we awaited 6 hours outside will a lot of people sick ... coughing, nausing, even vomiting in plastic bag... not social distance at all... 3.5 hours of waiting i went to the nurse desk and he said he could not acelerate the process i said my mum increases the dizziness symptoms but he said another hour and half to be treated by the Dr... 6 hours pass and a new nurse called my mum in for a "new assessment" as soon as we went in she asked her what happen why that face? Comom my mum has been waiting 6 hours to see a Dr and get a referral to CT scan of the brain and she asked her why that face, really lack of sympathy for an old lsick lady... Then she said is going to give nauseas' pills , and do a blood test and she has to wait an other maybe 2 hours to see the Doctor and get the CT Referral..?? You must be kidding me... so idecide to get my mum home and get the Ct scan early next day privately because that hospital is a joke... not respect at all for the fragile eldery people who need a promp atention. Very disappointed of a plublic sisystem collapsed by unprofessional people...
10 months ago THOMAS BOGARD
Useless my 3yr was rushed over due to possible apendicitis from liverpool hospital... Liverpool called ahead for surgeons for the baby to be checked out And was meant to be seen tonight when arrived.... but to my surprise they have now decided to come in the morning so angry at how careless they can be Never again useless and waste of my time
10 months ago Kristy Castellanos
Shocking treatment, I get told I need a ct scan urgently and 9 hours later they still can't tell me when its getting done. Don't waste your time here.
9 months ago cameron gonzalez
This is the place where you can get the most horrible hospital experience when you require emergency medical services. The first time I visit couple of years ago for one of my friend who had a mild stroke. We paid and had to wait 6 hours but our ticket was on the same place in the queue as more and more emergency patients were coming and limited number of doctors only prioritising them. So, you never know when is your turn. You need to wait forever. We decided to leave without seeing any doc and never got refund from them. Again I visited there last night for a medical emergency of myself. I got a foreign object stuck in my throat while eating in a restaurant. Went to the hospital found around 50 people and 2-3 doctors only plus emergencies. Even if i wait 10 hours still I would never know when i'm gonna see a doc. So, didn't waste that time. Tried all possible home remedies and something worked out without the help od emergency hospitals.
9 months ago yuffytaffy
Very bad & long waiting & customer service very slow & just 1 doctor working for all hospital & the hospital very busy . My son very sick & the doctor do nothing I never come back again The government just takes money & they didn't care …. That's too much…
6 months ago Jayde Staiti
I have been blown away by the high level of service given to my 85 year old mother by the team on the 6th floor. The nurses and Drs have been nothing short of amazing.
10 months ago Dustin Lower
I was rushed to Westmead Hospital in 2014 and the doctor sent me home saying I had nothing wrong. I endured an agonising 5 weeks of pain until I collapsed and had to be rushed to Nepean where it was found I had gall stones stuck in my gall bladder due to misdiagnosis. A few years later and my son is rushed here with suspected appendicitis but the doctor was flippant and refused to write notes or even help him. She told him to go home and stop exaggerating his symptoms. Brought him home and got better treatment off a doctor at my local medical centre. She refused to send a report to the doctor and three years later we are still waiting for those notes. Recently, on the 12 of January this year, we went to Westmead again but this time they were vague and refused to allow me to see him until they forced him to have a Covid test. After he was cleared ( he was home schooled for 9 years and has social anxiety so hates leaving the home ) so it was easy to see he didn't have it, we were told when they let him out at 11.48 pm that night that they would send copies of his report and the doctors treatment to our house. A month later and we are still waiting. Are you sure you don't discriminate against your patients deliberately? Really unimpressed with the behaviour of this hospital. Repeated requests for the social worker to help is never advisable as they don't know how to do their jobs anyway.
10 months ago zach dean
I was there for my ankle injury on 22nd November but I haven't received a digital receipt yet due to which I am unable to claim a insurance. I have already called them more than 7/8 times but they ignored saying we don't have enough staff and they keep passing call to different person.
9 months ago Lawrence Vinson
Until and unless you are in the most critical condition, dont go there by any chance guys. I had head injury, but waseft helpless for hours and returned without any diagnose, patient were in extreme pain still left to die. Guyz go to oter places, but donet come here evwr
10 months ago Jim Boumil
This review has been a long time coming. My elderly father was admitted to the Geriatric Ward and while some of the care was good at other times it was heartbreaking. Like the time I asked a nurse could she please move my father up in his bed as he kept on slipping down as he had no bottom because he was on a feeding tube, she turned around and said to me I have already moved him once and I am not going to move him again. A few times I left this hospital crying on the way home on how my father was treated..I am sure Westmead is a wonderful hospital if you are young. Please treat your elderly patients with respect and equal to any other patient and not with the mentality they have had their life or they are a nuisance and just remember one day your parents or grandparents might be in that position one day.
2 months ago Mathew Grimm
Please navi to Secure Parking - Westmead Hospital Car Park, it will take you to the new Emergency Department
6 months ago Khamila Mayes
The receptionist at the EPAC were super kind and helpful. They helped and directed me to where I needed to go when I was in the wrong place. They even helped me when it's not opening time yet. The emergency unit was amazing. The staff there were professional and caring. The doctor who helped me, Dr A. Coggins, was very informative and helpful. He told me everything I needed to know and happily answered all my questions. He did more than what was necessary. Even going through the trouble to succesfully finding the volume so I could hear my baby's heartbeat. Thank you for your genuine kindness and care. Stay safe and God bless you and your family.
11 months ago James Whitsel
From the unit mangers, to the nurses and to certain doctors, this hospital is a joke. Honestly, I am not recommending westmead hospital to anyone I care about. If you want to be taken for a ride, make yourself welcome at westmead hospital. And I hope Karma get you when you least expect it.
10 months ago david parkhill
Very Slowwwwwwwwwwwwwwwwwwwwwww Very very bad experience. Long waiting
8 months ago Justin Alfonso
Cannot emphasis how ridiculous the ER department is! Doesn't even deserve 1 star. No human value, they treat you nothing but a number. Such a pathetic experience. I do NOT recommend this hospital.
3 months ago Autumn Dreams
D4B (beds 29-38) Stroke Ward I am so grateful to the Physios and OT's tirelessly working to give my dad strategies to cope with his impairments. You guys are absolutely amazing!!!!!! Thank you for never being tempted to write-off my dad as beyond help. It's easy to repeatedly conduct assessments to reconfirm a patient's impairments. But you guys conduct assessments with a view to improving them and enhancing strengths. And you not only devise a program but also dedicate hours to delivering it. I have seen so much improvement in my dad's abilities as a result of your efforts and I cannot thank you enough for your tireless work and the enthusiasm with which you deliver it. You are a worthy benchmark for the Allied Health team of the hospital and I hope and trust that all therapists and pathologists in the Allied health team will rise to the example you have set. I am also so grateful to the amazing individuals (Cassandra, Maria, Emily, Indrani, Jess, Ruth, Rio, Valentina, Scott, Kim) who have been taking care of my father at the stroke ward for the last two weeks. Your dedication, professionalism and above all compassion whilst doing one of the hardest jobs I know, is truly outstanding. Your wonderful bedside manners not only helps to ease his suffering but also helps to put my mind at rest. Thank you for doing what you do. In all my years, I had never truly appreciated the work done at hospitals until I had the pleasure and privilege to watch all of you at work.
5 months ago Crystal Haynes
Worst experience ever. Went for emergency department and had to wait for more than 4 hours and staff said waiting queue is after 3 patients but they called more than 3 and still time didn't came. Also, we had to do covid screening questionaire before entering the hospital whether we had flu like symptoms or not and after clearance we entered inside. But, we found that they let in to a patient who was coughing continuously inside the ward. This incident happened on 16th January 2021 at around 10:20 pm in the evening in emergency department. Sometimes fame doesnot reflect the quality of service we get.
1 month ago Benjamin Harris
For real emergency situations, the hospital provided good care. They were prompt, helpful and very understanding.
1 month ago Joyce Kanard
I went in to deliver my baby as a private patient, although I had no prior experience, the whole hospital experience was better than expected. I was 5cm dilated when I got in, got attended to shortly after. My delivery room was quite big & well-facilitated. Nurses were average but never rude. The main mid-wife who looked after me was really professional, well-mannered, sensitive & caring, made me feel really good about my birth. I got assigned to a single room post-birth so no need to share with another mum, which gives me extra comfort. All and all, I'm satisfied enough with the experience provided by a public hospital which has a bad rep.
6 months ago Houston Hartley
Very bad and sit service on reception. She is very rudely behaviour with us. I just ask her for private health insurance claim but rudely said me.I don't know. So I have one question why you working there ????
9 months ago Mike Lasby
Absolutely horrific service every single time. My beautiful person of a partner who is chronically ill and mentally ill (due to no pain relief from "medical professionals") was taken by ambulance to Westmead hospital (or as I like to call it "westmead torture chamber) about a month ago. He was immediately thrown back in the waiting room with no pain relief. He very calmly told the hospital staff that he was losing control and the pain was getting too much for him to handle and he desperately needed a mental health team to take him away from everyone in the ED waiting room. They said they can't help him and he had to wait. He ended up physically harming himself and had a bleeding head. Then one nurse and two hospital security guards physically pushed him out the door and told him to leave (whilst his head was bleeding). He then walked 8km home and ended up taking medication and alcohol together and having a seizure where I came home to him unconscious. Now he is getting calls saying he was threatening the nurses and all they are trying to do is protect themselves. Absolute disgrace of a hospital and after reading other reviews, I don't know if it makes me feel better or worse to read that other people have also had horrible experiences.
2 months ago Todd Harlan
Worst hospital, excessive waiting period in emergency.
7 months ago Justine Lattard
Terrible there is nothing that they do. You want to see the sorriest place of affairs and people in Sydney then I recommend this place. I have unfortunately been here in afternoons , evenings and late nights but the waiting hours are just too long always
2 months ago Shanmugam Edward
I went to the COVID testing clinic. The staff were friendly, helpful and efficient. This section of the hospital is modern and comfortable. The only issue I have is parking as my car is over 2 meters I had to park a few blocks away.
8 months ago Ivy Tang
What a joke this place is ! They do not care about any of there patients mental state or wellbeing and do not care about there patients leaving to commit suicide they throw out metally Ill patients because they simply do not care . Please never send your family members here as they do not get the proper care
11 months ago AHLEXB
Saved my life more than once
6 months ago William Patterson
Never recommend this hospital especially In case of emergency.
7 months ago Melanie Saflin
If you want to feel like a number and not a human, by all means come on down to Westmead.
8 months ago Erin Simpson
I was taken to Westmead hospital on 3 November after a falI, I had fractured my arm in 2 places the doctor I saw vukasovic Matthew was very helpful & caring she was so lovely & the nurses & other staff members that we're looking after me also on that day Thankyou all if I could give more stars I would definitely.
4 months ago Luke Lee
Thank you to all nurse/doctors and staff for accommodating my visit last week. I look forward to working with this great organisation for the next stint of my career. Dr Karim
7 months ago Matt Murray
I waited over 8 hours to be told they won't be able to provide a report based on Xrays for my dad's back after a car accident. The triage nurse told me they don't expect anything to change until the morning. Zero transparency throughout the process. They suggested we go home despite ordering a CT scan for his back... smells like medical negligence delivered by a team who can be seen having casual conversations with each other for hours on end. Disgusting.
5 months ago Azamat Abdurakhimov
I arrived by ambulance and was given a bed in emergency very quickly.. Even got a room to myself in the ward later that night... Nurses are the best...
4 months ago Richard Ross
Thank you to the caring staff in the Emergency Department working hard in an extremely busy situation.
8 months ago Amber Stosz
No support for female victim of assault- i was not believed!I was a female victim of assault; however the Westmead Hospital Forensic/Emergency dept. did not support my allegations, upon me having a physical examination there. This meant that the police could not pursue my assault complaint, because of Westmead Hospital denying/not supporting my allegations. The hospital basically took the side of the perpetrator, rather than believing me, a victim of assault. That is an extremely bad outcome for a victim of assault- the Hospital denying my allegations, even after a physical exam and also my submission of a police report. I had signed a police statement after all! However, Westmead Hospital did not support my allegations, which is extremely bad!!
3 months ago Tavo
I want to offer heartfelt thanks to the Drs and Nursing staff at Westmead hospital ED department for the way they treated my dear wife when she was brought in on Saturday last. From the beginning to the end of her stay, the service was wonderful- attentive, courteous, thorough and pleasant. We live in wonderful country enjoying a wonderful health system and we are so grateful to all who provide for our needs so well! Thank you all! Denis Olds, Merrylands
3 months ago Jerry Joyner
Excellent caring professional staff that are very friendly and helpful.
2 weeks ago
Popular places from the category Emergency room