Solara Medical Supplies
Medical supply store Solara Medical Supplies, 38023 Schoolcraft, Livonia, MI 48150, United States:
220 reviews
of users and employees, detailed information about the address, opening hours, location on the map, attendance, photos, menus, phone number and a huge amount of other detailed and useful information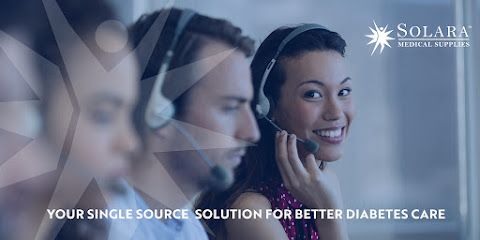 Address:
38023 Schoolcraft, Livonia, MI 48150, United States
GPS coordinates
Latitude:
42.3807042
Longitude:
-83.4185179
reviews L Qing
I have been in contact with this company fir over 3 weeks!! First time I spoke with them I paid for my shipment explaining to them that it was urgent to receive my supplies. They said it would take 7-10 business days. After no sight of my supplies I called back , she said they would overnight them and I would receive them the next day. Still no supplies! I called the back the following day and they said they were waiting for a "form" and they would push it through. Called yet again and they said me supplies were still in process and she will overnight them yet again still NO SUPPLIES!!!!! Today I called and they said the previous person I spoke with never pushed it to be sent out. These people DO NOT CARE that you need these supplies to live. The customer service is terrible!!! I wish I could find a company besides this one to take my insurance. If I do not receive my supplies as they told me I would receive by tomorrow there will be a report to someone about their service and them having NO trouble taking your money for something you need to have to live. Beyond livid
2 months ago Keith Tabor
If you want to be frustrated, humiliated, confused, treated like an animal and forgotten then by all means get your medical supplies here. I've been seriously hospitalized and left in tears please please don't do it if you're considering them for your needs. Truly this is unacceptable...
2 months ago Michael Walz
Reading these reviews make me feel heard. I call daily, and while the customer service agents are kind and empathetic, they can't resolve the issues and we remain with no supplies. Never had complaints for years, then this year happened and it's an exhausting battle, which is not needed on top of battling type 1 everyday. Choosing 1 star because I have to, and some of the customer service reps deserve that, but otherwise 0/5 stars.
5 months ago Les Curtis
I wish I could give this place -1000 stars. I have struggled getting my supplies from Solara for over 1 year now. No one there knows what is going on. Every customer rep will tell you a reason your supplies is not getting sent for a different reason then stage other customer rep. I have now been waiting for a supervisor to get back to me for over 2 hours, and when I try calling I get sent to voicemail. I have been waiting for over 2 weeks to get my supplies due to errors on Solaras end. Now I will be going on my graduation vacation with no supplies due to their incompetency. I know this message will not fix anything or mean anything to Solara workers, but I want to warn other people to make the same mistake I did by choosing Solara. I have been a Type 1 since the age of 5 and am now 24, and have never had this many issues. It's extremely frustrating having this condition that is hard to manage as it is, only to have your medical supplies company make it 100X harder. This place is horrible and I don't know how a majority of their staff/supervisors gets hired.
3 months ago kim walker
We have had nothing but issues with this company since day 1 several years ago. Now they told my adult son he would get supplies last week and then they never arrived. Then they were supposed to ship overnight to arrive on Sunday, still no shipment. Called today and it's still "in shipping". Ugh. He's out of supplies that he needs to survive! He's having to reuse reservoirs bc he can't go without insulin. We've had enough and will be changing to the other option for supplies. There's no easy way to reorder supplies. Should be an easy, seamless process. So frustrating!!!
3 months ago Celia Mora
2/17/21...I received a text from them today to call. I was able to get into contact with Tori in a rather timely manner. She was fast, efficient & customer friendly. Based on the other reviews, I have my fingers crossed that I'll get this order. ???????? 2/5 Stars 2/16/21...I got a call from this company a little bit ago. It was an automated call that was suppose to transfer me to an agent. When I was connected to them, I heard the agent pressing buttons on what sounded like a microwave. After I said hello a few times & getting no answer, I hung up. I called back twice & both times, I was hung up on. Reached out to my Dr so I can get my medical supplies from another company...One that actually wants my business. ???? 0/5 Stars.
7 months ago Emilia Turves
Having major issues with Solara and getting my daughter her supplies. I called and asked to talk to a supervisor, I was put into voice mail. Five days later still no call back. Very frustrating. Last time I talked to representative, they said they do not have a prescription and they have notified our Dr. but Dr. is not responding. I called Dr. and they said they have never heard from Solara. I will take Dr. word over Solara. Such a joke. Looking for a new supply company.
3 months ago Kaylin
If you could give negative stars I would have. The worst company I have ever dealt with regarding billing. They send you bills with amounts that don't match the total then have no explanation on why. I just received a bill 10 months after supplies arrived. I called about it because it should have been covered by our insurance. They said, you don't owe that we sent the documents to the wrong fax number so we have to send it again. Then why did you send me a bill saying I owe you! Also, the total amount was over the amount we have to pay per year for our deductible. I have about 10 more stories I could share but I won't have any new ones because we are switching suppliers. I recommend you find another as well.
5 months ago Carrie bither
(Posting this on all Solara pages) I have used this company for a few years now and I am beyond upset with them. I have had to waste so much of my time trying to get issues they caused to be fixed. I have had to explain my insurance program multiple times and they charged my credit card without permission. Customer service used to be helpful but now they just tell you they can't help you and stop any possible help from that point on. They have also held on to my orders for no reason. I have had to call multiple times to get an ETA on an order for items that I was out of (because they wouldn't send them for an auto-order) and I could basically hear them shrug over the phone like it wasn't their problem. If you have any other options, use them. UPDATE: Thank you for the absolutely useless response, Solara rep. Not only did you NOT take care of me, you cancelled my order and didn't tell me. I was expecting sensors, pods, and a transmitter. Then, when I called to check on my order, it had been cancelled because "customer was unresponsive." I didn't receive any phone calls or emails. Instead, I did receive a text message stating I owed a balance even though the day before I was told that issue was fixed. I then called the CEO which did absolutely nothing. I am shaking I am so angry. I just spoke to a rep who was helpful and kind, but I fully expect there to be an issue with my order again and I will, once again, run out of my supplies because of the untrained employees at Solara. I will be calling my insurance company to get authorization to use a different company. Thank you for doing nothing but wasting my time, energy, and patience.
4 months ago Nunya Biizness
I tried to ask why my supplies hasn't been shipping for the past 3 months. I got nowhere on the phone with the operator. She eventually said have a nice day and hung up. I have been diabetic over 20 years and never had such a bad experience with a supplier!
3 months ago Misti Robison
HORRIBLE record keeping. I started a new job in September. Called them to update my insurance information. They billed my old insurance company. Called again in October because A) No sensors were sent B) No messages I left were ever called back on C) Got ZERO communication as to what the status of my order was. Mind you, I called every day during my lunch period, for 2 weeks straight and spent 5 hours listening to their HORRIBLE "Hold Musak" that would make any sane person want to jump off a train bridge. This scenerio happened every single time I attempted to get "the next order" shipped. Repeatedly, I had to give them my NEW insurance information. Even went and had a lady from Blue Cross call them, with me on the phone to tell them to DELETE THE OLD POLICY AND UPDATE IT WITH THE NEW ONE. After even THAT attempt failing, I called and cancelled the order all together, and went with US Medical. They at least are responsible enough to notify me if there's an issue with an order, instead of sitting and waiting until I call back and go through the whole 20 minutes again, to be told nothing with Solara. I had one lady from there who did help me. Solara must have let her go because she effectively did her job.
5 months ago F Moanz
The eversense is a great product but this company has no idea how to treat their customers. They take MONTHS to get back to you and they have no regard for how much money each device costs. They sent the equipment FAR to early and then when it expires, they will not swap the device out. I was a huge fan of this company for years but they really turned bad once the pandemic hit.
3 months ago Shubham Bharti
I switched insulin pumps last year, and the new company referred me to Solara to order supplies for my pump and CGM. My initial experience was very professional, with a knowledgeable rep setting everything up, getting insurance approval, and getting supplies correctly shipped way before I needed them. That was my last good experience with Solara. Ever since then, there has been a problem with every order. Solara lacks basic e-commerce that would let me order from an online store and make sure to order the correct infusion sets, so I have to speak to a rep, and cross my fingers that we have communicated correctly and that they will order the correct items. Then, there are shipping delays, and when the items arrive, the order is likely to be incomplete and/or incorrect. Unacceptable for items that require a doctor's prescription and are medically necessary. In my latest order, my infusion sets were missing from the shipment, and no explanation was given. I called and was told they had been backordered, but were in stock and would ship out that week. That didn't happen, and when I called again, I was told they had to get a manager to approve sending out those items. Manager needed in order to simply fill an order that had originally been placed almost a month ago? Ridiculous. Long hold times, systems that hang up on you, no online store, no shipment tracking emails, promised return phone calls not made, and on and on. Currently working with my insurance company to find a different supplier, but felt like I needed to warn other people away from this incompetent company, which does not have its act together.
4 months ago Ben Farnsworth
A few years ago the service was phenomenal. My past few supply orders have been chaotic at best. I've spent every day for the past two weeks trying to get my shipment. I placed the order 3/5 and I'm still fighting with trying to get the darn thing shipped. And every rep I talk to says "oh it's shipping today. It'll be shipped by tomorrow. You'll get it in time." And yet I'm still fighting to get my already paid for something if diabetes supplies.
5 months ago Gracie Levy
Worst experience with this company. I ordered supplies over a month ago and still haven't received them. After 8 calls and 8 reps telling me that my supplies will be overnighted, I still have not received them and have been out for two weeks now. I'm tired of calling to have someone ease my fears and tell me that help is on the way and then nothing. This has happened over and over again. It's dangerous and unacceptable. The other reviews here unfortunately tell me that I am not alone.. this company is a hot mess. Also, please do not respond for me to reach out and contact you via your website. I've tried and spoken to many people including managers to try and get my supplies.
4 months ago Harish Sukhwani
I've used Solara for over 2 years for my Daughters Diabetic supplies. So far the only issue I've ever had was after Covid, getting shipments in a timely manner. But that's entirely understandable. This company has always been great to us, service and products. I'm actually surprised to see all the negative reviews on here. I only deducted one star because of not getting our products on time because of Covid. But that's not entirely their fault, shipping everywhere has been awful. I'll use this company as long as our insurance is taken there!
6 months ago Susan Olheiser
So far, completely inept company. Waiting 5 weeks so far to get my CGM. Left 2 messages a week for a month to my rep trying to get my status with my initial order. Finally had a new person call to verify insurance information. Something that should have been done a month ago. Followed up 3 days later and the insurance info still wasn't updated. Had to give it again. Not sure how much longer they are going to take on this but it affects my health!
6 months ago Jackie DesMeules
This is the most inept group of "medical professionals" that I have ever experienced, and I work in the medical field so that should speak volumes. I wish I could give zero stars. We USED this company for my 3 year old newly diabetic daughter. So far since using their company in 5 months they have gotten 1 order correct out of 9. They send the wrong pump infusion sets month after month despite hours of phone calls. They replace the wrong infusion sets with MORE wrong infusion sets. Every. Single. Time. They even sent my daughter the wrong insulin pump which delayed our pump start. This company is the pits!! Thank GOD I went with my gut last week and changed to CVS mail order systems despite being promised my correct package would arrive yesterday. The package did arrive but again was incorrect. Had I not switched companies I would have had zero supplies remaining since this last order has been ongoing and incorrect since December. They are very good, however, at sending return labels and boxes to get their incorrect supplies returned to them. As if I would ever send it back...stay far far away from these morons.
5 months ago Tim Fox
3 times I've had significant delays in having renewed my CGM sensors. Usually it's 3-5 days but THIS time it is 11days so far! Solara says the faxed forms were sent to doctor and doctors office said one has not been sent. I don't care! I haven't been able to use a sensor to keep my sugar under control. I just need help!!
6 months ago Smoother Smyth
Switched to Solara because J & B medical did not have my pump equipment at that time. I was with them for the last 1.5 years. At first,as with any medical suppliers, insurance and prescription was a tough one to get through. Then the communication went way down. I never changed my email or phone numbers. Between my wife and I we contacted weekly and were trying to get updates. Kept on getting worse. No communication or verification with anything. Not once did my supplies get here on time. This resulted in MULTIPLE hospital visits. If you need major medical equipment, I would consider other sources. Especially with insurance who has strict stipulations on when you can order. For simple items the are good. I usually do not leave bad reviews. But I felt like this needed to be said. I am no longer a customer of Solara.
11 months ago oud player
I give this place a one star and that is even to good for them. My husband called to order his insulin pump supplies when he had 10 days worth of supplies left . When we called they said they would get it right out. They never showed up. We called again when we were down to the last infusion set they said they would expedite them to us and we would have them on Friday they never showed. My husband was scheduled for an line change on Sunday and I had no lines to change it with. So when we called on Monday and were told that the supplies were still on they're dock and had never been scanned for delivery . They left my blind diebetic husband with out a way to deliver his insulin . I DO NOT RECOMMEND THIS COMPANY !!!!
8 months ago Lynda Younger
I worked for this company for 6 months. Believe me when I say they only care about the number of orders they get per day. The software system was so poor and convoluted, it was difficult to provide efficient customer service in real time. Would never recommend this company to ANYBODY!
4 months ago Olga Covarrubias
Solara Medical Supplies at one time was amazing to work with, not now!!!! Orders not filled when requested, the customer service has no idea what they are doing. I called twice in one day and received different answers. The first call stated that the supplies were shipped so I tracked the package with the tracking # provided and it was for a previous order. I called back and they stated that there was not an active order and needed to order again. Extremely frustrating and my daughter still does not have her supplies.
8 months ago Linda French
Worst customer service experience in all my years!!! Medical supplies were supposed to be overnighted 3 weeks ago and I'm still waiting with a different excuse every day...pathetic!
3 months ago senthil vasan
trash company. i've been trying to get an order for 15 days, only for them to transfer me to the supervisor 3 times in a row to be hung up on as soon as i was transferred.
2 months ago Steven Laan
Every time you call to order diabetes supplies, you always get the run around from each person you talk too. No one know what they are talking about, they take forever to ship supplies out. Looking throughout the reviews, I agree with everyone else. Find a different company. Update on my original post... so on Friday April 30, 2021 I called and spoke with customer service rep Janet regarding placing an order, Janet told me that my prescription was expired with my DR and I would need a new prescription to order my supplies. I reached out to my DR Friday afternoon and they stated that they sent the prescription to Solara Medical Supplies on March 9, 2021, my UofM DR even stated that sometimes the reps do not look in the correct place for the prescription and that they spoke with a rep and my prescription was in my chart. I called back Monday morning to Solara and spoke with an awesome rep, Ewa, she stated that they saw my prescription in my Solara chart but management did not put my prescription into my chart correctly, Ewa then asked management to place the hard copy of my prescription into my chart so my order can be sent. I called back on Tuesday May 4, 2021 to see the status of my order, I again spoke with customer service rep Ewa who stated that my Prescription was fixed but now it is showing that I have a balance of 338 dollars from an order in June 22, 2020.. I knew there was no way I had a balance... so I got transferred to billing, I spoke with Shelia from billing who stated that it was a credit of 338 dollars not a balance, she did a 3 way call with Jessica, customer service rep, who stated that she did not see the credit of 338 dollars..and that she would continue to look into it.. and that if she didn't call me by that evening then my order was sent, but if she did contact me then I had a balance owned...I did not hear from Jessica so I figured my order was placed. I called again on Wednesday May 5, 2021 and again spoke with Ewa who stated that Jessica placed my order on hold, and that there were no notes in my chart regarding my conversation with Jessica on the previous day. Ewa worked her magic and got my order sent..... Overall I spent 5 hours and 39 minutes on the phone to place one order with Solara... every rep gives you the run around and if it wasn't for Ewa my order would still be pending. I recommend if dealing with this horrible company to follow up daily until you receive your order or else they will never send it. AGAIN GO ANYWHERE ELSE.
3 months ago Lucy
Trash company. I've been trying to get Pump supplies for 3 months and they can't take the time to communicate the order miscommunication with my doctor, causing the same problem time and time again. They go back and forth with my doctor every week and they still have not been able to ship my supplies...I tried ordering from my old company foregoing my insurance benefits and apparently it's illegal since I have Medicaid, leaving my only option to try and start this process again with solara. I have one infusion set left. Fingers crossed....
4 months ago Candice Hernandez
I am beyond furious and frustrated with this company!!! Solara deserves negative stars. I have been trying to get my diabetic supplies for almost 6 weeks now. At first calling every few days. They always have an excuse as to why it's delayed. The last 2 weeks I have been calling every day! Usually twice a day. I've been told repeatedly that my order would be overnighted. I've spent every single break and lunch break on hold. I was told last friday...ASSURED that my order was going out right then!!! Here I am Monday without my stuff. I tried to call and I'm told the wait time if over 2 hours!! I can't get a direct line to anyone. I cant even find an email. In this time I've been without my supplies I've had to take time off of work to go to the doctor and get a new prescription for a long lasting insulin. I've had to pay for a whole months worth of that insulin! It's ridiculous that a medical supply company is this way!!... Update.... No one contacted me yesterday but I did manage to get through to someone after many phone calls and over an hour on hold. I was told once again there was a coding issue (the same excuse I was given last Monday). I was promised once again it would be sent out overnight! I was actually able to get through to someone this morning only to find out it was finally sent out but by UPS ground and I would be getting it at the end of this week!! When I questioned why it was not sent expedited as I have been promised for the past month... she of course blamed it on UPS! It's always someone else's fault with this company. I'm not holding my breath on actually receiving my supplies by the end of this week because when I go onto the UPS tracking my city is misspelled and it will undoubtedly be sent back. That has also been an issue in the past with Solara. I have waited for weeks for my package and then have it returned to sender because Solara did the address wrong. I am hypo unaware so I depend on the Dexcom alarms especially while I'm sleeping. I'm praying every night I don't die from low blood sugar and my 9 year old daughter doesn't find me dead in the morning. So sad Solara Medical doesn't seem to get how much I rely on these supplies.
4 months ago Heather mccraw
Absolutely the worst customer service. If you have ANY other options to get your medical supplies take it! Impossible to reach the billing department- don't bother trying to reach them by phone - if there are billing issues that need to be resolved. Orders are consistently delayed even though placed with plenty left, causing me to run out of supplies and have to extend the use of pump supplies beyond the approved usage time. I plead with whoever will listen that I NEED these supplies to get insulin into my body and no one seems to care or place any urgency. If I could give 0 stars I would. Avoid this company for your medical supplies at all costs.
7 months ago Celia Lopez
Woman in the document department was rude, had no passion for helping parents or compassion for a patient needing help. Ordered supplies 10 days ago and still waiting, then get hung up on after asking them to contact my doctor while I'm on the line to get issue straighten out. I'm about to run out of supplies and be sick and this woman could've cared less.
6 months ago Jessica Schmidt
This place has been Awful I was called about a new order told the lady I thought it needed to be ran through my secondary insurance also she stated she would look into it and either she or someone from another department would contact me back to get confirmation on the cost before shipping, this did NOT happen now they have charged me for something I DO NOT WANT to spend that much money on, I called them on 3 separate occasions left a message never got a return call so I called again this time I began speaking with someone but half way through the conversation was told they couldn't hear me, so I hung up and called back from a land line to only have to leave another message with once again NO RETURN CALL!
3 months ago Chico Huff
I will give 1 star but that's only because I can't give negative star Solara is a horrible company waits a week before sending out my pump Supplies even tho I told team i on had 5 left then they sent them to the wrong city its like the shipping department like place with people health. In the end all I can say is if your looking for medical supplies company go elsewhere
5 months ago Gordon Sanders
Solara Medical Supplies used be reliable - past tense. How long can "due to Covid-19" be used for an excuse for ineptitude! Plan on waiting on hold up to an hour to place an order and hope that they don't disconnect you before you resolve an issue/place an order. (Yes, they set up online order but that is a total failure.) Their customer service is always helpful and apologetic about order errors/problems, however the errors continue. We and others we know who order diabetic supplies have faced real medical problems caused by supplies not being delivered when promised. Solara does not offer tracking of orders they ship, who doesn't offer tracking of expensive orders now days? I have time right now to write this review because I am currently on hold with them (after being on hold previously and disconnected) while attempting to track down an order I was told would be delivered no later then today which we NEED NOW. Solara blames it on the shipper but when it comes to medical supplies they need to take responsibility for the items actually arriving when promised. Updated on Tuesday. Spoke with a very knowledgeable customer service person who check my order. It was never shipped (why am I not surprised). The person explained the problems in the DME supply industry and dealing with insurance. He says that these problems continually delay shipping. Great guy to converse with as he shared the background information on how/when items actually are shipped. However, it does not help when a diabetic person needs their pump supplies to live and they have not arrived. Our items are expected for delivery Wednesday - we will see.
8 months ago Seuss Doe
The worst company I've ever had to deal with. Type 1 diabetes is extremely difficult and this company makes it 10x harder and more stressful. I have a very hard time getting my supplies and often either have to buy out of pocket or go without which is ridiculous, especially considering their prices. If you have any other options of a supply company go with them Solara is a joke.
4 months ago Don Mair
Horrible company!!! STAY AWAY FROM THEM! I placed an order of my diabetic supplies on 08/25/20 and here we are on 09/18/20 and still no delivery of any supplies. I was told my delivery was out for DEL 3 days ago according to someone I spoke with (after multiple attempts calling). Also no problem charging my cc either 09/10 for no services rendered. Essentially fraud. Recalled Solara saying it would be delivered via ProMed so googled them and called. Customer service @ ProMed said they have nothing in the system for a shipment going to me and they have been having several issues with Solara's system not functioning. This is not the first time i've had problems with this company. STAY AS FAR AWAY AS POSSIBLE from Solara Medical Supplies. They are trash. The only reason they are getting one star is because it does not allow me to leave a zero star review.
1 month ago Gerald R
Terrible customer service, losing shipments, not including everything in an order, billing insurances incorrectly, orders not arriving in time (not a Promed issue, it's a Solara issue). And this isn't just a one time problem; it's consistently been happening over the past few years. We've tried giving them a chance to make it right but time and time again Solara messes up. Find a different medical supply company if you can.
9 months ago Steve Johnson
I've had a terrible time with this company getting my diabetic supplies. My prescription is written that I get 90 days worth of supplies and every time I order I get the wrong amount. Last time I got 40 days and the time before that I got 60 days of supplies. This time my supplies are 7 days late and No one seems to be able to help, I even requested 2 day shipping and offered to pay extra to have my supplies shipped faster. I do not recommend using this company. They suck
9 months ago Stephanie P
This is a terrible medical supply company. They constantly delay our monthly medical supplies for my 13 year old diabetic son for absolutely no reason. You can't ever get a straight answer from anyone. These are supplies needed to live and they are a dangerous company and should be invested.
6 months ago julissa fernandez
Definitely the worst company I've ever used for medical supplies. I read through the other reviews and they are spot on. Not sure how this company is still in business but I'm definitely switching my supplier.
8 months ago Jumoke Coker
I've been waiting for a year to get my pumps an my g6 I call several times about them an they said need more paperwork from Dr I call the dr he said I dont know what there needing now so dr has drop my pump an my g6 an my a1c is back up to 15 an my sugar was 500 so gee thanks alot to these people after doing without so long he put me back on the shots which didn't help me at all I will be getting ahold of my health insurance to see if they got paid or not an tell them how long its been sent i have received any
8 months ago Ayla Garcia
I have to jump through hoops to get my medical supplies delivered to me
2 months ago Joe Jamal
This place is a joke. If you actually need medical supplies don't plan on them following through or making sure you receive anything. It is a joke! Use somewhere else.
7 months ago Gregory Forster
Worst company to deal with ever. Every single time I try to get my diabetes supplies there is an issue and get stuck without them. First time in my life I've asked to speak to a supervisor, and she didn't seem to care either. Going back to finger testing and needles will be a pleasure compared to fighting with these people. Do not deal with this company!
8 months ago Dennis Wilson
THEY MAYBE THE WORTS OF ALL COMPANIES i DEAL WITH. THEY CANNOT EVER BE REACHED, 1HALR HOUR WAIT,. WORST OF ALL THEY LIE. NO COMMITTMENT TO SERVICE. I WILL BE LOOKING FOR A NEW VENDOR. CANNOT BE TRUSTED. PUT IN YOUR ORDER AND KEEP WAITING.
5 months ago Jessica Wathor
This company is scamming Diabetic patients of their hard earned money. They are crooks, they seem to be trying to keep charging my card without my authorization
9 months ago Branden Prestridge
Always has my diabetic supplies shipped promptly
5 months ago Rosa Mcauliffe
I have had the worst experience with Solara! I've had to make multiple calls to receive my sensors with EVERY ORDER! They are ALWAYS LATE. I GO AT LEAST a week or more with out them. Same ole song and dance every time. Changing companies as I post! Done with them. I do not recommend Solara! By the way. I gave this company several chances to redeem themselves. Never happened. Also...if your trying to call Solara to find your order.. your on hold forever!! Go straight to sales... you'll get right through... go figure!!
1 week ago James Jung
What is happening to this place? I used them for years and had one issue that was quickly resolved. I got new insurance and they were not in network so i didn't use them for a year or so and switched to Byram (no issues there at all) and now i'm back to Solara and it's been nothing but lies and headaches. I have been more than patient, but that patience is wearing thin. I had expressed the urgency of my situation. I was using the G5 which is a discontinued product, and my transmitter was about to die in a few days. I said i didn't expect it to be done in 3 days but i wanted them to know the severity since i have had countless close calls with low blood sugar issues overnight and my husband has had to call the paramedics 3x. He now works nights and so his anxiety is on high with me going to bed without my Dexcom. I understand this is my own personal dilemma but good customer service means accomadating client's needs, especially when the client has been kind and patient in presenting the issue. So next my order is going through insurance. After talking to the manager, Clint, he said he was trying to expedite it by putting it as high urgency (i forget the actual term he used but it was just alerting the next department that the client has expressed an immediate need) and said that he would change it to overnight shipping since my sales rep Jerry said it could take 3-5 days which was time i did not have. This conversation was Friday the 22nd and he said worst case scenario i'd see my package monday or tuesday. I had asked for an update but they said i won't be notified when an order ships. I have been emailing and calling my rep, Jerry, who throughout the process was very kind and understanding but it didn't seem he had the authority to make anything happen, and only management can problem solve the issues we kept running across. My biggest issue with him was that i felt i was kept in the dark on what was happening until i would call and i'd get the tone of "oh yeah, this one- let me check" so i know it was not being checked on for updates. He said i was not due for a transmitter per the quality assurance team. I am on new insurance, this is a new device, and not only that but even if i could still order the G5- that transmitter is dead! So i'm not due for any transmitter. Jerry had to ask a manager for help but the manager hasn't gotten back to him so i'm just stuck in limbo with no one able to tell me the actual "problem" which seems to be just an oversight or miscommunication on their part. COuld be easily resolved if they actually did anything. Yesterday i was told it was ready to ship, and i said great please confirm in an email if it is shipping and if it isn't, please update me on why so i can do whatever on my end to ensure i get this life saving device. No email was received. I emailed at 8:30 this morning and got a response a few hours later saying he had to talk to his manager. I am so fed up with this company. It isn't just one rep (Jerry had expressed he was new and truly seemed sympathetic but not properly trained or equipped for the role) but the entire operating seems to be a joke. If you can avoid this company- please do. I don't have that luxury so all i can do is complain to see if anyone that works there actually cares about the company's reputation or their client's needs.
9 months ago veka alx
The representatives are friendly and nice but I get the constant run-around with this company. I don't think I've had one regular, no issue order. I always have hope that someone I talk to is actually helping but "something" always happens like my order is mysteriously put on hold for no reason or a prescription just magically appeared. I am beyond frustrated with this company.
11 months ago ashley broeckel
Every month when I call to reorder my sons diabetic supplies it's like I get a new person who doesn't know anything. You have to tell him to look at your last order. They are always unsure about your insurance they have made mistakes with billing repeatedly and giving misinformation about your insurance. They need to do better. This is my last month with them.
10 months ago
Popular places from the category Medical supply store